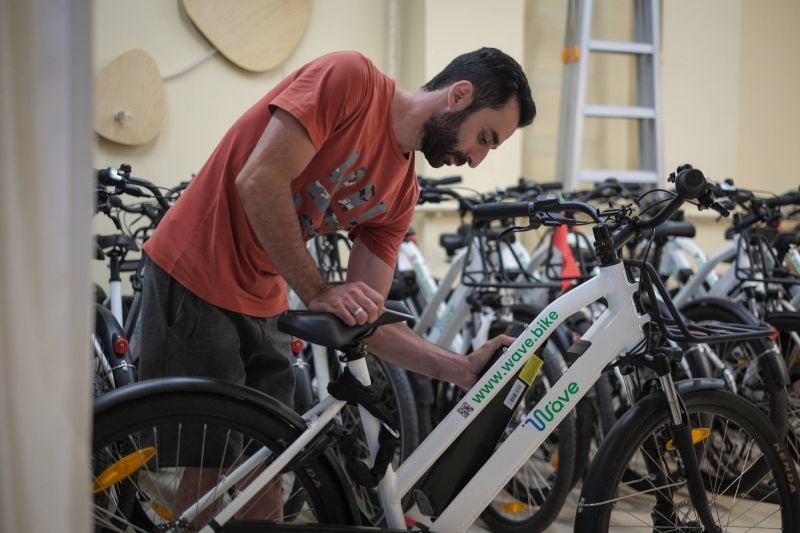 BEIRUT — In a bustling city where traffic congestion has long been a challenge, a Dutch entrepreneur residing in Beirut recognized an opportunity to introduce a ground-breaking solution: e-biking.
At the beginning, his proposed e-biking concept was met with skepticism — cycling is not a prevalent means of transportation in Lebanon. Many also doubted its feasibility in the local context.
Nonetheless, driven by the conviction that cycling could save crucial time and improve daily commutes, the entrepreneur persisted. "I thought, the time-saving E-bike offers is so significant that it must appeal to people. We just have to make it available to them," says Dutch entrepreneur Jan Willem de Coo.
And thus, Wave Bike, an e-bike startup, was born in Lebanon in 2021.
"In European cities like Barcelona or Paris or even London, once the municipality or some other companies made cycling widely available and accessible, people started using it," Willem de Coo pointed out to L'Orient Today.
The journey to establish Wave Bike began in 2018. Willem de Coo, who has a background in publishing and sustainability, had been residing in Lebanon for seven years. After he cooked up the idea, Willem de Coo said the Dutch government provided funding for a pilot bike, enabling Wave Bike to bring a few bicycles for testing by the summer of 2019.
The bicycles received a positive response from the public, which solidified the founder's determination to proceed with the startup.
He had to navigate through the political and logistical hurdles: investor hesitation, the Lebanese uprising in 2019, the Beirut port explosion in 2020. Willem de Coo managed to raise $250,000 in equity investments, of which $125,000 came from Lebanese private investors and $125,000 from Dutch private investors. Andthus, a batch of 75 Wave Bikes arrived in Beirut in spring 2021, allowing the company to finally launch its operations.
A bike adapted to Lebanon
"We didn't want to just copy a Dutch or a European concept and apply it here in Lebanon, because we don't really believe that it would work," Willem de Coo said.
While the founder is Dutch, the rest of the eight-person Wave Bike team is Lebanese. The advisory board comprises professionals from both countries, bringing diverse perspectives to the table. The team operates as a Lebanese entity, managing the complete operation within the country, Willem de Coo told L'Orient Today.
The bicycle is primarily made in Taiwan, but the parts are assembled in Lebanon.
Prior to launching, the startup collaborated with a Lebanese engineer who first gained a deep understanding of Lebanon's road conditions, traffic dynamics and geographic challenges, and who analyzed factors such as potholes, inclines and the idiosyncrasies of traffic flow before designing the bicycle.
In contrast to other electric bicycles commonly used in Europe, the Wave Bike features broader tires with a distinct tread pattern suited for various road conditions.
The bike's designers have incorporated a narrower handlebar to facilitate maneuvering through narrow streets and passing vehicles, as well as a dual kickstand for stable parking on inclined surfaces.
The electric bike motor assists on the uphills. The front and rear lights are also more powerful, coupled with reflectors to ensure optimal visibility in areas lacking functional street lighting — a problem from which most of the city suffers.
Alexandre Rausis, a 26-year-old Swiss, who has been relying on the Wave Bike for a year now to commute to work in the city, describes the bike as "a game changer."
When Rausis arrived in Lebanon a year and a half ago, he was using the motorcycle service of Bolt, a ridesharing company, before finding out about the Wave Bike.
"It got me really excited," Rausis said. "It is better than dealing with taxi drivers and it gives me a lot of independence — I don't only go from A to B but I also get to make stops along the way."
"I also don't get stuck in traffic jams anymore, which used to drive me crazy," he added.
A typical ride for Rausis — cycling from Geitawi to Jisr al-Basha and from there to Horsh Beirut — takes him just around 15 minutes, he says.
Taking care of customers' safety
Other approaches the Wave Bike considers to ensure riders' safety include "safety instructions, which we offer to new subscribers," Willem de Coo said. "We advise them to stay alert to certain [obstacles] on the roads, such as double parking. We provide instructional videos as well and offer a helmet with the bike," he added.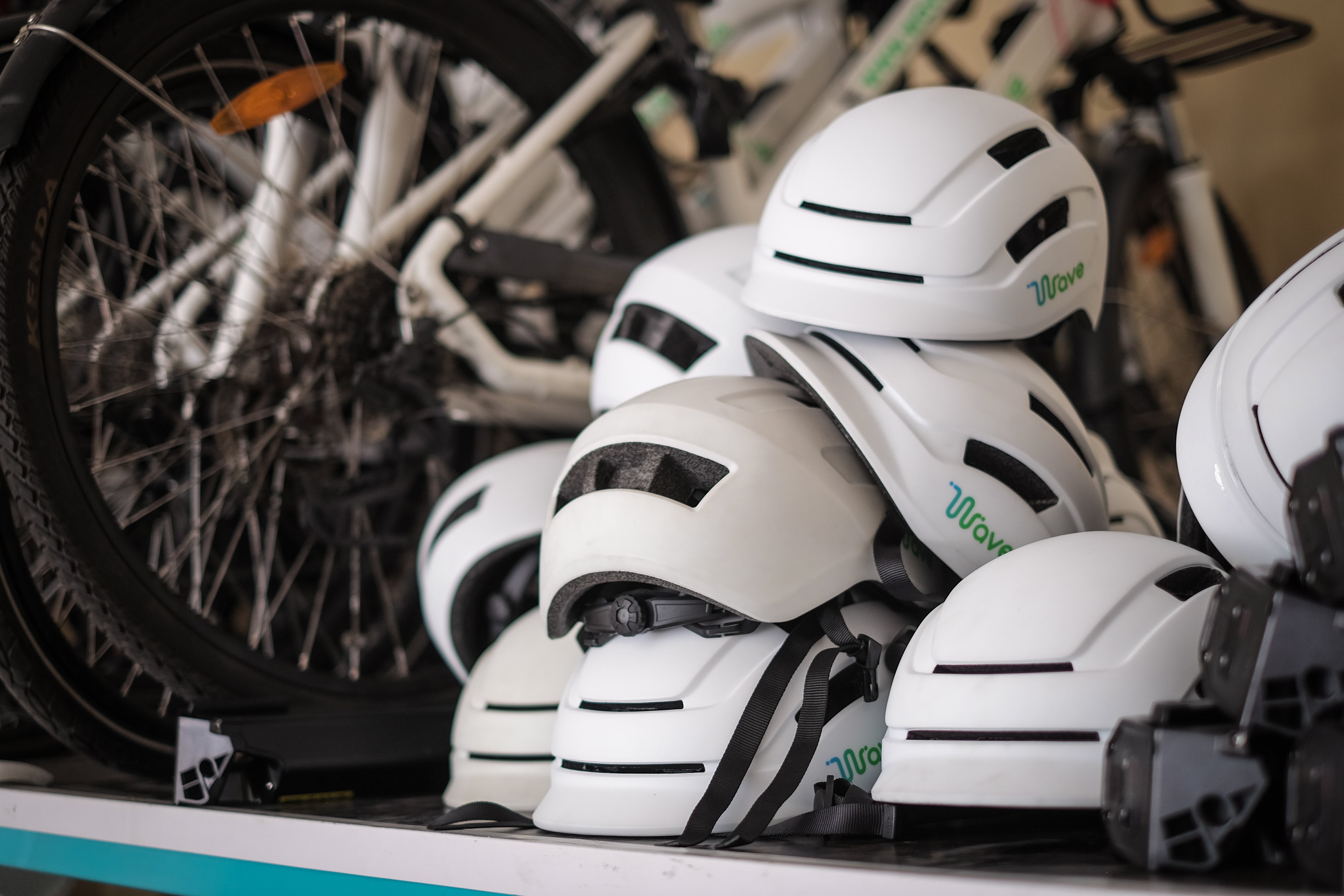 Instructional videos and a helmet come with the bike. (Credit: João Sousa/L'Orient Today)
Rausis said that initially, using the Bolt motorcycle service helped him get a hang of how traffic functions in the city, "so I wasn't that intimidated to join the traffic by myself [riding the e-bike] at first."
He added, however, that he has had a couple of close calls with vehicles while cycling in Beirut and has fallen off the e-bike a couple of times as well, "but nothing too serious and there were no injuries."
"But it is like driving in Lebanon; you think it is going to be the worst thing ever, so dangerous, so traumatizing, but in the end, you more or less find your way," Rausis said. "Also, car drivers are typically meticulous with avoiding contact with motorcycles and they treat the Wave Bike the same."
Rausis pointed out, however, that "it is not necessarily the best electric bike out there but it serves the purpose — it is fast enough, works well on the road [and the] lighting is perfect, front and back."
Easing the customer's experience
Since bicycles in general are not as effortlessly available in Lebanon as they are in the Netherlands, or other European countries, Wave Bike's founders developed an application that suggests the most bike-friendly and safest paths to riders in Beirut.
Occasionally, the Wave Bike also organizes group rides to help new riders familiarize themselves with Beirut's traffic patterns, allowing them to build confidence and ensure a smoother integration into the city's cycling culture, Willem de Coo noted.
He added that his team is readily available to attend to clients having issues with the bike, "such as a flat tire or a breakdown."

"We either go to the client or the client comes [to our center, located in Geitawi], and we will immediately give them another functioning bike or fix the one they have," ensuring that customers could continue their journeys uninterrupted.
For his part, Rausis commended the support Wave Bike offers saying, "I can go there anytime if there are any issues with the bike and, within five minutes, they either fix the issue or give me another bike."
Willem de Coo also pointed out that "the wave bike is one of the most affordable ways of commuting — it's even cheaper than a taxi."
To rent the e-bike, Rausis pays around $49 a month, as part of a subscription package for those who rent the bicycle for four months. "It is much cheaper than what I was paying for taxis and motorbike services," he said. I also use the bike for leisure outings and I don't have to pay for gas — I just charge my battery every two days."
The minimum duration a person could rent the e-bike for is one month, which costs $80. And in all subscription options, the package includes the bike, battery, charger, helmet, maintenance and theft insurance.
A growing business
With over 150 bikes currently on the road, Wave Bike's user base continues to grow every month, the founder told L'Orient Today.
"Our number of clients is currently growing by 10 percent each month. We are currently on an annual recurrent revenue level of around €100,000, which is about three times the level of last year."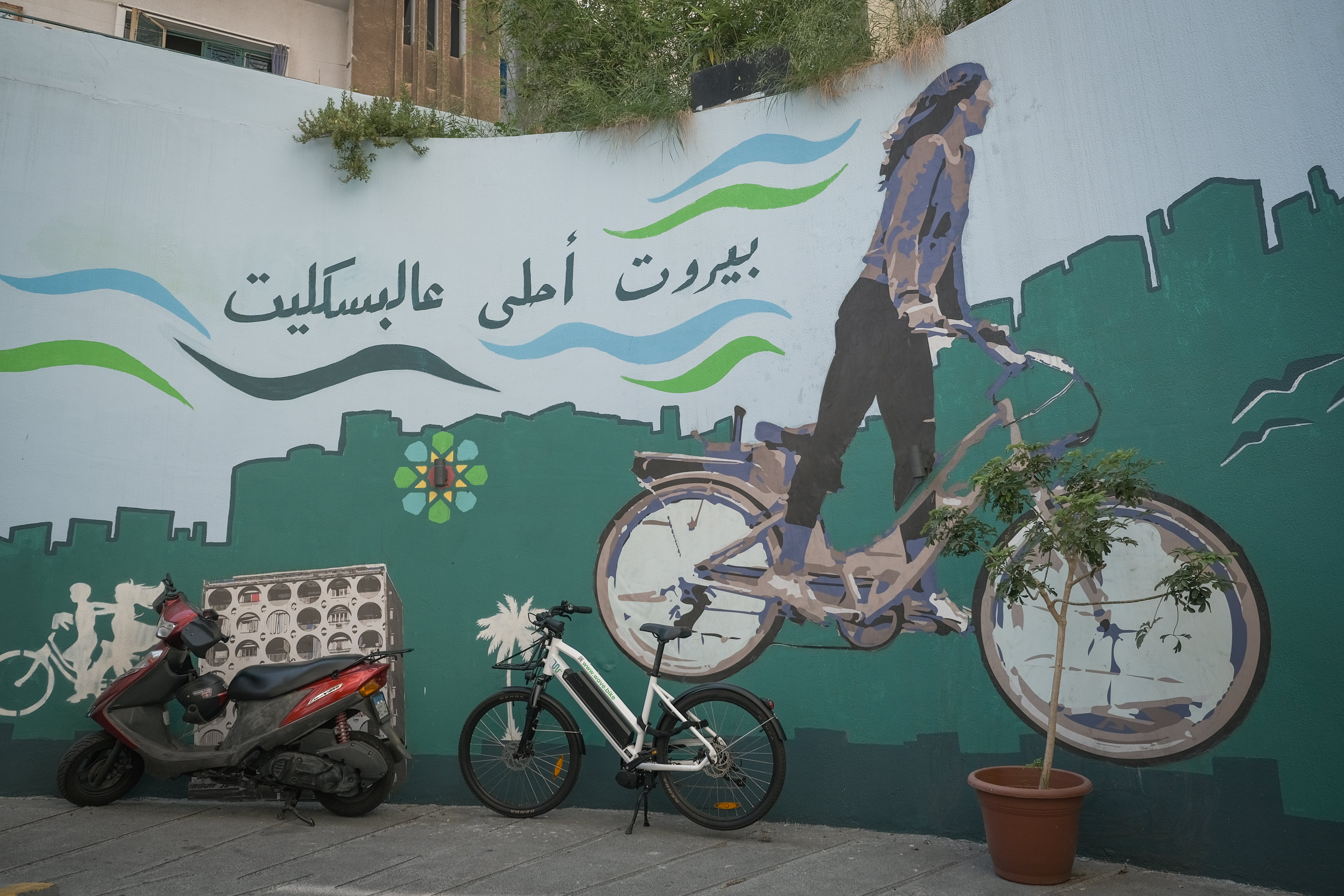 A Wave Bike can be rented for a minimum duration of one month at a cost of $80. (Credit: João Sousa/L'Orient Today)
The company collaborates with workplaces and companies on a profit-sharing or rental basis, and offers discounts to their employees.

"We have, for example, a discount for university students, in general, and a community discount for people working at BDD," or Beirut Digital District, a digital and creative community hub, Willem de Coo said.
Ghadi was looking for transportation options to get to his job every day when the foundation he works for, The Other Forest, pointed him to the Wave Bike.
His company covers a percentage of the subscription.
Ghadi now relies on the Wave Bike to commute between home and work every day in Beirut. Meanwhile, on Saturdays, he rides the bike all the way to Jbeil, almost 40 kilometers north of Beirut and then rides it back to the city on Sundays.
He also convinced two of his colleagues as well as his sister to regularly use the Wave Bike.
Wave Bike has been exploring expansion opportunities beyond Beirut.
Based on either a revenue-sharing model or a sub-renting agreement, partnerships have already been forged in North Lebanon, specifically in Tripoli, with a bike shop called Buycycle, and Batroun, with a community hub called Hangloose.
In the largest city of the Bekaa, Zahle, another partnership was born between Wave Bike and co-working space called Salty Street Food.
They are also planning their first expansion to other countries in the region, which have similar conditions and challenges as the Lebanese cities. One country that Wave Bike is expecting to start services in in 2024 is Turkey.
Asked how the name — Wave Bike — came about, Willem de Coo said, "We were brainstorming and we came up with Wave because you can wave through traffic, right? And because you can wave goodbye to traffic."
BEIRUT — In a bustling city where traffic congestion has long been a challenge, a Dutch entrepreneur residing in Beirut recognized an opportunity to introduce a ground-breaking solution: e-biking.At the beginning, his proposed e-biking concept was met with skepticism — cycling is not a prevalent means of transportation in Lebanon. Many also doubted its feasibility in the local context....