Thank you once again for joining us to follow this live coverage on L'Orient Today. We'll meet again on Tuesday 29th August for Lebanon's final match, and the second Lebanon vs. Diaspora derby, against France - right here, on the L'Orient Today LIVE page.
Despite today's defeat, we wish you all a great day!
The next big game is on Tuesday, same time, 12:45 PM (Beirut time) for the last group match against France.
Bad news: the second round is officially out of reach for Lebanon. BUT the chance for the Olympics is still in play, depending on the results of the other four Asian nations in the competition (Jordan, Iran, China, Japan). So this could be a HUGE game for the Cedars.
Post-game analysis from L'Orient Today's sport journalist Gabriel Blondel: So, in summary big losses in two matches.
No excuses. The gap between Lebanon and Canada was even more evident today. Final score 73-128. A 55-point difference. Paradoxically, the Lebanese showed a much better face than in the first match and never gave up.

It won't make the loss feel any easier, but here are the end-of-game stats:
Two-point field goals made:
- Lebanon: 51%
- Canada: 80%
Three-point field goals made:
- Lebanon: 42%
- Canada: 60%
Omari Spellman was the best Lebanese player in terms of points and rebounds (16 and 3 respectively).
The Canadians didn't play the last possession of the game, that's fair play. The players shake hands, it's over: 73-128 (55-point difference).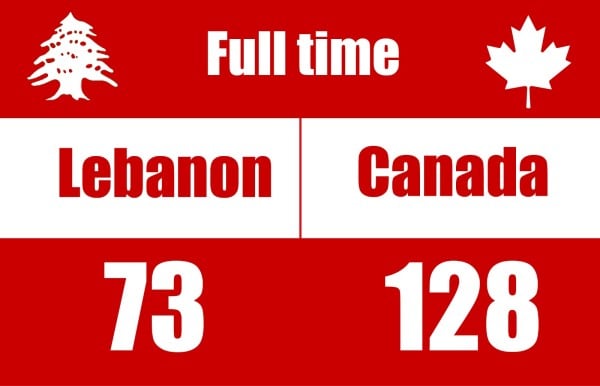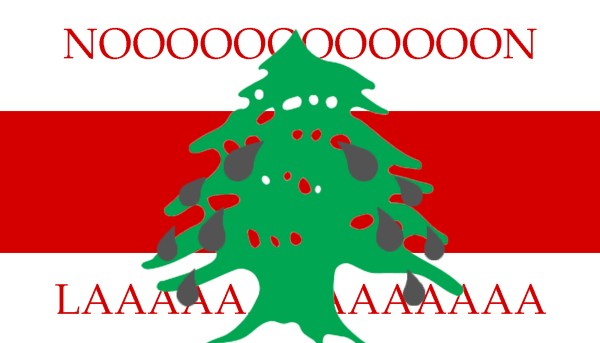 :( :( :(
In any case, it's beautiful to see the fans continue to celebrate each basket as if the game were still close. Respect.
Jad Khalil gets excited after his first basket of the World Cup and misses an open lay-up... 70-126.
16 points for Spellman with this new basket and free throw, the top scorer of the match for Lebanon.
Lebanon 70 - Canada 126
The Cedars are trying their best to close the gap in the scoreline - but it just ain't happening.
Lebanon 63 - Canada 121
Ok, stats time: Two-point field goals made:
- Lebanon: 47%
- Canada: 77%
Three-point field goals made:
- Lebanon: 38%
- Canada: 64%
6 minutes to go in the final quarter - Lebanon 53 - Canada 110.
New goal: for our Cedars to get back under the 50-point mark. Let's believe!
So...we are with another update to let you know that, alas, Lebanon are still behind... By 60 points.
Lebanon 50 - Canada 110
Into the final quarter... Lebanon 50 - Canada 102
This game seems to be going in one direction, and not the one we want... Lebanon 48 - Canada 100.
Another magnificent 3-pointer from Haidar, pushing his personal tally to 11 points! Congratulations, Ali!
Latest: Lebanon 46 - Canada 92
Even though we're getting crushed once again, it's worth noting that this time, the Cedars are maintaining a perfect attitude and giving everything they have.
SERGIOOOOO - takes Lebanon to 41 - Canada 90. And then another two pointer for the Cedars - 43-90.
Now that was a nice touch by the Cedars.... 36-83. But then a quick return from Canada, 36-85. And now a cheeky reply from Spellman for Lebanon - 38-85.
Timeout called by Coach Hajj. We can finally catch our breath for a moment.
To be honest...we feel we need that timeout too.
50 points separate us :( :( :(
That jump by Gilgeous-Alexander... he even had to bend down to make his dunk. 33-81... And then another one from Canada - 33-83
We're dangerously close to the 50-point difference mark... 33-77 Canada, strolling through the Lebanese defense.
Lebanon 33 - Canada 79.
33-70 actually...73...now 77... we don't even have time to write and post messages, it's moving so quickly on the Canadian side.
Kaaayyy Zeeeee nails the first 3-pointer of the quarter from the corner! The guitarist is on fire today! 33-68 Canada!
Second half, new hope. Yalla Lebnen!
And we're off - Lebanon 30 - Canada 66
During the half-time pause, let's get you a bit more familiar with Lebanon's coach, who will be needing to work his magic in the next half.
al-Hajj is the first Lebanese to coach Lebanon in a World Cup. The cedars looked very impressive tactically during the Asia cup last year thanks to Hajj's philosophy of high spirit, good defense and excellent team play. Hajj was hired as the national team's coach in 2022 right before the Arab cup which Lebanon won for the first time in its history. Hajj is also the Dynamo coach in the Lebanese league which reached the final with this year.
So a lot to reflect on at half-time. Definitely a more energetic first half by the Cedars. But that scoreline looks like a challenge for us.
Don't worry - we're going to be keeping you across the latest action, minute by minute, throughout the second half.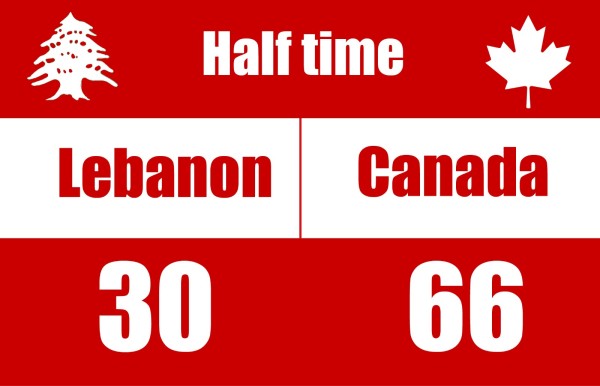 Let's not deceive ourselves, the goal now is to do better than France (who lost 65-95 in the first match against the same Canadians) and to stay under the 30-point difference mark... that would be something.
Latest score Lebanon 30 - Canada 66
And another one for ZEINOUN... but the Canadians are strolling through the Lebanese paint and scoring way too easily: 28-63 Canada.
ZEINOOOUUUUN, aka "the guitarist," nails his first 3-pointer, followed by a lay-up from Haidar, bringing the score back to a 30-point difference: 25-55 Canada.
Another 3-point basket for the Canadians. The 10th one...
Out of the 53 points, 30 have been scored from beyond the arc.
These Canucks are even more ruthless than the Latvians, with already 10 long-range baskets for them, bringing the score to 21-53... it's starting to sting.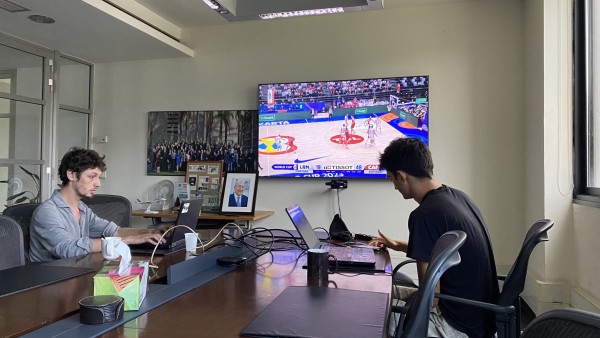 Btw hiiii from us - L'Orient Today sports team... Not featured in this photo - all our snacks!
But we wanna know - where are you guys watching from? Send us a message or a picture of where you're watching from to : editor@lorientlejour.com
Analysis: Alright - don't get too worried about this score line just yet. It's worth noting that Lebanon leads with 2 wins to 1 against the Canucks in direct matchups. The most recent one also happened in the World Cup, during the group stage of the 2010 edition: 81-71! (We're holding onto whatever we can).
Hmm... we're not loving that gap in the scoreline that's starting to grow... Lebanon 19 - Canada 43
Sergiooooo gets on the scoreboard! The best Lebanese player from the first match brings the score to 15-29... before Bell-Haynes scores another 3-pointer. 15-32 Canada.
But Canada creeping ahead again - Lebanon 15 - Canada 40.
Ok we just about had enough time to eat some popcorn during that little pause. Alright, start of the next quarter... Lebanon 15 - Canada 32.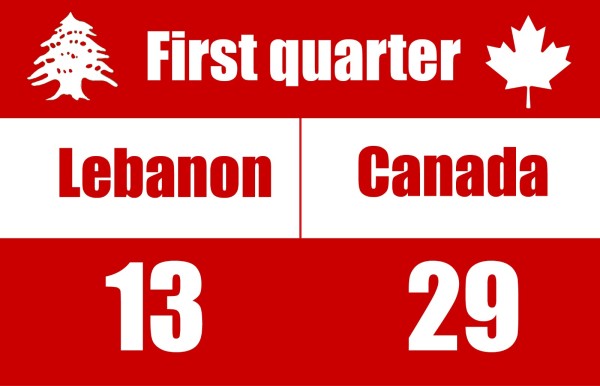 The 3-pointers are starting to rain on the Lebanese basket... Bell-Haynes extends the score to 13-29...
Great defense by Zeinoun, using his body to draw an offensive foul from the Canadians. The ball goes back to the Lebanese. Still 11-23 Canada.
Canada is already finding a lot of open shots from beyond the arc and continues to extend the lead: 11-23 Canada.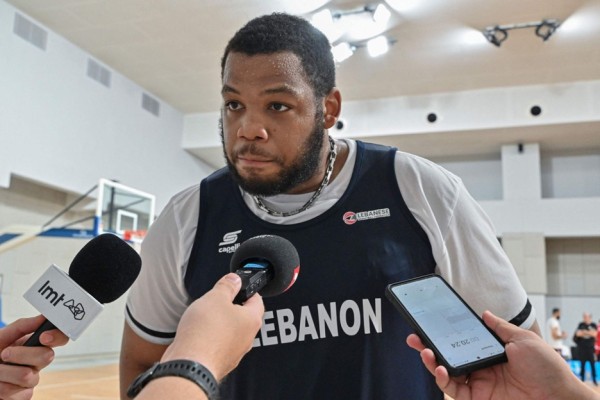 Omari Spellman scores his first basket of the game from deep space, he's already at 5 points after that beautiful step-back shot: 11-23 Canada.
WOWWWW What a shot from the Cedars... Quickly followed by a reply from Canada. Lebanon 11 - Canada 23.
Shai Gilgeous-Alexander is already on fire. 4 consecutive points for the Thunder's point guard, giving Canada an 8-point lead: 16-8.
First time out. Omari seems much more energetic than in the first match as well. However, RJ Barrett's 5 points are helping the Canucks edge ahead, after 5 minutes of play.
Very strong start by Lebanon. Much better compared to the first match against Latvia. Wael scores his second basket of the game after a great pick-and-roll play: Lebanon 8 - Canada 12.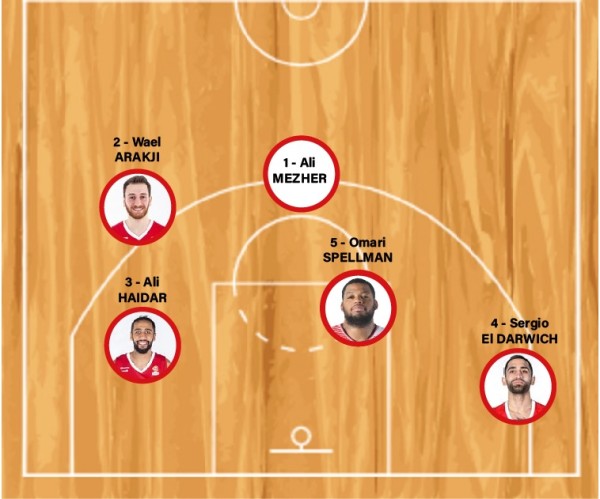 A reminder of the starting 5... Come on the Cedars!
Energetic start to the game - Lebanon 4 - Canada 5
Another one from Lebanon, quickly followed by Canada... Lebanon 4 - 3 Canada.
That was Arakji who scored the first basket of the match!
WOOOO! What a start Lebanon 2 - Canada 0
Alright we have our starting five:
- Omar Spellman
- Sergio El Darwich
- Ali Haidar
- Wael Arakji
- Ali Mezher
Let's take advantage of this pre-game moment to go over some technical terms from basketball jargon:
Air ball: a missed shot that doesn't touch the rim or backboard.
Alley-oop: a variation of a slam dunk where a player catches a pass in mid-air and dunks the ball directly into the basket.
"And-one": scoring a basket while being fouled, resulting in one free throw attempt for the attacker.
Brick: slang for a missed shot that doesn't touch the rim but hits only the backboard.
Buzzer beater: a shot taken just before the buzzer sounds, marking the end of a quarter or game.
Screen: an action where a player positions themselves in the path of a defender to obstruct their movement.
Technical foul: a type of foul usually committed when a player or coach violates certain rules that aren't related to physical contact, often occurring after contesting a referee's decision.
Floater: a two-step shot taken from mid-distance to surprise defenders and prevent them from blocking it. It's less accurate than other shots.
"Hack-a-player": a strategy involving intentionally fouling a poor free-throw shooter to force them to take free throws, with the potential for the opposing team to gain possession of the ball. This technique has been used on players like Shaquille O'Neal ("Hack-a-Shaq"), Dennis Rodman, Ben Wallace, and more recently, Dwight Howard and DeAndre Jordan.
Lay-up: a shot at the basket made by jumping off one foot and using the hand underneath the ball to guide it into the hoop. It's different from a push-up, where the hand is facing the shooter like in a typical shot.
Traveling: a violation when a player who possesses the ball takes more than two steps without dribbling.
Pick and roll: a screen where the player setting the screen "rolls" around their defender to head toward the basket, putting their opponent on their back.
Poster: refers to a dunk performed over a defender. By extension, a player who executes a poster dunk has "posterized" their opponent.
To be frank, it's hard to see how Jad el-Hajj's team could manage to compete against the Canadian juggernaut.
The "Road Warriors" (nickname of the Canadian basketball team) have a remarkable lineup of NBA stars, led by Shai Gilgeous-Alexander, the point guard for the Oklahoma City Thunder, who made it to the All-NBA team last season.
Not to mention RJ Barrett of the New York Knicks, Kelly Olynyk of the Utah Jazz, or Dillon Brooks of the Houston Rockets. Thankfully, their second-best player, Jamal Murray, a key figure in the Denver Nuggets' title run, got injured during the preparations...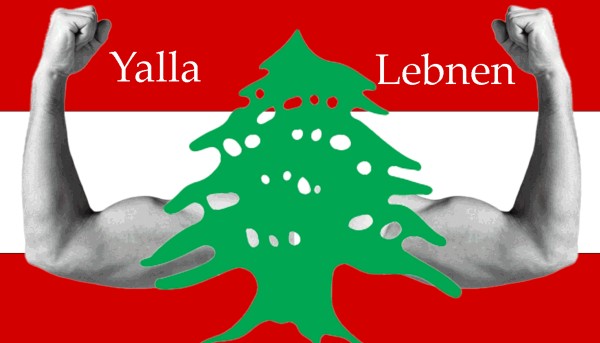 All the fans will be hoping that Lebanon can bounce back for this game…with everything that's been happening in the country, being in the World Cup for the first time since 2010 offers a glimpse of hope for many Cedars fans.
Recap on the tournament so far: This is the second game for Lebanon in Group H - also known as 'the group of death'.
After the heavy defeat in the opening match against Latvia on Friday (109-70), the Cedars are facing a daunting challenge against the "Canucks," who lived up to their status as title contenders by handing a resounding defeat to the French team (95-65).
The game kicks off at 12:45 Beirut time It's taking place in the Indonesia Arena, Jakarta.
Hey everyone and welcome to L'Orient Today's LIVE coverage of the FIBA Basketball World Cup 2023 - Lebanon vs Canada…Also known as Lebanon vs the diaspora.
You have reached your article limit
Stay updated on the news for only $1.
You have reached an article that is only available to L'Orient Today subscribers.
Already have an account? Log in