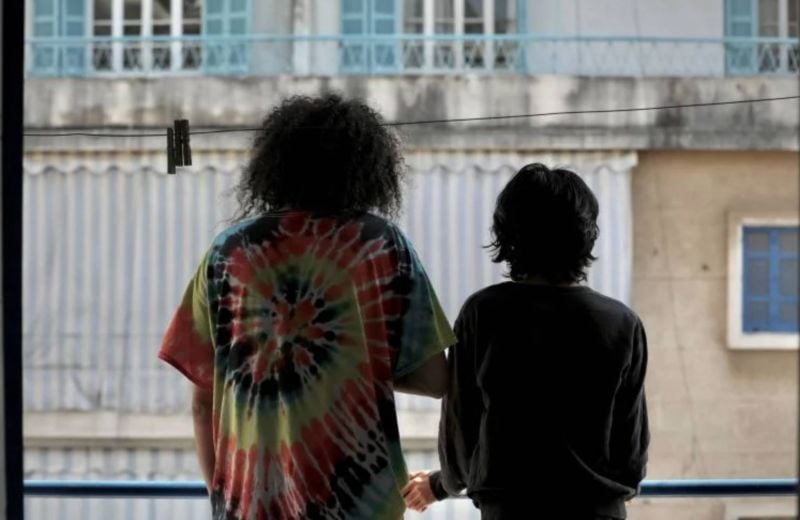 Politicians, media outlets and religious authorities all seem to be fixated on a single topic: "sexual deviation."
This derogatory phrase, used to refer to homosexuality, has become the top trending hashtag on X (formerly known as Twitter). The hashtag has attached itself to remarks made by Hezbollah leader Hassan Nasrallah, who characterizes homosexuality as a"threat to society," and to a report about the controversial movie "Barbie."
Caretaker Culture Minister Mohammad Mortada called for the film's ban, on claims that it "promotes perversion and challenges traditional gender norms, while also criticizing the concept of male guardianship and ridiculing the role of mothers."

Within this concert of homophobia, an unusual alliance has formed between political and religious factions that often find themselves in disagreement. Things took a particularly violent turn in late July, when Hezbollah leader Hassan Nasrallah openly called for the "death penalty" as punishment for individuals engaging in liwat (a derogatory term used to refer to homosexuality).

"I've been feeling a mix of worry and anger since I heard Nasrallah's speech," Samar*, a member of the LGBTQ+ community told L'Orient-Le Jour. While she finds the violence in Nasrallah's speech concerning, she's attuned to the political motivations underpinning them. "For more than a year, we've been witnessing an ongoing campaign of homophobic suppression, facilitated by the state's implicit approval," Samar said, referring to the Interior Ministry's directive that prohibited all LGBTQ+ events in June 2022.

"In times of crisis, there's often a search for a scapegoat. It seems, however, that there's a consensus that queer individuals will be the chosen targets moving forward," Samar said.

While no other officials have yet matched Nasrallah's extreme stance, this seems to be the case.

On Tuesday, Maronite Patriarch Bchara al-Rai hosted a ministerial consultative gathering in Dimane, attended by caretaker Prime Minister Najib Mikati. The impetus for this meeting was the shared concern for the "disintegration of the Lebanese family," as Mikati put it.

The press release following the meeting cautioned against a "narrative cloaked in modernity, liberty and human rights rhetoric, which contradicts religious and ethical principles." This thinly veiled reference refers to the topic of homosexuality.

The statement assigned the responsibility of countering this "narrative" to all religious, judicial, educational, political, and media authorities, as well as civil society at large.

Violence

These developments stoked the fervor of a small Christian extremist faction known as the "Soldiers of God." The group has taken it upon themselves to intimidate LGBTQ+ individuals, particularly in Christian-majority neighborhoods like Ashrafieh, which were once considered safe havens.

Last year, they vandalized a sign adorned with rainbow-colored flowers in Sassine Square during the planned Beirut Pride event, which was eventually halted by authorities.

In May, they staged a protest in front of the German embassy in objection to the raising of a rainbow flag on the International Day Against Homophobia, Biphobia, and Transphobia, branding it as a "devil's flag."

"They're being funded by a financier to divert public attention from the ongoing crisis," Samar believes. "In my view, they're even more unsettling than Hezbollah, as they operate just a couple of blocks away from the bars where we gather."

Samar said she personally feels less affected by Nasrallah's threats compared to LGBTQ+ individuals residing in Beirut's southern suburbs. She acknowledged that the latter has developed a nuanced understanding of their surroundings, mastering the area's dynamics and effectively mitigating potential risks.

Samar emphasized that being singled out because of one's sexual orientation is a recurring experience for queer individuals. "We remain vigilant, always prepared for any situation," she said. "As members of the queer community, we're also committed to advocating for the rights of women, migrants and other marginalized groups, fostering a sense of mutual support."

Whard Mougharbel, a communications officer atHelem, an LGBTQ+ rights NGO, underscored the importance of such support, especially with the recent surge of homophobic violence. "We're receiving numerous calls from individuals deeply concerned about the hostile environment they face, particularly those residing in neighborhoods under the influence of extremist factions," he said.

Mougharbel noted that the primary source of concern arises from dating apps.

"Some have received threats to 'out' them in front of their parents, others have been threatened with death. And then there are those who have gone on dates where they've been physically assaulted," he added.

In response to these distressing incidents, Helem has assumed responsibility for covering the medical expenses of victims. Beyond this, the LGBTQ+ support organization took the initiative to implore dating apps to suspend the registration of new accounts in order to mitigate the risk of further threats.
According to Human Rights Watch, after Nasrallah's hate speech, the Grindr dating app took immediate action to protect Lebanese users, adding a feature that appears in both English and Arabic allowing users to report danger.
Samar fears that the current homophobic rhetoric will encourage individual acts of violence. "The situation is complex: we know that Nasrallah's speech is primarily aimed at his own community," she said. "However, increasingly more members of his community are questioning his statements, which gives me hope that widespread homophobic violence will not occur. But it only takes one person to take his words seriously for the worst to happen."

"I find myself living in this sort of perpetual fear, I could be attacked at any moment," but so far nothing has happened, she said.

"Oh, yes," she quipped, "there was a multicolored flag [mistaken for a rainbow flag, symbol of the LGBTQ+ community], which was banned from a festival in Faraya. That made us laugh a lot."
Rainbow cake

The LGBTQ+ flag has once again been at the center of several controversies recently, with one particularly flavorful incident involving rainbow cakes that have been sold by Pain d'Or bakery for the past 15 years.

At the end of July, online users criticized the pastries, claiming they were subtly introducing children to the "woke" ideology. The "woke movement" started in the US and signifies being conscious of and actively addressing various forms of discrimination. In response to the criticism, the bakery chain withdrew the Rainbow cakes from their shops and issued an apology.

Openly gay stand-up comedian Shaden Fakih joked about the incident in an Instagram video posted on Aug. 1, which she humorously addressed to Pain d'Or employees. "I ate a rainbow cake and have loved women ever since," she said, "Do you have a cake that would make me love men again?"

A few days earlier, Fakih posted a video in response to Nasrallah's homophobic speech: "Our dear Nasrallah made a speech about Lebanon and its 'problem.' It turns out it's not the crooked bankers, nor the MPs, nor the nitrate, nor the maritime border that Hezbollah sold to Israel, none of that... Lebanon's problem is gay people," she quipped.

"We've become accustomed to calming our fears in different ways," Samar said.
Besides humor, individuals within the LGBTQ+ community find amusement in the paradoxical existence of gay individuals within various homophobic factions.
"It is certainly ironic, but worrying at the same time, because it can drive some of them to adopt even more violent behavior," Samar said.

"But within the community, these people can't fool anyone," she added. "We come across them in the darkness of clubs, for example."

Khaled Merheb, a human rights activist from Tripoli who received death threats last year for defending LGBTQ+ rights, agreed.

"During a demonstration in Tripoli last year against civil marriage and homosexuality, I recognized no less than five gay people," Merheb said.

'Criminal danger'

The conservative northern city is no exception to the current wave of homophobia.

On Aug. 3, Tripoli MP Ashraf Rifi announced his intention to propose a bill to criminalize homosexuality, which he said would be ready "in two or three weeks."

"Western associations, under progressive cover, encourage the promotion of homosexuality, claiming that it is something natural," Rifi told L'Orient-Le Jour. "This threatens our society, whether we are Christians or Muslims."

Is Rifi, a staunch detractor of Hezbollah, trying to outbid his sworn enemy through this move?

But Hezbollah has taken it a step further. In addition to Nasrallah's hateful rhetoric, a research center affiliated with the pro-Iranian party published a "draft law to combat sexual deviance in Lebanon" on July 31.

Article 1 of the document defines homosexuality as a "criminal danger."

Further on, Article 5 proposes to criminalize any promotion, dissemination or advertising of homosexuality in schools, theaters, social networks, institutions, the media, etc., with "prison sentences ranging from 7 to 10 years," and hefty fines for non compliant offenders.

This is a brutal regression from recent years, when several court decisions acquitted citizens accused under Article 534 of the penal code, which criminalizes any "unnatural" sexual relationship. The backlash however, is being countered by nine MPs, who on July 12, proposed a bill to abolish the article criminalizing homosexuality.

Beyond Lebanon, the entire Middle East has been swept by a homophobic wave, according to Mougharbel.

"From Iraq to Jordan to Egypt, all the political players are using the anti-LGBTQ+ card to serve their political interests," he said. "As a result, a community already made vulnerable by the ongoing crisis is now under siege."

This sentiment is shared by Ryan, 20, who fled his home country Iraq, where on Aug. 8 the media regulatory authority banned the use of the words "gender" and "homosexuality" in favor of the term "sexual deviance."

Ryan, who fell victim to domestic violence, received death threats and experienced a traumatic arrest, found refuge in Lebanon at the end of 2022.

It was a brief period, during which he found the courage to embrace a more feminine style and openly express his queer identity. Nasrallah's speech brought him to a standstill.

"I'm being cautious about my clothing choices once again. I've deleted my profile on a dating app. I'm striving to maintain as low a profile as I can," he said.

Samar, on the other hand, is fed up with having to hide.

"I've applied for a visa for a foreign country and I'm going to leave soon," she said. "It breaks my heart because I love my country. But what can I do? Here, as a queer woman, my existence is denied."
*First name changed
This article was originally published in French in L'Orient-Le Jour. Translation by Sahar Ghoussoub.


Politicians, media outlets and religious authorities all seem to be fixated on a single topic: "sexual deviation."This derogatory phrase, used to refer to homosexuality, has become the top trending hashtag on X (formerly known as Twitter). The hashtag has attached itself to remarks made by Hezbollah leader Hassan Nasrallah, who characterizes homosexuality as a"threat to society," and to a...