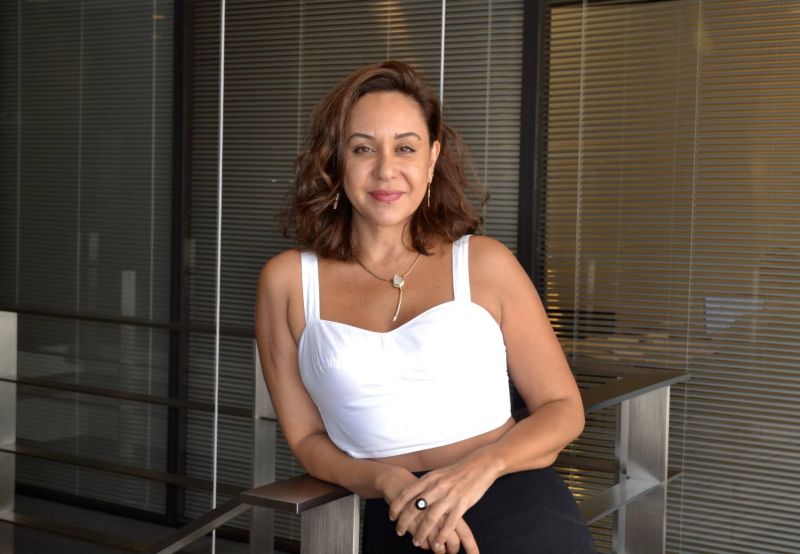 The Aug. 4, 2020, Beirut blast was really "the apocalypse and the death of the Lebanon that we once knew," in the words of Lebanese journalist Dalal Mawad. For many people, there will always be a before and after Aug. 4.
Three years have passed and justice continues to elude us, with promised answers falling into the void.
Amid the lingering shadows, a ray of hope emerges. Beirut, renowned for its Art de Vivre, Art de Recevoir ("Art of living, art of entertaining") is slowly starting to regain its colors, with tourists and expats flocking to the city in droves. This revival is nurtured by the efforts of individuals, organizations and NGOs that have come together to support the city.
This year, at L'Orient Today, we have chosen to shed light on the journeys of those who stayed and fought back, each in their own way. In a series of six profiles, we share with you their stories, struggles and aspirations.
On Aug. 4, 2020, public relations and media executive Mariana Wehbe was in her office in downtown Beirut, about a kilometer away from Beirut port.
Around 6 p.m., upon receiving a call from her daughter Sophie, she stepped out of her office, into the glass hallway.
Then the blast hit.
In the seconds that followed, Wehbe could hear her assistant at the time, Marwa Darazi, murmuring: "Please don't leave me."
When the blast occurred, Darazi was still sitting in the office. She was showered with glass. "I just picked up 300 kilograms of glass without feeling anything and we got her out," recalled Wehbe.
"The whole office was on the ground, people running down the stairs, blood."
A phone call informed Wehbe that her daughter's nanny was dying.
She started to run. "I ran from the beginning of Gemmayzeh, all the way up to our family home in Sofil, in my sandals and dress."
"I saw everything. I couldn't do anything. I was apologizing to people on the streets: 'I'm sorry.' I could not help anyone. I needed to get home. I needed to get to my daughter. There was a focus on family right then and there."
'People need doors and windows'
The next morning, "there was no way that you could sit and do nothing. There is no way that you lived it and you didn't get up to either clean a street, raise money or help. It was impossible. You wouldn't be human if you did," said Wehbe.
In the three days that followed the blast, Wehbe co-founded, with her best friend architect Nancy Gabrielle, the grassroots initiative Bebw'Shebbek [doors and windows]. The name encapsulates the essence of its mission — to provide doors and windows to those whose homes were damaged by the explosion.
"Get people back home before winter," she declared. "That was our mandate."
Mariana's "dining room table, living room, bedroom, [her] whole house" quickly "turned into an office." The initiative enlisted the help of architecture and design students as interns to conduct evaluations and measurements. The young volunteers, alongside a dedicated team, worked tirelessly to ensure that the aid provided was tailored to the specific needs of each household.
"We divided the neighborhoods among our volunteers and we set up a call center. People call. They send the image of the house through WhatsApp, send us their information and an ownership contract. We send a team. The whole team goes with the contractor. They take images. They take dimensions."
Planting seeds of patriotism
"I have never connected with so many people in my life with kindness and love and a will to dream about a better future for this country," Wehbe confided.
Every morning, Wehbe would ask her volunteers, "the young men and women who came from Chiyah, from Jounieh, from Mt Lebanon, from Chouf, from Baalbek, from Beirut," to sing the national anthem, as a way to instill their national belonging. "A lot of them did not want to. A lot of them were embarrassed. A lot of them did not know it. And I know nothing about politics. But what I understood is, this is a fundamental problem: the fact that most of us don't know the national anthem, but we know the anthem of X, Y, Z," she reflected.
"It took some time, and then they were singing it at the top of their lungs."
Bebw'Shebbek then decided to make the same request of their beneficiaries. "We told them: 'We don't want testimonials from you. Keep your dignity. But sing for us the national anthem.' You will be surprised how many people refused, and how many people had pictures of politicians. We would stop the work and continue only when they took the picture down and sang the national anthem," Wehbe recalled. "It was political for me."
"It is to show that it has been the private sector that has kept this country standing, whether it's NGOs, whether it's congenital heart disease, whether it's education, … Your politicians keep you uneducated, and poor, and give you $500 a month and keep you in your areas."
Working in the 'the crisis of all crises'
Bebw'Shebbek faced some criticisms and skepticism, but this didn't come as a surprise to Wehbe. "In anything that you do in life, when you put yourself out there, you better know you're going to get criticized," Wehbe told L'Orient Today. "You have to have a thick skin and really believe in what you're doing. Does it hurt me? Yes, I'm human. I'm a woman. I do things from my heart. Did I cry? Yes. Did it bother me? Yes. But then the bigger picture is, this all doesn't matter. I want to be a speck in a fleck of how I impacted my community. It is my duty to do that."
Wehbe was very vocal about the outreach of Bebw'Shebbek. "It's not an initiative for the poor. This is an initiative for the middle class too. These people lived on this road. They had businesses, they had employees, they had families," she said.
"Their houses were gone, [their] money stuck in the banks [amid] huge inflation. Some people lost their homes, that of their parents, that of their kids. They're putting their kids through university. Yes, their house is worth $2 million. Yes, but they had nothing left."
Overall, Bebw'Shebbek rehabilitated 870 homes and five schools.
"Now, we did donate a $50,000 check, in lollars, to AHM [a nightclub at the Beirut waterfront]. We had a donor who gave us a $50,000 check, which, at the time, amounted to exactly $7,000. It was the end of our initiative and I decided to donate it to AHM. I love AHM,"" she explained, "and I know what they have created for the creative community. They had 160 employees, young men and women, students."
"I would do it again for any business that needed that money, for their doors and windows, as part of our creative community. We didn't get backlash when we helped schools. Why did we get backlash when we helped a company that's a club? So what? It's still part of my community."
Despite the hostility, Wehbe assumed responsibility.
"What people don't understand is this was not a normal situation of devastation. We were really, with all NGOs, in a never ever seen before crisis in history: inflation, change of money, dollar, lollar, check, try working with the suppliers, COVID," explained Wehbe.
"Did Bebw'Shebbek, or other initiatives, not get it fully, right? Absolutely, yes. But I dare anybody to go back in time and to try to do what any one of these NGOs and initiatives on the ground did in the circumstances that we were in. I dare them with zero mistakes. It's impossible. It's absolutely impossible. It's easier to sit back and criticize, then get them to get off their couches and actually do something."
A quest for hope
The impact of Bebw'Shebbek on the community goes beyond rebuilding homes.
"I think one of the most beautiful things that came out of this is that all these young men and women that were part of Bebw'Shebbek can walk around their city and look at buildings and say, 'I did that. I fixed that," Wehbe reflected. "On a design and architectural aspect, what is insane that [what] came out of this is the discovery of some of the most stunning buildings from the thirties, forties, fifties, that I believe these men and women would have never seen had they not been part of Bebw'Shebbek. The back alleys of the streets that we know, the old Lebanese homes, the education they got on the foundation of different structures."
Looking ahead, Wehbe dreams of a Beirut and a Lebanon that her generation may not fully witness but one that lays the foundation for future generations to thrive.
"I hope that we will understand that what we are doing today is a speck and a fleck in a timeline. Our kids usually flip a page on 500 years or a thousand years, and the bigger picture of what we're seeing today is: maybe not in my lifetime. I will see Beirut and the country that I dream and we never had a chance to witness. But maybe we can all start thinking that we're planting the seed for generations to come."
The Aug. 4, 2020, Beirut blast was really "the apocalypse and the death of the Lebanon that we once knew," in the words of Lebanese journalist Dalal Mawad. For many people, there will always be a before and after Aug. 4.Three years have passed and justice continues to elude us, with promised answers falling into the void.Amid the lingering shadows, a ray of hope emerges. Beirut, renowned for...