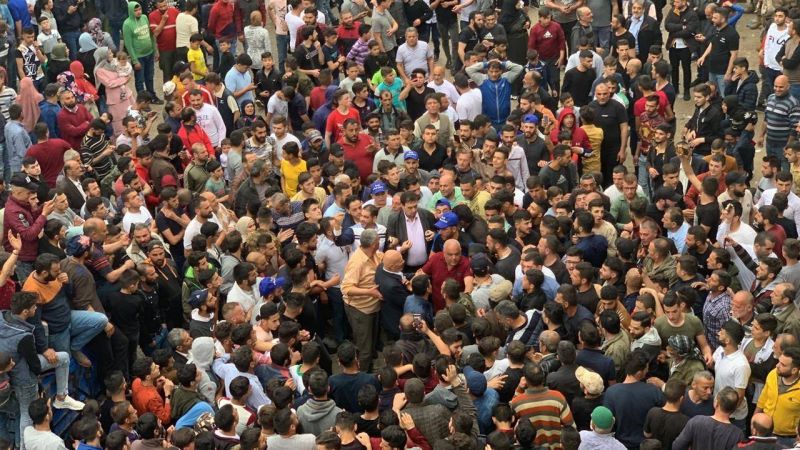 BEIRUT — After months of anticipation and speculation that the parliamentary elections would be canceled or postponed, voting went forward as scheduled in Lebanon's 15 districts on Sunday, albeit with some organizational failures and allegations of improprieties.
In total, some 41.04 percent of registered voters had cast ballots as of late Sunday night, the Interior Ministry reported. While the number is not final, it appears to show a decrease from 2018, when 49.7 percent of registered voters turned out.
Early in the day, the Lebanese Association for Democratic Elections reported some polling stations were late to open or were missing supplies such as pens and — crucially — ballot slips. Later, long lines and electricity outages at some polling centers left many voters waiting for hours.

Throughout the day, a number of altercations broke out at voting centers, including in Moallaqa in the Zahle area, where there was a brawl between Lebanese Forces and Hezbollah supporters. In Burj al-Barajneh, Wassef Harakeh, who is running with the "Baabda the Change" electoral list composed of opposition candidates, was attacked, allegedly by Hezbollah supporters. A video posted by LADE shows a group of men insulting Harakeh outside a polling station in Burj al-Barajneh, shouting, "Zionist, Zionist."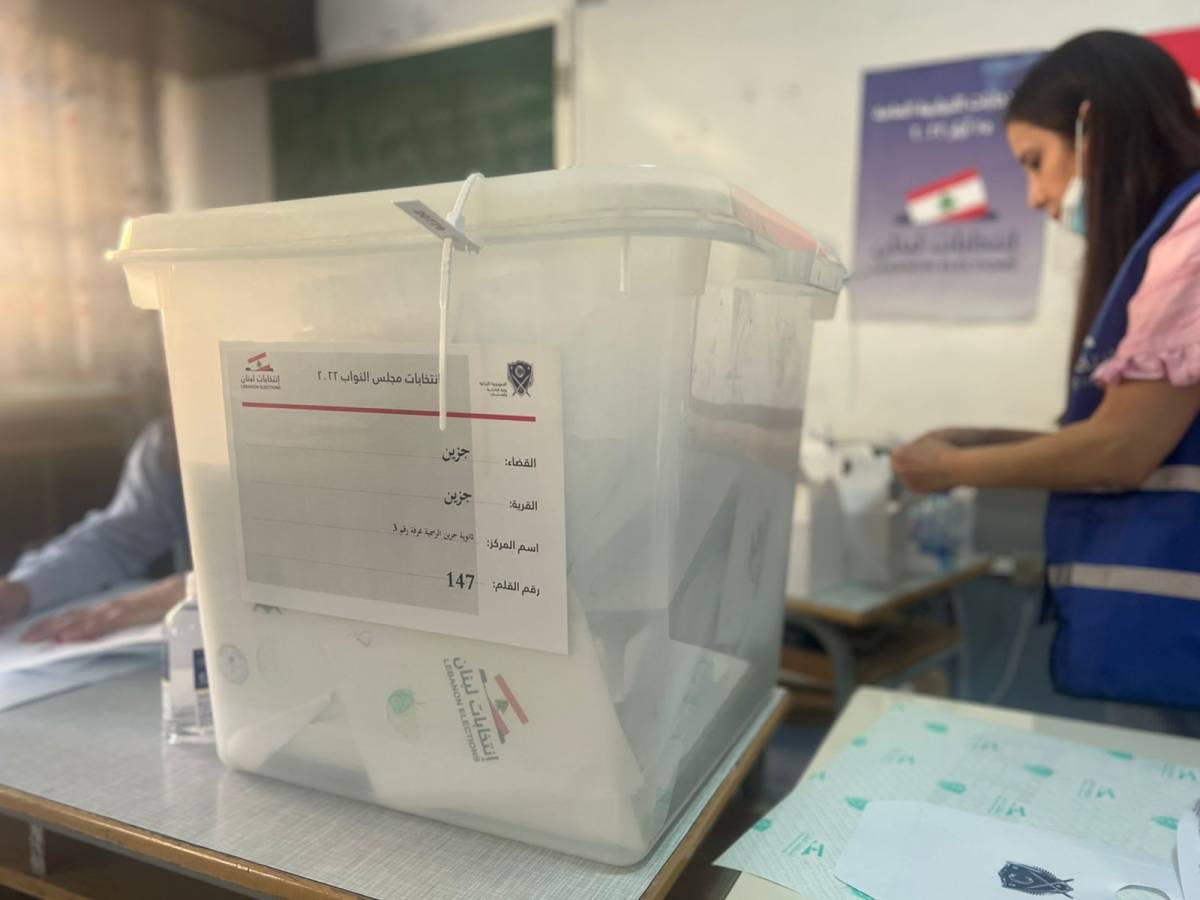 A ballot box with citizens' votes in Jezzine, part of the South I voting district. (Credit: Layal Dagher/OLJ)
Some voters said that they had been paid or offered money for their votes by various parties, while election monitors and L'Orient Today's correspondents reported seeing party delegates accompanying voters into voting booths, which is prohibited by law, under the pretense that the voters were illiterate or had other special needs.
There were also complaints about lack of accessibility for people with disabilities. Sylvana Lakkis, president of the Lebanese Union for People with Physical Disabilities, told L'Orient Today that it "is better [than in 2018] but very little until now."
At some voting stations, people in wheelchairs had to be carried up flights of stairs by soldiers or civil defense members.
In other cases, Lakkis said, political parties were "bringing people [with disabilities] to vote, surrounded by so many people, carrying them up the stairs" and entering polling booths under the pretense of assisting them in voting.
"There were some violations [that were] not acceptable at all," Lakkis said. "They are using the law, because the law says if a person needs help he or she can ask for an assistant to come with them to vote."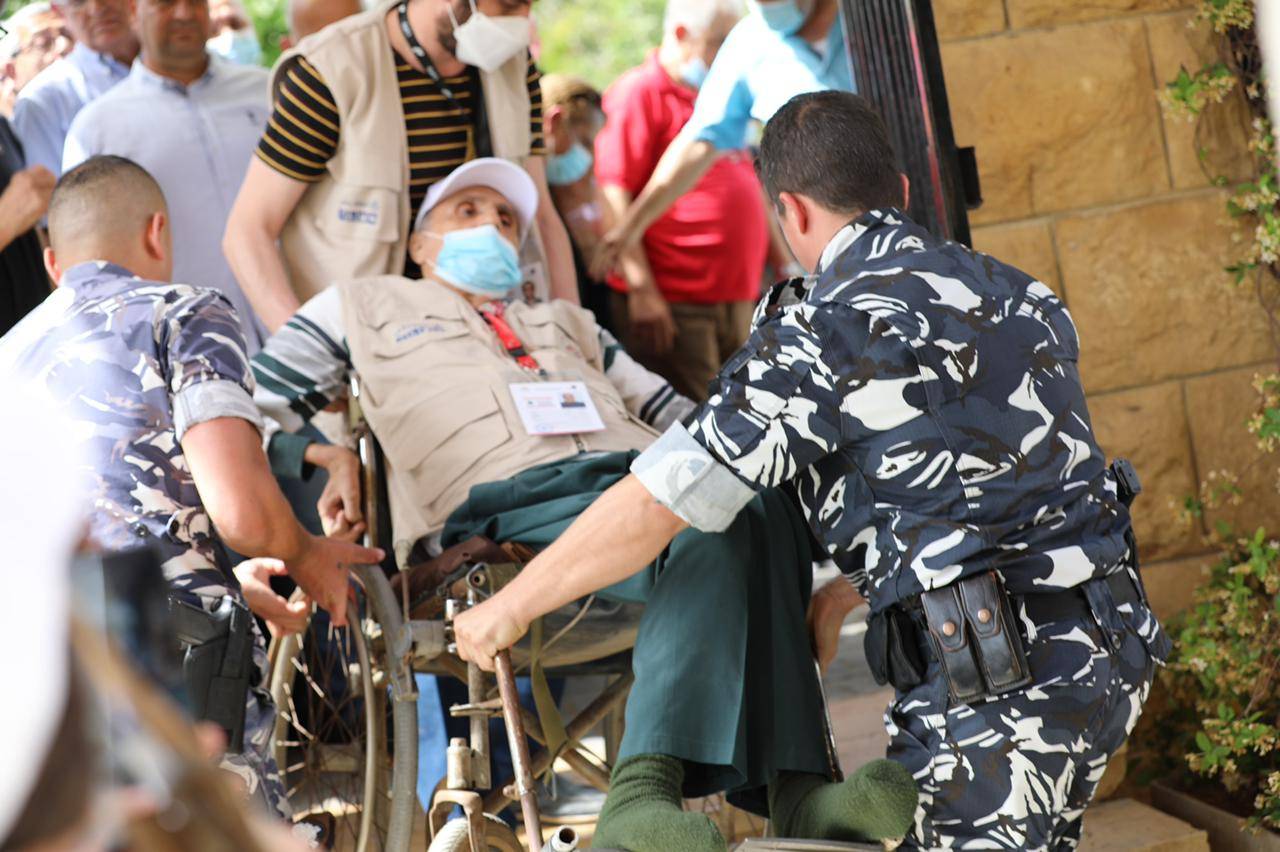 At a polling station in Hadath, a man in a wheelchair is carried by police officers due to the lack of ramps. (Credit: Matthieu Karam/OLJ)
The chief observer of a European Union election mission sent to monitor the elections, György Hölvényi, told reporters during a visit to a polling station in Verdun (Beirut II) that "most of the polling stations opened on time, or with a slight delay" and "in general, we have observed a calm atmosphere inside and outside the polling stations, with minor issues."
He noted that the team had documented some violations of the "electoral silence" period — and that some two-thirds of polling stations they had visited were not accessible to people with mobility issues. The delegation will issue a report Tuesday on violations it documented.
A vote for change?
Some voters said they were casting ballots for political newcomers and lists that have come out of the protest movement since 2019.
In Dik al-Mehdi, in the Mount Lebanon II district, mechanical engineer Wejdan Breikeh said he had cast his preferential vote for journalist Jad Ghosn, a candidate with the opposition party Citizens in a State (MMFD), which ran on a joint list, "Towards a State," with other opposition groups in the district.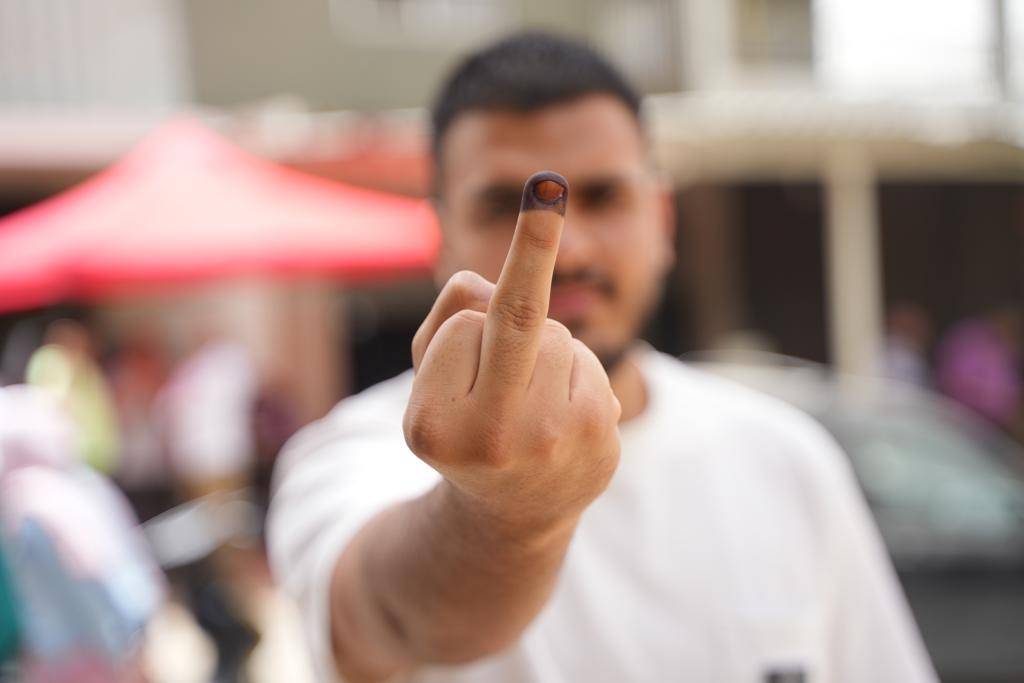 A citizen shows he voted with his middle finger. (Credit: Mohammed Yassin/OLJ)
"We want change and even though change will not happen overnight, we need to show that the old guard should go and give an opportunity to the new faces untainted by all that plagued Lebanon in the last 30 years," Breikeh said.
In Zgharta, Sarah El Kareh, a 33-year-old translator who took to the polls early in the morning, told L'Orient Today that she had voted for the opposition list Shamaluna (Our North).
"It's really amazing that we're seeing a lot of change — not the same people we've been seeing before," she said. "We have hope. We're wishing for the best."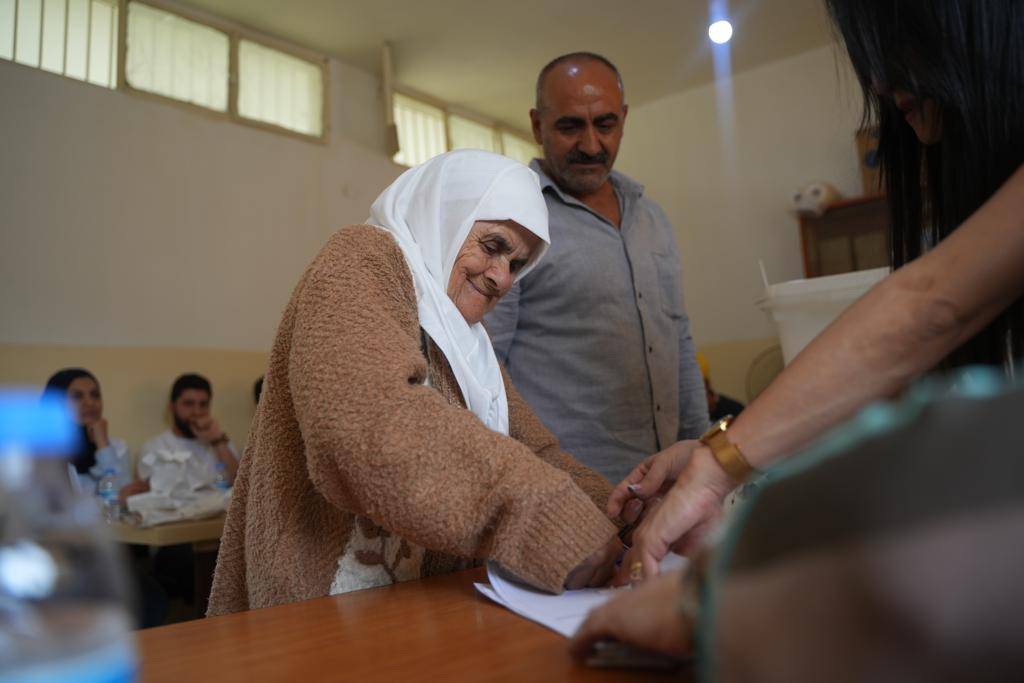 A woman above the age of 85 submitting her vote in the Hasbaya area, part of the South III voting district. (Credit: Mohammed Yassin/OLJ)
Sixty-five-year-old Youssef Fenianos also voted for Shamaluna, but the Zgharta native does not have much hope.
"I don't think there will be change, at least not in Zgharta. Look around you," he said, pointing at the delegates stationed near the polling station, some wearing the green vests of the Marada party, others in dark blue shirts with Michel Mouawad's name etched on the back. "There is no change here."
Many voters stood unabashedly by the traditional parties and political figures.
Sleiman George Iskandar, a 30-year-old bank worker, said he had voted for Marada's Tony Frangieh.

"[Frangieh] represents us," he told L'Orient Today, adding, "He who has presented 21 draft laws in the last four years is definitely capable of change. He voted against financial policies, the only group in Hassan Diab's cabinet who stood against all the economic decisions, he proposed legislation regarding electricity, he's done so much for us."
In Hazerta, in the Zahle district, retired soldier Bassam Abu Hamdan, 52, said, "I vote for the resistance, for Hezbollah which protected Lebanon against Israel."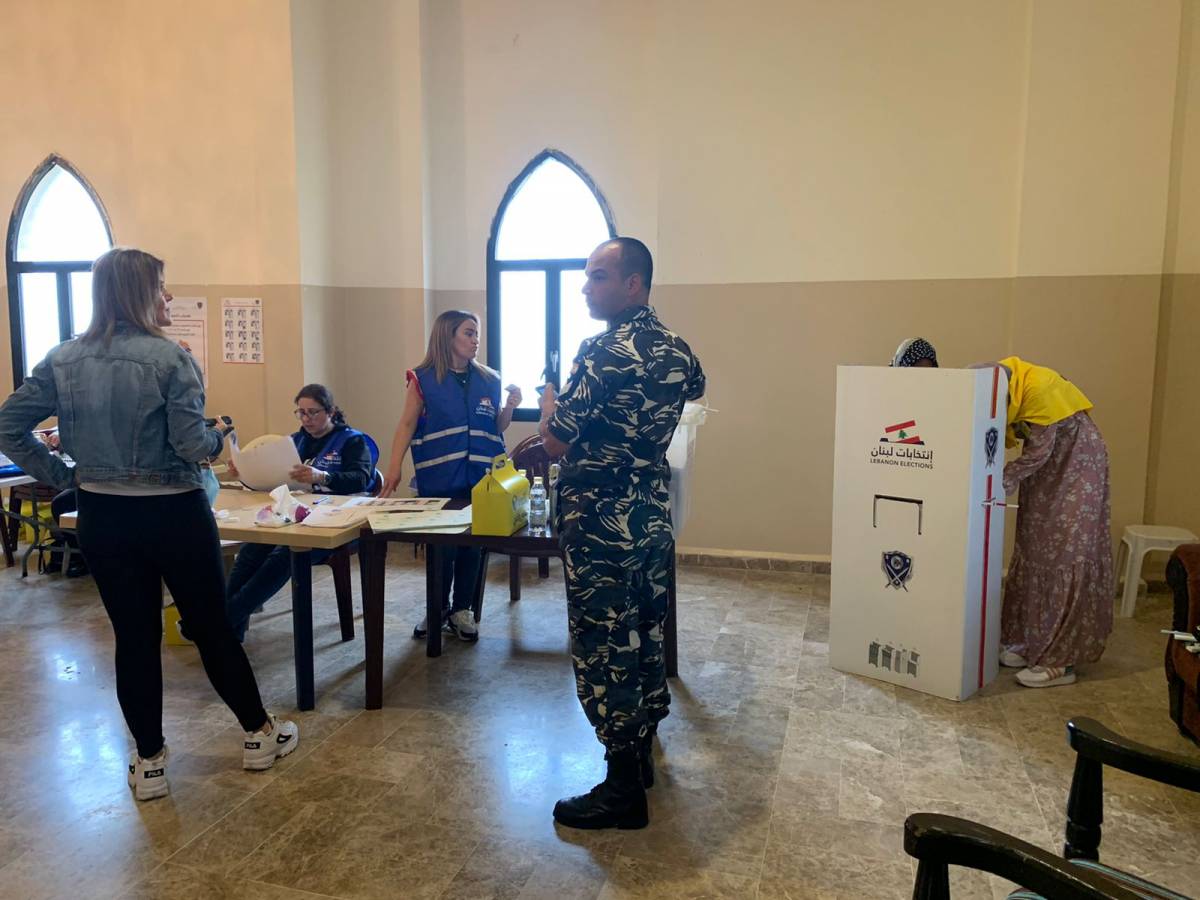 An elderly woman (on the left of the voting box) votes as a polling worker associated with Hezbollah is seen behind the box, stating she is helping the woman due to her age. However, Sylvana Lakkis, president of the Lebanese Union for People with Disabilities said that people with disabilities who are carried or helped though the voting process are sometimes taken advantage by party volunteers who may try to influence their voting intentions. (Credit: Caroline Hayek/OLJ)
He noted that while his retirement pension is only worth the equivalent of $70 per month, "the Hezb helps us, with heating fuel in the winter, with the education of our children, to make ends meet because the state is absent."
Likewise, in Sour, a 46-year-old plumber who declined to give his name said he had voted for the "Hope and Loyalty" list of Hezbollah and Amal.
"We live in a sectarian country, so we should elect people that defend our sect," he said.
In Amchit, Rizkallah Hayek, 31, who works in the field of communications, said he was supporting the Free Patriotic Movement of President Michel Aoun and current head Gebran Bassil.
"The revolution goes through the ballot box," he said, adding that the FPM "exists more than ever and we are tired of being harassed."
In Minyeh, 21-year-old Zakaria Hussein Alameddine and 43-year-old Walid Mohammad Alameddine, voted for incumbent MP Othman Alameddine, running with the "Rescue of a Nation" list supported by the Lebanese Forces and Ashraf Rifi.
Zakaria, who wore a T-shirt with the portrait of his candidate as he voted for the first time, said, "It was to put an end to the Iranian plan in Lebanon that I voted for him."
He added that he had joined the thawra (revolution) protests in 2019, "but it was a failure and that is why I did not choose any of the [thawra] candidates."
Others voted for familiar political figures who have aligned themselves with the protest movement.
In Saida, Noel Sahyouni, a 25-year-old IT worker, said he had voted for incumbent MP Osama Saad, leader of the Popular Nasserist Organization. Formerly close to the March 8 bloc, Saad moved away from it after the Oct. 17, 2019 protest movement and positioned himself as a supporter of the thawra.
"Although change is in the air, I voted for someone who has been in Parliament before," Sahyouni said. "Osama has always been loyal and trustworthy. I gave him my preferential vote, because he can take care of us."
In Beit Shaar in the Mount Lebanon II district, Ramzi Mouawad, who works at a hotel in France and came home to vote, said, "I voted for FPM the last two cycles — now I voted for Sami Gemayel [of the Kataeb, which has also positioned itself as part of the opposition]. FPM proved ineffective in fighting for the country's future and I feel candidates like Sami Gemayel will be our way out of this mess."
The Hariri effect
Meanwhile, a large segment of potential voters opted to sit the elections out, among them many Sunni supporters of Future Movement leader and former Prime Minister Saad Hariri, who opted not to run and urged his party's members to withdraw as well.
In Beirut's Tariq al-Jadideh neighborhood, a center of support for Hariri, some Future Movement members set up an inflatable pool in the street to signify their lack of interest in the polls.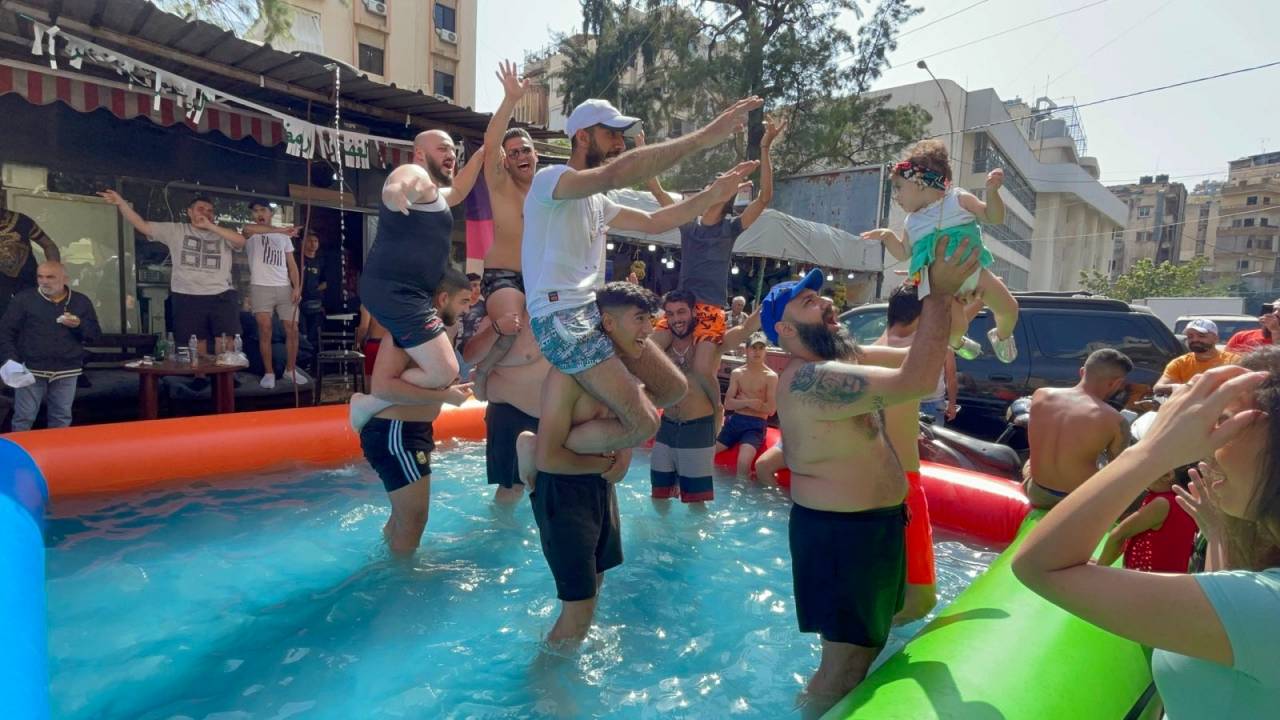 A group of citizens from Tariq al-Jadideh have a pool party in the middle of the street as they boycott the parliamentary elections after Saad Hariri sits out of the election. (Credit: Kabalan Farah/L'Orient Today)
Next to the pool, a Beirut II resident who gave his name only as Hassan said he would not vote because change is not possible through elections as long as Hezbollah has weapons. He added that in his opinion, Fouad Siniora and the Lebanese Forces had betrayed Hariri.
"When we vote Hariri, it is impossible to vote for someone else, it is like moving from the seventh floor to the basement. We don't care who will win, in all cases we are governed by Hezbollah," he added.
But the slump in turnout was not only in Hariri strongholds.
In Dhour Choueir, a village in the Metn region that is part of the Mount Lebanon II constituency, restaurant owner Pierre Zgheib said that he would not vote.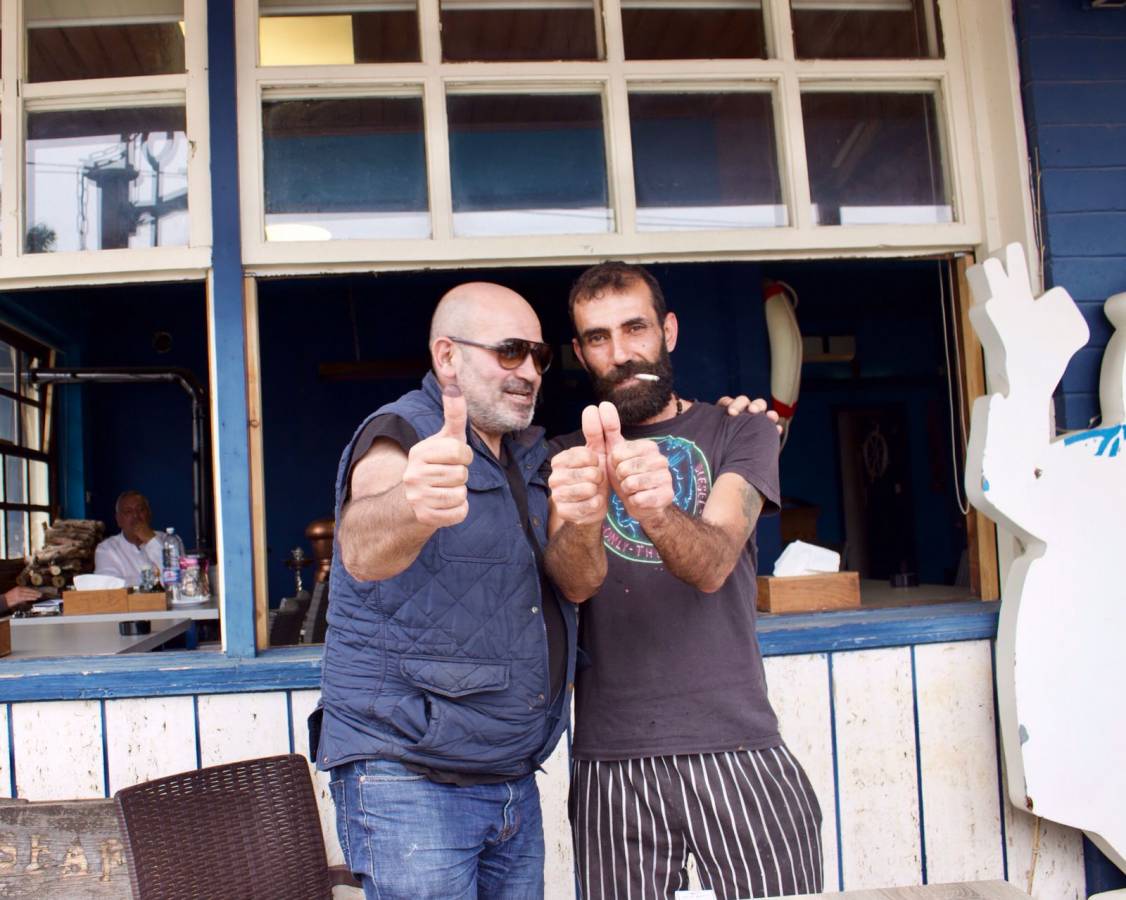 Pierre Zgheib (right) is not voting in Dhour El Choueir, part of the Mount Lebanon II voting district. (Credit: Richard Salameh/L'Orient Today)
"We vote for them every time, and we say… next elections [we will go about it differently], let's take a stand for once. Let us bark, but in a proper way. They're all shittier than each other," he said, in general reference to the establishment politicians in the country.
He added a pessimistic note on the future of Lebanon: "We're all going to emigrate. Wait and see. After these elections we're going in ships."
This article has been updated to reflect the latest turnout numbers.
Reporting by Wael Taleb, Mohamad El Chamaa, Kabalan Farah, Farah-Sylvana Kanaan, Kim Makhlouf and Richard Salame

BEIRUT — After months of anticipation and speculation that the parliamentary elections would be canceled or postponed, voting went forward as scheduled in Lebanon's 15 districts on Sunday, albeit with some organizational failures and allegations of improprieties.In total, some 41.04 percent of registered voters had cast ballots as of late Sunday night, the Interior Ministry reported. While...