Thank you for following our live coverage of day 44 of the Israel-Hamas war. We will continue our coverage tomorrow morning.
Israeli artillery strikes targeted the area around Tayr Harfa in southern Lebanon (Sour), reported the National News Agency (NNA) and Hezbollah channel al-Manar.
The Israeli army says it "attacked Hezbollah targets in Lebanese territory," in response to mortar and anti-tank missile fire from the party, reports Israeli newspaper Haaretz.
Lebanese mobile operators Alfa and Touch are "cooperating to get the local network up and running at nearly 20 sites on the southern border" with Israel, following Israeli strikes that led to the shutdown of services at the Mhaybib antenna, reports the official National News Agency (NNA), citing the Ministry of Telecoms.
The two operators are also working to "guarantee a permanent alternative network for all Touch or Alfa users in the event of a breakdown."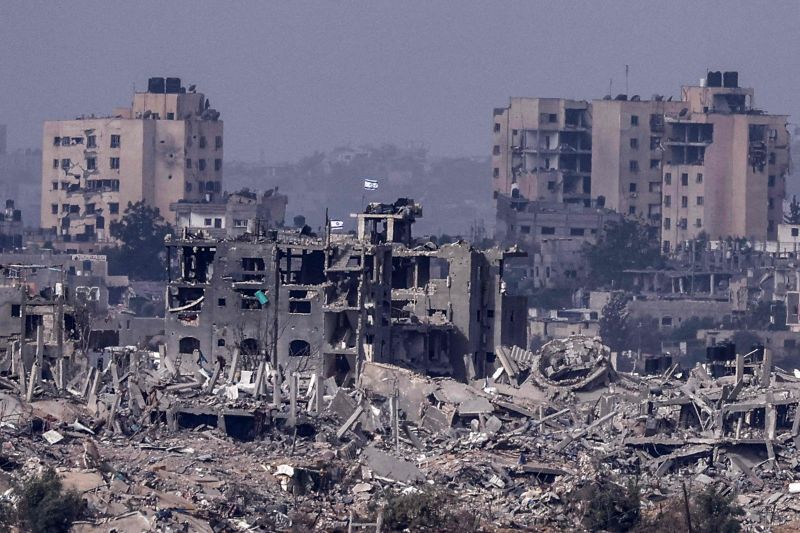 This picture shows Israeli flags flying over destroyed buildings inside the Gaza Strip on Nov. 19, 2023. (Credit: Kenzo Tribouillard/AFP)
Five Israeli soldiers have been killed in fighting in the Gaza Strip, the Israeli army said in a statement today, bringing to 64 the number of soldiers killed since the start of the invasion on Gaza.
Four of the new victims were reservists and were killed in the north of the Gaza Strip, said the army, which is relentlessly bombarding the Palestinian territory and has launched a ground offensive there to "eradicate" the Islamist movement Hamas.
The army announced that 383 of its soldiers had been killed since Hamas launched an unprecedentedly large-scale attack on Israel on Oct. 7, killing 1,200 people, most of them civilians, according to the Israeli authorities.
The Israeli army says it has discovered a 55-meter-long tunnel under Gaza's al-Shifa hospital, reports AFP.
BREAKING: Hamas announces a new death toll of 13,000 in Gaza, reports AFP. Reuters adds the figure of at least 30,000 wounded.
Among the dead to date are more than 5,500 children and 3,500 women, said the government.
Israeli intelleigence minister Gila Gamliel is calling on the international community to "promote the voluntary resettlement" of Palestinians "out of the Gaza Strip ... rather than sending money to rebuild" the territory currently being shelled by Israel, reports AFP.
In a text published by the Jerusalem Post, Ms Gamliel, a member of Prime Minister Benjamin Netanyahu's Likud party, proposes "promoting the voluntary resettlement of Palestinians from Gaza outside the Gaza Strip, for humanitarian reasons."
"Rather than sending money to rebuild Gaza or for the failing UNRWA, the international community can help finance resettlement and help Gazans build their new lives in their new host countries," writes Gamliel.
"We have tried many different solutions: Withdrawal [of settlements from the Gaza Strip], enrichment, conflict management and building high walls in the hope of keeping the Hamas monsters out of Israel. All have failed," she said.
Hezbollah claims to have targeted "several brigades of Israeli soldiers" in the Israeli areas of al-Marj and near the Honein barracks, with "appropriate weapons," causing "certain casualties" according to the party.
The foreign ministers of Russia and Iran called for a ceasefire in Gaza today and said urgent aid was needed for the region's civilian population, reports Reuters.
Russia said its foreign minister, Sergei Lavrov, had held talks with his Iranian counterpart, Hossein Amir Abdollahian, at Tehran's request. "During the conversation, attention was focused on the current situation in the area of the Israeli-Palestinian conflict," said the Russian Foreign Ministry.
"General concern was expressed about the ongoing armed confrontation in the Gaza Strip.
"The need for a rapid ceasefire and urgent aid to the affected civilian population was stressed," the text continues.
Houthi rebels in Yemen claim to have seized an Israeli commercial vessel in the Red Sea today and diverted it to the Yemeni coast, a Houthi leader tells AFP.
"We took control of an Israeli cargo ship," the leader said on condition of anonymity, indicating that an official statement would be issued later. A maritime source in the rebel-controlled port of Hodeida (west) said that "the Houthis had seized a commercial vessel and taken it to the port of Al-Salif in Hodeida."
Earlier on Sunday, the Israeli army reported that the Houthis had seized a cargo ship in the southern Red Sea as it sailed from Turkey to India, describing the incident as "very serious on a global level."
UN Secretary-General António Guterres said he is "deeply shocked" that two UN schools were hit in less than 24 hours in the Gaza Strip, killing and wounding dozens of people — many women and children — "as they sought shelter in UN premises," Reuters reports, citing a statement.
"Hundreds of thousands of Palestinian civilians are seeking shelter in UN premises across the Gaza Strip due to intensified fighting. I reaffirm that our premises are inviolable," Guterres said in a statement.
He added that the war between Israel and Hamas is causing a "staggering and unacceptable number of civilian casualties" and again called for an immediate humanitarian ceasefire.
France is ready to receive wounded children from Gaza in its hospitals "if useful and necessary," says its president Emmanuel Macron quoted by AFP.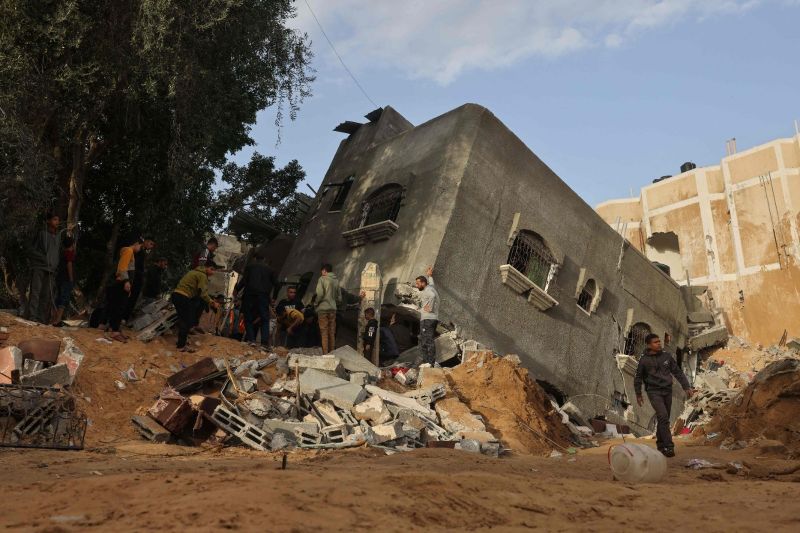 People walk near a house destroyed in an Israeli strike in Rafah in southern Gaza Strip, on Nov. 19, 2023. (Credit: Mohammed Abed/AFP)
At least 11 Palestinians were killed today by an Israeli air strike that hit a house in Jabalia in northern Gaza, health officials in Gaza said.
A man and his mother survived an Israeli bombing of their car as they were heading from their border village of Addeisseh to Kafr Kila in Marjayoun. The head of the municipality of Adaisseh Ali Rammal who said he spoke to them earlier told L'Orient Today that an Israeli bombing happened in front of their car on the way which they escaped, seconds before the Israeli army bombed it. The two are in Marjayoun hospital and are not suffering from any physical injury but from mental shock, Rammal also said.
Israel is hopeful that a significant number of hostages could be released by Hamas "in coming days," Israeli Ambassador to the United States Michael Herzog said in an interview on ABC's "This Week" today.
Israel should not embark on combat operations against Hamas in the south of Gaza until military planners have taken into account the safety of fleeing Palestinian civilians, a White House official said today.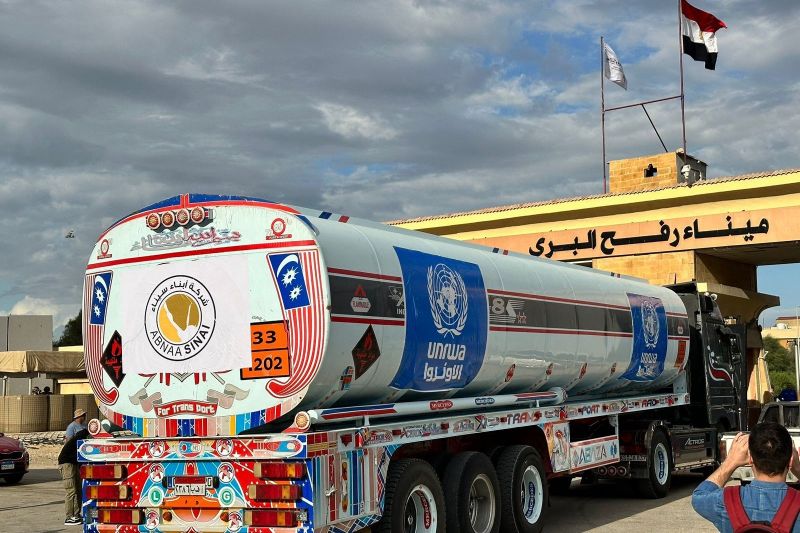 A fuel truck on the Egyptian side of the Rafah border crossing, drives toward southern Gaza on Nov. 19, 2023. A first consignment of fuel entered Gaza on November after US pressure on Israel, allowing communications to resume in the Palestinian territory. (Credit: AFP)
France will send more medical supplies and a second hospital ship to Gaza, President Emmanuel Macron's office says, according to Reuters.
France will send an airplane with more than 10 tons of medical supplies at the start of the week, and will contribute to European Union medical aid flights on Nov. 23 and 30, the news agency cites a statement from Macron's office as saying. It adds that France is also preparing a second hospital ship, the helicopter-carrier Dixmude, which will arrive in Egypt in the coming days. A first French helicopter carrier — the Tonnerre, which has about 60 beds and two operating blocs — has already been deployed in the region.
France will also deploy civil and military planes to evacuate sick or injured children from Gaza, the reportedly statement adds. Earlier this month, French planes delivered 54 tons of aid for Gaza via Egypt.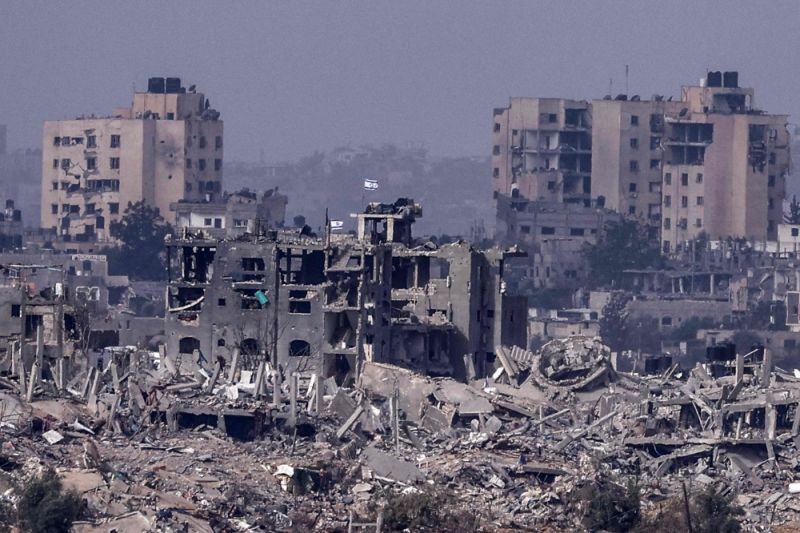 For a recap of the latest developments in Gaza over the past 24 hours, click here.
Image: This picture taken from southern Israel shows Israeli flags flying over destroyed buildings inside the Gaza Strip on Nov. 19, 2023, amid ongoing battles between Israel and the Palestinian Hamas movement. (Credit: Kenzo Tribouillard/AFP)
Top foreign policy officials from the Palestinian Authority and four Muslim-majority countries will visit China on Monday and Tuesday, Beijing has announced.
"During the visit, China will have in-depth communication and coordination with the joint delegation of foreign ministers of Arab and Islamic countries to promote a de-escalation of the current Palestinian-Israeli conflict, protecting civilians, and justly resolving the Palestinian issue," AFP cites Chinese Foreign Ministry spokeswoman Mao Ning as saying in a statement.
Hezbollah has announced three attacks conducted this afternoon: at 12 p.m., 12:40 p.m., and 12:45 p.m., respectively. The attacks targeted an Israeli position in the Israeli village of Hanita, a military brigade near the Israeli village of Metula, and an Israeli position facing the Lebanese border area of Labbouneh in Naqoura (Sour district). Hezbollah again claimed in each case that it "directly hit the target."
"Hezbollah remains in a state of maximum alert and constant readiness," the party's deputy leader, Naim Qassem, says during a partisan ceremony.
Hezbollah "continues to occupy the enemy and confuse them, while causing them losses and preventing them from using their full strength elsewhere," Qassem said, according to a statement issued by his party. "We are extremely ready for anything that might happen. Any threats made by the enemy are of no value to us," he added.
A Gaza health official says 31 premature babies have been evacuated from al-Shifa Hospital, AFP reports.
Mohammed Zaqut, director general of hospitals in Gaza, told AFP "all 31 premature babies in Al-Shifa hospital.. have been evacuated" along with three doctors and two nurses, and "preparations are under way" for them to enter Egypt.

The Israeli army announces that three more soldiers have been killed in fighting in the Gaza Strip, raising the number of troop deaths there to 62 since the war began.
All three were reservists and died yesterday in northern Gaza, the military said in a statement.
The Israeli army earlier today shelled areas around the south Lebanon border villages of Khiam and Kafr Kila in Marjayoun, residents of the villages tell L'Orient Today.
Iran's supreme leader, Khamenei, calls on Muslim states to at least cut off political ties with Israel for "a limited period of time," Reuters reports, citing Iran's semi-official Tasnim news agency.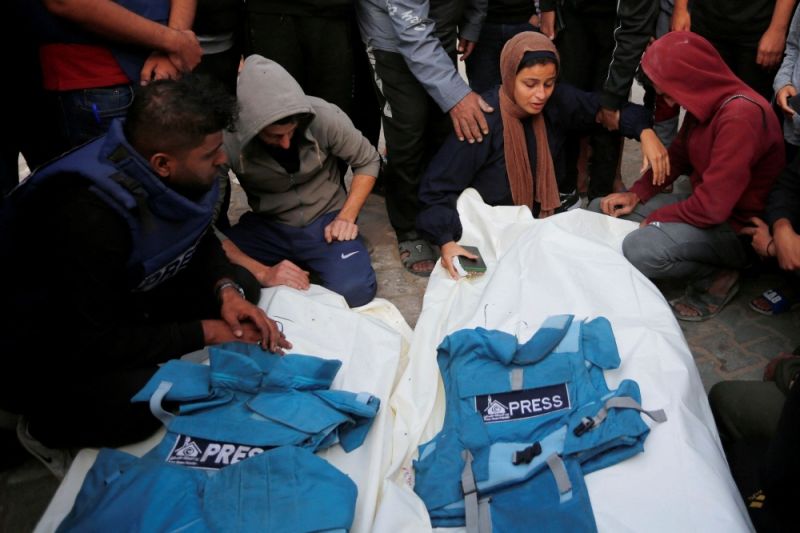 Image: Palestinians mourn local journalists Hassouna Sleem and Sary Mansour, who were killed in an Israeli strike on a house, at a hospital in the central Gaza Strip on Nov. 19, 2023. (Credit: Reuters/Stringer)
Jordan's King Abdullah says the international community should push for an immediate cease-fire in Gaza to stop a humanitarian catastrophe caused by what he termed Israel's "ugly war against civilians," Reuters reports.
In remarks made during a meeting with European Commission chief Ursula von der Leyen, the monarch said global powers should force Israel to comply with international law to protect civilians and ensure Israel heeds calls to allow an uninterrupted flow of aid into the enclave.
Hezbollah announces it attacked an Israeli position facing the southern Lebanese border village of Markaba (Marjayoun district) at 11:30 a.m., adding that it "directly hit the target." The Isreali army shelled areas around the village of Markaba this morning, residents told L'Orient Today.
Qatari Prime Minister Sheikh Mohammed Bin Abdulrahman al-Thani says his confidence is growing that a hostage deal between Israel and Hamas will be reached, adding challenges that remained were "very minor," Reuters reports.
"The challenges facing the agreement are just practical and logistical," Sheikh Mohammed said at a joint press conference with EU foreign policy chief Josep Borrell in Doha.
Yemen's Houthis say they will target all ships owned or operated by Israeli companies or carrying the Israeli flag, Reuters reports, citing the group's Telegram channel account.
Reuters reports that a spokesman for Yemen's Iran-aligned Houthis, Yahya Sarea, said the group will target all ships owned or operated by Israeli companies or carrying the Israeli flag, according to the group's Telegram channel. It adds that the spokesman called on all countries to withdraw their citizens working on the crews of any such ships.
The Israeli army says it has intercepted an aerial target that infiltrated northern Israel, Haaretz reports after a minute earlier reporting that rocket sirens were sounding in northern Israel. According to Haaretz, the Israeli army said that the aerial target was intercepted over Margaliot.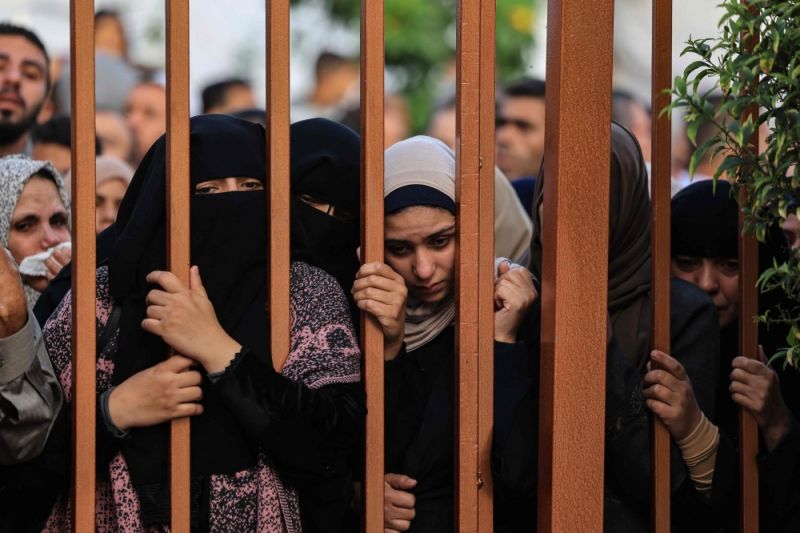 Image: People wait their turn to identify relatives killed in Israeli bombardment on Khan Younis in the southern Gaza strip, behind the gate leading to the morgue of the al-Nasser hospital where the bodies of victims are laid, out on Nov. 19, 2023. (Credit: Mahmud Hams/AFP)
Hezbollah has announced a second attack this morning, this time against an Israeli military brigade facing the area of Labbouneh in the south Lebanon border village of Naqoura (Sour district). Hezbollah says it launched the attack at 8:35 a.m. and "directly hit the target."
Hezbollah announces that it targeted two Israeli positions facing the south Lebanon border village of Dhayra in the Sour district at 8:30 a.m. The announcement states that the group used "appropriate weapons" but gives no further details of the attack.
Israeli artillery bombardments are currently targeting the area around the town of Jabbain in south Lebanon, the Lebanese state-run National Information Agency reports.
Alfa's telecommunication services are completely cut in the village of Mays al-Jabal in the Nabatieh governorate due to Israel's bombing of town of Muhaybib yesterday afternoon, Lebanon's state-run National News Agency reports.
The US says it is still pushing for an Israel-Hamas deal after a reported breakthrough last night.

"We have not reached a deal yet, but we continue to work hard to get to a deal," White House National Security Council spokeswoman Adrienne Watson said on X, formerly Twitter, in response to The Washington Post reporting a deal had been agreed. Click here for more.
The Israeli army bombed several Lebanese border villages early this morning. It shelled areas around the border villages of Naqoura, Teir Harfa, and al-Jabine in the Sour district, according to a security source who spoke to L'Orient Today. According to the source, Israel also shelled the areas around the villages of al-Tayeb and Qlayaa in the Marjayoun district. The security source added that the border village of Aita al-Shaab in the Bint Jbeil district was also bombarded. Residents of Yarine in Sour also told L'Orient Today that an area around the village was shelled. The state-run National News Agency also reports these latest Israeli strikes on southern Lebanon.
Residents of Yarine (Sour district) tell our correspondent that Israeli strikes hit the outskirts of their village this morning.
An Israeli plane dropped a missile on the outskirts of Aita al-Shaab in southern Lebanon this morning, according to a security source cited by our correspondent in the area, Muntasser Abdallah.
The Israel army's spokesperson's unit says that shortly after rocket sirens were heard in northern Israel this morning, the Israeli air force attacked and destroyed Hezbollah targets in Lebanon, Haaretz reports.
According to the statement, dozens of mortar shells were fired into Israel from across the Lebanese border early this morning.
7- In a column published by The Washington Post, US President Joe Biden called for a future reunification of the West Bank and the Gaza Strip under a "revitalized Palestinian Authority."

"Gaza and the West Bank should be reunified under a single governance structure, ultimately under a revitalized Palestinian Authority," he wrote.
Israeli Prime Minister Benjamin Netanyahu responded in a press conference that "the Palestinian Authority in its current form is not capable of taking responsibility for Gaza."
6- After a day marked by intense cross-border bombing by Israel and Hezbollah along the southern Lebanese border, Israeli strikes resumed this morning. Israel's bombing of south Lebanon has already killed more than 90 people since Oct. 8, most of them Hezbollah fighters but also civilians, including Reuters journalist Issam Abdallah.
According to security sources cited by our correspondent, Muntasser Abdallah, Israeli strikes targeted the outskirts of Aitaroun and Maroun al-Ras, in south Lebanon, around 6:30 a.m. Around 7:30 a.m., several Israeli artillery shells fell on the southern outskirts of Naqoura.
5- Yesterday evening, Gaza's Hamas government announced that 12,300 Palestinians have been killed by Israel since Oct. 7, including more than 5,000 children.
More than two-thirds of the Gaza Strip's 2.4 million residents have been displaced by the war, according to the UN.
4- The al-Shifa Hospital , the largest in the Gaza Strip, has become a "death zone," according to the World Health Organization, which requested its evacuation.
3- As the war enters its 44th day, the Israeli army says it "continues to expand its operations into new areas of the Gaza Strip." Israeli forces also indicate that they carried out operations in the areas of Jabaliya and Zaytoun, in the north of Gaza, yesterday.
2- Also according to WAFA, the Israeli army killed two Palestinians during incursions into the occupied West Bank early this morning, Reuters reports. WAFA reports that Israeli forces shot dead Issam al-Fayed, a disabled 46-year-old, at the entrance to the Jenin refugee camp, while another man, Omar Laham, 20, was shot in the head during clashes with Israeli forces in the Dheisheh refugee camp, south of Bethlehem.
Here's a rundown of what has happened since we left you yesterday evening:
1- Fifteen Palestinians were killed early this morning during Israeli aerial bombardments in the central and southern of the Gaza Strip, according to the Palestinian news agency WAFA, cited by Reuters. Thirteen people were killed in an attack on a house in the Nuseirat camp in central Gaza, while a woman and her child were killed in the southern town of Khan Younis, WAFA reported.
Good morning,
We are back with our live coverage, on the 44th day of the war between Israel and Hamas and its spillover into southern Lebanon.
You have reached your article limit
Stay updated on the news for only $1.
You have reached an article that is only available to L'Orient Today subscribers.
Already have an account? Log in