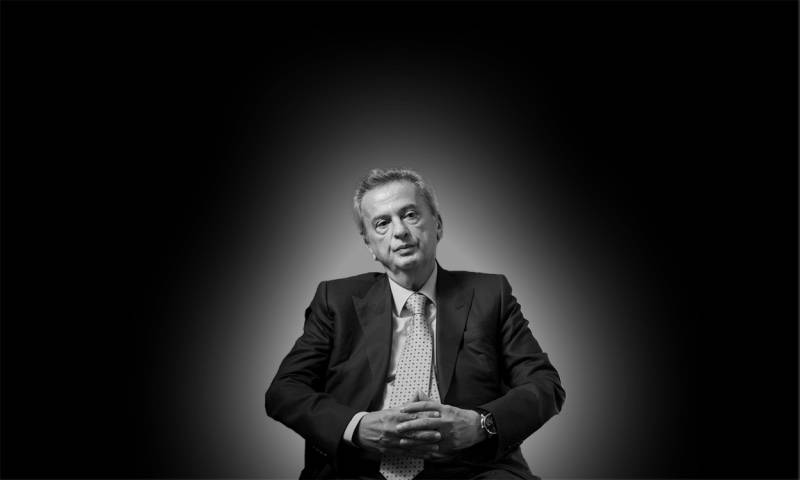 On July 31, Riad Salameh is set to depart from his office apartment atop the Banque du Liban (BDL), bringing an end to his three decades of financial "engineering" that helped shape Lebanon of today.
This momentous day will mark the turning of a historical page, yet there will be no grand speeches, ceremonies, or well-wishes for the future. The countdown to his departure has commenced, but little is known about what lies ahead for the nation.
With him, Salameh carries BDL's closely guarded secrets, leaving behind an out-of-date institution fortified by concrete blocks and burdened by a crisis partly of its own making.
Thirty years to the day since his induction into the exclusive circle of central bank leaders, the mastermind behind Lebanon's financial landscape is now stepping down, amid almost total indifference.
The nation meanwhile awaits a political breakthrough to end the deadlock over the election of a new president. The prolonged vacancy at the Baabda Presidential Palace has impeded progress on crucial high-level appointments for months, relegating the matter of the BDL governor's departure to a lower priority.
"The primary concern at this juncture is electing a president," Mohammad Afif Naboulsi, a Hezbollah spokesperson, told L'Orient-Le Jour.

Preoccupied with their daily hardships and the mirage of the summer season, the Lebanese people also appear oblivious to Salameh's imminent departure. The downfall of the governor, once hailed as the indestructible magician, is now a subject of light-hearted jest among those who dare to comment.
Finally relinquishing his position, Salameh, now in his 70s, has been left unsupported even by his staunchest allies, making him a burden for the country.
Acknowledging the severity of the situation, a bank executive, who spoke on condition of anonymity, describes him as "a liability," while an economist closely associated with the Lebanese Forces (LF) concurs, calling him "a very heavy political burden."
Already ravaged by the crisis gripping the nation since 2019, the illusion of Salameh as Lebanon's financial magician has further crumbled due to legal actions taken against him both domestically and abroad.
His political detractors take every opportunity to underscore this fact.
"He should have stepped down a long time ago," Maya Maalouf, spokeswoman for the Free Patriotic Movement (FPM) told L'Orient-Le Jour.
When he ventures outside the heavily fortified confines that now surround the central bank, Salameh is accompanied by reinforced security of armored cars, highlighting the rising concerns for his safety.
Surrounding him, a sense of disavowal is becoming increasingly evident. When he is not being actively accused of complicity, those in his vicinity seem desperate to try to keep a low profile
Though many Lebanese citizens have benefited from the post-war financial and monetary policies, the Salameh clan has come a to represent decadeslong corruption and wrongdoing among the powerful elite at the expense of the collective interest.
One-man show
In the past, Salameh was revered for his accomplishments and contributions. He was once hailed as a hero when he received the Chevalier de la Légion d'Honneur in Yarzeh. The prestigious award was recommended by then-French President Jacques Chirac, recognizing Salameh's significant contributions to Lebanon.
Former French ambassador Daniel Jouanneau then praised Salameh as a crucial figure in the reconstruction efforts, especially in transforming Beirut into a regional financial center.
His skills as a financial expert earned him recognition beyond Lebanon's borders, and he was lauded as the "best Arab central bank governor" in 1996, with high society in Paris and Washington celebrating his achievements.
Salameh's reputation rested on his ability to safeguard Lebanon's national currency and maintain the country's economic stability in the aftermath of the war.
Salemeh, a close associate of former Prime Minister Rafik Hariri, garnered admiration for his effectiveness in areas where traditional politics seemed to fall short.
For many years, possibly even decades, the BDL head ran his domain with absolute control, "resembling a one-man show", according to a former high-ranking official at the central bank. Over time, he steadily increased the authority and responsibilities associated with his position, to the extent that he dominated all aspects of the institution, bypassing established bodies and diminishing the roles of vice-governors.
Decision-making processes were no longer subject to the oversight of the central board. "Instead, critical financial projects, including ones like Sayrafa, were unilaterally decided by Riad Salameh himself," a former senior BDL official told L'Orient-Le Jour on condition of anonymity.
However, this extreme personalization of his role would eventually have negative consequences, causing problems for Salameh himself.
His financial "engineering" held great promise, but its outcomes were far from positive.
After the 1975-90 Civil War, his strategy focused on monetary stability and luring foreign investment through high-interest rates, creating an optimistic outlook for the future.
Salameh asserted that this approach would replenish the state treasury, finance national reconstruction, and bring substantial profits to banks and individuals.
The money that flowed in, however, mainly went toward servicing the debt and covering budget deficits. As a result, the real economy stagnated, and Lebanon became heavily reliant on external aid, constantly seeking more support.
The once-captivating financial illusion no longer worked.
The conclusion of Salameh's 30-year reign as the banking sector's godfather, as he presented himself, is both a source of relief and concern.
"[Throughout his tenure], his main policy was to keep the banks afloat, whatever the cost," a banking official said. "In fact, he presents it as a success: under his tenure, not a single bank has gone bankrupt."
The official added that the governor still manages to reward the banks through commissions earned from the Sayrafa platform, which he oversees with great opacity.
Sayrafa has become a major point of contention between Salameh and his four vice governors.
When writing this article, L'Orient-Le Jour attempted to contact Salameh for comment, but to no avail.
The deputy governors "are anxious because they don't have all the ins and outs of the game between BDL and the money changers," said a source close to the issue who requested anonymity.
Created in June 2020 to regulate the lira-to-dollar exchange rate, Sayrafa is due to be replaced shortly by a new exchange platform, this time to be managed by a private company.
In the meantime, Salameh made himself so indispensable that his departure calls into question relations between BDL and the various economic players.
Undesirable
After initial signs of unease, particularly related to the sharp increase in public debt during the 1990s and 2000s, the October 2019 uprising marked the beginning of a rapid decline.
From 2020 to 2022, legal proceedings initiated in Paris, Berlin, Geneva, and Luxembourg confirmed what many Lebanese had suspected for some time. As the head of BDL, Salameh appears to have orchestrated the misappropriation of the state's funds.
He stands accused of embezzling several hundred million dollars with the assistance of two accomplices — his brother Raja Salameh and his former assistant, Marianne Hoayek.
Salemeh's alleged establishment of a system intended to divert public funds to foreign accounts also facilitated the nourishment of political and client networks crucial for maintaining his grip on power.
Despite the governor's firm denial of all accusations, the gravity of the charges against the head of the country's highest financial authority would normally lead to immediate disqualification.
However, in a country known for its culture of impunity, some of his supporters remain steadfast. On one occasion, caretaker Prime Minister Najib Mikati, for instance, at one point remarked of Salameh's continued presence at BDL's helm that "changing officers during a time of war" is not a viable option.
The idea of finding a replacement for Salameh began to gain traction only in the winter of 2022 within the circles of power.
Some of Salameh's most devoted supporters reluctantly started considering the possibility of an alternative candidate.
Washington, alarmed by the mounting legal cases against the governor, began to perceive him as increasingly undesirable, even if doing so meant facing concerns about a potential increase in Hezbollah's influence.
Mikati, who had staunchly supported Salameh until the end of 2021, also started re-evaluating his position. A source, asking to remain anonymous, told L'Orient-Le Jour in March 2022 that Mikati had finally recognized Salameh's lack of a viable plan to resolve the ongoing crisis.
After three decades of unchallenged rule, Lebanon is considering closing the chapter on Salameh's leadership as central bank governor. Several names, including Camille Abu Sleiman, a former labor minister, and Jihad Azour, director of the Middle East and Central Asia Department at the International Monetary Fund (IMF), have been proposed as potential replacements.
Azour, however, has expressed disinterest in the position.
From the first quarter of 2022 until now, there have been sudden and unexpected developments as the question of the future BDL's leadership became more pressing.
According to the Code of Money and Credit, which governs the central bank's status, Wassim Mansouri, the BDL first deputy governor and a close associate of Parliament Speaker Nabih Berri, is designated to act as the interim governor until a political consensus is reached on appointing a new leader.
However, negotiations have been hampered by the sectarian nature of the process. Berri is strongly opposed to the idea of a member of the Shiite community taking up what is considered an arduous and unpopular position.
Amid the ongoing turmoil surrounding the succession, a persistent rumor has emerged, suggesting that the ups and downs are merely a smokescreen to hide the possible reappointment of Salameh.
Despite facing legal challenges and being surrounded by controversies, Salameh seems to possess an air of invincibility. A surprising statement on July 6 only added to the speculation, as the four vice governors threatened to resign if a successor was not promptly appointed. This fueled the belief in a hidden agenda at play.
However, Mikati dispelled these allegations a few days later. He firmly stated that there will be no cabinet meeting to appoint a new central bank governor or extend Salameh's term of office.
The lesser evil
A consensus appears to be gradually solidifying around Mansouri as a potential successor, although it remains somewhat imperfect. Within the ruling class, support for Mansouri's appointment as BDL head has become almost unanimous.

In a televised speech in mid-May, Hezbollah leader Hassan Nasrallah hinted at his approval of Mansouri. Previously hesitant members of the ruling class joined him in support.
"We will abide by law," said a close associate of Berri.
While some refer to this solution as "provisional," indications suggest that it has received a green light from both domestic and international quarters. In late June, Mansouri's visit to Washington appeared to be an indication of formal endorsement from the other side of the Atlantic.
"It's difficult for the Americans to reject a legal transition in accordance with the Money and Credit Code, particularly considering that Mansouri has been able to provide them with certain guarantees," an economist close to BDL said.
Both foreign capitals and local stakeholders view Mansouri primarily as a default solution.
"We would have preferred the appointment of a credible, recognized, and capable governor, but we understand that this is not politically possible," said the bank executive.
The prevailing sentiment is that Mansouri's interim position offers limited scope for action. Without new political determination and a definitive agreement with the IMF, which had a preliminary agreement signed in the spring of 2022, the new head of the central bank will face significant constraints.
A source close to the matter revealed, "Most of the independent personalities approached by Mansouri declined to meet him, as they don't see his leadership as a genuine opportunity for change at BDL. His hands are tied, especially when it comes to Berri."
While Mansouri may not be fully convincing, he is seen as a "lesser evil" by many.
Compared to his predecessor, Mansouri, a former lawyer, is perceived as less entrenched but also less compromised. He is known to be moderate and low-key.
"He wasn't very involved in the banking sector before his appointment in 2020, and he's kept a low profile ever since," said the bank executive.
Though Mansouri did not respond to L'Orient-Le Jour's requests for comment, his past statements, as well as recent developments such as the submission on July 20 of a reformist action plan by the four vice-governors, could indicate a willingness for change at the top.
For many observers, however, Mansouri's persona may not carry much weight in the grand scheme of things.
"Even if he has the best intentions in the world to drive reforms forward, he runs the risk of being restrained by a political power that is resistant to them," another bank said on condition of anonymity.
Amid the speculations from the political and financial spheres, inside the enigmatic walls of BDL, the transition process is being methodically organized.
According to Nassib Ghobril, director of research at Byblos Bank, "The groundwork for a smooth and timely phase is already in place."
As is customary during a change of management, continuity of operations will be ensured by the "administration, which will continue to function without disruption," according to a former high-ranking BDL official.
Mansouri, for his part, began preparing several weeks ago to take over.
"He is working on his files one by one, in order to familiarize himself with the affairs currently managed by Riad Salameh," says a source close to BDL.
Amid the upcoming transition, numerous questions linger.
Will Mansouri take the reins of the central bank alone, or will he share authority with the other three vice governors? It also remains unclear whether they possess all the necessary tools to navigate the intricacies of the central bank's operations, including the enigmatic Sayrafa platform.
Will Salameh retain an unofficial role, exerting influence from the sidelines? Concerns also arise about the potential impact of the transition on further depreciating the Lebanese lira.
"We'll have to wait until the first days of August, maybe longer, for the full impact of this change to be felt," says a BDL employee.
This article was originally published in French in L'Orient-Le Jour. Translation by Sahar Ghoussoub.
On July 31, Riad Salameh is set to depart from his office apartment atop the Banque du Liban (BDL), bringing an end to his three decades of financial "engineering" that helped shape Lebanon of today.This momentous day will mark the turning of a historical page, yet there will be no grand speeches, ceremonies, or well-wishes for the future. The countdown to his departure has commenced, but...