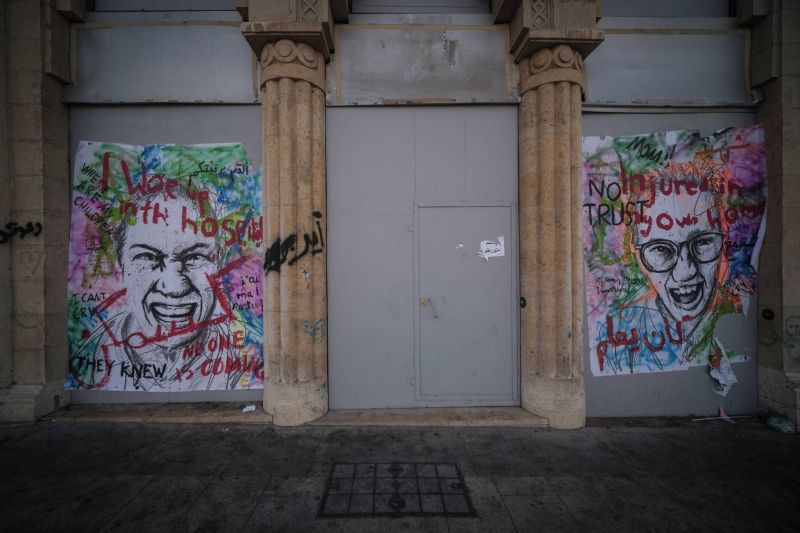 Since October 2022, Lebanon has had no president and is struggling to elect a new one, underscoring the country's susceptibility to external influence in its electoral process.
Rival parliamentary factions, mainly backed by regional heavyweights Iran and Saudi Arabia, have yet to reach a consensus following the end of Michel Aoun's presidency.
Lebanon's political landscape is governed by the 1943 National Pact, a gentlemen's agreement that traditionally allocates the presidency, premiership and speakership of Parliament to Maronite Christians, Sunni Muslims and Shiite Muslims, respectively.
The process for electing a new president began in September, one month before former Aoun's term came to an end on Oct. 31. Parliament has held 11 electoral sessions thus far, the most recent of which was in January 2023, but to no avail.
Who are the main presidential contenders and their supporters?
1. Marada Movement leader Sleiman Frangieh is supported by Amal and Hezbollah, much to the dissatisfaction of Free Patriotic Movement (FPM) leader Gebran Bassil, Hezbollah's main Christian ally, who vehemently opposes Frangieh's candidacy.

Amal and Hezbollah view Frangieh as a non-confrontational figure who aligns with their interests. Additionally, his close ties with Syrian President Bashar al-Assad, a longtime ally of Hezbollah, further solidify Frangieh with the Iran-backed party, which has been actively involved in supporting Assad throughout the Syrian war, which began in 2011.
The recent regional détente, mainly the Saudi-Iranian rapprochement and Assad's reintegration into the Arab fold, have boosted his chances of becoming a strong contender in the race: His candidacy is sanctioned by Iran, Hezbollah's political patron, and has not faced a veto from Saudi Arabia, which has expressed its willingness to refrain from vetoing any candidate as long as there is consensus among all local factions.
Additionally, initial reports suggested that France, a traditional supporter of Lebanon's Maronite Christians, has agreed to endorse Frangieh as part of a deal that would also see Nawaf Salam become the prime minister.
Salam is a former Lebanese ambassador to the UN and a current judge at the International Court of Justice. This potential arrangement, however, has faced opposition from various factions, mainly Christian parties within Lebanon that object to Frangieh's candidacy.
Maronite Patriarch Bechara al-Rai voiced this objection during his recent visit to Paris, where he met with French President Emmanuel Macron and visited the Vatican. The Vatican also expressed its refusal to see a president elected in Lebanon against the will of the Christians, as the presidency traditionally belongs to the Maronite community.
In a more recent development, Macron appointed former French Foreign Minister Jean-Yves Le Drian as his personal envoy for Lebanon. This appointment indicates a shift in the French stance regarding the Lebanese presidential election, suggesting that Paris is inclined to take a more inclusive approach toward all presidential candidates. This shift occurs as IMF official Jihad Azour emerged as the opposition-endorsed candidate, following earlier indications that France considered Frangieh, Hezbollah's candidate, as the "most realistic" option.
French Foreign Minister Catherine Colonna emphasized that France has not endorsed a candidate for the Lebanese presidency.
2. Jihad Azour, a former minister and director of the IMF's Department for the Middle East and Central Asia, is said to be aligned with the March 14 camp, which opposes Hezbollah and Amal. Azour has been officially endorsed by the FPM — which broke ranks with its ally Hezbollah in backing the IMF senior official — as well as opposition parties, including the Lebanese Forces (LF), the Kataeb, and some MPs affiliated with the protest movement. MP Michel Moawad, the former opposition-backed candidate, has withdrawn his candidacy in favor of Azour.
Bassil is reportedly endorsing Azour's candidacy to prevent Frangieh and Army Chief Joseph Aoun from assuming the presidency. Bassil favors Azour due to his positive relations with international stakeholders, particularly the US, Saudi Arabia, and the IMF. Additionally, Azour is perceived as posing no political threat, as he has ostensibly no ambitions to form his own political party, making him an attractive candidate for the FPM and other major anti-Hezbollah political groups in the coming period.
3. Army chief Joseph Aoun's candidacy did not face much objection among the majority of political stakeholders, but it requires a constitutional amendment due to his army position, which is being vetoed by Parliament Speaker Nabih Berri. Bassil also opposes Aoun's candidacy, allegedly viewing him as a threat to his influence within the FPM circles. Aoun enjoys support from Qatar and has gained prominence as a serious contender, especially after the recent successful military operation that resulted in the swift release of a kidnapped Saudi national, earning praise from Saudi Ambassador to Lebanon Walid Bukhari.
Recent developments
- Parliament Speaker Nabih Berri called on Monday for a parliamentary session to elect a president on June 14. It will be the 12th such session to attempt an election.
- This development comes in the wake of US Assistant Secretary of State for Near Eastern Affairs Barbara Leaf's May 31 statement that the Biden administration is considering imposing sanctions on Lebanese officials if the country does not elect a new head of state. She also blamed Berri for failing to convene a session.
- On Thursday, the Progressive Socialist Party (PSP), led by MP Walid Joumblatt, formally endorsed Azour's candidacy. The Democratic Gathering, Joumblatt's parliamentary bloc, will join the anti-Hezbollah parties in the upcoming parliamentary session on June 14, which would secure an additional eight votes for Azour.
- With the endorsement of PSP, Azour now enjoys support from the LF, the FPM, Kataeb, as well as several independent MPs.
What might happen in Parliament next Wednesday?
​The chances of electing a president in the upcoming 12th session on June 14 remain uncertain.
If Jihad Azour or Sleiman Frangieh manage to secure a two-thirds majority (85 votes) in the first round, they get elected straight away.
Otherwise, they would need to obtain an absolute majority of 65 votes in a second round to win the presidency.
In such a scenario, the possibility of a lack of quorum arises, as Frangieh's backers, namely Hezbollah and Amal, could potentially skip the meeting to create a lack of participation and prevent a second round from taking place — a tactic that was previously used to block the opposition's former preferred candidate, Michel Moawad.
One complicating factor in Lebanon is the absence of official candidates. During the voting session, MPs have the freedom to cast their ballot for any individual they deem suitable (or symbolically unsuitable) for the position.
As the session approaches, the suspense intensifies, with the candidates vying for the necessary votes to achieve an absolute majority.

Since October 2022, Lebanon has had no president and is struggling to elect a new one, underscoring the country's susceptibility to external influence in its electoral process.Rival parliamentary factions, mainly backed by regional heavyweights Iran and Saudi Arabia, have yet to reach a consensus following the end of Michel Aoun's presidency.Lebanon's political landscape is governed by the...