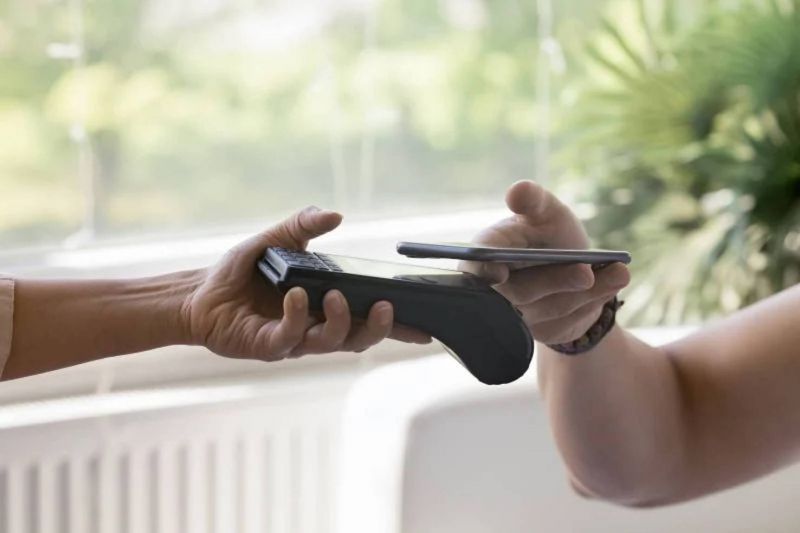 Since mid-May, a small revolution has been taking place in Lebanon's digital wallet market, as the first steps towards synergy among the sector's various players begin to materialize.
Areeba, an online payment processing service provider, owns "over 14,000 payment POS (point of sale) terminals in Lebanon, more than 50 percent of those present," according to CEO Maher Mikati, the son of Lebanon's caretaker prime minister, launched a new feature enabling users of e-wallets to settle their bills by scanning a QR code generated by their POS machines.

This means that more than half of all businesses that accept card payments can now accept them from Zaky (powered by Areeba), WeePay (powered by CashUnited) and Whish (powered by Whish) wallets — three of the five platforms currently listed.
The remaining two, Purpl and Click2Pay (powered by BoB Finance), are preparing to launch the service with their own partners before potentially expanding their offer to include the Areeba network.
Not competing with banks
This development is part of a broader dynamic that has accelerated in the wake of Lebanon's banking crisis that began in 2019 and the population's loss of confidence in the country's financial institutions.
World Bank numbers suggest that only 44.8 percent of Lebanese over the age of 15 had a bank account in 2018; this number fell to 21.6 percent in 2021.
As a result, a high percentage of economic transactions are now carried out in cash.
In its latest report on Lebanon, the World Bank estimated the country's cash economy at $9.86 billion in 2022, or 45.7 percent of GDP, compared with $6.06 billion (26.2 percent of the GDP) in 2021, and $4.5 billion (14.2 percent of the GDP) in 2020.
According to the World Bank, this trend could heighten the risks of money laundering, increase the share of the informal economy and facilitate tax evasion.
"Lebanon is immersed in a cash economy system that is not sustainable in the long term. This is prompting BDL to undertake reforms aimed at developing online payment methods, including e-wallets," said Danny Abla, who founded PinPay in 2006, which he says was the first digital wallet in the Middle East.
"When I launched PinPay, the Lebanese market was not yet ready for such a tool," added Abla, who also founded Dubai-based digital wallet Bankiom.
Long perceived as a risk to the Lebanese banking sector, e-wallets were legalized in January 2020 through BDL's Intermediate Circular 539, following lobbying by several interested players and the ongoing debanking process. This circular amended Circular 69 published in 2000, which first authorized the tool, albeit without using the term "e-wallet."
Little by little, and thanks to the amendments gradually introduced through Intermediate Circulars 588 and 667, the sector is taking shape.
Some e-wallets offer the possibility of paying a limited number of bills — such as telephone bills or subscriptions to foreign e-services — while others focus on sending and withdrawing funds at low cost.
"Today," said Abla, "the context has changed and conditions are more favorable for the launch of such mechanisms."
"Resorting to this kind of technology meets a need that has emerged in the Lebanese market, especially with regard to the desire to avoid carrying large sums of money on a daily basis," said Roula Abou Ghazaly, chief executive officer at CashUnited.
It is likely this craze is also partly linked to the latest changes introduced by BDL through Intermediate Circular 667, published on April 13, 2023, with the aim of gaining greater transparency over the transactions carried out.
"Although this circular increases to $3,000 (from $1,000) the ceiling on funds that individuals can keep there at any time, the most important new feature is the introduction of e-KYC [electronic Know Your Customer]," said Karl Naim, co-founder and CEO of Purpl.
By legalizing this process, BDL has allowed users to register, record their information and validate their accounts online, without having to travel to do so in a physical branch.
"This defeated the objective," Naim added.
But it's just a little bit
The cash ceiling for these tools remains quite low.
"A digital wallet is not a bank account," said Michael Abdelnoor, managing director of BoB Finance.
It allows clients to make payments without having to pay cash, he added, but "unlike banks, we don't offer interest on deposits, and we don't grant loans."
Unlike banks, e-wallets are not allowed to reinvest the money they hold. The laws governing this sector require companies to deposit all funds in banks, whether in Lebanon or abroad.
To make money, e-wallets make margins on the resale of prepaid phone cards or digital subscription services, which they obtain at reduced prices, or on the transfer of funds.
On top of this, these platforms charge merchants a nearly two percent commission on payments made through them, which is almost the same percentage paid when making credit card payments.
"This may seem high at first glance, but it's still lower than the cost of cash, which merchants don't always take into account," said Mikati.
He referred to studies carried out by digital-payment giants Visa and Mastercard, which he claimed showed that these costs — which include storage, insurance, transport and losses caused by theft or counterfeit bills — are around six-to-eight percent of the transaction amount.
Although these wallets are not intended to replace banks, they do offer services typically provided by banks, and are gaining market share.
Information gathered by L'Orient-Le Jour suggests that hundreds of companies are already disbursing their employees' payroll through companies like Whish or Click2Pay.
"By opting for our services, these companies enable their employees to cash their salaries more quickly and conveniently," said Toufic Koussa, CEO of Whish Money.
Like some of its competitors, Whish has a network of over 500 branches throughout Lebanon, Koussa said, "far more than the network of any other Lebanese bank."
Interoperability and synergies
In addition to these features, the services that each company plans to offer depend on its own strategy. Some intend to focus on transferring funds from Lebanon to other countries, for example.
Others want these platforms to play the role of physical wallets, so as to also hold cards and airline tickets, for example, while others are also considering the possibility of integrating the purchase of an insurance policy.
In addition, some are planning to issue debit cards linked to these accounts, enabling their users to make online payments.
Before introducing these features, the businessmen interviewed for this story agreed that interoperability and synergies within the Lebanese ecosystem must be strengthened.
This means enabling the payment via any digital wallet at any retailer, regardless the network to which they belong. It also means enabling the transfer of funds free of charge, or at lower cost, between different types of wallet, which to date is only possible among users of the same platform.
Another obstacle to the dissemination of this tool in Lebanon currently is that, after enduring over three and a half years of illegally imposed banking restrictions, individuals prefer to have their money in cash.
This has divided companies. Some feel that more needs to be done to convince users of the usefulness of such technology, while others feel that merchants should be persuaded, as they would in turn encourage consumers to use this type of payment method.
Nevertheless, the number of companies interested in this market continues to grow. In addition to the five above-mentioned companies, at least two others — Interpay and OMT — obtained a BDL license to launch their own digital wallets — a step that must be finalized in the next few months.
"A dozen companies" have already initiated the licensing process, claimed a source who spoke on condition of anonymity. BDL declined to comment on this claim.
It remains to be seen which of these companies will survive in Lebanon's small market.
This article was originally published in French in L'Orient-Le Jour. Translation by Joelle El Khoury.


Since mid-May, a small revolution has been taking place in Lebanon's digital wallet market, as the first steps towards synergy among the sector's various players begin to materialize.Areeba, an online payment processing service provider, owns "over 14,000 payment POS (point of sale) terminals in Lebanon, more than 50 percent of those present," according to CEO Maher Mikati, the son of...