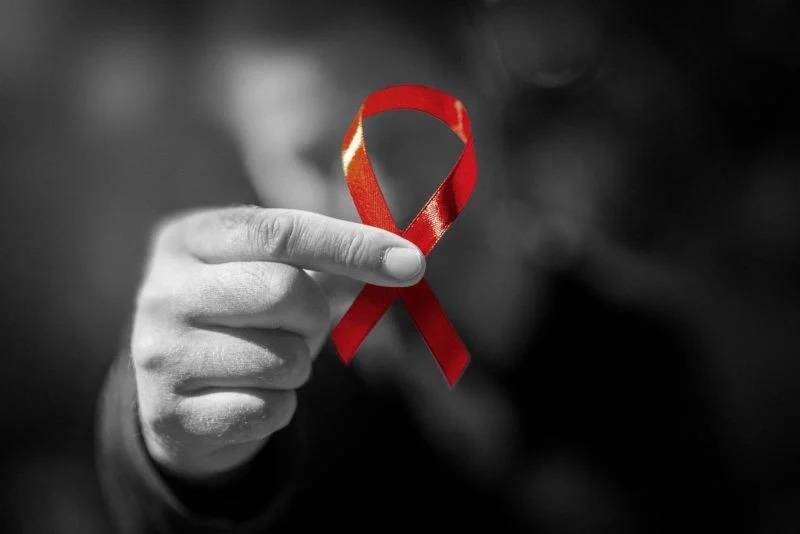 Every year, on New Year's Eve, Soumia* isolates herself. Neither the festivities nor the kindness of her friends bring a smile to her face. It is impossible for her to forget Dec. 31, 1998: the day her youngest son Mohammad, aged 3, died of AIDS in front of her eyes.

Speaking to L'Orient-Le Jour, Soumia interrupts the interview, dries her tears and readjusts her veil.
"My husband broke down. He started running down the street shouting 'I killed my son! I killed my son!'" she says, her voice still shaky with the memory of that terrible day.
The "damn virus" changed her life forever. Two years after the baby's death, Soumia's husband also succumbed to the disease. "I found myself alone with my first child in my hands. This thing destroyed my family, my home. It killed me."
Everything had started well for this 50-year-old woman from South Lebanon. At barely 20 years old, she got married. The couple lived in relative luxury, regularly traveling and vacationing in villas, as they sought to forget the recent Civil War. In 1993, Soumia gave birth to her first child.
"My husband wanted to go to South Africa for work. I let him go and waited for him in Lebanon," she recalls.
A while later, a "strange cold" seized her husband. Then nothing. He returned to Lebanon and Soumia got pregnant again. Everything went smoothly. But a month after his birth, Mohammad got sick. "I had to take him to the hospital every month. Even the doctor didn't understand what was wrong with him," she says.
Nodes appeared on the baby's neck, and his mother ran numerous medical tests. Nothing. "The doctor gave me a serious look and told me that there was one last test to be done. He didn't say for what disease it was."
"I'll remember the day after that test for the rest of my life," Soumia sighs, rolling her eyes. "That was the day I passed into another world."
The doctor was formal, he said that Mohammad had the human immunodeficiency virus (HIV).
"I didn't understand right away. When he explained it to me, I told my husband to come to the clinic immediately," she says. Her anger at the time was suddenly rekindled as she saw her husband arrive. She slapped him, tore his shirt and screamed for an explanation.
Everything suddenly became clear: the strange cold, her son's illness, the hellish days at the hospital. "A one-night stand, an affair he had with an Indian woman when he was in Africa," Soumia explains.
She continues her story in an even voice, as if the pain has been mastered, accepted. This one-night mistake cost her son's life, then that of her husband. Since then, Soumia has felt unable to have another child or has struggled to love again.
"I have only known one other love story in 25 years," she says. Known among her relatives as "the miracle," Soumia has also contracted tuberculosis and experienced cholesterol problems in addition to AIDS; she has also almost committed suicide.
The nurses did not even enter the rooms
Lebanon is full of stories like Soumia's. But these testimonies are about a shameful history, which remained hidden behind numbers and cold counts: that of the years 1980-90 in particular, when AIDS spread rapidly in a country ravaged by the war.
While the epidemic took its toll in Europe and across the Atlantic, the first case in Lebanon was detected in 1984 by Jacques Mokhbat, a medical doctor specializing in infectious diseases and a pioneer in HIV research.
"At the time, some people in the United States called this virus 'the wrath of god' or 'gay cancer,'" he recalls. He told L'Orient-Le Jour the whole story, without leaving out any details: the first tests he sent to American laboratories for analysis, his colleagues' fear sprinkled with a dose of curiosity, his first lectures in crowded halls.
In 1986, a 16-year-old Lebanese boy who had contracted AIDS after a blood transfusion was admitted to the hospital. "The nurses did not even enter his room. When he needed an injection, I was the one administering it. I put in the IVs and even emptied the trash can in his room," Mokhbat recalls.
At the time, many people did not know that HIV is only transmitted through sex, blood transfusions or from mother to child. Mokhbat decided to take a symbolic action.
"On the patient's birthday, I brought him a cake. The nurses came into the room with me but were standing far away from us. So I ate my piece of cake with him, on the same plate," he says, with a thoughtful smile. This simple act changed the attitude of the nursing staff for good.
Absent deaths, an omnipresent taboo
The lack of knowledge about AIDS created fear, especially in the 1990s when the epidemic was spreading fast.
A trip into the archives of L'Orient-Le Jour revealed a statement from Health Minister Marwan Hamadeh in the summer of 1995 expressing fear that "real cases in Lebanon could be close to 3,500" — at the time 350 cases were officially registered. He even feared that the number of HIV-positive people would reach 7,000 by the year 2000.
Although Lebanon began to address the problem very early on and to count its AIDS patients, one unknown factor remained: the number of deaths.
"We don't have this figure, for real. Many doctors did not report HIV-related death for fear of stigmatization," Mokhbat says, estimating the number at 1,000 maximum. As for the number of HIV-positive people alive and currently under treatment, he estimated it at about 2,500.
When contacted, the National AIDS Control Program (NAP), which was established by the government in 1989, indicated that these figures are simply impossible to establish, and will remain so as long as doctors continue to hide the HIV positive status of some deceased patients.
"Neither doctors nor patients want to count. Our figures can only be imaginary," said Mustapha Nakib, who has been a representative of the NAP for almost 30 years. "We tried several times to determine estimates. The figures were much larger than the recorded cases."
Several problems that have persisted for 30 years stand behind this lack of numbers.
The first is related to how the HIV infection presents and develops. HIV has three phases: initial symptoms, such as nodes and fever, appear; then the body defends itself and the effects fade over a period that can range from five to 20 years. People often ignore this, thinking they are cured of a temporary infection. The last phase is the actual AIDS phase, involving pneumonia, diarrhea, mouth and skin infections, meningitis among other illnesses. It can last from six months to two years.
The number of real cases of HIV is probably much higher than the number of patients officially registered as having the infection. HIV-positive people are often reluctant to be tested, or even to identify their symptoms, out of fear of being stigmatized.
"When my husband passed away, they declared that he died of cancer, so that people would come to the funeral without fear," recalls Soumia. Today, she knows how to protect herself and takes her treatment every day. "But when I go out, I take the label off the medication box. If the family employing me knew that I have AIDS, they would fire me!"
How about testifying with the face uncovered? Soumia says she would have done so if society was ready. "But I can't, even the doctors are afraid! Some ask me to pay $3,000 for a treatment that costs $300, supposedly to cover the risk of contamination," she said.
The greatest injustice, in her eyes, is to see the medical staff, who are supposed to know about AIDS, keeping their distance from her — or worse, refusing to treat her. Soumia also tells L'Orient-Le Jour that she has had to deal with her parents-in-law accusing her of having killed her husband by giving him the virus, companies rejecting her and the discussions between friends in which HIV-positive people's "misbehavior" is vilified. Soumia says she always remains silent when this topic is raised. "If I defend them, people will have suspicions," she explains.
'They want to be fu**ed and we should pay for them?'
In the late 80s and early 90s, fingers were pointed at prostitutes, Lebanese returning from abroad, prisoners, and of course homosexuals, who were the first scapegoats held responsible for HIV transmission at the time. But as early as 1994, Mokhbat told L'Orient-Le Jour that "heterosexuals constituted the largest proportion of people affected in Lebanon" over the previous year. However, he said that MSM (men who have sex with men) were beginning to become the group most affected by the virus.
"Once, a member of Parliament told me …," Mokhbat suddenly paused. "Excuse my profane language. So this MP told me, 'They want to be fu**ed and we should pay them?' in reference to HIV positive people!"
In fact, and without even intending to, Mokhbat and his colleagues became activists: organizing fundraisers through theater performances and art sales, purchasing medication and making trips to the ministry to exert pressure. And as early as 1997, the Lebanese government started covering the cost of medication for HIV-positive patients, making the country one of the pioneers in the region in the fight against AIDS. Lebanon was also the first country in the Middle East to administer the famous triple therapy — the administration of a combination of antiretroviral drugs in the treatment of HIV — whose effectiveness was confirmed by American researchers around 1996.
Other activists worked in secret, like nurse Elie Aaraj, who founded SIDC in 1987. Sitting in the offices of this association that supports HIV-positive people in Sin al-Fil, he used to unpack boxes containing clean syringes. The syringes were part of an effort to reduce HIV transmission among drug users who put themselves at risk by sharing needles.
"We used to distribute them on the street," said Aaraj. "At first, the police would stop us and threaten to arrest us, accusing us of encouraging drug taking."
The nurse also remembers the patients who were thrown out of their homes, disowned by their families or who stopped their treatment for fear that those around them would find out about their condition. Aaraj says some were even driven to suicide by the code of silence and intolerance.
An ongoing struggle
Raising awareness of these problems is a struggle for Mahmoud*, a young HIV-positive comedian and drag queen who does not hesitate to talk about his illness in his shows.
"It's only when I bring up this topic that people's faces immediately tense up," he says. "But I laugh about it and explain that I live very well with HIV. The problem is that many people still see this virus as a death sentence."
A year and a half ago, Mahmoud moved to the Gulf for work, wanting to start a new life. "Suddenly, I realized that I hadn't been tested before I left. I told myself that if I found out I had AIDS in the Gulf, it would be complicated," he recalls.
The young man returned to Lebanon, got tested and was diagnosed. "I had to move back home quickly and explain vaguely the reason for my return … I immediately took the necessary medication and today, I am undetectable and I cannot transmit HIV."
Mahmoud even feels privileged, enjoying the support of his friends and professional community. "The only people who don't know I have it are my parents. I don't want to scare them," he explains. He prefers to put this disease aside and focus on the future. The important thing is to show people that you can be HIV-positive and lead a normal life.
In the past HIV destroyed lives, but it is possible to live with it today, and to live well, with no risk of transmission, as long as one follows the treatments.
"I refuse to be pitied. After the death of my son and my husband, I started from scratch and got back on my feet," Soumia says.
After having to sell her house, rebuild her life and raise her remaining child alone while managing her disease, she has come to value sport as an essential part of her everyday routine."Otherwise, my health would collapse," she says.
Of the babysitting job she presently has, she says it reconnects her to the soul of her child who left too soon. "It's a way to bring back the son I lost … I know life is not beautiful. It is only beautiful if you fight back."
*Names have been changed.
This article was originally published in French in L'Orient-Le Jour. Translation by Joelle El Khoury.

Every year, on New Year's Eve, Soumia* isolates herself. Neither the festivities nor the kindness of her friends bring a smile to her face. It is impossible for her to forget Dec. 31, 1998: the day her youngest son Mohammad, aged 3, died of AIDS in front of her eyes.Speaking to L'Orient-Le Jour, Soumia interrupts the interview, dries her tears and readjusts her veil. "My husband broke down....