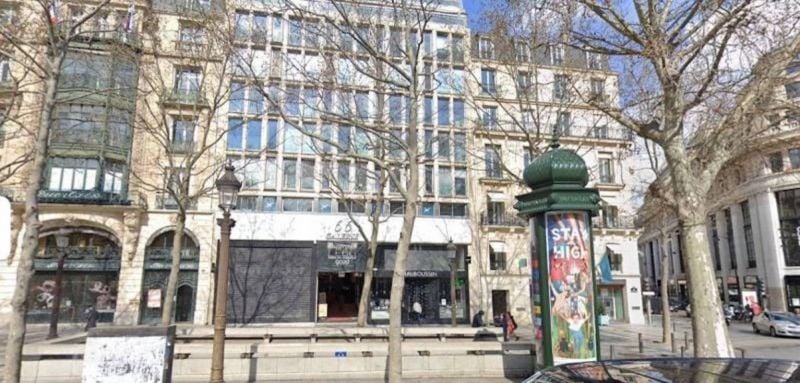 New reports on Lebanon's Central Bank Governor Riad Salameh's assets and fortune continue to emerge.
In October 2021, French investigators dedicated two days to searching the premises of a BDL office located in the Champs-Élysée in Paris, L'Orient-Le Jour learned from well-informed sources. The office served as a recovery center, the source explained, housing a backup server for BDL's records, ensuring continuity in the event of failure in Beirut.
The procedure is part of the judicial investigation launched in July 2021 against "unnamed individuals allegedly involved in money laundering, and criminal association committed as part of an organized group," and follows a preliminary investigation by France's National Financial Prosecutor's Office (PNF) into Salameh's fortune, as well as other international investigations into the governor's wealth in Switzerland, Luxembourg, and Liechtenstein.
Leasing an overseas office as such is not unusual for a major financial institution.
"Given the security risks in Lebanon, it is not surprising that BDL opted for a recovery center in Paris, especially given its historical relations with the Banque de France," a well-informed source in the banking sector told L'Orient-Le Jour on condition of anonymity. "The choice of the location, in one of the most expensive avenues in the world, however, is difficult to explain for an office that has no representative function."
Further suspicions were raised by a lease BDL signed in September 2010 with Eciffice Business Center, according to amendments to the contract, a copy of which L'Orient-Le Jour secured, the lease contract was renewed several times, most recently in 2016.
The business center is owned by a certain Anna Kosakova, with whom Salameh had a daughter, who the central bank governor acknowledged as his own in 2007. Eciffice did not respond to L'Orient-Le Jour's request for comments, and Kosakova could not be reached.
This was not the first time BDL signed a contract with a person directly linked to Salameh.
In 2020, Swiss authorities launched a probe into BDL's payment of more than $330 million in brokerage fees to Forry Associates Ltd between 2002 and 2014. Registered in the Virgin Islands in 2001, Forry Associates Ltd is owned by Raja Salameh, the governor's younger brother.
Opening official offices in France requires that banks notify the Banque de France beforehand. In response to L'Orient-Le Jour's inquiries, the French central bank's media office could not confirm whether the BDL offices had an official presence or not, as they did not have a list of officially represented offices.
Leasing premises for informal use is not prohibited but, in this case, it means that activities undertaken there are unregulated, making it difficult to determine what services are actually offered there.
According to the amendments to the revised contract, the services offered by Eciffice consist of "providing the beneficiary [i.e., BDL], with an equipped office space accessible 24/7 for its exclusive use." The contract also doesn't specify the office's function.
Several million euros paid
The cost of the lease in the contract, co-signed by Kosakova and Salameh, is fairly complex, with significant variations in prices, spaces and floors made available for use (with no mention of the available surface area), depending on location and periods of occupancy.
These documents do not confirm the sums BDL actually paid. A calculation made on the basis of cash transfers from the central bank estimates that, since 2011, BDL paid more than 4.8 million euros for Kosakova's company.
BDL's central council – which comprises the governor, four vice-governors and the directors general of the ministries of economy and finance – approved the lease of the premises, according to a document seen by L'Orient-Le Jour, which was sent to the bank's legal affairs department upon the contract's renewal in 2015.
Neither the contract nor the identity of the [leasing] company's manager were communicated to the council, however, according to two informed sources, both council members.
"In 2010, during a meeting, the governor mentioned the offer by Eciffice within the framework of the leasing project," one of the sources told L'Orient-Le Jour. "At the time, no one even thought of questioning the choice of lessor, or the identity of its real beneficiary. There was complete trust [in him]. It would be particularly serious if these claims were proven."
Several charges
For the French investigators, what matters is to determine if an offense was committed under Lebanese law. Until then, innocence is presumed.
"If the origin of the fund arriving on French soil is deemed illicit according to Lebanese law, the proceeds of the offense may then be considered money laundering, both in Lebanon and France, and can be judged as such," a lawyer explained to L'Orient-Le Jour.
"Several charges could be brought under the aegis of Lebanese law: Abuse of power (Article 364 of the criminal code) or influence peddling (Article 357). The Anti-Corruption Law of 2020 could also be invoked.
"Under these provisions, [the individual] shall not use his public office, or any work involving public funds, for his own undue financial gain or that of any associate," he adds.
The rates charged by the firm serve as another element that may be significant for investigators: "If the rent paid was well higher than the market rate, the offense could be classified as embezzlement of funds (article 359 of the Penal Code)," says the aforementioned lawyer.
Another avenue of inquiry is that of cash flows, to and from Eciffice company: "It would be interesting to know who pumped the starting capital, just as it would be key to see who benefitted from the money generated, and whether the taxes and fees payable to these transfers have been settled. This information will shed more light on conflict of interest or money laundering matters," he says.
Information obtained by L'Orient-Le Jour shows that most of the rent BDL paid to Eciffice was transferred to the offices' owner, which is SCI ZEL. This real estate investment company was initially run by the governor's brother, Raja Salameh, before he gave up his management seat and transferred his shares in the company, all 1 percent, to Anna Kosakova in 2015.
These payments allowed ZEL to settle a portion of the loans it had taken for real estate acquisition. Indeed, the company played a key role in the Parisian real estate that the BDL governor's entourage acquired.
The French weekly magazine, Le Point, reported in May that ZEL was a tool for the acquisition of more than 14.3 million euros of real estate in France. L'Orient-Le Jour has seen deeds of sale that confirm these figures.
In addition to the offices it acquired from 2010 to 2014 on Avenue des Champs-Elysees, for a total sum of 8.7 million euros, ZEL purchased several other properties in France, among them an apartment on Avenue Georges-Mandel, where Kosakova resides.
Ill-gotten gains?
If these accusations were confirmed, the entire real estate wealth could be labeled as unlawfully acquired assets, as defined by French law. "This would be the case particularly if it was proven that there is conflict of interest between the BDL and Eciffice, and if it turns out that ZEL managed, through public funds, to partially pay for the assets acquired by the governor's entourage," a lawyer says.
Aside from the office rent, the funds that initially enabled the acquisition of the real estate wealth are also in the judiciary's sights.
For instance, the apartment located on Avenue Georges-Mandel, which was purchased for 2.4 million euros in 2007, was financed through 900,000 euros of Raja Salameh's own funds. The latter is at the heart of a Swiss probe into "aggravated money laundering."
However, the largest part of ZEL's funds derive from BET SA, an asset management firm established in Luxembourg in April 2007, which Kosakova has run since May 2021.
According to the corporate annual accounts for 2020, BET SA loaned ZEL 21.5 million euros including interest.
Immediately after the PNF opened its probe, BET SA relocated to France. A document from the commercial court of Paris, which L'Orient-Le Jour reviewed, shows that, since 2020, Kosakova's daughter, who is a minor, became the company's sole shareholder, while the mother retains the right of usufruct – that is, the right to use and benefit from the company.
While it is unknown where BET SA's funds come from exactly, its indirect links to Riad Salameh are clear. As stated in its articles of incorporation, the starting capital of BET SA was provided by Procedia SARL, a Luxembourg company run by Gabriel Jean. Jean is also the director of Stockwell, a Luxembourg company owned by central bank governor Riad Salameh.
BDL's media officer did not respond to our multiple requests for comment. Riad Salameh has repeatedly stated that the origin of his wealth, estimated at $23 million, is licit, having been acquired before taking up his post at Banque du Liban in 1993.
That said, the funds used to acquire ZEL don't have to derive from an illegal act to be perceived as unlawfully acquired assets.
"From a legal perspective, the dirty money pumped into a firm 'contaminates' all the funds, even though some of them originate from legal revenues," says the aforementioned lawyer.
Therefore, the assets could be confiscated as a precautionary measure, even before a court ruling.
"Unlike the previous charges, where it is up to the courts to prove that there is corruption, a mere suspicion is enough for the court to preemptively seize the property in question," she adds.
If it is proven that these assets have been invested in France by illicit means, the justice system would be able to seize these assets. Once confiscated, these assets could eventually be sold and the sums returned to Lebanon, in accordance with French law of July 2021, enabling the return of ill-gotten gains.
The restitution of unlawfully acquired assets does not happen by itself. Specific legal procedures must be followed. Lebanon has not yet initiated these procedures, though in September, 2021, Minister of Justice Marie Claude Najem did receive a legal consultation enabling her to move forward with this dossier.
This story was originally published in French in L'Orient-Le Jour.


New reports on Lebanon's Central Bank Governor Riad Salameh's assets and fortune continue to emerge.In October 2021, French investigators dedicated two days to searching the premises of a BDL office located in the Champs-Élysée in Paris, L'Orient-Le Jour learned from well-informed sources. The office served as a recovery center, the source explained, housing a backup server for BDL's...