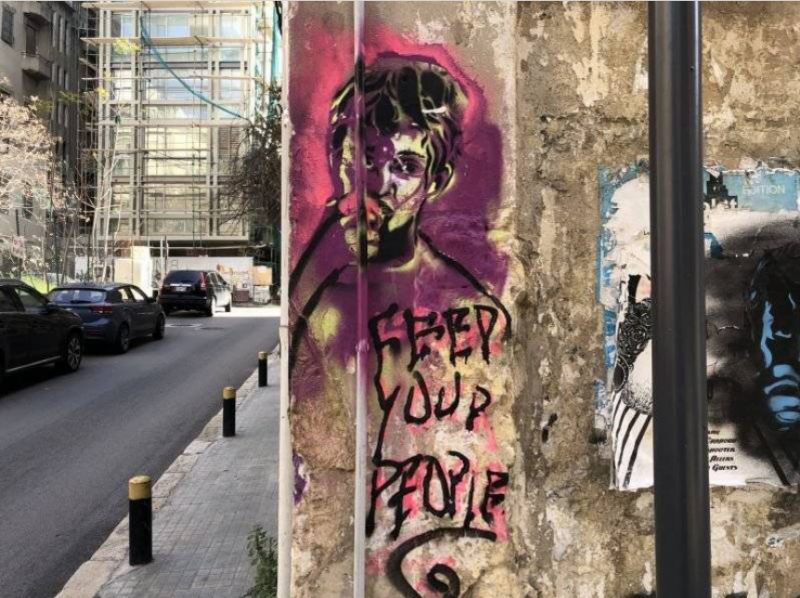 BEIRUT — Since registration opened for a pair of long-awaited social assistance programs on Nov. 30, more than 236,000 applications had been submitted as of Wednesday evening, according to data tracked by the government's IMPACT platform.

The high number of applicants speaks to the desperate situation in Lebanon, where 82% of the population has fallen below the multidimensional poverty line, according to UNESCWA. But an initial analysis of the data also shows the hurdles that some of the neediest families may face in getting much-needed assistance.
The application process, which ends in Jan. 2022, had only been completed by about 163,700 applicants as of Wednesday at 6 p.m., with the rest of the applications being marked as incomplete. Applicants reported several difficulties, including not being in possession of an ID card, not having money to get the required documents to finish the process and, in some cases, not being literate or computer literate enough to access the form.
Ibrahim, who is originally from Hermel and resides there with his children, said he makes LL2 million per month from his job as a driver, and deems the amount "not enough to live a decent life." When he heard about the ration card program, Ibrahim was optimistic about it, but said "life slapped [him] back in the face" upon filling the application.
Registering for the World Bank-funded Emergency Social Safety Net program, or for the separate government ration card program which is being run through the same registration system, requires individuals to enter the identification card number of each of their family members. However, the father has not yet registered his children with the government, rendering them effectively stateless, and without ID cards.
"Most of the children who are below 15, 16 years old in our area do not have identification cards. And adults like me have outdated ID cards with very old photos," he explained. "So, I did not continue filling out the form."
A spokesperson from the Social Affairs Ministry said that people who need to update their identification cards or register for new ones now have the option to "tick a box in the application form to pause and continue later" when they have acquired the necessary documentation. But Lebanon's taxed bureaucracy can sometimes take months to issue new ID cards.
According to a local official responsible for record-keeping, or mokhtar, in Beirut, identification cards take one-and-a-half months to be issued. Mohamad Nour, who recently obtained new IDs for his children, said each mokhtar he approached was charging a different fee.
"Some asked for LL30,000 for an ID, while others said they wanted LL100,000 to finish them," he said.
The Social Affairs Ministry spokesperson responded that the interior and social affairs ministers will meet this week with the World Bank to discuss solutions.
"Until now they are aiming to speed the process of issuing IDs," she said.
But this is not the only reason people aren't completing their applications, the spokesperson added.
"Some applications are incomplete because they are pending other documents and information, like bank account numbers, taxation fees, documents on car registration and others," she said.
Numbers from IMPACT's dashboard show that most people who are halting their application processes are doing so for lack of ID cards. As of Wednesday, out of more than 83,800 applicants who did not complete their form, about 16,500 households did not have ID cards.
The registration platform for the World Bank-funded Emergency Social Safety Net and the government's ration card program was launched two-and-a-half months after it was initially supposed to go live. A $246 million loan to pay for the ESSN was approved by the World Bank in January, but funding for the separate government ration card program is not secured yet.
The government ration card program is a planned $556 million cash assistance program for 500,000 vulnerable households, while the World Bank-funded ESSN is projected to cover about 150,000 of the poorest families in Lebanon. The ration card would provide monthly assistance of a maximum of $126 per household, which exchanges to more than LL 3.4 million on the parallel market.
"This is more than my monthly allowance," said Ibrahim.
Most applicants for the ration card work in the private sector, specifically in transportation and storage, like Hmadeh, along with agriculture, forestry, fishing and education. Only 40 applicants reported that they work for political parties, while nearly 4,300 applicants reported being members of the army and more than 2,100 in the Internal Security Forces.
The majority of people applying for the ration card program reside in Akkar, Tripoli, Baabda [which in this dataset includes Beirut's southern suburbs], Baalbeck and Beirut, in that order. By comparison, as of April 2020, the 43,000 households benefiting from the National Poverty Targeting Program were distributed as follows: 41 percent in North Lebanon, 30 percent in Bekaa, 16 percent in Mount Lebanon, 8 percent in South Lebanon, 5 percent in Nabatieh and 0.4 percent in Beirut.
The applications submitted to date represent more than 961,200 household members. Around 59 percent of registered people are currently unemployed.
This reflects the decrease in work opportunities in the country, as the headquarters of several major employers have relocated abroad, while other employers have laid off workers to sustain their businesses amid the economic breakdown in Lebanon.
Registration for the ration card programs has been abused by some looking to turn a profit. Telephone shops along with some mokhtars have been falsely promising people that they will fill out applications on their behalf for certain fees, saying they can guarantee them a card through pulling strings with their connections – known as wasta in Arabic – the Social Affairs Ministry spokesperson said.
An IMPACT tweet on Tuesday clarified that "the decision to qualify or disqualify is fully automated, and there is no possibility for human intervention to alter or manipulate the results."
These entities are setting their fees between LL 20,000 and 75,000 per application, the Social Affairs Ministry official said.
IMPACT tweeted on Monday "if you need help filling out the form or have any questions, you can call the hotline on 1747 or contact the IMPACT team on social media. Don't let anyone blackmail you or ask you to pay an amount of money to help you fill it out."
Political parties are also offering help in this area. On Twitter, MP Bilal Abdallah (PSP/Chouf) said that the Progressive Socialist Party "in the Kharroub region will announce a hotline and plan to help people register for the financing card platform."
A Future Movement spokesperson confirmed that they are doing the same in their regions, while Lebanese Forces and Free Patriotic Movement spokespeople said they are spreading awareness of the availability of the card, but are not aiding with applications. For their part, a Hezbollah spokesperson said they are not active in providing help or raising awareness of ration cards.
It is worth noting that 47 percent of people applying for the ration card employ domestic workers in their homes.
The criteria for the government ration card disqualifies applicants who benefit from the National Poverty Targeting Program, or ESSN, and anyone who makes more than $10,000 per year. People who have been outside Lebanon within the last 90 days for non-medical reasons, and who own three registered cars after Oct. 2019 or employ domestic workers, are not allowed to benefit from the ration cards.
The only case in which people can have domestic workers and still benefit from the card is if they have someone with special needs in their household.
Further data from IMPACT indicate that 45 percent of the applicants live in a house, 34 percent in apartments and 13 percent in apartments located in housing projects.
Fifty-nine percent of the applicants for the card live in spaces that range between 60 square meters and 120 square meters, while 20 percent live in spaces even smaller than 60 square meters.
Rent in Beirut, the headquarters of many businesses and the city where many come to work, has also become a burden, as landlords now demand increased fees or are pricing apartments in US dollars.
"I used to pay LL2.5 million in monthly rent in 2019. The landlord increased it to LL 4 million in 2020 and now he wants $400," said Lama, who lives in Hamra with her family and is applying for the ration card to support her rent expenses.
BEIRUT — Since registration opened for a pair of long-awaited social assistance programs on Nov. 30, more than 236,000 applications had been submitted as of Wednesday evening, according to data tracked by the government's IMPACT platform.The high number of applicants speaks to the desperate situation in Lebanon, where 82% of the population has fallen below the multidimensional poverty line,...