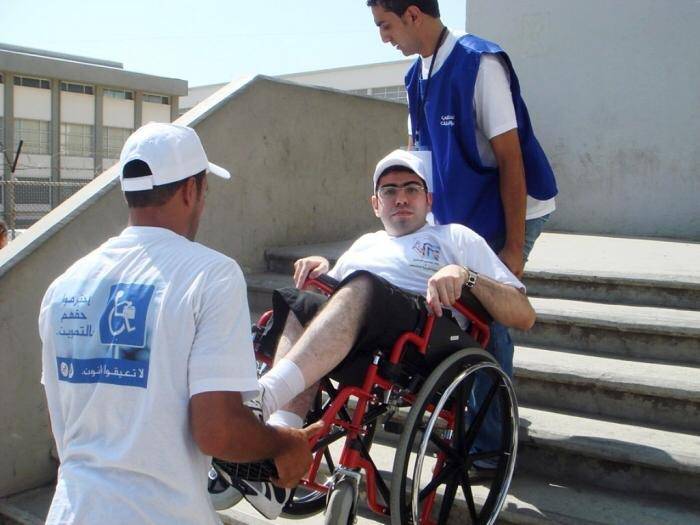 BEIRUT — "I'm not voting in the upcoming parliament elections," said Maher Eid.
It's not because he doesn't care or doesn't believe voting can make a change; he lobbied his friends in the diaspora to register to vote, arguing that "every vote counts to achieve a better Lebanon." But if he casts his own vote, it may be at the expense of his physical safety.
"When I voted in 2018's elections," Eid, who uses a wheelchair, told L'Orient Today, "I was injured when a group of organizers carried me upstairs [where the polling station was situated]. And my doctor scolded me for agreeing to [this], because there are specific ways in which a disabled person should be carried. It cannot be done haphazardly."
The ride was unpleasant, said an embarrassed looking Eid, both physically and emotionally.
"I don't wish to relive that moment, so, unless polling stations [are] designed to be accessible, I won't be willing to participate in the voting and jeopardize my well-being or dignity again."
Two elderly people who wanted to vote in the last elections, and who like Eid were carried upstairs and badly jostled by the crowd, "died during the process," said Sylvana Lakkis, president of Lebanese Union for People with Physical Disabilities (LUPD).
People with special needs are the largest minority group in Lebanon, Lakkis said. Yet they are underrepresented and face continual challenges to participating in political life, especially when it comes to voting in parliamentary elections.
The community of people with special needs includes people with disabilities impacting their mobility, sight and hearing; as well as the elderly, and pregnant women, clarified Fadi Sayegh, a disability rights activist who himself uses a wheelchair.
"They all struggle to participate in casting their vote," he continued, "and are discouraged by the state to do that."
"Only 4,000 disabled people voted during the last elections," said Lakkis, who estimated there are more than 700,000 Lebanese living with disabilities — a study commissioned by the UK government in 2018 found that 10-15 percent of Lebanese people are disabled — because they feel the electoral process excludes them and is, therefore, a "farce."
Diala Abduallah, a 25-year-old who is visually impaired, told L'Orient Today that she doesn't trust the voting process.
"When I voted in the 2018 elections for the first time, an organizer escorted me to the polling booth because the voting lists are not accessible for people who do not see. I asked him 'What assures me that you ticked the boxes I told you to tick?' and he laughed."
Abdullah stressed that unless polling is made accessible to her, she won't be voting in the 2022 elections.
Lebanon's electoral process is indeed flawed, Lakkis argued, noting that (unlike other countries that allow disabled people to vote online or by mail and provide braille ballots for the visually impaired) elections in this country provide no option but to vote in inaccessible stations and centers.
The electoral law requires that polling stations should be inclusive, but this clause has never been applied in practice, said Aly Sleem, executive director of Lebanese Association for Democratic Elections (LADE), noting that the law doesn't specify what mechanism should be used to make the polls accessible.
Last month Inaya Ezzeddine, head of the Women and Child Committee, chaired a committee session on challenges facing women who are physically disabled. She suggested "a recommendation to preserve the rights of people with disabilities to participate in the voting process by equipping centers in major cities," with appropriate facilities. This recommendation would be filed in a report to Parliament.
Lakkis and Sayegh agree that carrying people with special needs upstairs is not the solution.
"On the contrary," Sayegh said, "it humiliates them when they see that their ability to vote depends on other people's assistance."
Electoral campaigns and lobbyists who work for traditional political parties have a history of "perceiving people with disabilities, along with the elderly people, as numbers" and using them to gain more votes, Sleem said.
"They promise to transport these people and to take care of them while casting their ballots, while in fact they drive them to the polling station and carry them upstairs where they can take a ballot, then forget about them up there, with no way back," he continued.
"The real solution is to create a mega center [with accessible facilities]," said Lakkis, but since the legal amendment that would create such a facility was not passed, "we ask for an exception to create one center per district for disabled, elderly and pregnant women."
Sleem emphasized the need to include sign language in political and awareness campaigns along with media reports on topics related to elections, because people with hearing difficulties often do not know who is running, their agendas and their voting rights.
He suggested that hosting ground floor mega centers for disabled people in major cities is a solution to making polling more accessible. Sleem added that he knows people would accuse him of living in "la la land" if he were to suggest making all polling stations and centers accessible to people with special needs.
Schools are always used as polling centers during the elections and the institutions usually lack elevators needed by physically disabled people, a shortcoming accentuated by the fact that polling booths are often located on upper floors, while ground floors tend to be used for administrative purposes.
Parking spots for people with special needs are also integral to an inclusive poll and are lacking in Lebanon's polling centers. Those with special needs often cannot find a parking space near polling stations, said Lakkis, and are forced to park further away.
Sana Younis, who was pregnant during the 2009 elections, cautioned expectant mothers to "go as early as possible to polling stations in order to find a parking spot, or else they would be walking miles," as happened to her when she couldn't find spots for pregnant women or people with needs.
An Interior Ministry spokesperson confirmed that the ministry will try its best to facilitate the voting process for people with special needs, but did not specify what action has been planned.
Previous ministries have given similar promises and none has kept them. In 2009, the Interior Minister published an implementation decree specifying actions to facilitate access to polling stations and creating a committee to organize elections in accordance to disabled people's needs, Sayegh said.
However, only a couple of model centers were created and only gates were designed to facilitate access, noted Lakkis. Since then, the decree has not been implemented and the committee that gives recommendations to the minister has not been reconstituted since its term expired.
Just before the 2018 elections, former Interior Minister Nouhad Machnouk promised to put in place a plan that equips centers with the facilities needed for disabled people.
The LUPD mapped all schools around the country to assess its accessibility rate and created models mapping how to organize facilities in each building, Lakkis said, "but in vain."
"The only solution that the ministry decided to adopt was to get civil defense and the army to carry old and disabled people up and down the stairs," she said.

BEIRUT — "I'm not voting in the upcoming parliament elections," said Maher Eid. It's not because he doesn't care or doesn't believe voting can make a change; he lobbied his friends in the diaspora to register to vote, arguing that "every vote counts to achieve a better Lebanon." But if he casts his own vote, it may be at the expense of his physical safety."When I voted in...