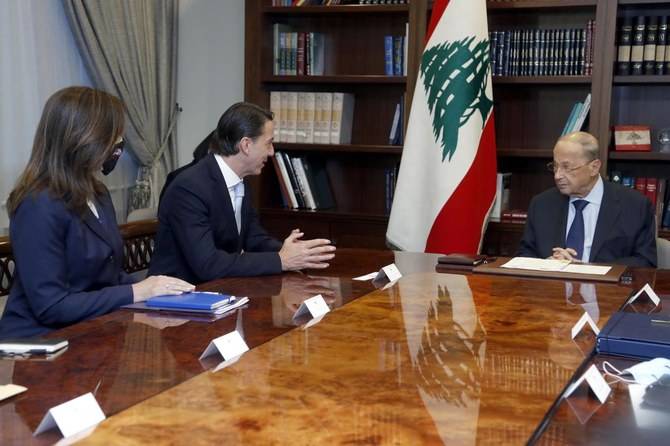 BEIRUT — Amos Hochstein is back on the Lebanese political scene as US mediator for Lebanon-Israel maritime border negotiations, which have been stalled since an initial round of indirect talks were held in Naqoura from last year until May 2021. But while Hochstein's appointment to the role has raised eyebrows — he was born and raised in Israel to American parents and served in the Israeli Army, according to Israeli media — the choice of an Israel-born diplomat to mediate between the two countries that are technically at war, especially one who is a veteran of the military of one of those countries, has not appeared to derail negotiations.
On Oct. 20–21 Hochstein held a series of meetings with Lebanon's top three political leaders as well as its top general, the energy and foreign ministers, and the military officer in charge of the most recent round of talks last fall.
Earlier this month Foreign Minister Abdallah Bou Habib told local Lebanese media that the state deals with Hochstein as "an American envoy responsible to his administration, and not in his Israeli capacity." Under normal circumstances it is illegal for an Israeli, or a non-Israeli who has been to Israel, to enter Lebanon, or for Lebanese citizens to have contact with Israelis.
A US State Department spokesperson told L'Orient Today that Hochstein "is not a dual national" but declined to comment on whether Hochstein formerly held Israeli citizenship and then renounced it. Dual nationals of the United States and another country sometimes give up their non-US citizenship in order to take on sensitive positions in the US government. The Lebanese Foreign Ministry declined to comment.
Marc Ayoub, an energy researcher at the American University of Beirut, said Hochstein's background is something the Lebanese side cannot help but consider, but at the same time the US alliance with Israel transcends one diplomat's identity. "We all know, the United States in general, even if he was not Israeli … he will not give the Lebanese whatever they request because he wants to be fair. So whatever US mediation you will end up having, they will be more keen towards securing the Israeli profits, the Israeli security concerns, the Israeli benefits, rather than the Lebanese one. So this is something that in the back of our minds, we know it."
Joe Macaron, a fellow at the Arab Center Washington DC, agreed that such a perception exists. "Lebanese officials tend to perceive any US official as leaning toward facilitating Israeli interests," he said. But, at the end of the day, "both Lebanese and Israeli officials will have to deal with the envoy selected by the Biden administration."
In a recent interview with Saudi TV channel Al Hadath, Hochstein downplayed the possible perception of bias, saying it ran in both directions: "Well, first, I think many people in Israel feel that we're more likely to side, and have been siding, with Lebanon. But maybe that's the right role for a mediator, for both sides to think we are siding with the other. We are here because we were asked by the Lebanese government and invited by both sides to help mediate. That was part of the framework that was achieved and negotiated by the Lebanese government. So that's the reason that we're here."
Hassan Nasrallah, the leader of Hezbollah, which has fought repeatedly with Israel in the border region and elsewhere, affirmed two weeks ago that his party "will not express an opinion or position related to the demarcation of borders" but remained ready to confront Israel if Lebanon's mineral resources "are in danger." A party spokesperson did not respond to a request for comment on the mediator's potential conflicts of interest.
Hochstein takes on the file as the US State Department's "Senior Advisor for Energy Security," a position to which he was appointed in August. Hochstein had previously tried to mediate the border dispute while he was the State Department's Special Envoy for International Energy Affairs from 2014 to 2017. During his tenure under the Obama administration he was reportedly a close advisor and confidant to then-vice president Joe Biden, who is now president.
Hochstein has worked in US politics since approximately the end of his Israeli military service in the mid-1990s, beginning as a congressional aide for a democratic member of the US congress. The UN's Humanitarian Coordinator for Iraq in the 1990s, when the US maintained crippling sanctions on the country, claimed in a 2005 memoir that Hochstein, as a congressional aide, met with an Iraqi Foreign Ministry official to discuss a plan to resettle Palestinians in Iraq in return for sanctions relief.
Hochstein also first visited Beirut in the mid-1990s, according to statements he made in a recent interview given to Al Hadath. He says he met with then Prime Minister Rafik Hariri.
For most of 2001 to 2011 Hochstein worked as a lobbyist and consultant, including at the firm Cassidy & Associates. Environmental news website DeSmog said Hochstein "has made a career of wielding the revolving door between government and industry."
While working at Cassidy & Associates he lobbied for Marathon Oil in the second and third quarters of 2008 in order to secure an exemption for Libya from a law allowing American victims of terrorism to sue foreign governments found to be involved in an attack. Marathon Oil operated in Libya at the time, which was thought to be in potential legal jeopardy over actions of former leader Moammar Gadhafi . Hochstein also lobbied on behalf of the government of Equatorial Guinea, whose leader Teodoro Nguema Obiang is widely accused of serious human rights abuses.
Hochstein also appears on the US Senate lobbying disclosures of Israeli company Merhav in the years 2004, 2005 and 2007, during which time Merhav engaged Cassidy & Associates to lobby on the issues of "US-Israeli Relations," "US-Central Asia Policy" and, in 2007, "US relations with nations in Central Asia & Eastern Mediterranean." Merhav was involved in the export of Egyptian natural gas to Israel via a pipeline. (Merhav's relationship with Cassidy & Associates predates Hochstein; it goes back to at least 1999.)
From 2011 to 2012 Merhav used Cassidy & Associates' services to lobby on the issue of "natural gas transmission," but Hochstein was not on the file.
Hochstein joined the US State Department in 2011 as an energy diplomat. In early 2012, he reportedly approached US fossil fuel company Noble Energy, which operated the Tamar gas field off the coast of occupied Palestine, about making a deal to sell Israeli natural gas to Jordan. The next year Noble Energy began using Hochstein's former firm of Cassidy & Associates for its lobbying needs in Washington.
From 2014 to 2017 he held what was, at the time, the top energy diplomat position in the US State Department and took his first turn as US mediator between Lebanon and Israel over the maritime border.
Back then, Ayoub says, Hochstein was proposing a solution in which even if the two countries failed to agree on the border demarcation, they could share the gas reserves, with gas companies giving both countries a share of the profits. Macaron said Beirut rejected these ideas.
Upon leaving government in 2017 he joined US natural gas company Tellurian Inc, which had recently been co-founded by Lebanese-American businessman Charif Souki and a partner. During his tenure, he marketed US-produced natural gas to Asia, the Middle East, Europe and South America, according to his LinkedIn profile.
While in this position Hochstein penned an op-ed for former US Secretary of State John Kerry's World War Zero climate initiative in which he called for US global leadership on climate change and a "new massive stimulus" to upgrade energy infrastructure in the US as well as foreign countries, where public funds should be used to "leverage and incentivize private funds" to transition to cleaner energy.
In response to a question about the role of natural gas in the US's plans to fight climate change, the State Department spokesperson said "Fully abated natural gas can be compatible with net-zero goals and maintain system reliability in the transition to renewable energy. Natural gas is a part of the global energy mix. The United States will continue to support efforts to decarbonize global energy sources, and work with both our partners and allies and the private sector to achieve our ambitious climate goals."
Hochstein will take over the file from US Charge d'Affaires in Qatar John Desrocher. Ayoub says Hochstein may take a tougher stance on moving the negotiations forward given his prior acquaintance with the parties and their positions.
In his interview with Al Hadath, Hochstein declined to provide a roadmap for a possible outcome of the stalled negotiations saying, "At the end of the day, the goal is to advance what is best for Lebanon's interests, and if the Lebanese government and the Lebanese people want to move forward and to achieve a resolution to this maritime conflict, we will do everything we can as the United States, and I will do everything I can to help achieve that."

BEIRUT — Amos Hochstein is back on the Lebanese political scene as US mediator for Lebanon-Israel maritime border negotiations, which have been stalled since an initial round of indirect talks were held in Naqoura from last year until May 2021. But while Hochstein's appointment to the role has raised eyebrows — he was born and raised in Israel to American parents and served in the Israeli...