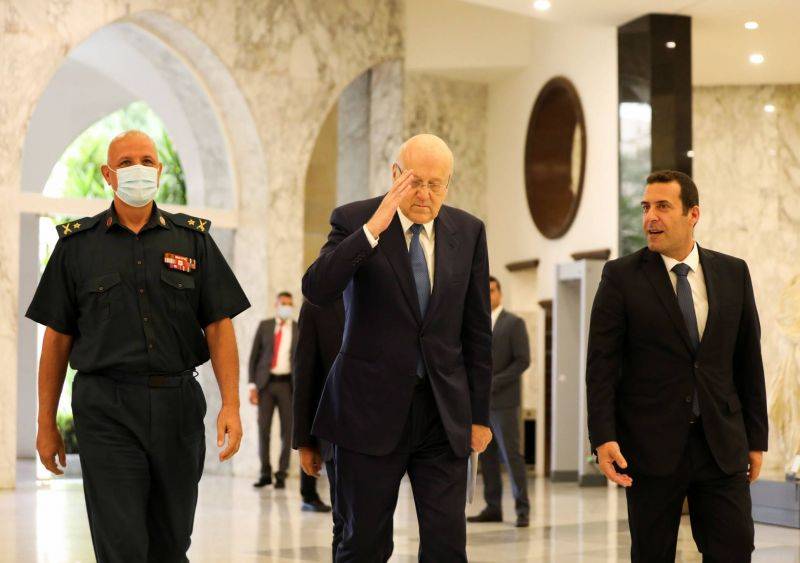 BEIRUT — Lebanon's politicians announced a new government on Friday, ending 13 months of negotiations involving three potential premiers — independent Lebanon's longest period without an executive authority.
President Michel Aoun and new Premier Najib Mikati signed decrees appointing Mikati as the leader of a 24-member government of supposed technocrats.
The new cabinet will be tasked with nothing less than rescuing the country from collapse, as the provision of basic goods and services — including food, water, fuel, electricity, health care, education and internet — teeters on the edge of breakdown.
"There are steps that the government will take as soon as possible to save the country," Mikati said during a news conference held after the government formation was announced on Friday, giving few specifics.
In a statement to reporters after signing the formation decree, Aoun, who last year had said Lebanon was going "to hell" if a government was not formed to implement reforms, told reporters, "We will get out of hell, and we will climb out of the hole we are in," beginning with crippling medicine, fuel and bread shortages facing the country.
Aoun was criticized for months of allegedly hamstringing the formation process to acquire veto power in the new cabinet — a charge the president and his followers have denied.
According to multiple reports, the cabinet formed on Friday was negotiated on the basis of an 8–8–8 split of seats among allies of Aoun, Mikati and the Amal-Hezbollah duo. However, questions surround two Christians named by Mikati, muddying the waters as to whether the president would have the nine votes needed to unilaterally block important actions or topple the government.
While Mikati denied Aoun had gained a blocking third, he also declined to publicly delineate the shares in the new government, telling our sister publication, L'Orient-Le Jour, "There is no reason to debate the number of angels on the head of a pin or these endless controversies over who named whom." Instead, Mikati said all the new ministers he had met with were enthusiastic to "work as a team and not as political ministers."
A rescue cabinet
The crisis — the worst since Lebanon's 1975–90 Civil War — began two years ago as US dollar inflows to the country failed to cover the financial system's dollar liabilities, presaging a financial collapse. It was only exacerbated by leaders' inability or unwillingness to address fundamental flaws in the financial system — still present to this day — and the disastrous Aug. 4, 2020, Beirut port explosion, which killed at least 218 people and caused the government of Hassan Diab to resign.
The country is now beginning to feel the full weight of the collapse's impact, as the crisis has seen Banque du Liban's foreign currency reserves reduced to some $14 billion. As a result, the central bank says it is no longer able to sustain the subsidy scheme that once kept many essential goods and services, including fuel and medicine, affordable for many residents. This has led to shortages in recent months and forced officials' hand in making the controversial decision to gradually end subsidies, leading drug and fuel prices to skyrocket.
"We have no desire to lift subsidies, but there is no money to continue it," Mikati said, adding that the bank's money has run "dry."
The new cabinet will need to address the sprawling, multifaceted crisis after it receives a yet-unscheduled vote of confidence from Parliament, fully empowering it to take decisions and implement any agreed-upon reforms.
But in comments to L'Orient-Le Jour, Mikati warned, "There will be no miracles, and don't expect any if we don't work together."
For the past year, the creation of a new cabinet has been the top priority in addressing the country's crisis, and has seen the international community intervening, in vain, to hasten it. French President Emmanuel Macron set it as the first step in his failed road map for Lebanon's recovery, initially pushing for a new government by Sept. 15, 2020 — nearly one year ago; France later announced that it had formulated a sanctions scheme for Lebanese officials responsible for stymieing the cabinet's formation.
The European Union's foreign policy head, Josep Borrell, welcomed the formation announcement on Thursday, tweeting that now it is key for the government "to address current economic, financial and social crises, implement long overdue reforms, and prepare for elections in 2022."
Officials from Gulf countries and other regional actors had also met with Lebanese political leaders over the past year in a bid to press for the cabinet's formation.
With the government now formed, "I will not miss an opportunity to knock on the doors of the Arab World," Mikati said during his Friday press conference. "The government represents all of Lebanon, not certain groups, and I will communicate with all international bodies to secure people's basic needs."
"We will deal with anyone for the interest of Lebanon," including Syria, but not Israel, he added.
Received with skepticism
Mikati, a billionaire tycoon, succeeds where two before him failed. The first man appointed to form a government after the Beirut port explosion, diplomat Mustapha Adib, threw in the towel on Sept. 26. His successor, three-time former Premier Saad Hariri, then spent nearly nine months attempting to negotiate with Aoun to no avail. He resigned on July 15, clearing the way for Mikati's nomination later that month.
Mikati's cabinet comprises 24 ministers from various backgrounds, including lawyers, academics and former diplomats in Lebanon. Although Aoun and Mikati vowed to form a government of technocrats, media reports suggested that the new ministers owed their positions to members of the traditional political elite
Notably, the ranks of new ministers include just one woman, Najla Riachi, who was given the only portfolio that does not include an actual ministry, other than the posts of prime minister and deputy prime minister.
"Only one woman … was announced as minister today. This puts Lebanon's representation of women in cabinet at a dismal 4.1 percent, plunging Lebanon's rank [in terms of female government representation] to 175th out of 182 [in the world]. This is a large step down from ranking 42nd with 30 percent representation in the outgoing government," tweeted Jad Halabi, a project officer at United Nations Women.
Given the tortured negotiations that went into forming a government, the prospects for agreement on a plan to raise Lebanon out of its crisis remain in question. And if there is an agreement, there is no guarantee that it will be received well by a population whose views largely range from skeptical of most politicians to outright hostility toward all — especially after the Oct. 17, 2019, mass uprising against the elite.
"After 13 months, #Lebanon finally has a new government, with little new about it. With minor exceptions, it was formed by the very politicians vilified & rejected by the popular protests which toppled two previous cabinets. Hezbollah still looms large, directly & through allies," tweeted Firas Maksad, the strategic outreach director and a senior fellow at the Washington, DC-based Middle East Institute.
"Having people cheer and rejoice for the basics (like having a government) is the greatest success of #Lebanon's ruling thugs," the prominent local economist Jad Chaaban tweeted.
Another constraint to addressing the country's woes is the short time frame for action: national elections in May will bring a new Parliament, at which point Mikati's government will be considered resigned.
"I pledge to hold the parliamentary elections on time, and I have the intention to hold municipal elections on time as well," Mikati said. Municipal elections are also scheduled for next year, as are presidential elections as Aoun nears the end of his six-year term on Oct. 31, 2022.
On the political scene, reactions to the formations were mixed, particularly from Mikati's Sunni Muslim sect.
Speaking with L'Orient Today, Moustafa Alloush, a vice president of the Future Movement, Lebanon's largest Sunni political party, expressed skepticism at the new cabinet. "It's the classic government that we've seen in Lebanon. It's the same. There are some new faces but it hasn't changed," he said.
"But any government is better than not having a government at all. We have to wait and see," he added. "I'm not optimistic for the long run, but I hope some relief will come in the next few weeks or months."
But Hariri, the head of the Future Movement, projected a more positive reaction, tweeting his support for Mikati's government "in the vital mission to stop the collapse and launch reforms."

BEIRUT — Lebanon's politicians announced a new government on Friday, ending 13 months of negotiations involving three potential premiers — independent Lebanon's longest period without an executive authority.President Michel Aoun and new Premier Najib Mikati signed decrees appointing Mikati as the leader of a 24-member government of supposed technocrats.The new cabinet will be tasked with...