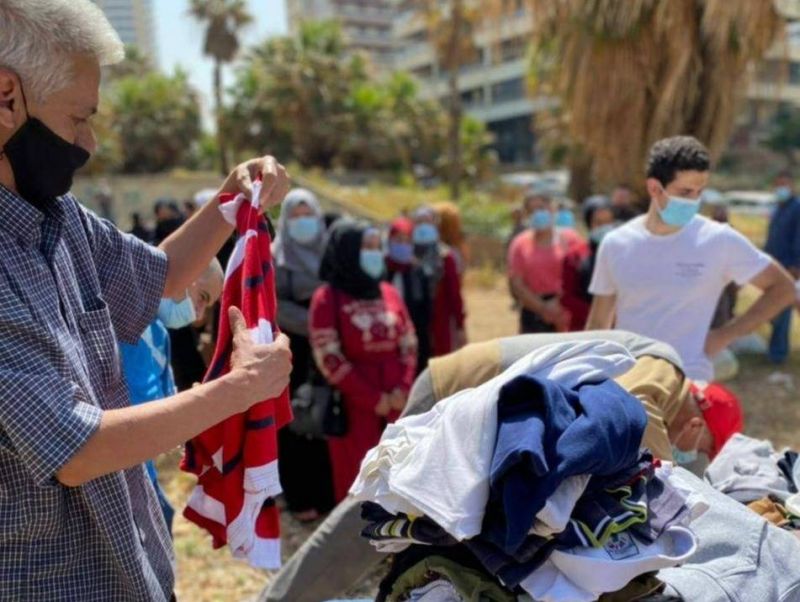 BEIRUT — On the morning of Aug. 5, 2020, a group of neighbors gathered in the ruins of an abandoned gas station in the working-class area of Geitawi. They sat together, taking stock of the destruction wrought by the previous evening's explosion at the Beirut port and started thinking about how to help residents of the destroyed neighborhood.
"The first thing we thought about was food — so we cooked at home and just sat in front of the station with the food, and people started coming," Josephine Abou Abdo, a co-founder of what is now the community hub and relief center Nation Station, told L'Orient Today. "We really thought we'd stay for just one week. But two weeks on, with the help of volunteers, donors and beneficiaries, we created a community and public space."
The ruins of the gas station, an impromptu site for the distribution of food and other relief in the blast's immediate aftermath, has transformed over the past year into a community space, soup kitchen and medical center.
"The relief aspect is cooling down, but we don't want to stop," Abou Abdo says. "People find comfort here, and some kind of social support."
Nation Station is one of dozens of spontaneous volunteer initiatives that led the initial response to the Aug. 4 Beirut port explosion, which killed more than 200 people, injured thousands and destroyed large areas of the capital.
A year later, many of the grassroots initiatives set up in the blast's aftermath have become more permanent fixtures, adapting to growing economic, social and political crises and filling the gaps left by an unresponsive government.
"What we saw after the explosion was not really surprising," says Léa Yammine, the deputy director of the research center Lebanon Support. "Civil society in Lebanon has always been the first to mobilize after any crisis."
According to research conducted by Lebanon Support from Aug. 19 to Sept. 20, local groups overwhelmingly led the response to the explosion. National and local civil society organizations accounted for 62.3 percent of relief and volunteer efforts, and individual initiatives for 20.2 percent.
Out of these spontaneous volunteer-led relief efforts sprung dozens of new civil society initiatives that responded by fixing up destroyed homes, offering mental health services and medical care and handing out basic essentials such as food and water.
The state was largely absent. Lebanon Support's research found that Lebanese governmental organizations contributed to only 0.9 percent of the explosion response efforts.
"Never once did any official or government entity visit us," Abou Abdo says. "No one offered help — not that we would accept it, but they didn't even offer."
Nation Station now has about 4,000 households in its database, which includes some 300 families who receive medical care from doctors and medical students who volunteer their time. The reconstruction team has also fixed about 200 houses and buildings in the neighborhoods damaged by the blast.
"We are doing what the nation should be doing," Abou Abdo says.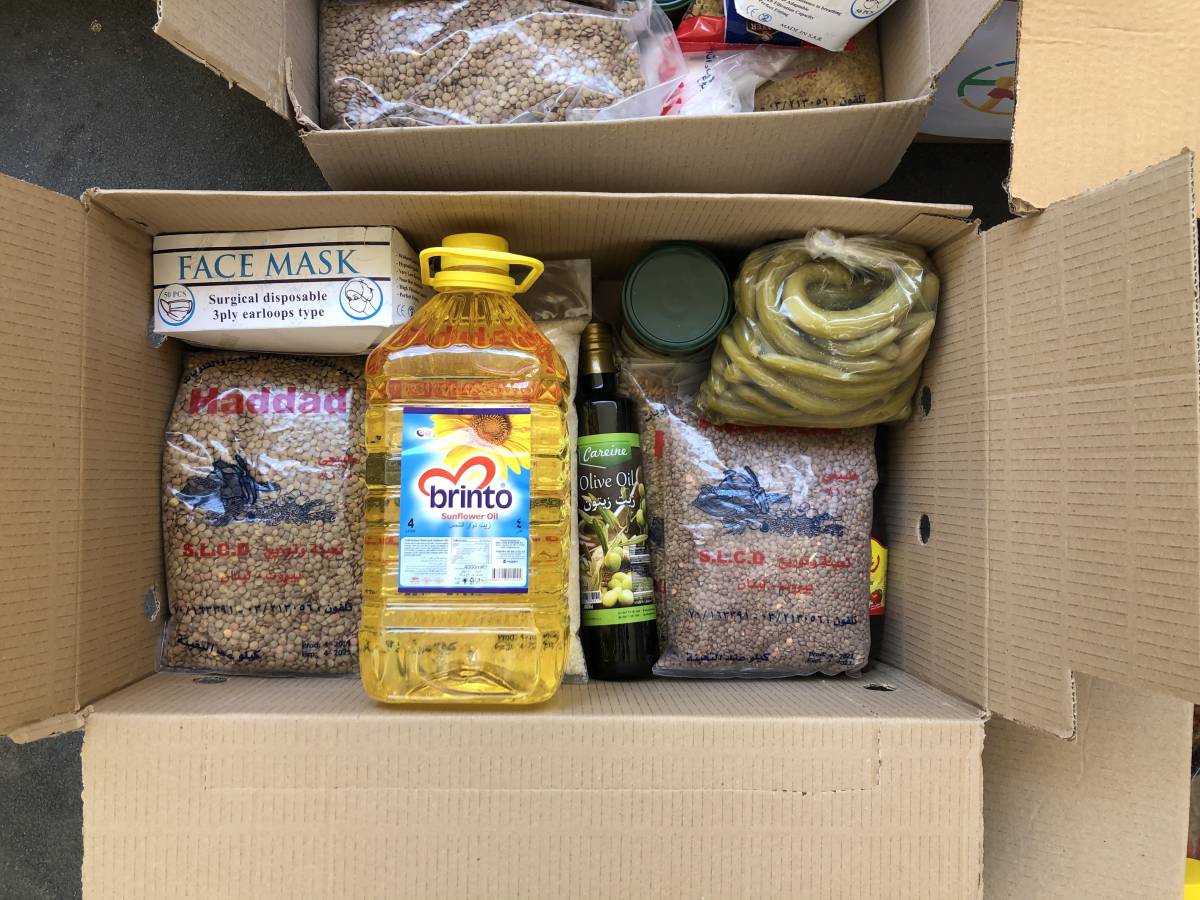 A food box set to be distributed by volunteers from the civil society group Nation Station. (Courtesy of Nation Station)
Filling the gap
Civil society groups and volunteer initiatives playing a prominent role in crisis response and welfare provision in Lebanon "is not a new phenomenon," explains Mona Harb, an urban planning and politics professor at the American University of Beirut and a co-founder of Beirut Urban Lab.
"Historically, civil society has mobilized to fill a huge void left by the state, mostly in social services, health, education and human rights," she says. "Much of this can be traced to the Civil War, when state services fell apart."
Lebanon Support was established after Israel's 2006 war on Lebanon, coordinating civic initiatives and the civil society response at a time when, in Yammine's words, "there was complete immobility from the state and the international aid community initially."
This time around, the international community was quick to mobilize. Much of the aid flowing in was directed toward NGOs and civil society organizations as foreign donors sought to bypass a government viewed as corrupt and incapable of spending funds appropriately.
The United Nations launched an emergency appeal in August to raise some $354.9 million to support blast recovery efforts, but the target was later reduced to $196.6 million. So far, $167.1 million has been pledged, and $107.2 million has been paid, primarily to UN organizations and international and local NGOs.
Thirty-six countries also pledged about $300 million at an August donor conference led by France, which insisted that aid would go directly to the Lebanese people. In December, France said that 280 million euros' worth of aid had been distributed.
Also in December, the World Bank, European Union and UN launched the Lebanon Reform, Recovery and Reconstruction Framework (3RF) to raise some $2.6 billion in funds for reconstruction and recovery in the capital, including some $2 billion for long-term projects contingent on structural reforms. Once again, the international community displayed its skepticism toward the state's ability to responsibly handle the incoming funds.
But while civil society tried to fill the void left by the state, the absence of a unified government response and prominent civil society role following the explosion led to some extent to patchy and chaotic relief and reconstruction efforts.
According to a November report by the consulting group Siren Analytics, "the state was not coordinating the numerous community-based relief efforts, and offered very limited communication between public entities and civil society."
This at times resulted in significant overlap among multiple civil society groups, confusion among Beirut residents over whom to turn to for help and neglect of vulnerable residents.
"There were a lot of initiatives [after the explosion], and there was a bit of a cacophony at some point. We heard of some people being contacted by many groups but never receiving anything," Yammine says. "This shows to some extent the limited capacity of the civil society sector when dealing with something of that scale."
With the role of civil society initiatives growing and that of the state waning, many observers and academics have raised concerns that Lebanon is moving toward becoming a "republic of the NGOs," where the state is overshadowed by civil society initiatives and nongovernmental organizations.
"There are real fears of sidelining the state," Harb says. While state bodies, governmental institutions and public services are currently severely weakened and struggling to function, civil society groups cannot replace them.
"Civil society can work on a small scale, but we are seeing clearly that they cannot take care of everything — things like water and electricity," Harb says. "NGOs aren't going to maintain the country's infrastructure."
"The million dollar question is who can play this role with the collapse and delegitimization of the state," she adds.
Adapting to government inaction
Since the explosion, "what we have been given is [government] inaction when the country is ripe with crises," Yammine says.
Since August 2020, the lira has spiraled, and living conditions have worsened dramatically. Inflation has soared, making food, sanitary products and other essentials harder to access. Medicine is in short supply in pharmacies and hospitals, and fuel shortages have created "lines of humiliation" at gas stations and led to lengthy power cuts for homes and businesses.
As a result, many of the initiatives that mobilized in response to the explosion have felt obliged to continue on, shifting or broadening their mission to meet growing needs.
"The whole point of civil society," Yammine says, "is to organize for a certain mission, to fill certain gaps and/or to provide services that are needed, whether they are set up after a crisis or not."
In June 2020, a group of half a dozen friends set up Klna (Arabic for "All of Us") to help their communities amid a worsening economic crisis, putting in their own money to support vulnerable families, helping mainly with food and medicine.
However, it was only after the Aug. 4 tragedy that the group was pushed to develop a more effective strategy, organize their network of volunteers and focus their work, explains Klna's communications and outreach head, Fatima al-Mahmoud.
"When [the explosion] happened, we saw what we were doing was not enough, and we wanted to do more," Mahmoud says. Now the team is focusing on food distribution "because we are seeing the prices rise and the fights in supermarkets over subsidized items. It's a matter of survival."
They have so far helped more than 1,500 families. However, Mahmoud says, the lira's continuing downward spiral and rising food prices are making their task more difficult.
With little hope of a state intervention or coordinated plan to remedy the crises Lebanon now finds itself in and still no government to speak of, they and other civil society initiatives are looking to the future.
After initially rushing to clear rubble and direct traffic during the chaos of the explosion's immediate aftermath, Nada Jouni and Hassan Nasereldine set up Knock Beirut's Doors to help people whose homes had been destroyed, using their passion for carpentry to repair broken doors and windows.
"At the beginning, we literally just used the materials we had at home and used our own budget," she said. "Then, over time, we got donations — from friends, from acquaintances and family members."
A year later, while the immediate need for repairs has largely been fulfilled, Knock Beirut's Doors is still going.
"We didn't completely stop, and I'd like to never say we did," Jouni says. "Even now, we are still receiving cases where people have still not had their windows and doors fixed."
The team is now looking toward adopting a more sustainable approach to their work, raising funds to run carpentry workshops to help people gain new skills and recycle and upcycle old metal and wood to build furniture.
"This is part of the future," Jouni says. "We believe that NGOs and citizen initiatives are indispensable.
"Somehow, people trust the NGOs and initiatives more than the state — especially after we saw what happened in the explosion," she adds.
Nevertheless, Harb warns that an overreliance on civil society is not sustainable, especially as short-term international funds dwindle as donors await the political and economic reform they have demanded to unlock larger aid packages.
"Maybe [civil society] can make some small gains, but with no reforms and no funding, I think we will see less work, more stagnation and more aggravation of the existing problems," she says. "Systemically in Lebanon, everything is stacked against efforts made by civil society."
For Mahmoud, what Klna and other small volunteer-led initiatives are doing is simply "picking up whatever pieces are left of this so-called country."
"What is our food box going to do to mend their corruption?" she asks. "Not much. But then again, we have to do something."

BEIRUT — On the morning of Aug. 5, 2020, a group of neighbors gathered in the ruins of an abandoned gas station in the working-class area of Geitawi. They sat together, taking stock of the destruction wrought by the previous evening's explosion at the Beirut port and started thinking about how to help residents of the destroyed neighborhood."The first thing we thought about was food — so...