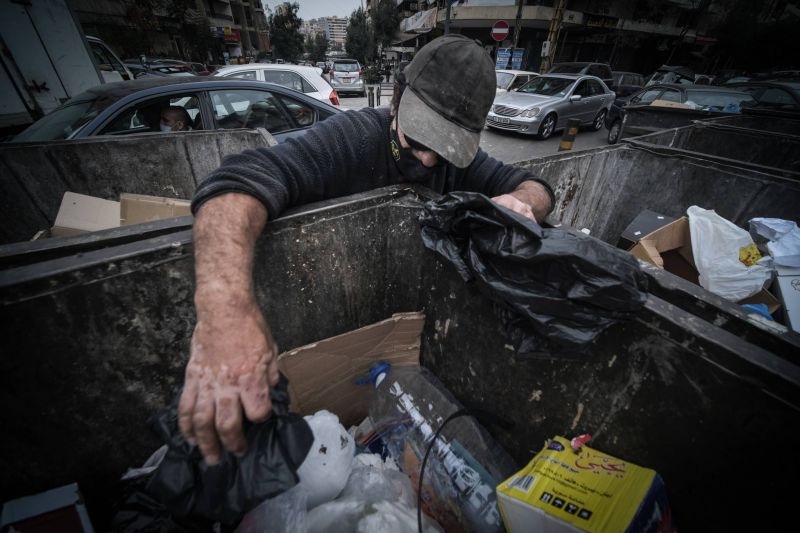 BEIRUT — As Lebanon heads into what will be — on paper at least — its strictest lockdown yet to halt the out-of-control spread of COVID-19, some are worried that the country's most vulnerable residents have been left as an afterthought.
Without mitigation measures, advocates and aid workers warned the closure could put the country's growing number of impoverished families, as well as the elderly, people with disabilities, and refugees in an even more precarious situation.
Saeed Hamzeh, who picks up scrap metal, wood and bottles in Beirut's Tariq al-Jadideh neighborhood to sell for recycling, told L'Orient Today Wednesday, "Of course it's going to affect me, because I have a family and I have children, and you see me — I'm pushing this cart around to be able to live."
Hamzeh said he didn't get any help from the government in previous lockdowns and isn't expecting to this time around.
"I'm a Lebanese citizen, and from the time corona started until now, no one has come to my house to give me a loaf of bread," he said. "One or two days I'll stay home, but after that I'm going to go down to the street. I need to work; I need to feed my children. ... If they want to close the country, they should feed the people."
Food had become a growing concern in Lebanon even before the lockdown. In a World Food Program survey of Lebanese households last year, 55 percent reported they had faced food shortages between July and August 2020.
Amelia Charles, a social protection, livelihoods and food security technical advisor to Save the Children, told L'Orient Today that this has left families particularly vulnerable ahead of the new lockdown.
"The economic crisis and the previous lockdowns have pushed families to deplete their coping mechanisms," she said, leaving them unable to stockpile food ahead of the closure. During the lockdown, grocery stores will be closed except for delivery, which not all families will have access to, Charles said. In those cases, she said, "their access to basic food items is going to be severely compromised."
Food is not the only issue to consider. Anna Chilvers, country director of Medair, an international NGO working with refugees in the Bekaa Valley, said that during lockdowns last spring, the organization had seen a dropoff in visits to the health centers it supports, meaning that some non-coronavirus-related health issues may have gone unaddressed.
"One of the reasons [for the decrease in visits] was fear of COVID, but another one was was just the inability to travel," she said. That could be an issue again in the current lockdown, which bans all vehicles from the roads, including the buses and vans that many refugees and Lebanese living in rural areas rely on to get to the towns where services are located.
"Particularly with the lack of public transportation, how will people get to the health centers?" Chilvers said.
The extreme limitation of movement could also be an issue for people with disabilities, said Fadi Sayegh, a disability rights activist who uses a wheelchair. The lockdown order exempts people with disabilities from the ban on driving. But Sayegh pointed out that many disabled people do not have their own cars and rely on public transportation, which is currently stopped, and on non-disabled friends or relatives — who are not exempt from the driving ban — to bring them supplies and help them with errands and tasks at home.
On Wednesday night, the government launched an online form that residents must fill out to leave the house. The permitted reasons include medical appointments and trips to the pharmacy or bakery, but do not include helping an elderly or disabled person.
"They didn't give any solutions [for these issues] because they didn't make scenarios for all the problems," Sayegh said. "They didn't ask."
Aid plan unclear
Plans for the full lockdown — which came a few days into a partial lockdown as COVID-19 numbers shot up, and following a controversial decision by authorities to ease restrictions on gatherings over the Christmas and New Year's holidays — were announced just three days before it was set to start.
At the same time, caretaker Prime Minister Hassan Diab announced that the Lebanese Army would be distributing LL400,000 to some 280,000 families "in all the regions of Lebanon" to offset the effects of the closure. But as of Wednesday, it remained unclear if anyone would actually receive the cash during the lockdown.
An initial amount of LL75 billion was released by the Finance Ministry to the Higher Relief Committee to be distributed, but an army spokesperson told L'Orient Today that the list of recipients has yet to be finalized. As to when the distribution will start, he said there will be "nothing before the beginning of February" — after the lockdown ends.
Mohammad Kheir, secretary-general of the Higher Relief Committee, acknowledged that ideally the money should have been distributed before the lockdown to enable needy families to stock up on supplies, but said there had not been time.
"You know how decision-making processes go in this country," he said.
During previous aid distributions since the first COVID-19 lockdown, recipients were selected from a hodgepodge of lists provided by different ministries, including families of public school students, land mine victims, and bus and taxi drivers, as well as databases of needy families compiled by the Ministry of Social Affairs.
The army spokesperson said that the households who received aid in previous distribution cycles would remain eligible, while new cases are "under study."
Mixed signals to aid workers
While the government was slow to distribute aid during the the first countrywide lockdown that began last March, NGOs and informal volunteer initiatives quickly spread out around the country, bringing food boxes, medication and sometimes cash to shut-in families.
But after the announcement of the latest lockdown, it initially appeared that NGOs would be barred from doing relief work during this closure. The lockdown order released Monday exempted United Nations staff engaged in "critical program delivery and operational activities" but made no mention of NGOs, setting off a frenzied series of negotiations between UN officials and the government.
Adding to the urgency, with a storm system set to arrive overnight Wednesday, relief workers were concerned that refugee camps would be inundated, as they frequently have been in past winters. Normally, NGO workers would then move in to transport people from flooded tents to temporary shelters and to help with draining the water and repairing damaged tents.
"The greatest fear was that the closure would come at the same time as the storm," said Omar Abdullah, who works with the NGO Sawa for Development and Aid in the Bekaa Valley. "Corona is a very dangerous disease, but [with the storms] we're facing a scenario that threatens people's lives directly."
On Wednesday, a spokeswoman for UN Resident and Humanitarian Coordinator Najat Rochdi told L'Orient Today that the government had granted exceptions for a limited list of "humanitarian implementing partners [NGOs] that are delivering critical humanitarian interventions," as well as for UN agencies.
A spokesperson for the Interior Ministry, which is responsible for exemptions, did not respond to requests for comment.
Lea Yammine, the deputy director of Lebanon Support, a research center focused on civil society initiatives, said the apparently ad hoc nature of the government's approach to developing the lockdown plan was concerning.
"It feels like there's no real contingency or mitigation plan for the impact this could have on those who are most vulnerable," she said, adding that the lockdown plan "didn't take into account the role that civil society plays in filling a gap left by the state and providing support to people on the ground."
Pushback
In Beirut, a small group of demonstrators gathered in front of the Ministry of Social Affairs Wednesday to protest against imposing the closure without providing a social safety net.
The day before, a group of bus drivers blocked a main road in Tripoli for more than two hours in protest over being ordered to stop working and over hefty fines that had been handed out for violating traffic restrictions during the previous lockdown. At one point, a driver attempted to pour fuel on himself to set himself on fire before being restrained by the others.
Shadi al-Sayed, head of the syndicate of bus and van drivers in the north, said if they don't get aid from the state during the lockdown, the drivers will go back to the streets.
"We have drivers who don't have enough to eat," he said. "We have people who are poor to a degree that you can't imagine. We're not the reason for the pandemic. The state is the reason for the pandemic and … in our opinion, the state didn't stand with its people."
Meanwhile, with the vaccine potentially months out from reaching the majority of Lebanon's population, others said the government needs to develop a plan to manage both the coronavirus crisis and the economic crisis.
"The end of the pandemic and the spread of COVID inside Lebanon is still not really in sight right now, so we really need a longer-term plan," Yammine said. "And that longer-term plan has to take into account the multiple crises this country is facing and mitigate the effects and impacts on all of the population, notably those most vulnerable and marginalized."

BEIRUT — As Lebanon heads into what will be — on paper at least — its strictest lockdown yet to halt the out-of-control spread of COVID-19, some are worried that the country's most vulnerable residents have been left as an afterthought.Without mitigation measures, advocates and aid workers warned the closure could put the country's growing number of impoverished families, as well as...