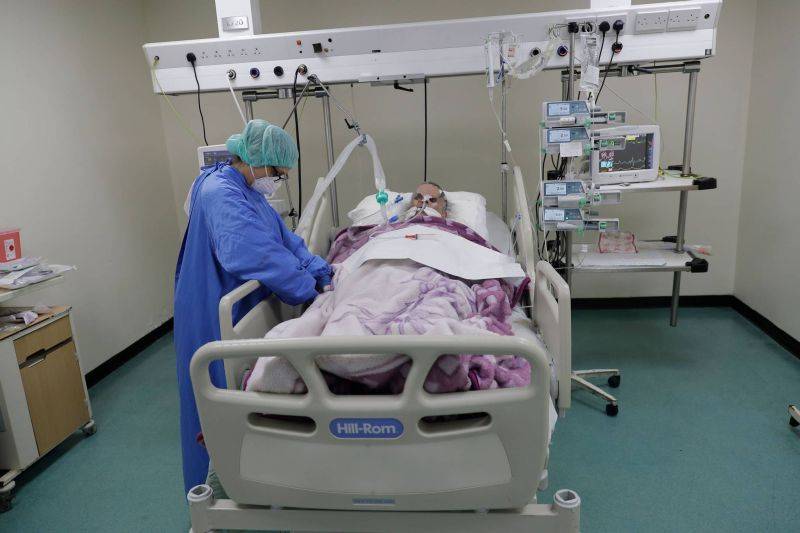 BEIRUT — For the second time in one shift, Mouhamad Tahini loses a patient.

This time it's even harder than usual: less than an hour earlier, Tahini had called the patient's son to inform him of the death of his mother, the patient's wife. But it's just another day at a COVID-19 unit.
For more than 12 hours a day, Tahini and his colleague Ali Hamade are on their feet, examining patients suspected to have COVID-19, conducting tests and running scans.
They are resident doctors in internal medicine working at the coronavirus emergency unit at the Rafik Hariri University Hospital, Lebanon's largest public health facility and the main center for treating COVID-19 patients.
"We see patients nonstop. You hardly have time to eat, let alone rest," Tahini tells L'Orient Today. "We have never experienced this kind of stress and [work]load."
This year, 2020, has been unlike any other. Perhaps nowhere more so than in Lebanon, which has had to grapple with a deadly pandemic while collapsing under the weight of economic failure, political turmoil and a devastating explosion.
Few groups have been confronted by the realities of this turbulent year more than Lebanon's health care workers, who have witnessed firsthand the impact of these colliding crises.
"It's not as if we are living a normal life where there is no pandemic, no economic crisis and no political problems," says Ali Mhanna, a 27-year-old graduate medic working in the COVID-19 wings of hospitals in Nabatieh and Hadath. "We, as doctors, see it every day: people dying and people suffering."
Total exhaustion
Once a COVID-19 patient is admitted to hospital, they require round-the-clock medical care and attention. Health care workers must check on each patient several times a day, changing the uncomfortable protective equipment they wear between each visit.
"I can easily take care of 20 ordinary ICU patients no problem," says Pierre Bou Khalil, the head of pulmonary and critical care at the American University of Beirut Medical Center. "But with just 12 COVID-19 patients, I am completely exhausted at the end of the day — physically and emotionally."
A year after the novel coronavirus first emerged, health care workers are still struggling to understand the disease, its treatments and its effect on patients.
"You normally know the prognosis when you're treating a patient, so you can mentally prepare yourself," Hamade says. "But with the coronavirus, you never know if they're going to live or die."
"There is nothing easy about this," he adds.
The sudden change in a patient's condition can come as a real shock, Mhanna says, "despite being trained to cope with this."
He recalls one patient — an elderly man, in good spirits and doing well despite his COVID-19 diagnosis — who offered Mhanna a juice and asked to chat. "But suddenly," Mhanna explains, "he lost consciousness and we had to put him on a ventilator. Fifteen minutes later, he was dead."
And the death toll continues to climb. The last week of November saw the record number of daily deaths surpassed twice.
When Tahini was confronted with having to make a second call to the son who had just learned that his mother had died in intensive care, he almost couldn't bear to do it.
"It was one of the hardest things I've had to do," he says. "We're seeing people die in front of us every day — the emotional and mental pressure is coming at us from all sides."
Dealing with worried or bereaved relatives becomes even tougher when they are skeptical about the existence of COVID-19 or mistrust the health authorities.
"I've had families try and barge their way into the wards, refusing to wear masks and claiming the virus is a lie," says Rouba Hamdash, a nurse in the COVID-19 ward of the Abdullah Al Rassi Governmental Hospital in Halba, Akkar.
Then, "when one of our patients recently passed away, we were accused of killing him," Hamdash adds. "This is really hard to hear."
Taking the virus home
Even once his shift ends, Bou Khalil struggles to leave thoughts about the virus behind. It has reshaped the way he interacts with loved ones and closed down the restaurants and cinemas where he liked to unwind.
"This disease has affected your own life," he says. "You are under stress nonstop."
And then there is the constant worry about passing on the disease to close family and friends.
"The hardest part is that we are ourselves afraid of getting the virus, as we're living with our families," Hamdash explains. "This is the biggest fear for me."
Hamdash's neighbors, and even fellow hospital staff, are avoiding her because they know she works in the COVID-19 unit. "It's very tough," she says.
Yvonne Elise Germanos finished an internship in the emergency department of Notre Dame University Hospital in August, completing the final part of her medical degree. Although she wasn't working directly with coronavirus patients, her family begged her not to go to the hospital, worried she might contract the disease.
Since March Iyad, a surgery resident at a hospital in Saida who asked to remain anonymous out of fear of repercussions at work, has been renting a separate apartment in the same building as his parents to reduce the risk of transmitting the virus to them.
This proved a wise decision when he tested positive for COVID-19 in September and was out of work for 20 days. "At some points, I could barely talk due to dyspnea," he says, using the medical term for shortness of breath.
The patient Iyad contracted it from had tested negative for the virus before being admitted to the hospital for surgery, but returned a few days after being discharged showing severe symptoms. The patient later died.
Full capacity
In early November, Lebanon reached a critical stage in its battle with the pandemic when the occupancy rate for coronavirus beds in intensive care units hovered around 90 percent. Since then, beds have been added in public and private hospitals, bringing occupancy down to 84 percent, as per the World Health Organization's latest figures.
Despite the increased capacity, beds are not always easy to come by. "Patients come to us in a really bad state," RHUH's Tahini says. "But sometimes we have to turn them away if there aren't beds available."
"We know they will just come back in critical condition, or that we are sending them home to die."
At AUBMC, one of Lebanon's most expensive and prestigious hospitals, all of its dedicated COVID-19 beds — eight ICU beds and 21 regular beds — are full.
"We've been running at capacity for over a month and our staff are exhausted," says Bou Khalil, adding that the hospital wants to expand its capacity, but is facing problems finding the staff to do so.
"We are asking residents from other departments to come in, because we simply don't have enough."
Coronavirus patients are not only filling up dedicated COVID-19 wards, but are occupying space in regular departments too — once they are no longer infectious but still require hospital care.
Nasser Audi, a pediatric cardiologist, recently had to postpone two scheduled cardiac surgeries because hospitals had no beds for his patients to use during their recovery.
"We can't keep doing this," he laments. "And I fear we are moving toward much harder times."
Running low
Many of the hardships faced by health care workers over the last year are shared by medical professionals the world over. But in Lebanon, doctors and nurses must struggle against another obstacle: economic collapse.
The unprecedented crisis has severely impacted hospitals' ability to care for patients, through oppressive banking policies, equipment shortages and mounting debt, on top of years of government neglect.
"Some of the most basic things are missing," Tahini says, referring to a recent lack of saline solution for IV drips at RHUH. "These are usually things you don't even give a second thought to."
The shortages extend to materials essential to the treatment of coronavirus patients, such as personal protective equipment and mechanical ventilators. In Halba, Hamdash says, nurses in the COVID-19 unit have been forced to go without gloves and protective gowns.
"We're competing with the world to get certain equipment, and on top of everything, we're having trouble paying," Bou Khalil explains. "It has been extremely stressful."
Pharmaceutical drugs, most of which are imported, have also disappeared as suppliers withhold stocks, patients load up on their medications and pharmacists ration sales. Others, Mhanna says, have stopped taking their medicines to cut costs.
"The economic crisis really sunk us," says Elie Akoury, an oncology resident who works across multiple hospitals in the Jbeil and Kesrouan areas. "It's difficult for the patient, but it's really hard for us too. If we don't have the medicine they need, what can we do?"
More than half of Lebanon's population is now estimated to be living in poverty, as unemployment grows and the cost of living spirals out of control due to soaring inflation.
This means fewer patients are seeking health care. According to Akoury's estimates, he is seeing a reduction of approximately 40 percent in the number of new patients receiving chemotherapy and other cancer treatments.
"We are finding that many patients worry about the price before thinking about their health," he explains.
It's a similar story for Iyad: "In previous years, we'd be doing 250 to 300 surgeries per year. If we stay on at the rate we're on, we will finish this year having completed around 60."
Not only does patients not coming for treatment raise concerns about their health further down the line and reduce income for doctors and hospitals, it also means doctors who are still in the early years of their career get less training.
"Myself and other colleagues are afraid that we won't gain the skills we need to be competent surgeons later on," Iyad says.
Undervalued, underpaid
For long hours of hard work, personal sacrifice and emotional turmoil, health care workers get little in return.
Thanks to the depreciation of the lira, the value of their salaries has plummeted. Young doctors Hamade and Tahini now earn approximately $150 dollars per month, while nurse Hamdash earns less than $100.
"We work so hard, day and night, and it feels like we're not appreciated for what we do," Hamdash says.
For doctors who earn their living from the fees they charge for surgeries and consultations, their income largely depends on reimbursements from private and public insurers, many of which are themselves struggling with debt.
"There is a lot of pressure on the doctors from a financial perspective," Audi, the pediatric cardiologist, says. He hasn't been paid what he is owed by some insurers for over a year, and those that do pay old bills, he says, are paying at the official rate of LL1,500 to the dollar, rather than at the market rate, currently over LL8,000.
"You have people praising front-line workers on social media, but in reality we are being exploited."
Turbulence and uncertainty are pushing more and more doctors and nurses to leave the country. Some 400 doctors have already left this year, according to Charaf Abou Charaf, the head of the Order of Physicians.
Nearly every health care worker interviewed for this article said they were considering ways to find work overseas.
"Many of my friends and colleagues have left already," says Iyad, who is exploring his own route out of Lebanon. "I want to build a better future for myself, my family and my children later."
Tahini and Hamade both have one year remaining before they finish their specialty and are able to apply to jobs abroad.
"Right now," Tahini says. "We are just waiting to leave."

BEIRUT — For the second time in one shift, Mouhamad Tahini loses a patient.This time it's even harder than usual: less than an hour earlier, Tahini had called the patient's son to inform him of the death of his mother, the patient's wife. But it's just another day at a COVID-19 unit. For more than 12 hours a day, Tahini and his colleague Ali Hamade are on their feet, examining patients...