Thank you for following our LIVE coverage of day 45 of the Hamas-Israel war.
You can read a summary of today's events here.
We'll be back tomorrow with more news updates and analysis right here at L'Orient Today.
Israel "gave the green light for a hostage deal by accepting the conditions set by Hamas and the ball is now in the court of the latter," the Israeli public broadcasting corporation reports.
To this point, the information was only relayed by Al-Jazeera and local media outlets quoting the same source. The Israeli army did not yet comment on the issue and we still do not have details about said "green light."
The news was apparently shared when representatives of families of Israeli hostages came to meet with the Israeli war cabinet.
However, a source in Hamas' leadership told the Saudi channel al-Arabiya that Israeli statements about agreeing to the conditions for completing the exchange deal are "inaccurate." The same statement was made on the group's official Telegram channel.
Meanwhile, US National Security Council spokesman John Kirby says that a hostage deal is 'closer than it's ever been,' but that there is still work to be done, according to Haaretz.
Al-Qassam Brigades spokesman Abu Obeida says that Israel is in a "state of hysteria," demonstrating a lack of "confidence in its victory," in a statement on the group's official Telegram channel.
"In the last 72 hours, we have destroyed 60 Israeli military vehicles," he added. "Our fighters have killed and wounded several Israeli soldiers." He also stressed that "the occupation's objective [in this war] is to destroy Gaza and kill civilians."
The New Yorker says its contributing writer, poet and essayist Mosab Abu Toha, was arrested in central Gaza. Michael Luo, online editor for the magazine, posted on X saying they initially lost touch with Toha and were later informed of his arrest.
The New York Review of Books also announced the arrest saying "the poet Mosab Abu Toha, winner of the Palestine Book Award and founder of the Edward Said Library in Gaza, has reportedly been detained by the Israel Defense Forces. In May we published his poem "What a Gazan Should Do During an Israeli Air Strike."
Qatar's Ministry of Foreign Affairs released a statement earlier this evening saying the country "condemns in the strongest possible terms the Israeli shelling of the Indonesian hospital in northern Gaza."
The statement reiterates Qatar's call for "the creation of an international commission to investigate the crimes committed by the Israeli occupation against civilians in the Gaza Strip." Qatar also "calls on the international community to act urgently to deter Israel from committing more massacres," it reads.
Earlier today, Ashraf al-Qidreh, spokesman for the Gaza Ministry of Health, announced that at least "12 patients and their relatives" were killed in an Israeli strike on the Indonesian Hospital in northern Gaza.
Qatar has been hosting mediation talks between Hamas and Israel, with the hope of negotiating the release of hostages in exchange for humanitarian pauses. No agreements were finalized as of yet.
President Joe Biden's envoy to the Middle East, Amos Hochstein, arrived in Israel today to discuss issues related to its northern border with Lebanon, including how to stop the Gaza conflict from spreading, a US official said.
"This trip builds on Hochstein's visit to Beirut earlier this month where he made clear the United States does not want to see conflict in Gaza escalating and expanding into Lebanon," the official said.
Hamas' Al-Qassam Brigades attacked Tel Aviv with a barrage of missiles, the group says on its Telegram channel. It is unknown whether any of the missiles hit their targets.
Meanwhile, rocket sirens were activated in cities and towns across central Israel, including Tel Aviv, Ramat Gan, Holon, Yavne, Givatayim, Petah Tikva, Rishon Letzion, Bat Yam, Elad, Rehovot, Ra'anana, Lod and more, according to Haaretz.
According to Al-Jazeera, the missile attack on Tel Aviv is one of the largest missile attacks launched towards the city.
Ticket revenues for the Asian Cup 2023 in Qatar are to be donated to support Palestinian relief efforts, the football tournament's local organizing committee announces, according to an AFP report.
"We will be certain that this corporate social responsibility initiative will benefit those most affected, and that football fulfils its role as a support mechanism for people during the most difficult of times," says the committee's chairman, Hamad bin Khalifa Al Thani.
Qatar will host the Asian Cup beginning in January and, like other Gulf nations, has donated aid and medical supplies to Gaza via Egypt.
Palestinians pick up bottles of drinking water that reportedly ended up on the Palestinian side of the Rafah crossing between Egypt and the southern Gaza Strip following a windy and rainy night, last night. (Credit: Mohammed Abed/AFP)
Palestinian children look on as people stand on the rubble of a building destroyed during Israeli strikes on Rafah, in southern Gaza Strip earlier today. The Rafah crossing, on the border with Egypt, is the only gateway through which aid enters the territory and people are able to flee. (Credit: Mohammed Abed/AFP)
Sirens sound in Kiryat Shmona and surrounding areas and there is a fear of aircraft infiltration in Kiryat Shmona, Haaretz reports.
Kiryat Shmona is located close to the border, facing the Lebanese village of Markaba.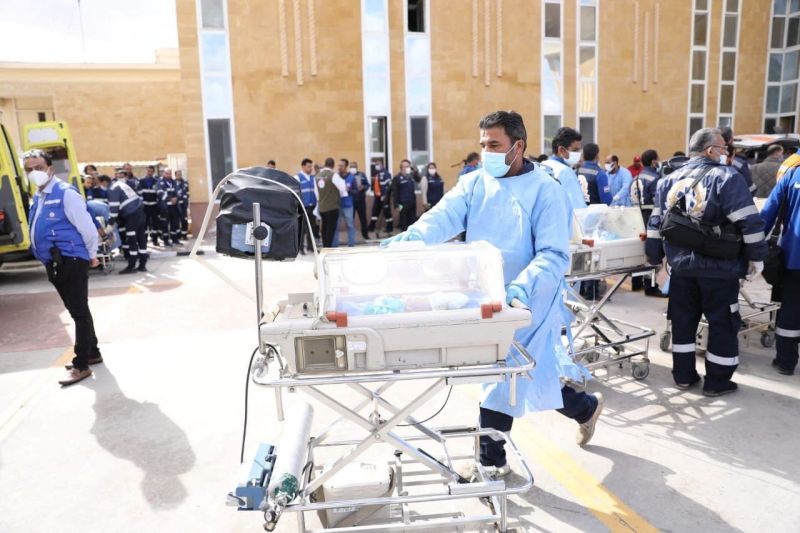 Medics transfer premature Palestinian babies evacuated from Gaza to ambulances on the Egyptian side of the Rafah border, earlier today, in this handout picture, courtesy of the Egyptian Health Ministry. (Credit: The Egyptian Health Ministry/Handout via Reuters)
There were initially 39 premature newborns being cared for in al-Shifa Hospital before the Israeli army laid siege to the compound last Wednesday. The oxygen station was damaged in the fighting and there was also no electricity in the hospital due to Israel's ban on fuel entering the Strip. These conditions resulted in the death of eight of the newborns. The surviving 31 were evacuated to the Emirati Hospital in southern Gaza Sunday, where three still remain for further care after 28 made it over the border into Egypt today.
Israel targets the Church of Saint George in the town of Yaroun, Bint Jbeil District, with an artillery strike causing major damage, according to state-run National News Agency and local media outlets.
The head of the World Health Organization says he is "appalled" by Israeli attacks on the Indonesian Hospital in Gaza that he says killed 12 people, including patients, citing unspecified reports.
"Health workers and civilians should never have to be exposed to such horror, and especially while inside a hospital," he said on social media platform X.
Israeli ships are a "legitimate target," Yemen's Huthi rebels warned on Monday, after their seizure of an Israel-linked cargo vessel opened a new dimension in the Gaza war.
Sunday's capture of the Galaxy Leader and its 25-person international crew came days after the Iran-backed Huthis threatened to target Israeli shipping over the Israel-Hamas war.
A Jordanian field hospital, the first of its kind, reached Gaza earlier today accompanied by 170 personnel and 40 trucks of medical aid.
Weeks of intense bombardment and severe shortages of fuel and medical supplies mean most Gaza hospitals have stopped functioning. According to the Nov. 18 report by the United Nations Office for the Coordination of Humanitarian Affairs (OCHA), 25 of the Strip's 35 hospitals are out of service and 55 ambulances damaged.
An airstrike targets Khiam (Marjeyoun district), the mokhtar of the town told L'Orient Today.
Meanwhile, Al-Jadeed reports that the strike was carried out by an Israeli drone and landed between houses. No casualties were reported according to state-run National News Agency.
MP Kabalan Kabalan, member of the Amal Movement, confirmed to L'Orient-Le Jour that his home in Mays al-Jabal (Marjayoun district) was targeted by an Israeli strike on Monday. "No casualties or injuries, but there is material damage," he confirmed.
The Israel Police and the Shin Bet arrested two people living in the town of Yarka, Raed Gabish and Amal Abu Ablah, on suspicion of trafficking arms to Lebanon, according to a post published by the Israeli police on X (formerly Twitter).
After breaking into their homes, the Israeli police and Shin Bet found two pistols, ammunition and weapons.
In a video published on X by the Israeli police, the police and the Shin Bet are seen blindfolding a man and tying his hands. There also appears to be walkie talkies, devices and pistols allegedly discovered by the Israeli agencies.
According to Haaretz, the two are suspected of criminal counts of contact with a foreign agent and possession of illegal drugs.
Russian President Vladimir Putin will take part in a virtual BRICS meeting on Tuesday to discuss the war between Hamas and Israel in Gaza, the Kremlin says according to AFP.
"On November 21, Russian President Vladimir Putin will participate in an extraordinary BRICS summit (via videoconference) to discuss the Palestinian-Israeli conflict," the statement says, referring to the influential bloc that includes Brazil, India, China and South Africa.
This meeting will take place on the same day that Russian Foreign Minister Sergei Lavrov meets with Arab and Islamic leaders to also discuss the ongoing war.
Hamas calls for Rafah border crossing to open permanently, fearing famine and plague in Gaza, Haaretz reports.
Hamas's Information Ministry is warning of epidemics and famine in the Gaza Strip due to a lack of food and basic medical services. In the published statement, which is also addressed to Arab countries and international organizations, Hamas calls for the permanent opening of the Rafah border crossing in order to satisfy the urgent needs of residents of the strip.
Three of the premature babies who were evacuated from al-Shifa Hospital on Sunday were left behind in Gaza to receive further treatment, the World Health Organization (WHO) says according to Reuters.
"The 28 babies have now safely arrived in Egypt. Three babies still remain at the Emarati Hospital and continue to receive treatment," a WHO spokesperson says.
The spokesperson adds that "all babies are fighting serious infections and continue needing health care."
Russia will host a summit with Arab leaders and members of the Organization of Islamic Cooperation to discuss the ongoing situation in Gaza on Tuesday, Nov. 21, Russia's state news agency says according to Reuters.
Russian Foreign Minister Sergei Lavrov will head the meeting but, outside of that, no further details about which countries will be attending the Moscow meeting have been released.
"Israeli airstrikes are targeting the area between the southern towns of Rmaish and Aita Shaab, Marjayoun, Houla, Markaba and Mays al-Jabal which are all subjected to intense [Israeli] hostile shelling," Lebanon's state-run National News Agency and Al-Manar reported. "Israeli aircraft are flying over villages along the southern border," NNA noted.
The NNA also reports that Israel is shelling on Al-Azziyeh Hill, outskirts of Deir Mimas, while the shells' fires encircle a shepherd [stuck] in the valley between Houla and Markaba."
The Israeli town of Kiryat Shmona and the Al-Abbad site were also targeted earlier by missiles from Lebanese territories, with Haaretz reporting that sirens were sounded in Israel's northern border region, adding that 15 missiles targeted Kiryat Shmona.
Hezbollah said in a statement that it had "launched three assault operations against Israeli occupation soldiers' gathering centers west of Kiryat Shmona at 01:10 p.m.…in support of our resilient Palestinian people in Gaza and in endorsement of their brave and honorable resistance. These attacks resulted in direct casualties among the Israeli forces." The statement added that Hezbollah used three suicide drones in the attack.
More sirens went off in the areas facing Aita Shaab, Ramieh and Alma al-Shaab. According to Haaretz, sirens went off in the towns of Margaliot and Kibbutz Manara.
NNA reported that the southern town of Hula was shelled by Israel along with the Hora forest near the southern town of Kfar Kila, which was attacked by two Israeli shells.
Japan is negotiating the release of the ship operated by a Japanese company that was hijacked on Sunday by the Houthis in Yemen, according to Haaretz.
Japan's foreign minister says Monday that Japan has appealed to Saudi Arabia, Oman and Iran to call for the release of the ship and its crew members. It was also reported that Japan is cooperating with Israel on the matter.
A field hospital sent by Jordan to Gaza has entered the embattled enclave, Palestinian authorities say according to AFP.
"The hospital will be established in Khan Younis, to receive the wounded and the sick, under catastrophic conditions which southern hospitals are experiencing, with the influx of hundreds of wounded each day and continued aggressive aerial and artillery strikes," says Mohammed Zaqout, director-general of Gaza hospitals.
Presidents Emmanuel Macron of France and Xi Jin Ping of China spoke about the ongoing war between Hamas and Israel in Gaza during a phone call, agreeing "to avoid a more serious humanitarian crisis," Chinese state media reports according to AFP.
"The two heads of state exchanged views on the Israeli-Palestinian conflict and both believe that the top priority is to avoid further deterioration of the situation between Palestine and Israel, especially to avoid a more serious humanitarian crisis," state broadcaster CCTV reports.
Hezbollah "targeted at 11:30 am…with missiles and artillery shells an Israeli infantry gathering in the [Israeli locality of the] Taihat Triangle and caused direct hits," the party said in a statement.
Earlier at 8 a.m., Hezbollah had struck the Israeli Baranit base, according to a statement by the party previously published.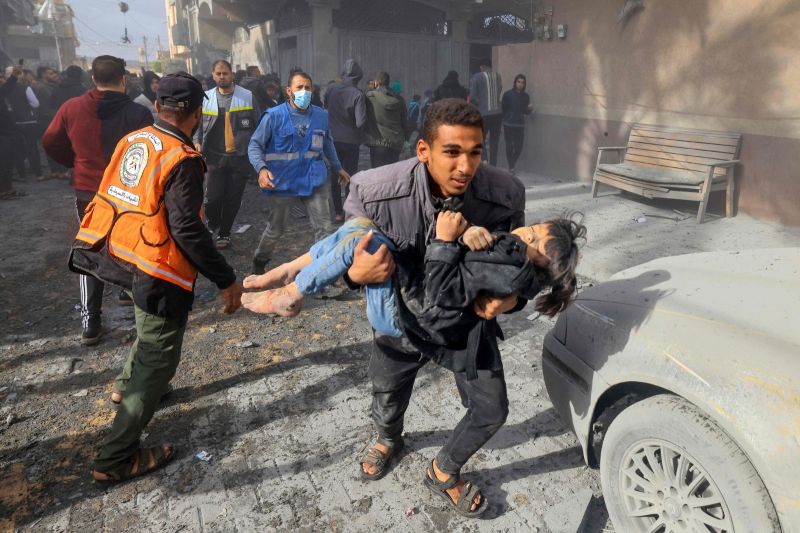 A man carries a child injured in an Israeli strike on Rafah in the southern Gaza Strip on Nov. 20, 2023, amid continuing battles between Israel and the Palestinian militant group Hamas. (Credit: Mahmud Hams/AFP)
Twenty-nine premature babies arrived in Egypt on Monday after they were evacuated from Gaza's largest hospital, Egyptian media says according to AFP.
The infants were evacuated Sunday from the Al-Shifa hospital, Gaza's largest hospital, which the World Health Organization has described as a "death zone" as Israel looks to find evidence that its claims about the hospital being a Hamas command center are true.
Initially, 31 babies were reported having been evacuated from Al-Shifa to another Gaza clinic and it is not immediately clear why only 29 arrived in Egypt.
Al Jazeera journalist Ali Hashem has shared two videos of what he says shows the aftermath of an attack by Hezbollah on the Biranit barracks, the headquarters of the Israeli army's 91st Division. Earlier Hezbollah said they targeted the base at 8 a.m. today, using a "heavy caliber volcano rocket." L'Orient Today has not been able to independently verify the video shared on Ali Hashem's X account (formerly Twitter).
Haaretz is reporting that Hamas has expressed "a willingness" to increase the number of hostages it could release, citing a source involved in the negotiations.
The Israeli news site adds that the number and identity of the hostages who will be released have not yet been agreed upon and talks are ongoing.
It comes as Israel, the United States and Qatar have expressed hope in the last 24 hours about a hostage deal being struck in the coming days.
Heavy rain has worsened the humanitarian situation for people in Gaza who have been forced to flee their homes, Al Jazeera's correspondent in Gaza Tarek Abu Azzom is reporting. There are fears that the disruption to sewage systems and ongoing water shortages could cause bacterial diseases and diarrhea, especially among children.
At least 70 people have died at a hospital in the southern Gaza Strip following a nearby Israeli airstrike, Doctors Without Borders (MSF) said.
Dozens of patients, including children and adolescents, had to be treated for "severe burns" at the Nasser medical complex, the organization said late Sunday, citing its staff at the hospital.
The strike in the city of Khan Younis took place 1 kilometer away from the hospital, the group said. A total of 122 patients arrived at the hospital in the immediate aftermath. "The hospital is overflowing," Doctors Without Borders said.
By midday Sunday, the hospital had reported that nearly 50 people had died. A photographer told the German press agency dpa there were rows of body bags.
The Israeli army did not immediately comment on the reports.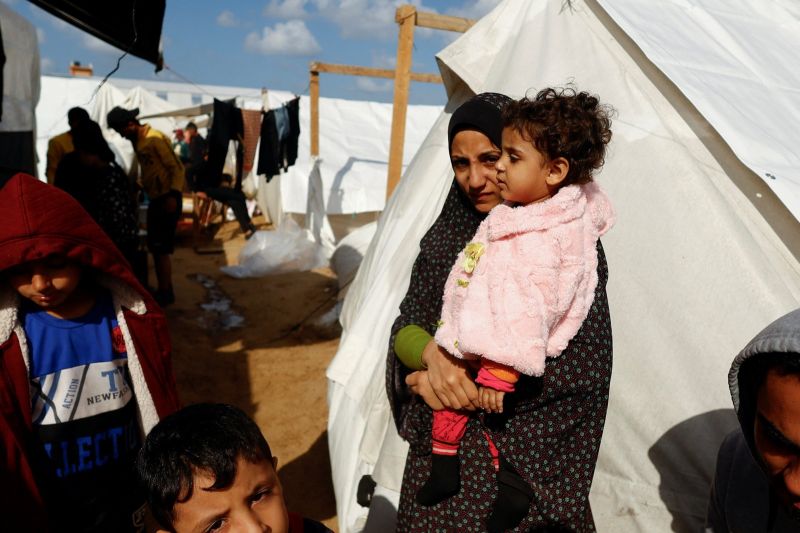 A displaced Palestinian woman holds a child, amid the ongoing conflict between Israel and Palestinian Islamist group Hamas, in a tent camp in Khan Younis in the southern Gaza Strip, Nov. 20, 2023. (Credit: Ibraheem Abu Mustafa/Reuters)
The areas of Yarine, Dhaira and Tayr Herfa, in southern Lebanon, are being bombarded by the Israeli army, the National Information Agency (NNA) is reporting. The correspondent of the Hezbollah channel, Al-Manar, also mentions bombardments in the area, as well as Rab Thalathine.
Haaretz is reporting that 40 trucks are expected to enter Gaza today, via the Rafah crossing, in order to establish a field hospital. The Gaza Coordination and Liaison Administration says they are bringing in equipment sent by the United Arab Emirates.
More than 100 evacuees from Gaza are set to arrive in Turkey on Monday, including dozens of people who will receive medical treatment there, Turkey's health minister and a foreign ministry source say, according to Reuters.
Hezbollah "targeted at 10:30 am...an Israeli infantry force on the [Israeli] Karnitina Hill near the Hadb Yaroun site with appropriate weaponry," the party says in a statement noting that this comes "in support of our steadfast Palestinian people in Gaza and in endorsement of their brave and honorable resistance."
UNRWA released its 33rd situation report.
In it, the UN agency noted the various ways that the humanitarian situation in Gaza was worsening.
Take a look at the key takeaways here.
Iran denies Israeli claims that it was involved in the seizure of a British-owned and Japanese-operated cargo ship in the southern Red Sea by Yemen's Houthis, Foreign Ministry Spokesperson Nasser Kanaani says on Monday at a press conference, Reuters reported.
"We have said multiple times that resistance groups in the region act independently and spontaneously based on their interests and that of their people," Kanaani says, adding that Israeli claims were aimed at diverting attention away from Israeli's "irreparable defeat" in its battle against Hamas militants in the Gaza Strip, in comments relayed by Reuters.
Israeli tanks are reported to be surrounding the Indonesian Hospital in Gaza where at least 12 people are said to have been killed following direct Israeli strikes since the morning, according to the Hamas-run Health Ministry.
There was no immediate confirmation from the Israeli military of the reports from the Indonesian Hospital but the Palestinian news agency WAFA says the facility had been hit by artillery fire, Reuters reported.
Like many other health facilities in embattled Gaza, the Indonesian Hospital, set up in 2016 with funding from Indonesian organizations, has ceased operations. But Health Ministry spokesman Ashraf Al-Qudra says there were about 700 people, including medical teams and wounded, inside the facility, according to Reuters.
More than 100 evacuees from Gaza are set to arrive in Turkey on Monday, including dozens of people who will receive medical treatment there, Turkey's health minister and a foreign ministry source says, according to Reuters.
Ashraf al-Qudra, a spokesperson for the Hamas-run Health Ministry, tells Al Jazeera that he fears the Israeli forces could try to enter the hospital – in a potentially similar operation to al-Shifa Hospital. He adds that the "situation is catastrophic" and attacks are "intensifying."
Chinese Foreign Minister Wang Yi says Monday the world must "act urgently" to calm the Israel-Hamas war as he hosts diplomats from Arab and Muslim-majority nations in Beijing, AFP reported. A delegation of foreign ministers of the Palestinian Authority, Indonesia, Egypt, Saudi Arabia and Jordan are in Beijing this week for talks aimed at a "de-escalation" of the current Palestinian-Israeli conflict, AFP said.
"Let us work together to quickly cool down the situation in Gaza and restore peace in the Middle East as soon as possible," Wang told ministers at the Diaoyutai State Guesthouse in the Chinese capital, according to AFP.
"A humanitarian disaster is unfolding in Gaza," Wang told the delegates, including the secretary-general of the Organisation of Islamic Cooperation, in comments relayed by AFP.
"The situation in Gaza affects all countries around the world, questioning the human sense of right and wrong and humanity's bottom line," he says.
Iran's supreme leader, Ayatollah Ali Khamenei, said that Israel has suffered a "defeat" against Hamas in Gaza during a speech at the Iranian Revolutionary Guard Corps (IRGC) aerospace base in Tehran on Sunday, AFP reported.
In his speech, Khamenei argued that Israel had failed to achieve its goal of defeating Hamas and had therefore lost the war.
"Advancing and entering hospitals or people's homes is not a victory, because victory means defeating the other side," the Iranian leader stated.
The Supreme Leader also criticized other countries in the region for maintaining relations with Israel after more than a month of war, during which Iran has called for Islamic nations to cut off ties with Israel and end any trade with the Jewish state.
"Some Islamic governments... have not yet condemned [Israel's actions in Gaza], but this is not acceptable," Khamenei said.
Palestinian Foreign Minister Riyad al-Maliki says Israel seeks to "end the presence of the Palestinian people in what remains of their historic territory" at a summit of diplomats from Arab nations and to Muslim majority in Beijing, according to Reuters.
At least "12 patients and their relatives" were killed and "dozens injured" in an Israeli strike on the Indonesian hospital north of Gaza City, Ashraf al-Qudra, spokesperson for the Ministry of Health in Gaza, says on Monday in comments reported by AFP.
"The Israeli army is besieging the Indonesian hospital and we fear that the same thing will happen there as with al-Shifa," another hospital recently evacuated, adds Doctor Qurda.
The Israeli army says two more of its soldiers have been killed during fighting in northern Gaza, according to Haaretz, The Jerusalem Post and other Israeli media. The soldiers identified are Yinon Tamir and Dvir Barazani, both 20 years old, according to Israeli media, citing the Israeli army.
Hezbollah fighters "targeted at 8:00 am...the [Israeli] Baranit base, the headquarters of Brigade 91, with a heavy-caliber volcano rocket, hitting it directly," the party says in a statement. The vicinities of the southern towns of Naqoura and Labouneh were also targeted by Israeli artillery shelling this morning, according to L'Orient Today's correspondent in the South, and the state-run National News Agency.
Before we start our coverage, take the time to read the latest edition of the Morning Brief to make sure that you are caught up with what happened over the weekend and what to expect today.
Good morning!
Thank you for joining us for day 45 of our coverage of the ongoing war between Hamas and Israel in Gaza.
You have reached your article limit
Stay updated on the news for only $1.
You have reached an article that is only available to L'Orient Today subscribers.
Already have an account? Log in