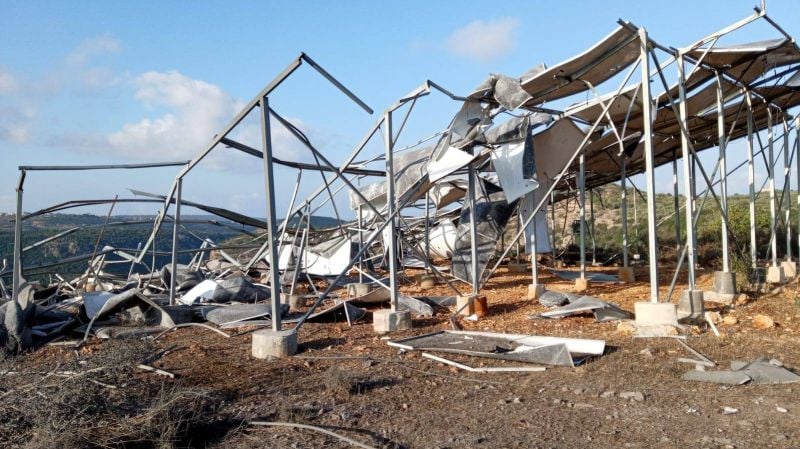 BEIRUT — One year ago, the village of Tayr Harfa's 4,000 residents were overjoyed for having secured their water supply through a self-funded solar panel system that adorned the town's mountaintop.
Those from this South Lebanon village, both current residents and expatriates, collectively contributed to 80 percent of the overall project finances, which amounted to $130,000.
"Our village was finally able to enjoy naturally sourced water that is needed for households and the irrigation of small gardens," Kassem Ghorayeb, a Tayr Harfa resident, wrote on X.
That is, until two weeks ago, on Nov. 2, when Israel targeted the project.
"It is so frustrating to see a sustainability project, established from ground zero, being annihilated in a matter of seconds," Ghorayeb, who is one of the project's initiators, lamented in his post.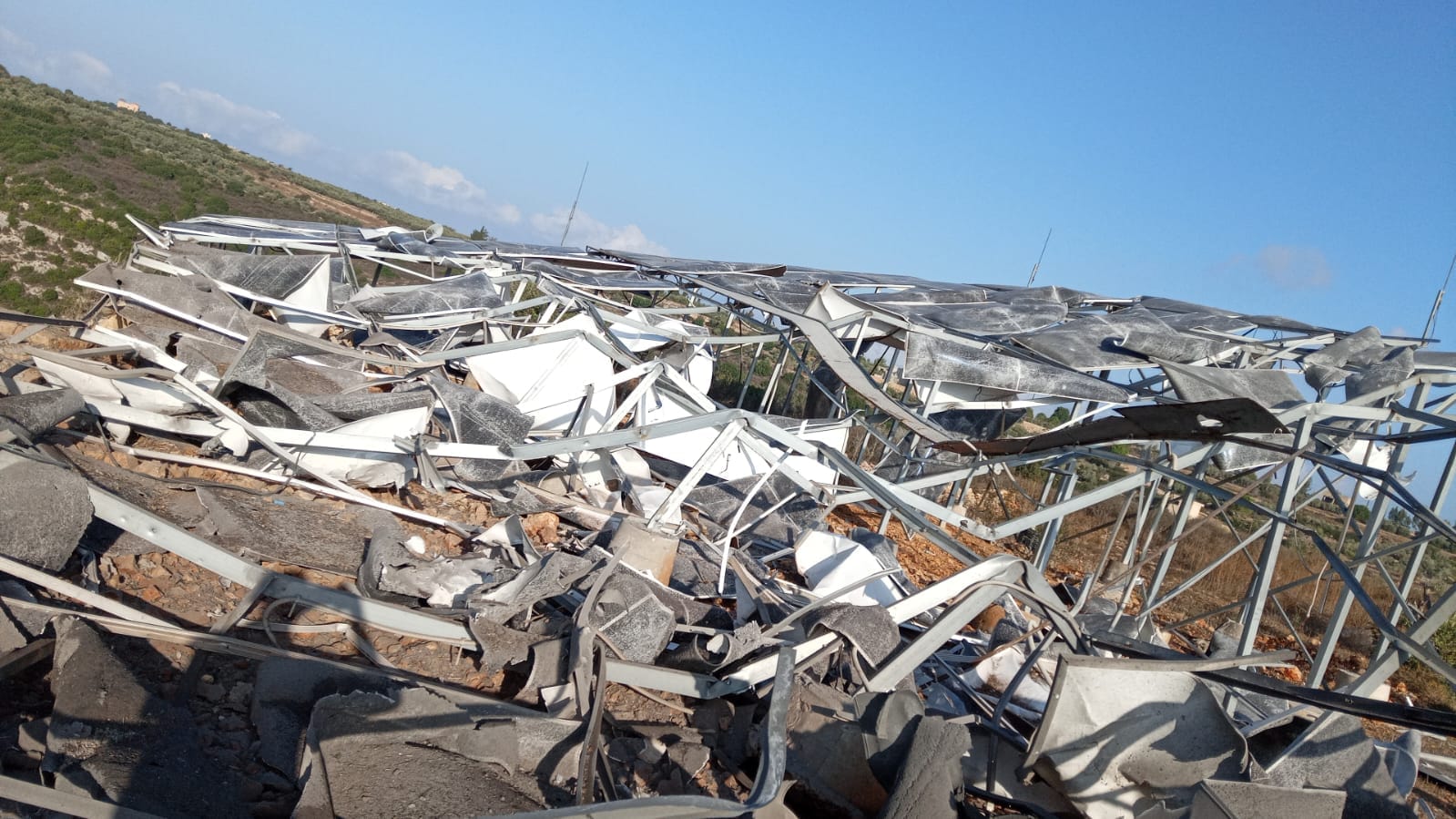 Some 200 solar panels, which were financed by the natives of Tayr Harfa, a village in South Lebanon, to power the local water pump, were wiped out by an Israeli strike on Nov. 2. (Courtesy of: Tayr Harfa municipality)
Amid escalating cross-border tensions between Israel and Hezbollah, the agrarian village of Tayr Harfa, among many southern villages, has been the scene of consistent Israeli strikes, hitting several non-military installations, including an ambulance, civilian homes and this grassroots solar power project. The system of solar panels had been aimed at addressing water shortages exacerbated by a nationwide economic crisis, inflated fuel costs and electricity shortages.
'An impressive 90 percent' of water needs covered
As the economic downturn in Lebanon tightened its grip, the village of Tayr Harfa received ever less power from the state electricity company while the inflated cost of fuel made it increasingly difficult to keep the diesel-powered water pumps running.
Ghorayeb and two of his childhood friends, Ali Ataya in Beirut and Ali Srour who resides in Africa, took the issue of water shortage into their own hands.
Despite Ghorayeb now living in Beirut, the professor at the American University of Beirut was born and bred in Tayr Harfa and sustains a sentimental relationship with the village. He used to visit on the weekends before the war broke out.
"We are all children of the village. We all live outside the village, but we have houses in the village and are financially comfortable," he said, adding that they "decided to do it independent of all [political] parties."
Traditional political parties often perform quotidian responsibilities, such as road repairs, trash collection, and street lighting, in a form of political clientelism and in an effort to maintain their supremacy in their villages and eventually rally electoral support.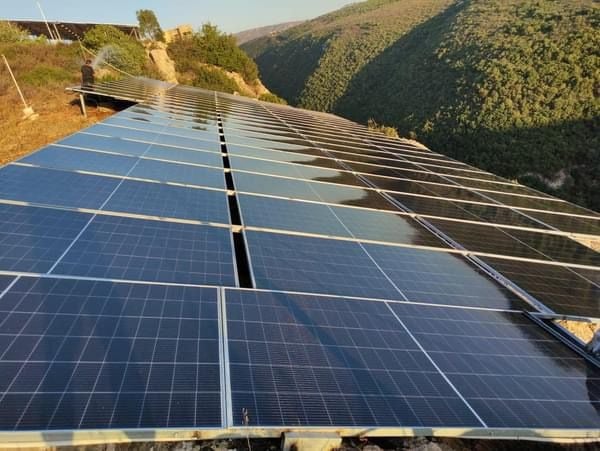 Solar panels powering Tayr Harfa's water pump pictured before their destruction. (Courtesy of: Tayr Harfa municipality)
"We started getting [the village's natives'] phone numbers to directly speak with them [about the project]," said Ali Ataya, who, along with Ghorayeb and Srour, formed a "development committee. The committee's mission centered around handling the solar energy project and any future endeavors in the village.
Ataya, who grew up in Tayr Harfa, lived in France for more than two decades before returning to Lebanon seven years ago, where he founded an informatics company and built a house in his village, a motherland with which he says he maintained affinity.
"Everyone started talking about the project with their relatives and siblings," Ataya added. "We found there's a big interest in the initiative. At the end of the day, many of the diaspora's families, sisters, brothers, still live in the village and it was in their interest to secure water for them."
Eventually, half of the cost was collected in around four months in 2022.
With 60 percent of funding coming from Tayr Harfa natives who had found new lives abroad and 40 percent from local residents, the initiative launched in November 2022.
It gave the residents, who were heavily relying on privately supplied water trucks for over two years, a flicker of hope.
"Every household needs around three water tank refills every week, with water trucks asking for around $20 per refill," Tayr Harfa's mayor, Kassem Haidar, told L'Orient Today.
Following the project's installation, household water needs were met by "an impressive 90 percent" during the summer of 2023, Hassan Haidar, the village's mukhtar — a local elected official charged with administrative tasks — told L'Orient Today.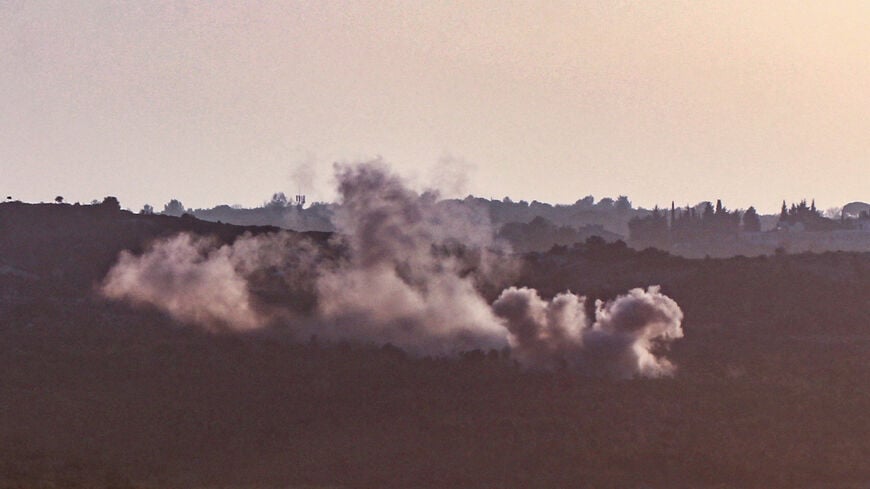 Smoke rises above hills during an Israel bombing on southern Lebanon on Nov. 8, 2023. (Credit: AFP via Getty Images)
"Last year, approximately seven water trucks were selling water to the town's residents," the mukhtar said. "This year, almost none sold household water because people had enough" thanks to the solar energy powering the village's water pumps.
The microgrid had the capacity to operate the main water pump six to eight hours per day, enough to refill the village's water tanks, Ataya noted.
It became "almost the only source of supplying the town with water in light of the worsening economic and social conditions," the municipality of Tayr Harfa said in a statement on Nov. 3.
'There is a lot of anger'
The solar panel system had two crucial platforms, strategically positioned to efficiently harness sunlight.
One platform, situated atop a mountain, powered a pump drawing water from the "Zarka" (Arabic for blue) spring into a main tank. The second platform facilitated the pumping of water from the main tank into individual household tanks.
The Israeli attack targeted the first platform, wiping out all of its 200 solar panels as well as the control room, and denying the village's 500 housing units from water supply.
Now, the village depends solely on sporadic state electricity to power water pumps. Hussein Ghoul, the head of South Lebanon Water Authority, told L'Orient Today the authority is trying to secure diesel to power the village's water pump to supply those who stayed behind and those who pay the village weekly visits to check on their businesses and mini-farms.
With Tayr Harfa being just five kilometers away from the border, many of its residents have fled to safer areas due to the constant danger of Israeli strikes.
"We need to understand the brutality of the attack — the enemy wants to cut off your basic human rights, water and electricity," Ataya decried. "It's overbearing, but the important thing is that no soul was harmed in the incident."
"There is a lot of anger," Ghorayeb said. Some 20 percent of the project's costs still need to be paid off to the solar energy company.
"It is a disaster, the village is now left with no water but we will stand back on our feet. We have no other choice," Ghorayeb added. "We contacted the authorities and we are planning to collect money again for the project, but now the situation is different. Who wants to donate $1,000? Who has the money now that the financial situation keeps getting worse?"
Ghorayeb has started a GoFundMe to fundraise for the reconstruction of the project. So far it has collected over $3,000.
The South Lebanon Water Authority, which controls everything related to the region's water springs and wells, provided all the equipment to pump water, whereas the grassroots initiative secured the energy in the form of solar panels.
Ghoul said the water authority will reach out to donors, but no reconstruction should be expected before the border conflict subsides.
The destruction of the solar panel project in Tayr Harfa is not an isolated incident. Israeli airstrikes have consistently targeted various southern Lebanese areas, affecting essential infrastructure including water supplies.
The Wadi Sulooki water station, a major water facility in the south, was also damaged, exacerbating water shortages in neighboring villages, such as Mays al-Jabal, Ghoul said.
The station's electrical supplies were repaired, then two days later Israeli bombing targeted them again, he added. "The Israeli enemy is not differentiating between civilian and military infrastructure. They are bombing everything, they are bombing solar energy, water tanks, hospitals."
"The [water] authority formed an emergency committee," Ghoul said "And we are monitoring the affected areas on a daily basis and trying to secure water for them from another source."
"But that depends on how tense the situation is and how safe the roads are, especially in the areas close to the border."
Still, Ataya remains hopeful that "when the situation returns to normal, we will definitely reconstruct the project and it will be better than it was."
BEIRUT — One year ago, the village of Tayr Harfa's 4,000 residents were overjoyed for having secured their water supply through a self-funded solar panel system that adorned the town's mountaintop.Those from this South Lebanon village, both current residents and expatriates, collectively contributed to 80 percent of the overall project finances, which amounted to $130,000."Our village was...