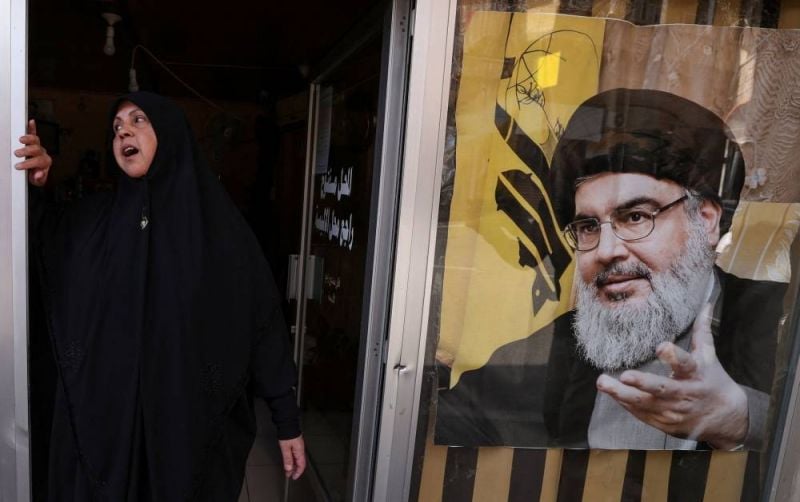 Catch up on our LIVE coverage of Day 21, Day 22 and Day 23 of the Israel-Hamas war.
Hezbollah chief Hassan Nasrallah will deliver a speech at 3 p.m. on Friday, his party announced late yesterday. Nasrallah has been conspicuously silent since the Hamas' attack on Israel on Oct. 7 and the Israeli army's retaliatory bombardment of Gaza that has since killed more than 8,000 Palestinians. Over the same period, Hezbollah has been engaged in cross-border shelling and attacks against Israel from south Lebanon and has announced the deaths of 48 of its fighters. A few hours before Hezbollah announced Nasrallah's upcoming speech, a video made the rounds of social networks, showing only a silhouette of the secretary-general as he walked past a poster of the party's logo. Since Oct. 7, Nasrallah has reportedly met with Iran's foreign minister as well as the leadership in Lebanon of Hamas and Islamic Jihad. On Oct. 23, the party announced he had received a telephone call from Free Patriotic Movement leader Gebarn Bassil via a secure line. Three days later, Nasrallah sent a letter to Hezbollah media officials asking them to describe party members killed since Oct. 7 as "martyrs on the road to Jerusalem."
Cross-border fire in southern Lebanon continued over the weekend, striking Lebanese civilian areas and hitting the Naqoura headquarters of the United Nations Interim Force in Lebanon (UNIFIL) twice on Saturday. One UN peacekeeper was injured after a mortar shell struck their base on Saturday, UNIFIL told L'Orient Today, adding that an investigation into the incident is ongoing. Two people aboard a motorcycle were injured by an Israeli drone strike yesterday, the state-run National News Agency reported. Another civilian was injured by an Israeli drone strike on an uninhabited building in Mays al-Jabal, south Lebanon. Also yesterday, Hezbollah said that it targeted Israeli infantry members who infiltrated al-Malkiyya and intercepted an Israeli drone in eastern Khiam. Hezbollah over the weekend repeatedly announced strikes towards northern Israel. Al-Fajr forces, the military wing of the Jamaa Islamiyya, also claimed responsibility for a strike on the Kiryat Shmona settlement — which Israeli newspaper Haaretz said struck a home without incurring casualties. Hamas' armed wing confirmed to L'Orient Today that it had launched 16 rockets at Nahariya from Lebanon. The Israeli military, for its part, said it was targeting the sources of the attacks from Lebanon, claiming that they fell in open areas. Israeli bombardments since Friday have struck near Alma al-Shaab, Ayta al-Shaab, Dhayra, Kfar Shuba and Naqoura. Hezbollah announced the death of one of its fighters yesterday, raising the number of party members who have died since Oct. 7 to 48.
Ballistic analysis commissioned by Reporters Without Borders (RSF) claims Reuters photojournalist Issam Abdallah was killed in south Lebanon by precisely targeted shots fired from the direction of the Israel border. The frequency of the strikes, RSF said, indicates precise targeting. RSF's investigation is ongoing, however, at this stage, it said it is "unlikely that the journalists were mistaken for combatants," citing clear identification on their waistcoats and vehicles and the overhead flight of an Israeli helicopter that would have identified them. Two days after Abdallah's death, the Israeli army said it was investigating the incident while noting it had fired "in response to Hezbollah fire along the Israeli-Lebanese border." Al-Jazeera journalists in Dhayra, southern Lebanon, suffered a similar attack on Oct. 9, RSF said. Since Oct. 7, at least 29 journalists have been killed during the war between Hamas and Israel, according to the Committee to Protect Journalists (CPJ). The past three weeks of the Israel-Hamas war have been the deadliest period on record for journalists covering conflict since the CPJ started tracking in 1992, the organization said in a statement.
Hundreds attended a Hamas-organized sit-in in downtown Beirut in solidarity with Gaza yesterday. The crowd waved Palestinian flags and banners of Jamaa Islamiya and Hamas. A road accident involving a bus carrying demonstrators left three people killed at Nahr al-Kalb, in the Kesrouan region, a security source confirmed to L'Orient Today. On Saturday, Hezbollah and Palestinian factions organized a march in Saida in support of Palestine. The same day, a demonstration against Lebanon's involvement in the conflict was held outside the National Museum of Beirut. Internationally, protests in support of Palestine gathered thousands in Brooklyn, London and Paris.
Caretaker Prime Minister Najib Mikati chaired a meeting on Friday to discuss war-preparedness measures, including the provision of assistance to displaced individuals and boosting the country's "stock of wheat, basic supplies, fuel and medical materials." The union of south Lebanon flour distributors on Saturday offered reassurance that its stocks were not depleted and that new shipments have not been interrupted. The government had already approved plans to keep essential services and infrastructure, including Beirut international airport, operational in the event of a war. Lebanese telecoms operators also announced war-readiness measures. Diplomatic efforts to avoid Lebanon's further involvement in the conflict continued. French Armed Forces Minister Sebastien Lecornu is scheduled to arrive in Beirut to reaffirm his country's "attachment to the stability of Lebanon." During a phone call with his Dutch counterpart, caretaker Foreign Affairs Minister Abdallah Bou Habib stressed the need to keep "pressure on Israel to stop its provocations and threats." Mikati was in Qatar yesterday for scheduled meetings with Emir Sheikh Tamim bin Hamad Al Thani as well as his Qatari counterpart and the Gulf Cooperation Council state's foreign affairs minister.
Israeli bombardments on Gaza intensified on Friday amid a telecoms blackout and an expanded ground operation by the Israeli military. The Gaza Health Ministry yesterday said 8,005 people, including 3,324 children, had been killed since the start of relentless bombardment of the enclave on Oct. 7. The Israeli military said it is increasing the number of troops participating in the ongoing ground incursion into Gaza, AFP reported, quoting a televised briefing by Israeli army spokesperson Daniel Hagari. Hamas yesterday said it was engaged in intense confrontations with the Israeli army in northern Gaza. Before internet connection was restored in Gaza yesterday, international organizations, including the United Nations' agency for Palestinian refugees (UNRWA) and the World Health Organization (WHO), said they had lost contact with their staff. Israel renewed its warning to the residents of northern Gaza to evacuate south and alleged the al-Shifa hospital was being used by Hamas for military purposes. The WHO said it is deeply concerned over Israeli orders to evacuate the al-Quds hospital, the surroundings of which have been struck by Israeli raids, the Palestinian Red Crescent said yesterday. On Saturday, the Gaza Health Ministry said 110 people working as medical staff in Gaza had been killed since Oct. 7, over 100 others have been injured and 12 hospitals have been forced to shut down. Israel plans to create a humanitarian zone in Khan Younis, southern Gaza, which will receive a dramatic increase in aid through the Rafah crossing in coordination with Egypt and the US, Reuters quoted an Israeli defense official as saying. The aid entering Gaza since Israel stopped bombarding the Rafah crossing represents a fraction of what was entering daily into the enclave before Oct. 7. Israel has banned the entry of fuel, threatening the operation of hospitals and bakeries, local and international health officials warned. Yesterday, UNRWA said thousands in Gaza had broken into aid warehouses and distribution centers, taking flour and other supplies.
International fugitive and former Nissan CEO Carlos Ghosn on Friday appealed an eviction order forcing him to vacate his Achrafieh residence within one month over a "property violation" suit filed against him four years ago, a judicial source told L'Orient Today. The residence is valued at an estimated $19 million and is registered under the Lebanese company Phoinos, said the judicial official. The company sued Ghosn in 2019 over a "violation of private property and residing in the property without legal basis," the same source added. Ghosn, who holds Lebanese, French and Brazilian nationalities, was arrested in late 2018 in Japan where he was to be tried for alleged financial misconduct during his tenure as head of the Renault-Nissan group. He maintains his innocence.
In case you missed it, here's our must-read story from over the weekend: "Israel-Hamas War: What are the possible scenarios for Lebanon?"
Compiled by Abbas Mahfouz
Catch up on our LIVE coverage of Day 21, Day 22 and Day 23 of the Israel-Hamas war.Hezbollah chief Hassan Nasrallah will deliver a speech at 3 p.m. on Friday, his party announced late yesterday. Nasrallah has been conspicuously silent since the Hamas' attack on Israel on Oct. 7 and the Israeli army's retaliatory bombardment of Gaza that has since killed more than 8,000 Palestinians. Over the...