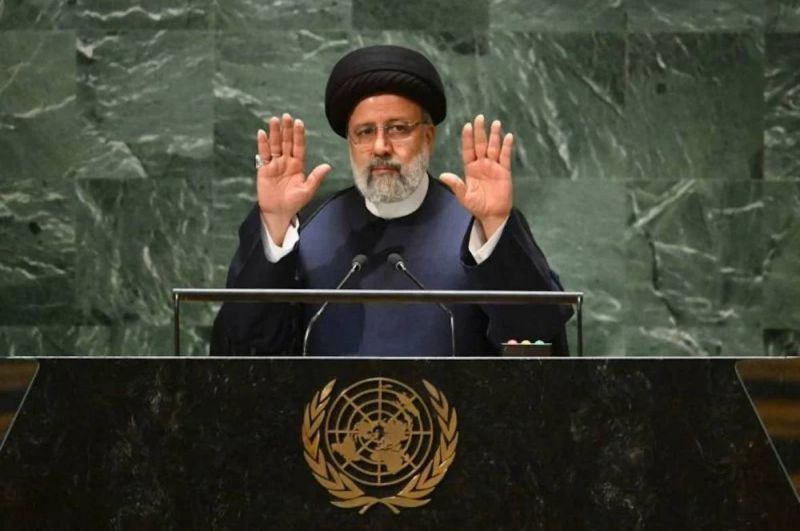 After years of United States-Iran negotiations, under Qatari and Omani mediation, five American prisoners held in Iran on charges of espionage have been freed.
This comes in exchange for the release of $6 billion in Iranian oil funds in South Korea, frozen since 2018. Washington also agreed to release five Iranian prisoners detained in the US.
Qatari Foreign Ministry spokesman Majed al-Ansari told France 24 that these developments are a sign of de-escalation that ought to pave the way for "more agreements between the two sides" on the nuclear issue.
The situation is not so simple, however, and the prospect of a new US-Iran nuclear deal remains uncertain, despite efforts on both sides to reduce tension in recent months.
In fact, Washington's decision to refrain from imposing nuclear-related sanctions on Iran has allowed Tehran to notably boost its oil exports. Additionally, there has been limited pressure to pass resolutions at the International Atomic Energy Agency (IAEA).
This approach has also facilitated access Iranian to funds frozen in Iraq.
Tehran has reciprocated with demonstrations of goodwill, particularly by ceasing proxy attacks against US forces in Syria and Iraq, slowing the pace of uranium enrichment, and permitting light monitoring of its nuclear activities.
This momentum came to an abrupt halt when on Sept. 16, just two days before the hostage release, Tehran unexpectedly denied IAEA inspectors access to its nuclear facilities.
The specifics of the nuclear talks were not disclosed but both sides have made demands.
The US appears to have accepted Iran's uranium enrichment, on the condition that the it does not increase beyond a rate of 60 percent.
Washington is also pressuring Tehran to cease its export of drones and spare parts to Russia for potential use on the battlefield in Ukraine — a trade that Tehran has consistently denied.
Russian Defense Minister Sergei Shoigu arrived in Tehran Tuesday and is scheduled to meet with his Iranian counterpart.
During his address to the UN General Assembly Tuesday, Iranian President Ebrahim Raissi emphasized that the revival of the Iran nuclear deal (JCPOA) hinges on the "goodwill and determination" of the US, which he said violated the agreement by withdrawing from it five years ago during the administration of former President Donald Trump.
"For a real dialogue to take place, and for a strategic agreement to be reached, both sides must be willing to engage in direct talks," said Alex Vatanka, director of the Iran program at the Middle East Institute. "As far as I know, President Raissi still doesn't seem to want to meet US officials directly."
"I don't know if the Biden administration is interested," Vatanka said, "because, politically, it's very important for them to maintain sanctions against Iran's military industry."
A politically risky agreement
US President Joe Biden took a political risk by unfreezing $6 billion in Iranian funds. This move faced criticism from congressional Republicans and Trump loyalists, who expressed concerns that the decision could incentivize Iran to take more hostages in the future.
During an interview with NBC, Raissi appeared to have turned up the rhetoric a notch. Despite the agreement between Washington and Tehran stipulating that these funds are exclusively meant for "humanitarian" purposes in Iran, such as acquiring food and medicine, the Iranian president asserted that "this money belongs to the Iranian people, to the Iranian government, so the Islamic Republic of Iran will decide what to do with this money."
"These funds can potentially be used for purposes related to regime stability or the regime's interests, both within the country, such as for the security apparatus, and outside the country, including support for militias and Iranian proxies, rather than being solely earmarked for societal needs," explained Ali Fathollah-Nejad, director of the Center for Middle East and Global Order (CMEG) and author of the Issam Fares Institute's "Iran in Focus" reports.
"Ultimately, Iran has effectively leveraged its position vis-à-vis the West, particularly with [the latter's] focus on the nuclear issue, and has secured concessions in return," he added.
In this complex context, where every conciliatory move can swiftly be met with a hardline response, a breakthrough in the nuclear negotiations still appears distant.
"This informal understanding is satisfactory for both sides," Vatanka said. "Consequently, we can anticipate Iran maintaining its nuclear program at its present level [60 percent]."
Vatanka believes that the US is likely to continue its current approach, which involves announcing sanctions but not vigorously enforcing them to avoid provoking Iran.
"Both sides aim to cater to their respective audiences, making them reluctant to commit to a politically risky agreement," he said. "We find ourselves in a gray area characterized by unspoken agreements to prevent a crisis while awaiting the outcome of future American elections."
Indeed, the timing of the 2024 presidential election itself makes it unlikely that a nuclear deal will be reached before the polls.
Aaron David Miller, a researcher at the Carnegie Endowment for International Peace and a former US Middle East negotiator, suggests that the Biden administration's goal is likely to maintain and continue the de-escalation strategy it implemented last year. This strategy includes initiatives such as hostage and prisoner exchanges.
This approach is particularly relevant because Tehran is expected to be hesitant to commit to an agreement that it is uncertain will endure in the event of a victory for Trump or a new Republican administration.
'No good deal with Iran'
The regional geopolitical landscape is another obstacle to a potential nuclear agreement.
While discussions regarding Israeli-Saudi normalization seem to have halted temporarily, they have generated an environment that is not particularly favorable for productive negotiations between the US and Iran.
If a Saudi-Israeli normalization agreement were to materialize, Miller believes, the US might find itself making significant commitments to Saudi Arabia, particularly in the realm of nuclear security. There might also be an increase in security assurances for Israel and Saudi Arabia, which could make Iran a perceived or preemptive target. Such a scenario could prompt Iran to bolster its defenses.
"There is no good deal with Iran anyway," Miller said.
He believes that the US has a strategic problem with Iran, "but all we have are tactical adjustments."
"The JCPOA was a temporary solution," he said.
Miller added that the de-escalation agreements to free the hostages in exchange for unfreezing the $6 billion are a temporary solution.
In his view, there doesn't seem to be a viable solution that leads to a definitive resolution, whether it's related to the nuclear issue, Iran's support for Putin, Iran's oppression of its own people or its expanding influence in Iraq.
"None of these challenges appear to have clear-cut resolutions in sight," he said.
This story first ran in French in L'Orient-Le Jour, translated by Sahar Ghoussoub.

After years of United States-Iran negotiations, under Qatari and Omani mediation, five American prisoners held in Iran on charges of espionage have been freed.This comes in exchange for the release of $6 billion in Iranian oil funds in South Korea, frozen since 2018. Washington also agreed to release five Iranian prisoners detained in the US.Qatari Foreign Ministry spokesman Majed al-Ansari told...