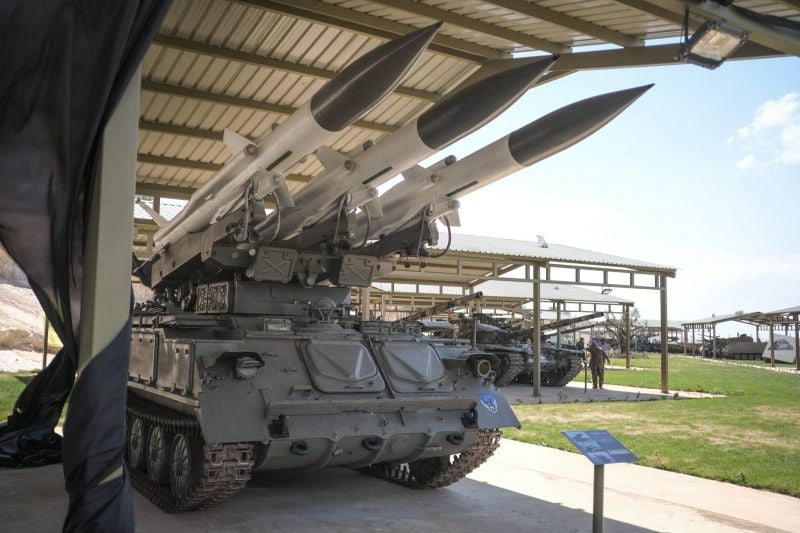 BEIRUT — Does Hezbollah have an air-defense system? This is a question that some commentators have been asking after the party displayed an anti-aircraft weapons system inside its new "Jihadi Museum" in Baalbeck.
Haj Hamzi, a guide at the museum, told L'Orient Today that the Russian-made "Sam 6" is reportedly equipped with surface-to-air missiles. If Hezbollah does in fact possess air-defense weapons, how do they seek to use them?
The moment the 'anti-aircraft weapon system' was revealed
The system was put on display during the inauguration of Hezbollah's "Jihadi Museum," which is situated a few hundred meters from the ancient Temple of Bacchus in Baalbeck. It was opened on Aug. 26 to mark, what Hezbollah leader Hassan Nasrallah declared, Lebanon's "second liberation." This event refers to the day when the last remaining Islamic State (Daesh) militants were evacuated from Lebanon in 2017.
A few days later on Sept. 4, an analysis piece was published in Lebanese daily Annahar, claiming Hezbollah's display of the SAM 6 system "removed any doubt to the resistance having an air defense system."
The piece was authored by Abbas Sabbagh, a journalist affiliated with the TV channel al-Mayadeen, reputedly close to Hezbollah.
"Some observers believe that the party's display of this weapon in this way simply means that it has no military significance, as it will inevitably be part of its military systems. Or it has now acquired more advanced air defense weapons," the article continued.
Meanwhile, there has been no official response from Israel regarding Hezbollah's supposed exhibition of the anti-aircraft system. Previously, Asharq Al-Awsat reported that Israel was concerned about a "significant change in the concept of air defense (...) with available Russian air defense systems, SA8 and SA22."
After being contacted by L'Orient Today a Hezbollah's official spokesperson said it will not talk about its aerial weaponry.
A war bombshell
In 1982, the Israeli Air Force destroyed 19 surface-to-air missile batteries, which the Syrian Army deployed in the Bekaa valley in eastern Lebanon, according to the Washington Post. The deployment of these missile batteries had contravened an implicit agreement in which Israel refrained from military action when Syrian forces entered Lebanon in 1976, with one condition being the absence of ground-to-air missiles in Lebanon.

On Feb. 16, 2009, during the commemoration of the first anniversary of the assassination of Hezbollah's number two in leadership, Imad Mughnieh, Nasrallah, said, "We have every right to possess any weapon, including air defense, and we also have every right to use this weapon if we want to."
Hezbollah's response
Asked whether Hezbollah does in fact own an air defense system, the party's official spokesperson, Mohammad Afif Naboulsi, told L'Orient Today that the party "would never talk about it."
Naboulsi also said that the party consistently receives inquiries about the topic from many journalists and observers, asking if Hezbollah has an air defense system that is capable of preventing Israeli warplanes from flying over Lebanon. "Our answer is we won't talk about it."
"As for what system we have? What is its size? Or how many are there? Or what is their type? I do not know. And no one in the party has the right to talk about this topic at all."
"This is part of the war surprises that the enemy is looking to unveil," Naboulsi added. "When the resistance wants to use its weapons, it will," referring to Hezbollah.
Political analyst and retired Brigadier General, who is close to Hezbollah, Dr. Amine Hoteit is in agreement with Naboulsi. "The weapon that is hidden from the enemies is always more potent than the one presented in a military showcase. What is displayed is of second class importance", says Hoteit.
"This is a typical war tactic," he adds.
'Old and unserviceable'
A banner featuring the portrait of Nasrallah greets visitors at the entrance of "Jihadi Museum" in Baalbeck.
Similar to the propaganda video played at Mlita museum, which was opened a decade after the Israeli withdrawal from Lebanon in May 2000 and is situated in southern Lebanon, the frieze in this museum celebrates the "resistance," reflecting on the party's inception, its various suicide bombings, the liberation of the South, and the "great divine victory" against Israel in 2006.
An additional aspect was also highlighted in the museum: the military involvement in Syria that started in 2013. This intervention was aimed at supporting the regime of Syrian President Bashar al-Assad and securing the land route connecting Syria to Iran.
Hezbollah's spokesperson explained that the anti aircraft system, as well as many other weapons exhibited in Baalbek, are "old," some of which are weaponry "left behind by the Israelis... ISIS and al-Nusra, who left their weapons in Syria and the barren lands of Arsal which we took control of."
Al Nusra Front was a Salafi jihadist organization fighting against forces of the Syrian regime in the Syrian Civil War.
The military vehicles, collected from various battle zone "have been roughly primed" before they were showcased at the museum, Naboulsi added.
As for the Russian-made SAM 6 system, Naboulsi confirmed its presence at the museum, speculating that "all Palestinian forces and factions have had it since the 70s, and these old weapons are no longer effective. It could be a remnant of the Palestinian factions weaponry that was collected. I do not know exactly where they got it from."
For his part, retired army general Khalil Helou told L'Orient Today that "if Hezbollah truly has an air defense system, it would most probably be a shoulder-fired one, at most, or if bigger, it would be very old."
"[Hezbollah] always puts on display old military remnants that they collect... a sixty-year-old tank, an unserviceable Israeli tank, weaponry that the Syrian army gave them," he added. "The Sam 6 systems were used around 50 years ago, and the aircrafts that Israel possess are modern and advanced that are way more complicated."
"They can't balance out with Israel."
Displaying such a system at the museum signifies "deterrence — it is merely a show of force," Helou pointed out. "These displays are to boost morale as the most important asset Hezbollah relies on is morale."
'Part of an anti-aircraft weapon'
Aiming to hinder Iran's presence and the transfer of advanced weaponry to Hezbollah in Syria and Lebanon, Israeli airstrikes regularly target military assets and infrastructure of Iran, which has deployed a sophisticated, long-range air-defense missile systems within Syria.
It is complicated for Iran to hand Hezbollah any of its advanced air defense weaponry "because they are so enormous that [Hezbollah] cannot properly hide them in Lebanon," Helou said. "They would be concerned for them from an Israeli attack because the Israelis would never allow them to own it."
"So far we haven't seen them use any sort of air defense system except to bring down or deter Israeli drones" in south Lebanon, he added.

Hezbollah's spokesperson said that the party has used "a specific thing, part of an anti-aircraft weapon, which is part of an air defense system" over the past "two to three years" to "fire" at Israeli surveillance drones and prevent them from flying over the southern territories."

"As I have noticed recently, the activity of Israeli surveillance drones has decreased," Naboulsi said.
Hezbollah for years has been shooting down Israeli drones that regularly infiltrates Lebanon's airspace or sending them towards Israel.
For his part, retired gen. Hoteit told L'Orient Today that "Hezbollah now uses electronic and laser weapons... to jam or send away drones."
War 'threats require an exhibition'
Displaying the air defense system in Hezbollah's Baalbeck museum comes following the recent "incitement campaign led by Israel," which translates into "a massive psychological war," Hoteit pointed out.
Tensions have risen at the Lebanese-Israeli borders this past summer.
Hezbollah set up tents near the disputed and annexed village of Ghajar, Israeli forces launched rockets toward Lebanon after mortar fire from the Lebanese side, and a handful of Lebanese MPs and journalists were targeted by Israeli teargas along the border
Israeli Foreign Minister Eli Cohen threatened to "take Lebanon back to the Stone Age" and lashed out at Hezbollah's Hassan Nasrallah, calling him "weak" and "hiding like a rat in the cellar," in an interview with Saudi newspaper Elaph published on Aug. 6.
In a televised speech on Aug. 14, Nasrallah responded to the Israeli threats: "If Israel declares war on Lebanon, it will be reduced to the Stone Age."
"[Hezbollah] led the counter-psychological war by pitching the tent, sending counter-threats and showcasing some weapons," Hoteit said.
BEIRUT — Does Hezbollah have an air-defense system? This is a question that some commentators have been asking after the party displayed an anti-aircraft weapons system inside its new "Jihadi Museum" in Baalbeck.Haj Hamzi, a guide at the museum, told L'Orient Today that the Russian-made "Sam 6" is reportedly equipped with surface-to-air missiles. If Hezbollah does in fact possess...