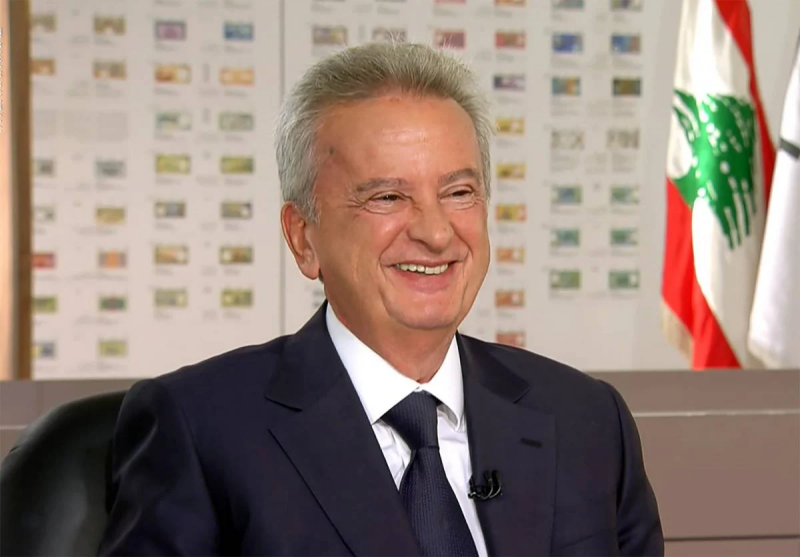 BEIRUT — In what could be one of his final media appearances as the governor of Banque du Liban (BDL) before his term ends on July 31, Riad Salameh spoke on LBCI Wednesday night, defending his actions as central bank leader and affirming he will leave the job on schedule.
During the interview on the show "Hiwar al-Marhale," Salameh, who faces legal proceedings in Lebanon and Europe over corruption allegations, said he would step down this month after his fifth consecutive term since taking charge of the institution in 1993.

"I said a year ago that this would be my last mandate, and I confirm it. In [five days] I'm going to turn a page in my life," Salameh said, adding that he wouldn't stay for an interim period, either.

Salameh highlighted what he said were BDL's contributions to the economy and interest rate reductions over the past three decades. He mentioned that interest rates for the Lebanese lira were around eight percent and percent for the dollar before the crisis, compared to around 17 percent in 1993. He claimed that during the 2019 crisis, BDL took initiatives that mitigated its impact through its monetary policies.
"We are at a crossroads. A new governor is to be appointed. But there are deputy governors, notably the first of them [Wassim Mansouri], who must take charge of the BDL," Salameh said.
BDL has four deputy governors, all of whom have called on a new governor to be appointed who can replace Salameh — a thorny issue as Lebanon still has no president since the end of Michel Aoun's term on Oct. 31, complicating high-level government appointments.
Shirking responsibility
Throughout Wednesday night's interview, Salameh refused to accept responsibility for the economic and financial crisis that Lebanon has facing since 2019, despite being one of the key architects of the economic system now undergoing collapse.
He also dismissed accusations from Gebran Bassil, the leader of the Free Patriotic Movement, who recently accused him of running a large Ponzi scheme for 30 years. Salameh argued that if this were the case, BDL would not have been able to support the state and subsidize imports from 2019-2022.
"Is Riad Salameh the only one who has to keep the Lebanese economy going? Is it up to Riad Salameh to supply electricity? Is it up to Riad Salameh to import baby milk? That's a good one," he laughed, in response to one of journalist Roula Haddad's questions.
"I don't take responsibility for (the country's) collapse," he added.
Regarding the criticism of his policies by economists, including the alleged spending of $40 billion to stabilize the exchange rate, Salameh defended his choices, stating they were successful until 2015 and even approved by the IMF until 2016. He also claimed that he became a scapegoat for the system and clarified that the collapse was the result of several factors, such as the government's default on eurobonds in 2020, the impact of the COVID pandemic, the Beirut port blast and the Russian invasion of Ukraine.
'BDL fulfilled IMF demands'
Regarding the reforms required to unlock an IMF bailout deal reached at the staff level last year, Salameh asserted that BDL had fulfilled all of the IMF's demands, including an audit of its accounts and a "banking reform project."
He downplayed the report submitted to the Finance Ministry by Alvarez & Marsal, the firm that conducted the forensic audit, as a mere "draft."
Salameh was also questioned about the investigations launched in several European countries regarding the company Forry Associates Ltd, in which both he and his brother Raja are being pursued for "illicit enrichment, forgery and use of false documents."
He claimed that leaks from foreign judiciaries were orchestrated by a group that targeted him, accusing French attorney William Bourdon, who represents Sherpa and the collective of victims of fraudulent and criminal practices in Lebanon, of dishonesty in his report. These organizations are responsible for the complaints filed against the governor and those close to him in France.
"There is a group in Lebanon and abroad that targets me," Salameh stated, adding that there were "no sums of money from the company Forry at the BDL" and that neither he nor his former assistant Marianne Hoayek had anything to reproach themselves for in this matter.

Salameh said that he had not appeared before the French judicial system as Marianne Hoayek did because he was "not notified in accordance with the procedure," an argument already invoked in the media by his French lawyer, Pierre-Olivier Sur.
He added that his counsel "had asked the investigating judge Aude Buresi to notify him in accordance with the norms," but she had "refused and issued an international arrest warrant" against him, in reference to the Interpol red notice that has targeted him since last May.
Sayrafa exchange rate
The governor finally defended BDL's Sayrafa exchange rate platform that launched in 2020. Over the ensuing three years, the platform — which was meant to control foreign exchange transactions and stabilize fluctuations on the parallel market — has instead become a kind of black box operating via a mechanism that was never fully explained.
Salameh explained Wednesday evening that Sayrafa had been conceived as a means to allow the BDL to intervene in a market increasingly dominated by cash as the crisis worsened. It was meant to have a certain "transparency, to know who is selling or buying dollars."
"It's a platform to see what's happening in the market since neither the state nor the security agencies have been able to control the applications that indicate the exchange rate," he added. According to him, this tool allowed the BDL to become the "main actor" in the foreign exchange market and to manage to "control" it.
However, last week BDL's four deputy governors announced they would phase out the Sayrafa platform in favor of a new exchange rate platform operated by an international company.
Commenting on this shift, Salameh said he believed it "would take time" before the new platform could be viable.
"I hope there will be no more fluctuations in the market, but that is no longer in my hands," he said, adding that criticisms alleging BDL manipulated the exchange rate were "baseless."
Succession at BDL
Finally, on the issue of his succession, Salameh insisted that he "had no influence on the session that should take place on Thursday to appoint a new governor." The session was cancelled last minute due to loss of quorum as several ministers did not attend.
The four deputy governors — Wassim Mansouri, Bachir Yakzan, Salim Chahine and Alexandre Moradian — appointed in 2020, have urged the government to designate a new BDL leader before the end of Salameh's term. They held two meetings this week with caretaker Prime Minister Najib Mikati to discuss the issue.
In case of a vacancy, Wassim Mansouri, who is Shiite, would replace Salameh, although this position is traditionally reserved for a Maronite.
The deputy governors have threatened to resign if a successor is not duly appointed, though some ministers affiliated with Gebran Bassil's Free Patriotic Movement, which former President Michel Aoun founded, have protested over the idea of appointing one amid Lebanon's presidential vacuum.
Deputy Prime Minister Saade Chami also stated on Tuesday that the government is not able to appoint a successor to Salameh.

BEIRUT — In what could be one of his final media appearances as the governor of Banque du Liban (BDL) before his term ends on July 31, Riad Salameh spoke on LBCI Wednesday night, defending his actions as central bank leader and affirming he will leave the job on schedule.During the interview on the show "Hiwar al-Marhale," Salameh, who faces legal proceedings in Lebanon and Europe over...