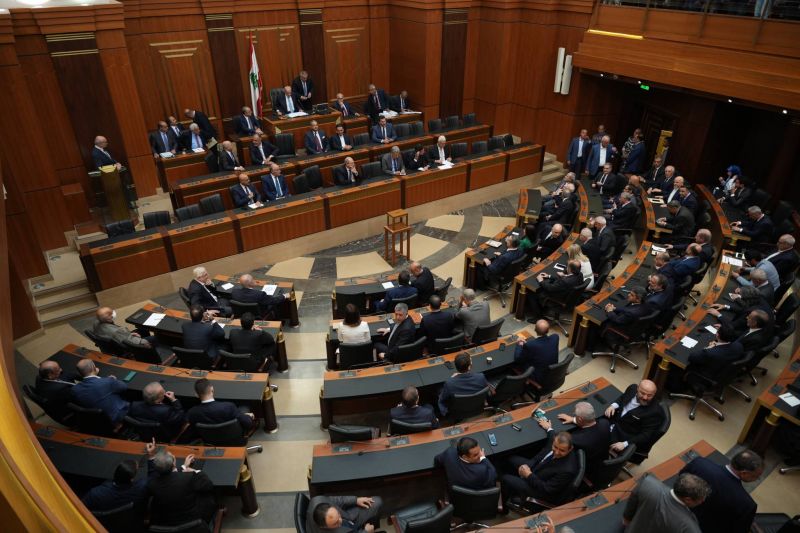 During Wednesday's parliamentary session, it was evident that neither of the two main presidential candidates would secure the election and the session would be sabotaged after the first round of voting.
Nevertheless, the first round vote was interesting for two key reasons: it unveiled the new balance of power in Parliament and initiated a new, potentially final phase in the race for Baabda.
Here are the key takeaways from the latest electoral session:
Azour takes the lead, but...
Jihad Azour, backed by opposition parties and the Free Patriotic Movement (FPM), received 59 votes, possibly 60 considering a missing ballot among the 128. This missing vote could be a deliberate maneuver to prevent the former finance minister from reaching the symbolic threshold of 60.
Azour secured eight more votes than his main rival, Marada Movement leader and MP Sleiman Frangieh, and 15 more votes than former opposition candidate Michel Moawad's highest tally in previous sessions.
As things currently stand, Azour is better positioned than Frangieh to secure the 65 votes needed to be elected in the second round vote. The vote count, however, may be unimportant since Azour cannot be elected president without an agreement with both Hezbollah and the Amal Movement. They can disrupt the session by forcing a lack of quorum, as they did in Wednesday's session.
However, the vote tally reveals a new political reality that Hezbollah has been concealing.
Since the 2022 legislative elections, the party has lost its ability to impose its choices within Parliament. It not only lacks a majority but can also be outvoted.
However, this lesson would have held a different significance had Azour obtained 65 votes in the first round. If he had been on the verge of election, the entire balance of political power would have been affected.
Hezbollah and Amal would have found themselves in a precarious position. Unfortunately, the opportunity to place Hezbollah in a position not witnessed since 2006 (the Mar Mikhael Agreement) was missed.
Saudi Arabia did not move to influence the Sunni vote in favor of Azour, possibly awaiting further developments before taking action.

Did Azour's position improve at the session's conclusion? While his vote count makes him a strong contender, Hezbollah and Amal's veto power remains intact.
Frangieh's tally higher than expected, but…
Hezbollah and Amal found some success in Wednesday's session.

In response to international pressure, Parliament Speaker Nabih Berri called for a parliamentary electoral session. Neither of the two main candidates had a clear path to victory, and the margin between them was not as significant as anticipated.
Conclusion: Frangieh remains in the race.
The March 8 camp managed to limit the damage. The Marada leader had between 43 and 44 guaranteed votes. He obtained at least seven more as a result of the pressure exerted by Hezbollah and Amal on many MPs over the past week.
Once again, many undecided MPs rallied behind Hezbollah's candidate. The two Shiite parties demonstrated that, for the moment, they are much more persuasive than their opponents in convincing hesitant MPs to lean their way.
While Amal and Hezbollah might be looking at the glass half full, the real picture is far less glorious. Despite Paris' support, pressure on the undecided MPs and thinly-veiled threats made in speeches and in the press over the past 10 days, they only managed to garner 51 votes for their candidate.
This means that Frangieh cannot, in any case, be elected with so few Christian votes.
The two parties can block the election as much as they like, but they cannot get Frangieh elected. The speed with which their MPs exited Parliament after the first round of voting gives an idea of their narrow room for maneuvering.
Despite Hezbollah's efforts to maintain a facade of strength, Wednesday's session undeniably weakened the party and necessitated a compromise involving a third candidate. Hezbollah no longer has the luxury of choice.
However, the question remains: Can Hezbollah accept such a compromise, especially considering its perception of a largely favorable regional balance of power? At present, this outcome appears highly uncertain.
Has Bassil emerged as the great winner?
If there's one person who can be pleased with how this session went, it's FPM leader Gebran Bassil.
He won all his bets. The agreement with the opposition on Azour's candidacy puts him back at the center of the political game and breaks his isolation among Christian political parties.
It has enabled Bassil to expose the fragility of Frangieh's candidacy and, ultimately, to eliminate him from the race.

Better still, Azour's vote count was high enough to give the FPM leader significant leverage in his negotiations with Hezbollah.
Even if Bassil did not wish for Azour to be elected president, he wanted Hezbollah to understand that he would never vote for Frangieh. From now on, they must agree on a third name.
Bassil accomplished all of this by asserting his dominance over the dissenting voices within his party, all of whom, in principle, followed the voting instructions. Contrary to expectations, the latest session gives the impression that he is stronger than ever since 2019.
Is Baroud the third option?
Ziyad Baroud is strategically positioning himself.
It was in his best interest to avoid being used to "eliminate" Frangieh, which would enhance his chances of becoming the central figure around whom a grand compromise could form.
By securing six votes during Wednesday's session, the former interior minister distinguished himself from other contenders as they enter the final stretch.
Baroud's advantage lies in support from both the FPM and the opposition. However, he lacks the backing of the Lebanese Forces (LF) and, presumably, the Progressive Socialist Party (PSP).
The crucial question remains: Will Hezbollah accept his candidacy?
The answer to this question holds the key to Baroud's chances of success. His candidacy is more delicate than Azour's. Given the current circumstances, the answer to this question, i.e. if Hezbollah will accept his candidacy, also increases the likelihood of his election.
What about Joseph Aoun?
Lebanese Army chief Joseph Aoun's name appeared on a ballot paper for the first time during Wednesday's session.
He remains a favored candidate to succeed Michel Aoun, even to this day. In comparison to other candidates, Joseph Aoun is less likely to be vetoed by Hezbollah or labeled as an agent of the United States. His military background and position make him less susceptible to such accusations.
However, his path to Baabda remains a challenging one.
Neither Bassil nor Berri, who rarely agree on matters, wish to see him ascend to the presidency. Additionally, exceptional circumstances, such as a security crisis or a diplomatic agreement between Iran and Saudi Arabia, would likely be necessary for Joseph Aoun's election to become a reality.
The weight of the vacuum
The final takeaway from Wednesday's is undoubtedly the most disheartening.
It appears that the political stalemate is likely to endure. Berri has not deemed it necessary to announce a new session.
Despite the upcoming visit of the new Middle East adviser to Emmanuel Macron, Jean-Yves le Drian, to Beirut next week, there are no indications that the next electoral session will be imminent.
This article was originally published in French in L'Orient-Le Jour. Translation by Sahar Ghoussoub.
During Wednesday's parliamentary session, it was evident that neither of the two main presidential candidates would secure the election and the session would be sabotaged after the first round of voting. Nevertheless, the first round vote was interesting for two key reasons: it unveiled the new balance of power in Parliament and initiated a new, potentially final phase in the race for...