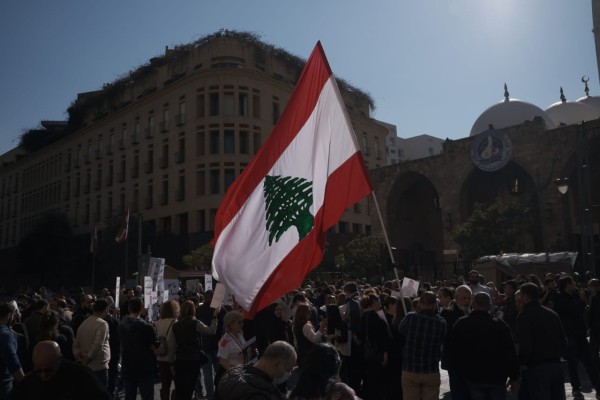 Dear readers,
As protesters depart from their protest to demand justice for the victims of the Beirut blast, we will close today's live coverage of their sit-in and the presidential election.
Thank you for following us.
(Credit: Joao Sousa / L'Orient Today)
In a press conference from within Parliament, MP Melhem Khalaf and Najat Saliba confirm that they will remain inside Parliament until a president is elected.
Khalaf says the country is in dangerous turmoil and that Parliament should hold continuous sessions until a president is elected.
"The obstructionist policy that is being implemented in the country cannot continue. This is our last resort," Khalaf says.
"Our people are asking us for bread, for water, for electricity, and we are standing helplessly as the lira has hit LL 50,000 against the dollar, amidst useless parliamentary sessions that are not electing a president."
Saliba adds: "The people cannot bear this anymore. All the countries in the world called us to form a government and a state so they can help us. We are asking MPs to come into Parliament to vote for a president. This is their duty."
Khalaf and Saliba are joined by MP Adib Abdel Massih, a member of Michel Moawad's group, who announces he will remain in Parliament for the time being.
(Credit: Mohamad Yassin / L'Orient Today)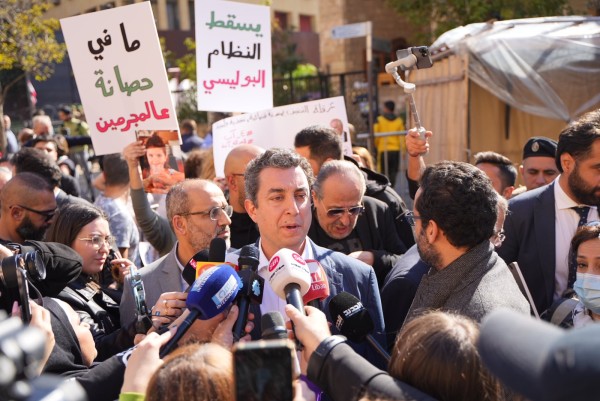 Forces of Change MP Marc Daou, who joined the sit-in of victims' relatives after the session, says he regrets that the authorities have not taken serious measures to stop the collapse of the state.
"This protest is a good way to claim the rights of all Lebanese," he says.
His colleague, MP Michel Douaihy, says that the mission of victims' relatives is the mission of "everyone."
"We cannot continue without prosecution and accountability," he says.
(Credit: Mohamad Yassin / L'Orient Today)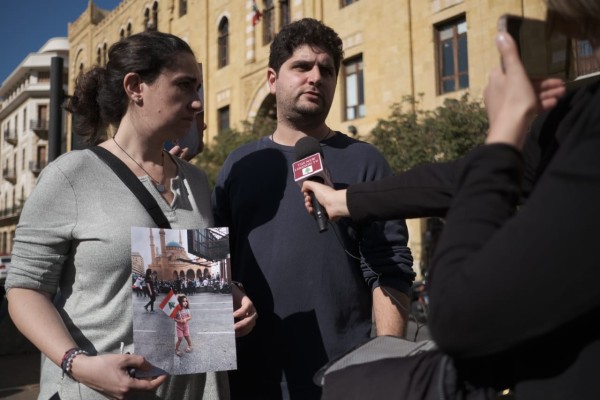 Paul Najjar, father of Alexandra, one of the youngest victims of the blast, explains that the victims' families are calling on MPs to sign a petition.
The petition proposes an amendment to the Code of Civil Procedure to prevent the suspension or obstruction of the investigation, as well as the approval of the law for the independence of the judiciary.
"The families say that the MPs who don't sign it will be considered accomplices," Najjar explains.
(Credit: Joao Sousa / L'Orient Today)
MP Samy Gemayel expresses his willingness to study, within his party, the decision taken by Melhem Khalaf and Najat Saliba to remain in Parliament to demand an open parliamentary session. He says he regrets he was not aware of their mobilization before the session.
"If a president is to be elected in Parliament, the Constitution must be respected and consecutive rounds must take place," he pleads, calling on Nabih Berri to keep the session open.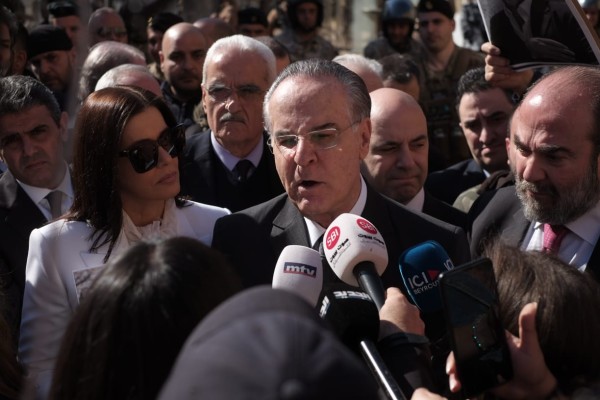 From the street outside Parliament, Lebanese MP George Adwan (Chouf) tells local media that his party continues to vote for MP Michel Moawad because "he is a candidate that can bring about reforms in the country in those critical times."
His colleague, George Okais, says that an international investigation must be launched into the Beirut blast and that a delegation should be sent to Geneva to discuss this matter.
For his part, presidential candidate and MP Michel Moawad says: "We want a state of justice, and we are waging a political battle to bring back the depositors' money and to bring justice for the victims of the Aug. 4 explosion. We will not make a settlement over this matter. We will not let go until we receive justice for the victims."
He refers to the parliamentary presidential election sessions as a "play" and calls for more "seriousness from the Parliament's side."
(Credit: Joao Sousa / L'Orient Today)
As he had announced at the beginning of the parliamentary session, Forces of Change MP Melhem Khalaf and his colleague Najat Saliba remained inside Parliament after the adjournment of the session to call for an "open" presidential election.
After the session, Forces of Change MP Ibrahim Mneimneh (Beirut II) joined the protest in front of Parliament, along with several of his colleagues.
"There is no seriousness during the presidential sessions. That's why some of us found that today's session was appropriate to put the spotlight on the cause of the victims of the blast," he tells the media.
Forces of Change MPs are applauded by protesters as they exit the Parliament.
To better understand the ins and outs of how a president is elected in Lebanon, watch our explainer in video: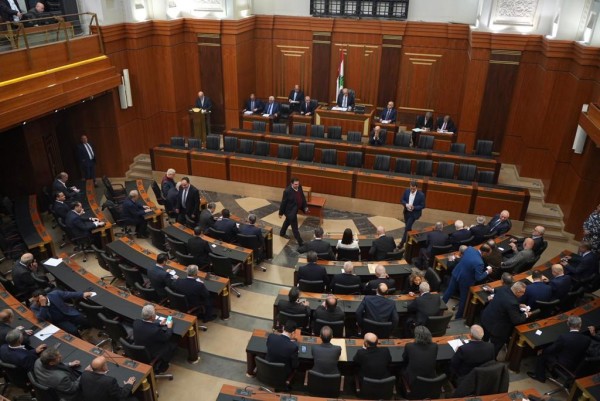 After the first round of ballots was counted, several MPs left the Parliament and Speaker Berri closed the session, as was the case for all ten previous sessions
No date has yet been announced for the next session.
(Credit: Mohamad Yassin / L'Orient Today)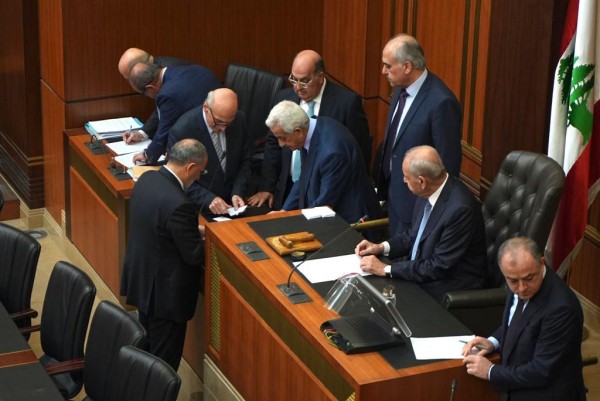 In Parliament, at the end of the first round of voting, the results were as follows:
37 blank ballots; 34 votes for Michel Moawad; 15 votes carrying write-ins such as "Bernie Sanders," "Protect the investigation on the Beirut blast," and "Presidential priorities," which were canceled; 14 votes for New Lebanon; 7 votes for professor Issam Khalifeh; 7 votes for Milad Abou Malhab, an official candidate known for his protests whilst wearing extravagant costumes; and 2 votes for former minister Ziad Baroud.
(Credit: Mohamad Yassin / L'Orient Today)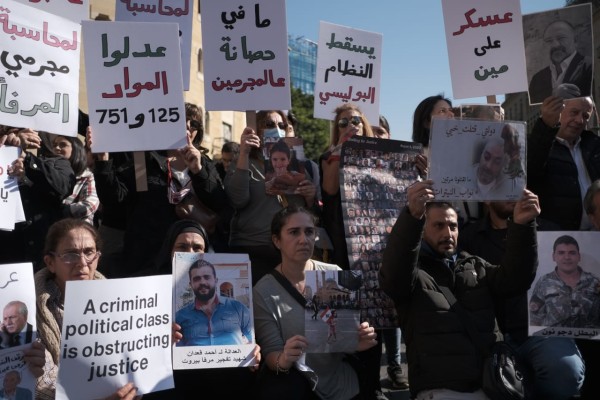 Tracy Najjar, the mother of one of the youngest victims of the explosion, tells L'Orient Today that the main message they want to send is that Judge Tarek Bitar should be able to continue the investigation.
"The second reason is that we want an independent justice," Najjar says.
"After the session, MPs who support our cause are supposed to meet us here and we will read them the list of our demands. All of the parliamentarians who are with us are supposed to sign. That says that, from now on, they are going to do everything they can to achieve our demands," she adds.
"The Forces of Change MPs are working with us and supporting our cause. But we feel that ... alone, they can't do anything. Therefore, I hope many more will join them," Najjar continues. "Of course, we are not talking about the MPs who are blocking the cause or those who are covering up for these people, like Ali Hassan Khalil and Ghazi Zaiter."
(Credit: Joao Sousa/L'Orient Today)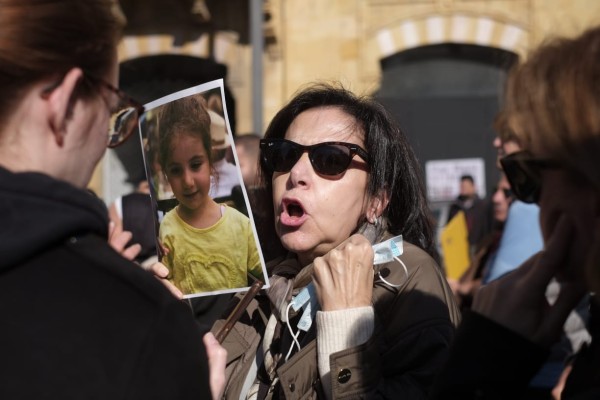 A mother of one of the victims of the Beirut port blast told L'Orient Today that the families of the victims "already know who is with them and who is against them. This sit-in is an honorary stand."
(Credit: Joao Sousa)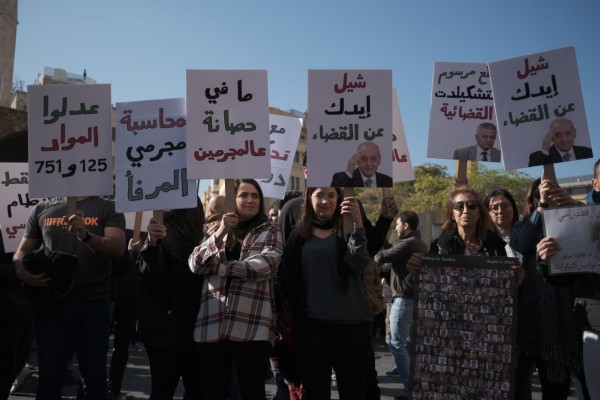 Rita Hitti, who says several of her family members were firefighters that died in the blast, tells L'Orient Today that "the detentions they made last week served us. It's a reminder to the Lebanese."
"My children went down to serve Beirut and came back in three coffins. Today the MPs will show us who is really Lebanese and who is not. Whoever does not support our cause is not Lebanese," she continues.
"Not only did Ali Hassan Khalil and Ghazi Zaiter come back to their parliamentary seats but they are also part of the Justice Committee. It is the fault of the people who voted for them and of the Parliament who gave them this position," she adds.
Hitti insists that the families will do everything they can to help justice to be served.
(Credit: Joao Sousa)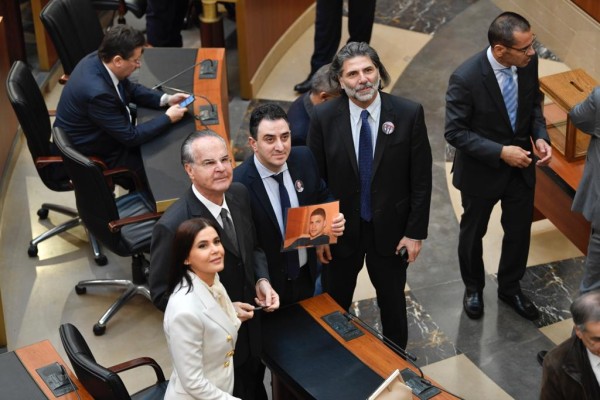 Before the voting process began, several MPs inside the Parliament held up photos of the victims of the 2020 port blast, expressing their solidarity with the victims and their families.
(Credit: Mohamad Yassin / L'Orient Today)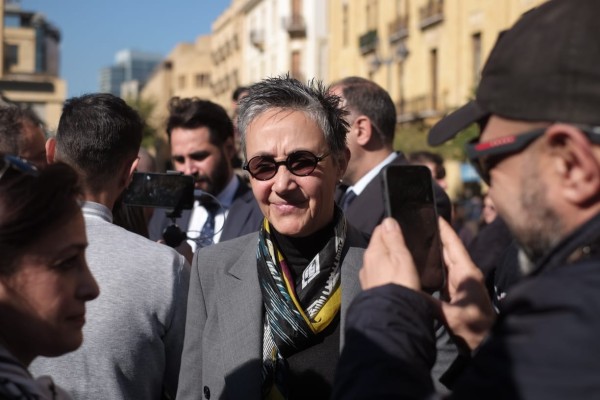 Present at the demonstration in front of the Parliament, Forces of Change MP Najat Saliba (Chouf) told L'Orient Today there was a strong need for port blast investigating judge Tarek Bitar "to resume his work."
"This case must be completely separated from politics," she insisted.
"During the session, we will insist on the need for justice to take its course," she added.
(Credit: Joao Sousa / L'Orient Today)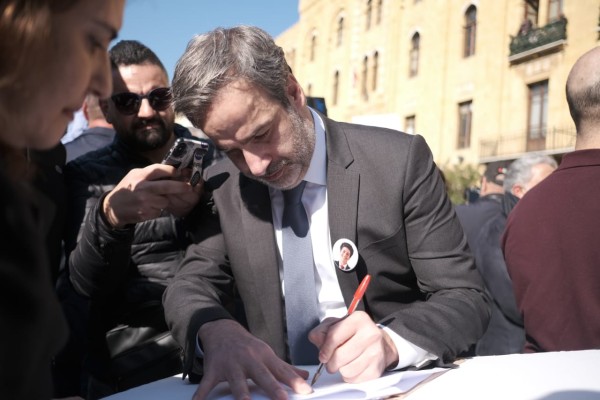 Inside the Parliament, Kataeb MP Sami Gemayel (Metn) proposed to vote on a statement supporting and defending the families of the port blast victims and "expressing ... full support for the judiciary."
Independent MP Michel Moawad (Zgharta), said that "I was 17 when they assassinated my father and the situation is still the same. We can't build a nation like that. The port blast is one of the worst in the world, and it is not unacceptable that we don't, from within the Parliament, attempt to reach justice."
(Credit: Joao Sousa / L'Orient Today)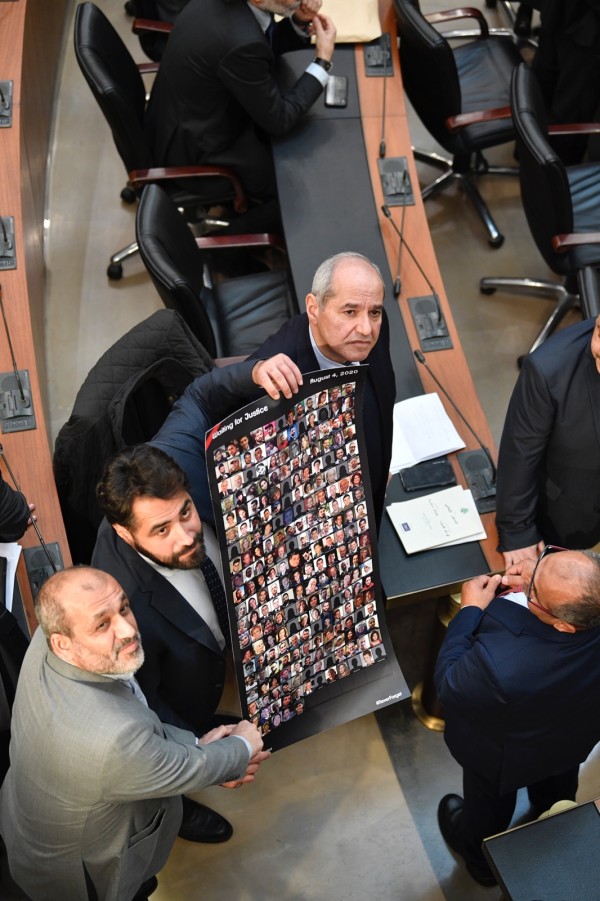 Forces of Change MP Melhem Khalaf (Beirut II) said at the beginning of the session that neither he nor his colleague Najat Saliba (Chouf) would leave Parliament unless speaker Nabih Berri declared that the parliamentary session would remain open until a new president is elected.
(Credit: Mohamad Yassin / L'Orient Today)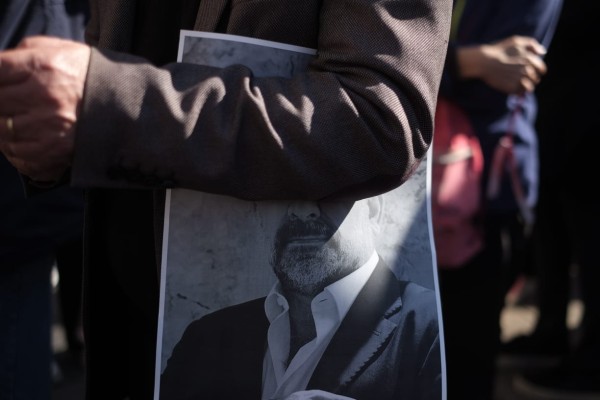 Monika Borgmann, the wife of assassinated intellectual Lokman Slim, who was a fierce opponent to Hezbollah, was present at the protest Thursday morning.
"Until now we have not seen that justice can be done in Lebanon, unfortunately," Borgmann told L'Orient Today. "The investigation of the port has been completely blocked for a year. Lokman's is ongoing. But until today no murderer has been identified."
"I am convinced that if Lebanon needs something, it is justice and if we can't find it here, we must look for it elsewhere," she said.
She added it was "unfortunate" that there were not more people demanding justice for the explosion and Slim's "political assassination."
"We must destroy this circle of the culture of impunity," she said.
(Credit : Joao Sousa)
The bell announcing the start of the 11th electoral session rang at 11 a.m. and Parliament Speaker Nabih Berri began the meeting with a minute of silence for his predecessor, Hussein al-Husseini, who died last week.
Six MPs are absent from the session.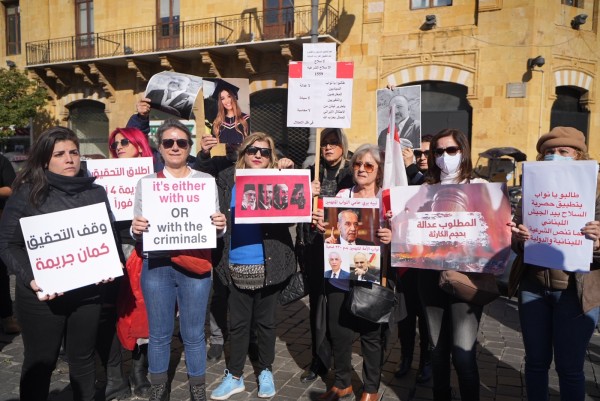 Hundreds of people gathered Thursday morning in front of the Parliament.
People held up signs saying "a criminal political class is obstructing justice," "someone who is silent about justice is an accomplice to the crime, " and calling for an international investigation, amid a high security presence currently surrounding the Parliament building.
(Credit: Mohamad Yassin)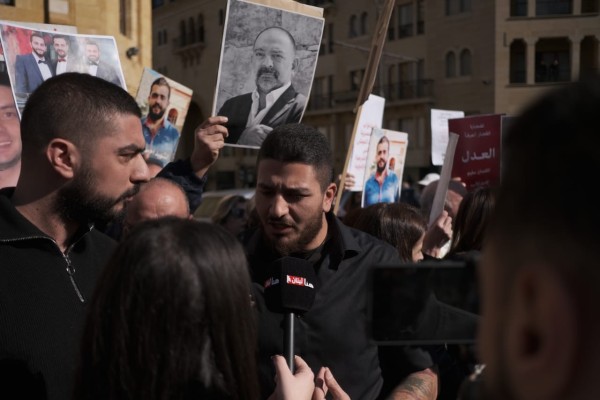 William Noun told L'Orient Today from in front of the Parliament that "today we are not here to talk. We are here to listen. To see what the MPs will say. To see who is with our cause and who is against our cause. I ask all the MPs of any party to be with us except the ones who are summoned for questioning," referring to MPs and former ministers Ali Hassan Khalil and Ghazi Zeaiter, both of whom have been indicted as part of the port blast investigation.
However, Noun noted that if they are investigated and cleared out by the court, he would call them to stand with the victims' family members and demand justice.
"The MPs have a responsibility to do and this responsibility begins from inside the Parliament," he concluded.
(Credit: Joao Sousa/L'Orient Today)
So far, these sessions have all followed the same pattern, with no result: a first round of voting, each of which is considered the first of the entire election session by Parliament Speaker Nabih Berri and thus requires 86 votes out of 128 for a president to be elected.
After this vote, deputies, mainly from Hezbollah and its allies, the Amal movement and the Free Patriotic Movement, leave the building, causing a loss of quorum that forces the session to adjourn. This now well-oiled mechanism prevents a second round of voting, which would require only 65 votes for a new head of state to be elected.
So far, no candidate, whether officially declared or not, has received 65 votes. The candidate to have garnered the most ballots so far is independent Zgharta MP Michel Moawad, who has received votes from parties opposed to Hezbollah, including the Lebanese Forces, the Kataeb party, Walid Joumblatt's Progressive Socialist Party, independents and the Forces of Change bloc.
The 11th session to try electing a president takes place after a more than month-long break due to the holiday season. A session originally scheduled for last week, on Jan. 12, was postponed due to the death of former Parliament Speaker Hussein Husseini.
On Friday night, in the wake of William Noun's arrest, several hundred people gathered in front of the barracks where he was being held, in a show of solidarity and to denounce his detention — which was carried out even as the port blast investigation stalled.

Many officials condemned the arrest, which has nonetheless garnered polarized reactions.
Read more on this topic here: Acute political polarization around the case of William Noun
The call to demonstrate in front of the Parliament came as the port blast investigation has been stalled for more than a year due to political interference.
Two of the officials prosecuted by the investigating judge Tarek Bitar, including on charges of negligence, are currently MPs and members of the Parliament speaker's bloc: Ghazi Zeaiter (Baalbeck-Hermel/Amal) and Ali Hassan Khalil (Marjayoun-Hasbaya).
Protesters called on MPs to join their demonstration.
The sit-in comes after 13 relatives of victims had been summoned on Monday for vandalism after a violent demonstration last week in front of the Palace of Justice in Beirut. All of them were released on bail after questioning.
It also comes as William Noun, who was among those summoned Monday and who lost his brother Joe in the blast, was detained from Friday to Saturday by State Security after comments he made on a television program.
Welcome to our live coverage of the 11th parliamentary session devoted to electing a new Lebanese president, as relatives of the Aug. 4, 2020 port blast victims gather outside in protest.
You have reached your article limit
Add your voice to our engaged subscriber community and be part of the change.
You have reached an article that is only available to L'Orient Today subscribers.
Already have an account? Log in