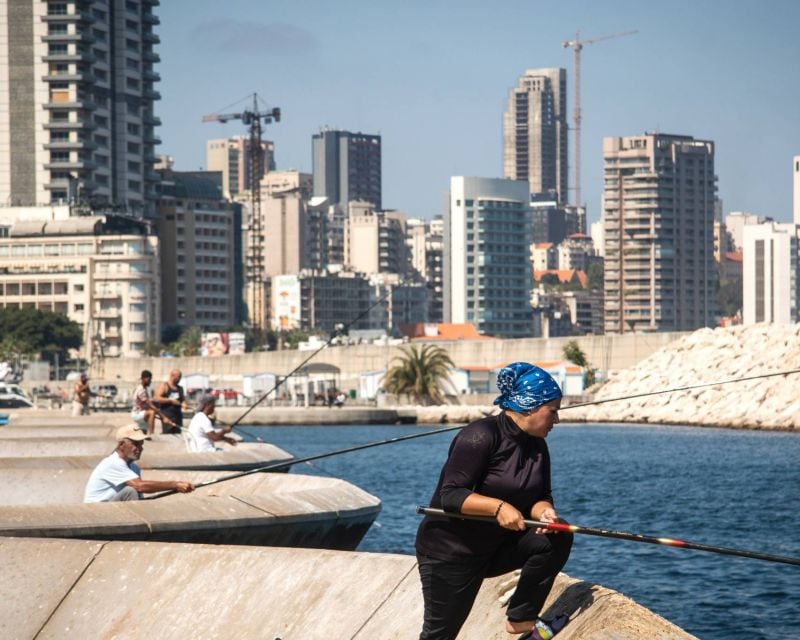 BEIRUT/AMCHIT, Lebanon — It was a balmy morning, with anglers forming a row on the concrete outcropping overlooking the Mediterranean Sea along Beirut's Biel waterfront. Roughly at the heart of the line of mostly middle-aged men, some of them shirtless with cigarettes dangling from their mouths, others barefoot squatting on inverted buckets, two women anglers, each propping one leg against the overhang for support, cast their reeless fishing rods.
These Lebanese women, driven by a love for the sea and the adrenaline rush, had dared to set foot into the fishing realm, one of the most sacrosanct territories of male hunters across the Arab nations.
While fishermen's wives have always helped their husbands to prepare their bait and weave their nets, in recent years, an increasing number of Lebanese women have taken up rods and nets of their own. Many of them started out dabbling in fishing as a leisure activity but went on to master the craft.
Recreational angler Shifaa Serhan held her fishing rod over her shoulders and swiftly flipped her wrist forward, casting her line.
"The sea and I share an endless love story," Serhan said as she caught her first fish of the day, then tipped her rod up allowing the end of the line to smoothly fly back toward her left hand. She grasped the seabream, examined its size, ruled that it was small to keep and tossed it back into the water.
Serhan, an accountant by trade, said her father's adventurous spirit, which she inherited, had prompted her zeal for fishing.
Meanwhile, her fishing buddy, Patricia Nasr, stood nearby waiting for a fish to bite as she reminisced about her fisherman father who "used to leave the house at dawn to set fish traps in the water, collect his catch and then visit the fish market."
Fisherwomen Siham Abboud (right) and Mirella Kurdahi (left) prepare their fishing rigs. (Credit: João Sousa/L'Orient Today)
Despite growing up exposed to the fishing trade, 42-year-old Nasr took more than three decades to develop a passion for it.

"At 37, I picked up my ex-husband's fishing gear and took some basic instructions from him and my father and started fishing."
"It took me one fish to get addicted," Nasr said, adding that she can spend the entire day at sea, without food and without people to talk to. She favors "primitive fishing" — also known as small-scale artisanal fishing — using wet bread as fishing lure and a cheap yet effective fishing rod that lacks a reel, the technique that most Lebanese fishers depend on for livelihood. "It's therapy for me."
Now she arrives a couple of times every week at the shore, hoisting her fishing rod on her shoulder and carrying a woven basket her father had gifted her and a mini fridge to keep her catch fresh.
All fisherwomen interviewed for this piece testified to the unmatched pleasure they get every time they feel the tap of the fish's weight when it gets hooked.
"Neither winning the lottery nor taking drugs can replicate the adrenaline rush that kicks in at that specific moment," Serhan said.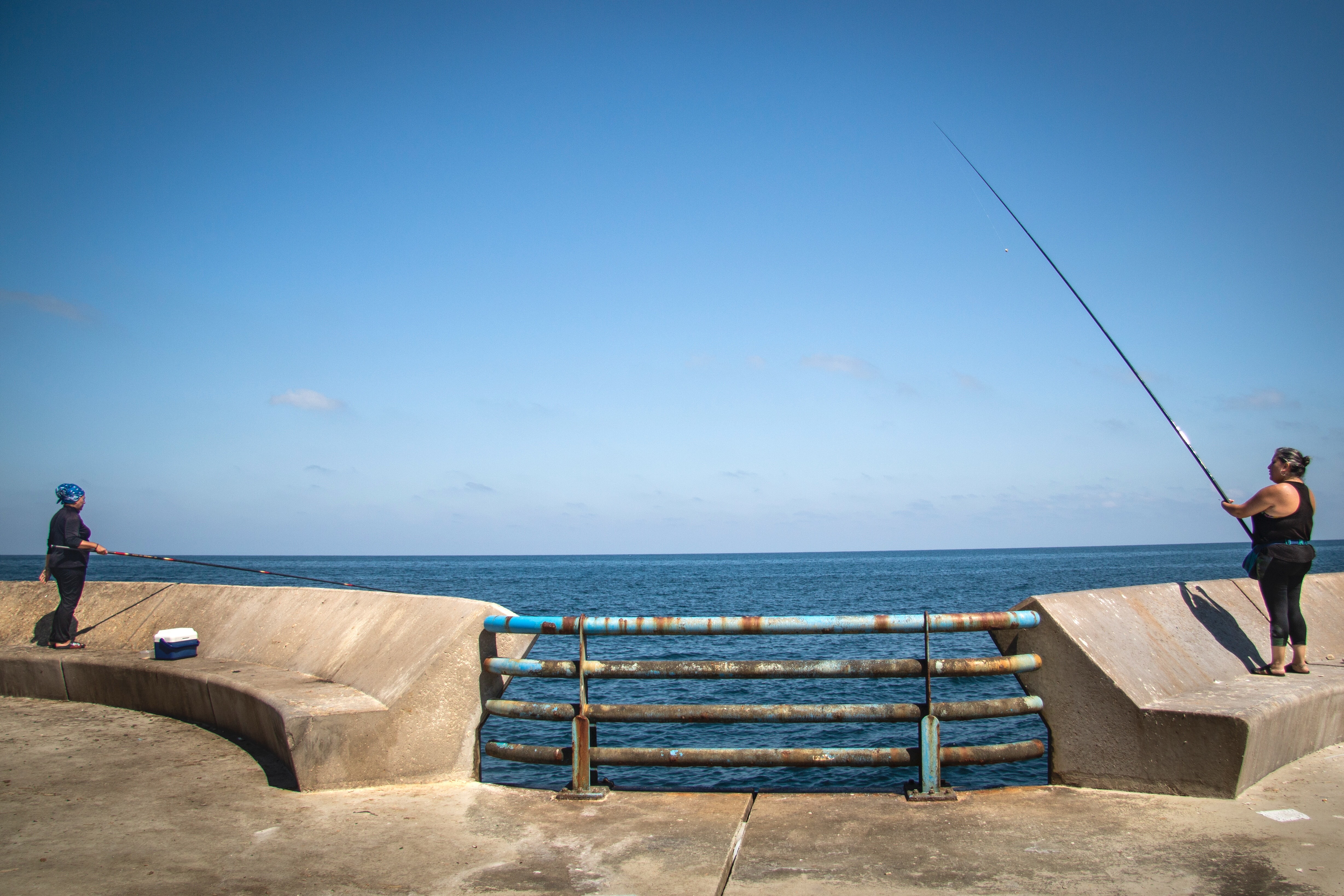 Fisherwomen Patricia Nasr (right) and Shifaa Serhan (left) cast their fishing rods off of Beirut's Biel waterfront. (Credit: Sally Abou AlJoud/L'Orient Today)
'The crazy lady of the sea'
Up the coastline, in the northern seaside town of Amchit, two fisherwomen and a skipper steered a recreational fishing vessel into the crisp salty smell of the sea; toward a spot where they hoped to catch a haul of groupers, sea bream, razorfish and, if they got lucky, squid and bluefin tuna.
Solange Sfeir, one of the two women on the fishing sailboat, effortlessly moved across the deck as the boat rocked in the choppy waters, to replace her bait and dance to the Arabic pop music she usually blasts on her trips.
Sfeir has a day job at a dentistry academy and describes her time spent fishing as equivalent to taking the tranquilizer pill Xanax. While working in mostly landlocked Jordan for 12 years, in the days before the war in Syria, Sfeir would drive over 300 kilometers (200 miles) back to Lebanon over the weekend to go fishing before making the return journey and arriving in Jordan on Monday.
Fast forward a couple of years, upon her return to Lebanon in 2012, Sfeir would become a big fish within the male-dominated sector after fishing videos her brother posted on her behalf went viral on Facebook. She was dubbed "the crazy lady of the sea," a nickname that has become a frequently used hashtag to refer to her tenacity in braving rough seas and gusty winds, severe conditions that would normally force fishers to reconsider venturing into the water.
"I was born into a family that adored the sea," Sfeir told L'Orient Today. "Pregnant with me, my mom took a dip in the sea on a Sunday and I was born the following day."
Sfeir added that growing up she could feel that her parents' strong love for her was an extension of their love for the sea: "When I turned 12, I started free diving alone at night while my mother waited for me right on the shoreline."
As a result of her viral videos, seasoned fisherwomen connected with Sfeir and newcomers reached out asking if they could join her on her fishing trips. These communications prompted her to start a WhatsApp group called "Women Fishing," which now has more than 50 members scattered along the Lebanese coastline from south to north.
At the beginning of each day, some of the fisherwomen send their good morning greetings along with the state of the sea in their respective areas to help others with their sailing and fishing planning. They share fishing tips and show off pictures and videos of fish catches.
In June, she founded a grassroots fishing school, the Funky Fish Fishing Club. Its primary intention was to relay her fishing expertise to women and children, but she said it's open to "whoever wants to join."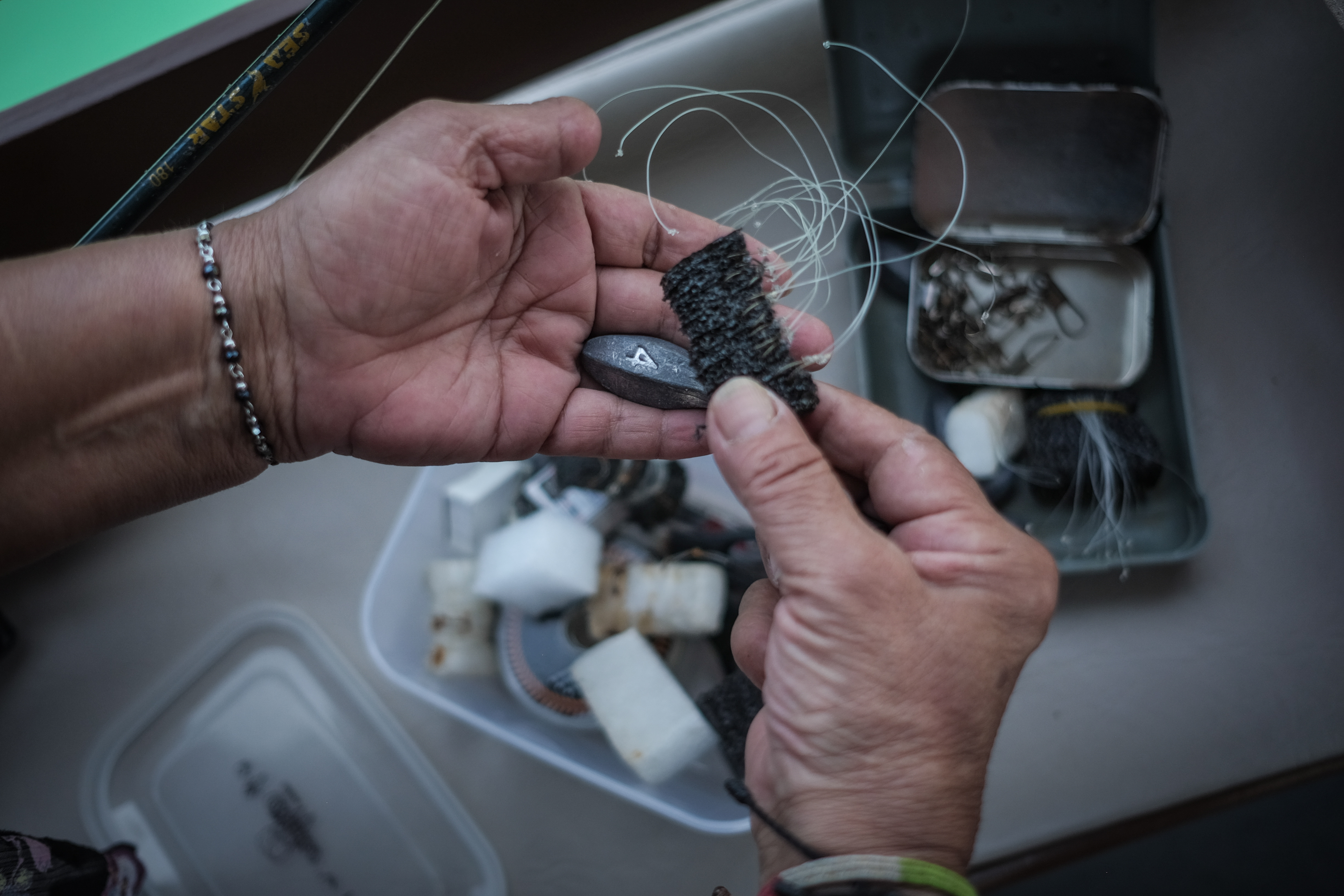 Fisherwoman Siham Abboud, who lost part of her left thumb in a pufferfish attack, displays her fishing gear. (Credit: João Sousa/L'Orient Today)
None of the women who spoke to L'Orient Today was relying on fishing as their primary line of work. The fisherwomen usually cook their catch for family and friends, and occasionally sell some to those who reach them by word of mouth. When Sfeir catches a hefty squid during its peak season — between October and November — she cuts it up and stores it in vacuum plastic packs in the freezer to sell to her regular squid clients.
Sfeir especially loves catching and gobbling up the razorfish — small, reddish-pink colored, with a flattened head, a Mediterranean native. Her eyes widened as she talked about how she normally catches kilos of the meaty fish that barely absorbs oil upon frying.
"I don't know what its secret is," she giggled.
Braving gender norms
Fishing is not the only arena in which Serhan challenges gender norms in her community. She wears the hijab and is also a professional volleyball coach and referee.
"When I am swimming people tend to be surprised when they find out I am a woman considering how far I swim away from the shore," she said. "Sometimes I can feel the stares but I believe women can condition people, with their uncompromising values, personality and confidence, to the fact that you [using the masculine form for 'you' in Arabic] are not better than me."
Many male strangers have given Serhan unsolicited fishing instructions.
"We are all here to learn new things," she said. "But there's a difference between the times they are actually teaching me something I don't know or teaching me assuming that I wouldn't know because I am a woman."
The sexism is usually benign, but she takes extra safety precautions — like making sure she's fishing in an open area with people around and holding back from night fishing trips. These are restrictions Serhan would have liked not to have to worry about, but she asserted, "nothing usually stands in my way."
Nasr, for her part, remembered, laughing, an instance when she was fishing alongside her daughter and a family with a son goofing around yelled, "Dad, look! A woman is fishing."
And the worst part, Nasr added, "is when you go to buy fishing gear and you're immediately treated as though you're an amateur fisher."
"Sometimes I ask the same questions about gear my male counterpart asks and the answer I receive is often coupled with contempt and doubt … while the answer the man gets comes out detailed and professional."
Besides the women who reach out to Sfeir to join her fishing school, male fishers sometimes reach out to invite her to join on fishing trips — on some of which Sfeir felt her fishing skills were being "challenged" and "tested." But she usually has the last laugh.
She recalls an evening when she went spearfishing — a practice that often requires diving — with a fisherman, who felt he needed to stay close to her to protect her but then got cold feet and left her alone in the water.
"I could tell he got scared in the dark deep, but I stayed behind because this is a regular practice to me and I wasn't scared," Sfeir said.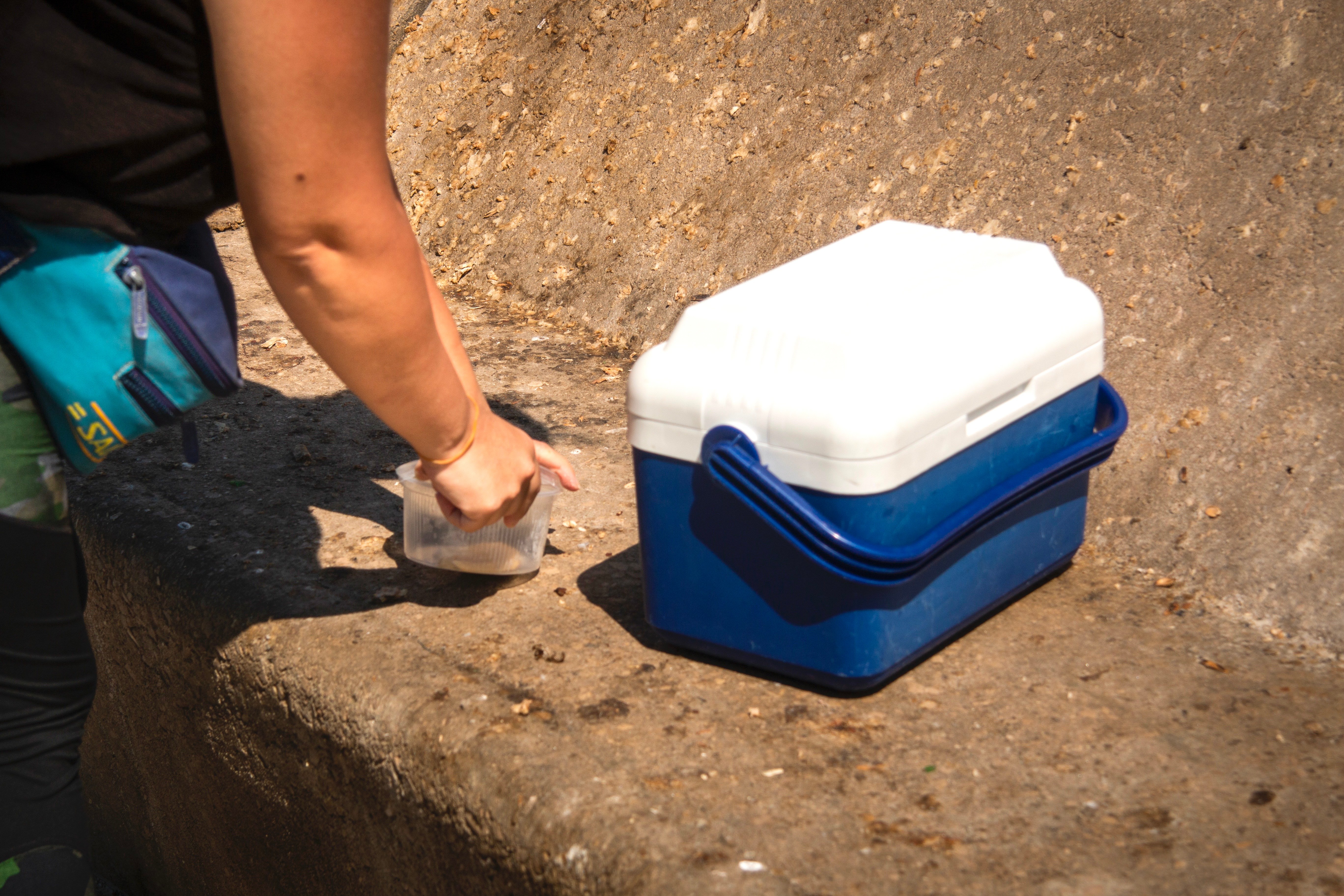 Patricia Nasr puts her fishing bait away. (Credit: Sally Abou AlJoud/L'Orient Today)
Economic crisis and dwindling fish populations
Lebanon's fishing sector is a largely mom-and-pop operation. "The national fish production in Lebanon is almost entirely consumed locally, the total catch of fish by Lebanese artisanal fishermen barely reaches 4,500 tons," marine expert Jina Talj told L'Orient Today.
With Lebanon's three-year economic crisis deepening at a breakneck speed, resulting in an inflation rate that exceeded 200 percent this summer, Nasr, who is currently unemployed, notes the spiraling prices of baits and fishing gear in a disheartened tone of voice.
"We used to buy shrimp bait for LL5,000 ($3.3) to fish all day, now LL5,000 would buy you a shrimp's leg," she said. She added, "Sometimes I cry thinking of those that depend on fishing for livelihood. I can stop whenever I want if I can't afford it."
Lebanon's service-oriented economy hinges on imported goods, which includes most fishing gear, items that are usually sold in US dollars or their equivalent at the parallel market exchange rate.
But amid the economic crisis, Sfeir and her fishing community have to fork out whatever dollars they have saved up to replace gear and cover boat maintenance costs to sustain their fishing trips. Although Sfeir is financially stable, not all her students and fellow fisherwomen who join her on the boat are.
Siham Abboud is the eldest skilled member of the fishing club. She has been accompanying Sfeir on her fishing trips, some of which are all-nighters, for years. Abboud explains that they used to, for example, buy a box of 100 hooks for LL5,000 prior to the crisis, but now, the same box costs almost LL200,000 (equivalent to $135 at the official exchange rate) and is of lower quality.
"We always need to replace gear like hooks, lines, fishing rods, nets, coils," the 68-year-old fisher said, adding that the worst part is when the boat needs repair parts.
"It is very hard to fix and often docks at the shore, unserviceable, for a while before we can fix it," she pointed out.
Abboud manufactures some gear herself, such as molding fishing sinkers made of lead and fishing rigs made of multiple lines, hooks and swivels. Many fishers order the gear from her in considerable quantities.
Mirella Kurdahi, 39, also joins Sfeir on some of her fishing trips but has her own traditional Felucca, or a skiff, which was passed on to her from two generations and which she skillfully pilots. Kurdahi, who grew up in the ancient port town of Jbeil, in north Lebanon, is now nostalgic about a time when the Mediterranean Sea teemed with varieties of native fish — sea bass, dusky grouper, yellowmouth barracuda.
"We used to go fishing and in half an hour remove two kilos of fish to have for lunch. Now, we sometimes have to wait two hours to catch one fish," she noted.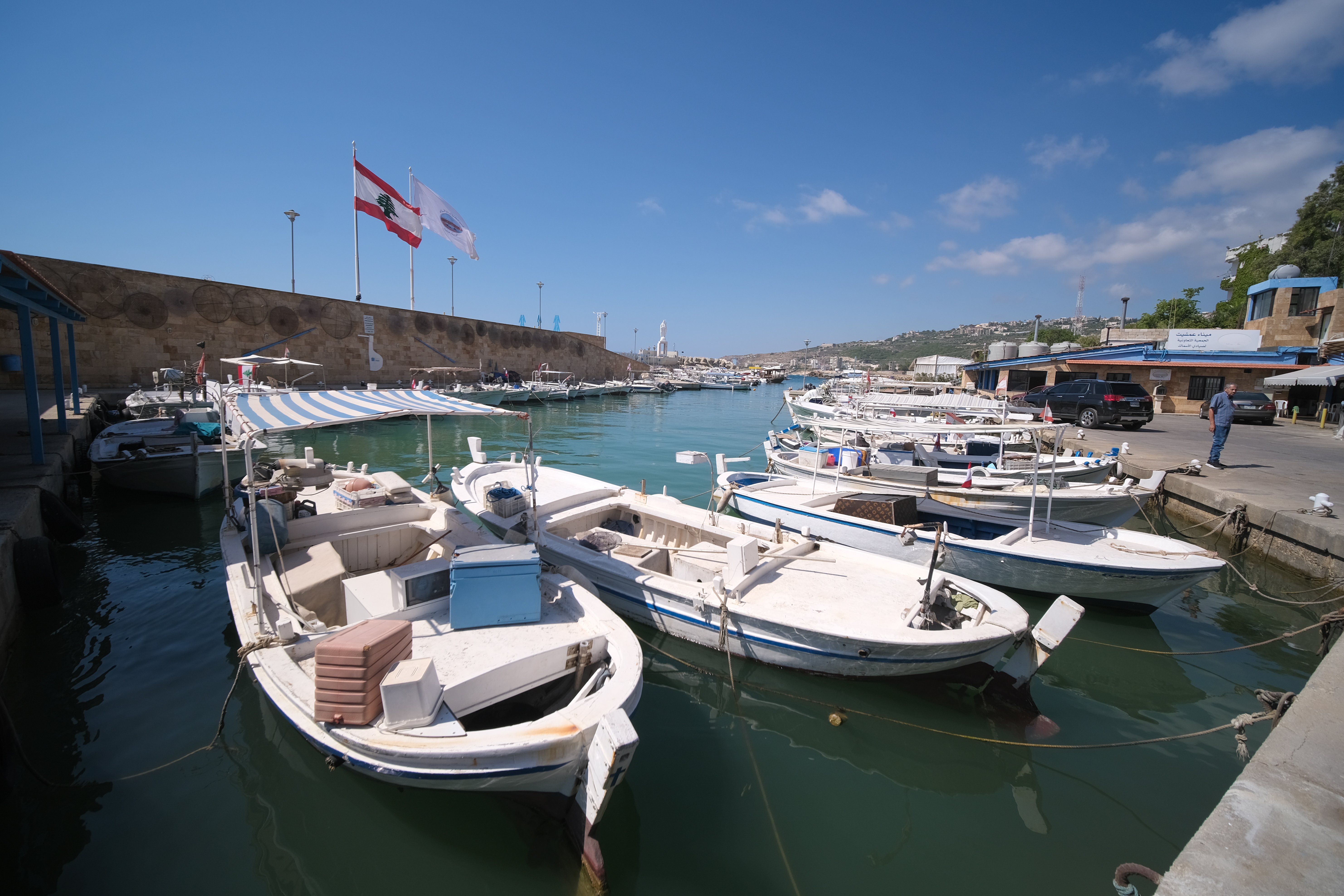 The fishing port of Amchit, a seaside town north of Lebanon. (Credit: João Sousa/L'Orient Today)Marine scientists Myriam Lteif and Sharif Jemaa said in a statement that in a fish stock assessment at the General Fisheries Commission for the Mediterranean, "several studied commercial fish stocks in Lebanon, such as the Common Pandora (Pagellus Erythrinus), the striped seabream (Lithognathus mormyrus) and the round sardinella (Sardinella aurita) are found to be overexploited," adding that the status was given upon the result of "many years of biological data collection" by the country's National Center for Marine Sciences.
While the numbers of some native fish are dwindling, Talj told L'Orient Today, "Following the opening of the Suez canal, at least 300 Indo-Pacific species known as the Lessepsian migrants — such as the pufferfish and the lionfish — have entered the Levantine basin, ravaging the marine ecosystem."
These non-native fish species pose a stress factor to several native and commercial fish species in the Mediterranean Sea, Talj explained.
They can also pose a danger to fishers. Abboud lost a part of her left thumb to a pufferfish, a toxic invasive fish species that tears fishnets and is feared to have an effect on decimating other fish stocks. The fish is non-commercial as its meat is poisonous.
Abboud was rushed to the emergency room with the cut-off part of her thumb, but doctors couldn't reattach it. Not even losing part of a finger could steer Abboud away from her passion. With an unflinching courage and uncompromising love for the sea, she was on the boat fishing with a bandaged finger the very next day.

BEIRUT/AMCHIT, Lebanon — It was a balmy morning, with anglers forming a row on the concrete outcropping overlooking the Mediterranean Sea along Beirut's Biel waterfront. Roughly at the heart of the line of mostly middle-aged men, some of them shirtless with cigarettes dangling from their mouths, others barefoot squatting on inverted buckets, two women anglers, each propping one leg against...