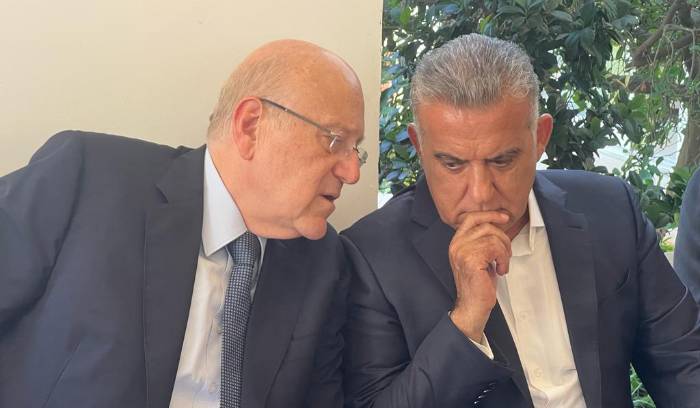 The man of difficult missions comes into play. Caretaker Prime Minister Najib Mikati on Friday tasked General Security Director General Abbas Ibrahim with negotiating the "voluntary and safe" return of Syrian refugees with Damascus.

Ibrahim, who is close to most political parties, as well as many Western embassies, is seen as an influential figure who has built up a growing influence behind the scenes, through his success in accomplishing his security prerogatives.
The man whose missions and negotiations, as well as some of his diplomatic trips, are carried out discreetly, is now taking charge of a new thorny issue: the presence of nearly a million Syrian refugees in a country that has been going through the worst socio-economic crisis in its modern history for three years. This crisis has exacerbated public resentment at the continued presence of these refugees.
Some politicians and experts recently claimed that thanks to the relief agencies' donations in US dollars, these displaced persons receive more aid than the poorest Lebanese.
The authorities have regularly called for the repatriation of Syrians, whose presence has cost Lebanon "more than $33 billion," since the war in Syria began in 2011, according to Lebanon's caretaker Foreign Minister Abdallah Abou Habib, although he did not cite the source of the figure.
The UN, however, has stressed that Syria is not safe enough for mass returns. The UN High Commissioner for Refugees (UNHCR) in its recent statement said that refugees "remain concerned about a combination of factors including, safety and security; housing; access to essential services and livelihoods … [and] until the factors inhibiting refugees' return are addressed, it is crucial to ensure they continue to be safe and protected in Lebanon."
Mikati's letter
It is in this vein that Mikati sent an official letter to UN Secretary-General António Guterres on Thursday, in which he recalled that Lebanon is hosting the highest percentage of refugees per capita in the world and called on the international community to adopt a "new approach."
"Lebanon has been hosting the displaced and cooperating with the international community until a durable solution to the Syrian crisis is found, provided that this [solution] is in no way at the expense of Lebanon," the caretaker prime minister wrote.
He also seemed to blame the presence of Syrian refugees for Lebanon's "high crime rate," which he said is increasing "due to the crises the country has faced, causing prison overcrowding that exceeds the capacity of the Lebanese authorities."
He pointed out in his letter that competition for limited job opportunities has further heightened "tensions and security incidents," and increased illegal immigration into Europe.
"To date, the international community has been completely absent," he wrote, calling for a "new approach in managing the crisis of the Syrian presence before the situation worsens and gets out of hand."
A close adviser to Mikati told L'Orient-Le Jour that the latter sent this letter "because he is convinced that Lebanon can no longer bear the consequences of the presence of Syrian refugees."
He acknowledged that President Michel Aoun also insisted on sending the letter in consultation with Foreign Minister Abdallah Bou Habib and Social Affairs Minister Hector Hajjar, both close to the head of state.
"There may be disagreements between the president and prime minister-designate on some issues, but this does not mean that they suspended cooperation," said the above-mentioned adviser. He added that they see eye to eye about the issue of Syrian refugees.
And Hezbollah?
A political observer believes that Mikati, through this letter, has delivered a message to Hezbollah — which controls the refugee issue through its military presence in border areas including Zabadani, Qousseir and Qalamoun — by adopting a discourse similar to that of the president, Hezbollah's ally, whose term in office expires in a little over a month.
Mikati has also reassured the Maronite Church, which has concerns about the presence of Syrian refugees on Lebanese soil. On Sunday, Maronite Patriarch Bechara al-Rai addressed them directly in his homily, saying, "A first war was imposed on you, your country has been torn and destroyed. But if you do not return home, you will be creating a second war, with your own hands. You are destroying your history, your culture and your civilization," he said. "You cannot stay in Lebanon, at the expense of Lebanon, and derail its economy," he continued, calling for a dialogue with Syrian President Bashar al-Assad to resolve this issue.
Commenting on tasking Ibrahim, Mikati's entourage believes that based on his experience, Ibrahim can allow this file to move forward. "Gen. Ibrahim has already a long experience in the repatriation of Syrian refugees, through operations organized by the General Security," said a source close to the Grand Serail.
Ibrahim can also count on his excellent relations with the Assad regime, and with Hezbollah, which is militarily involved alongside the regime. He also benefits from the confidence the Americans have in him since he was tasked by the White House to negotiate the release of journalist Austin Tice, who has been missing in Syria for over 10 years, with the US believing "with certainty" that Tice has been held by the Syrian government, although Damascus has denied this.
Hezbollah's circles, however, deny any direct involvement in the case of refugee return through Ibrahim. "Hezbollah is following up on the issue closely and is putting all its efforts at the disposal of the Lebanese state to enable the return of the refugees," said Kassem Kassir, an analyst close to the Iran-aligned group.
'Mikati has finally woken up!'
Beyond his personal qualifications, the appointment of Ibrahim seems to have political significance. According to information obtained by L'Orient-Le Jour, Mikati, through his letter, seeks to pull the rug out from under Issam Charafeddine, caretaker minister of the displaced. Charafeddine, who is known to be close to the Syria-aligned Druze leader Talal Arslan, had launched an initiative in June to repatriate 15,000 refugees per month. He even went to Syria in August to discuss this issue with the regime.
This move had set some on edge. At the international level, UNHCR criticized the minister's plan and refused to take part in the negotiations between Lebanon and the Assad regime. It called on the Lebanese government to "respect the fundamental right of all refugees to a voluntary, safe and dignified return and the principle of non-refoulment." Then, Charafeddine threatened that he would resort to the Lebanese laws and unilaterally repatriate Syrians in Lebanon.
At the local level, Minister of Social Affairs Hector Hajjar answered back, saying that Beirut "can not take unilateral measures," and recalled that the Syrian refugees' case is rather within his prerogative.
Speaking to L'Orient-Le Jour, Charafeddine fired a barrage of remarks at the caretaker prime minister, whom he accused of standing behind Hajjar's remarks. "Mikati has finally woken up! We have been talking for months about the urgency of repatriating Syrians and the danger they pose. He was hiding behind Hector Hajjar. Finally, he sent this missive to ask for money, not to kick start the repatriation process," said the minister.
He, however, said that it is a good thing that Ibrahim was appointed for this task. "At least the head of [General Security] is a practical man and has good connections in Syria. It will be easier to deal with him than with Hajjar," Charafeddine added.
According to the minister of the displaced, Ibrahim already opened an office in the Bekaa Valley, where Syrians can register for their voluntary return. Around 350 Syrian families residing in Ersal have already registered.
For his part, Hajjar said that Ibrahim's appointment does not negate the importance of his role in the file. "While the [General Security] head will handle the technical considerations, the ministers will continue to be in charge of the political aspect of the negotiations," he said.
The man of difficult missions comes into play. Caretaker Prime Minister Najib Mikati on Friday tasked General Security Director General Abbas Ibrahim with negotiating the "voluntary and safe" return of Syrian refugees with Damascus.Ibrahim, who is close to most political parties, as well as many Western embassies, is seen as an influential figure who has built up a growing influence behind...