BEIRUT — During the 32nd mass of the "martyrs" of the Lebanese Forces who died during Lebanon's Civil War, the party's leader Samir Geagea addressed "all opposition groups," asking them to come together and take responsibility for electing a "rescue president that will pull Lebanon from the pits of hell and lead the country towards recovery."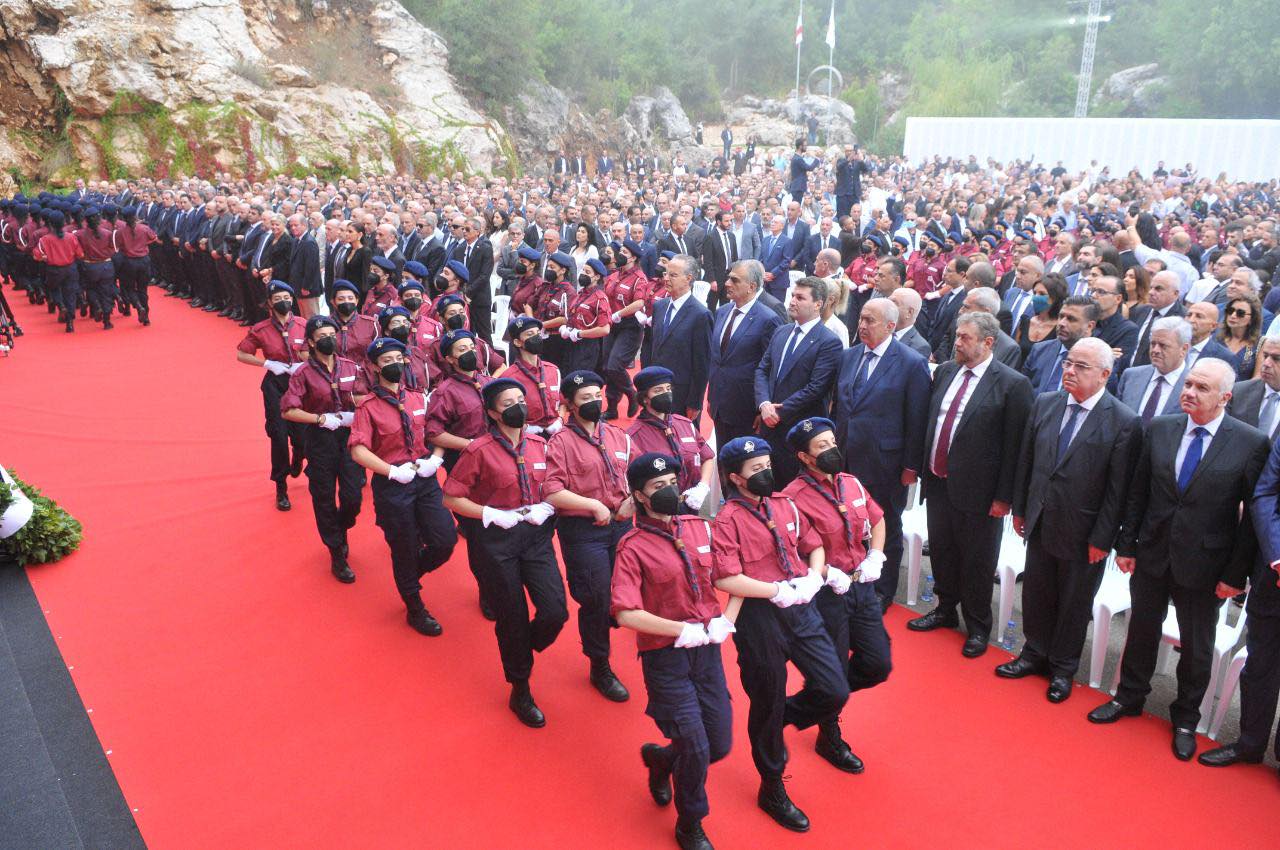 (Photo sent by the LF to L'Orient Today)
Geagea called on all the opposition parliamentary blocs: the Democratic Gathering bloc, the Kataeb Party bloc, the Change Representatives bloc, the Northern Representatives bloc, the National Moderation Bloc, the Renewal Bloc, the Sidon Representatives bloc, and the Homeland of man bloc to "come together and bring forward a president that can rescue the country."
The head of the Progressive Socialist Party, Walid Joumblatt, had in recent weeks extended his hand to Hezbollah. Geagea today attempted at bringing him back to the opposite side by calling on the Democratic gathering bloc headed by Joumblatt's son, Taymour, to help bring forward a president.
"It is our responsibility to elect a president, and not any president. We need to elect a rescue president," Geagea insisted. "We are ready to sacrifice everything, on the condition that all the opposition parties agree on one rescue candidate for the election. If we do not take this path, we would be betraying the population's trust in us," he warned.
Geagea did not present himself as a possible candidate in the upcoming presidential election. He also lashed out at Aoun's mandate, stating that Lebanon has not witnessed "such a failed mandate in its history."
The LF's chief also accused Gebran Bassil's Free Patriotic Movement and its allies of "obstructing the formation of a new government," stating that they are "preparing, as always, to disrupt the presidential election." He added, "It is certain that this is not in order to put forward a specific reform plan, but rather an attempt to bring Gebran Bassil as president of the republic to succeed Michel Aoun."
If no candidate comes forward, Lebanon risks a period of presidential vacancy. The constitutional two-month deadline to elect a successor to Aoun opened on Sept. 1 and will end Oct. 31. Najib Mikati's cabinet has been in charge of caretaking affairs since May 22 when it assumed caretaker status following parliamentary elections, but this situation could drag on if an agreement is not reached between all the parties in the Lebanese political game.
In recent days, the presidential camp and the Grand Serail have accused each other of obstructing the formation of a new government, despite several meetings between Aoun and Mikati. Many observers fear that Aoun will remain in the Baabda palace after the end of his term, under the pretext that it is impossible for a caretaker cabinet to exercise the prerogatives of the president in the event of a vacancy.

The issue of prerogatives resurfaced recently after government formation negotiations with the prime minister-designate, also the caretaker prime minister, appear to have stalled.
Last week, at a press briefing at his residence in Maarab, Geagea said that he "will oppose, by all means, the election of a president" from Hezbollah's camp. However, in today's speech Geagea did not mention boycotting the elections.
BEIRUT — During the 32nd mass of the "martyrs" of the Lebanese Forces who died during Lebanon's Civil War, the party's leader Samir Geagea addressed "all opposition groups," asking them to come together and take responsibility for electing a "rescue president that will pull Lebanon from the pits of hell and lead the country towards recovery." (Photo sent by the LF to L'Orient...