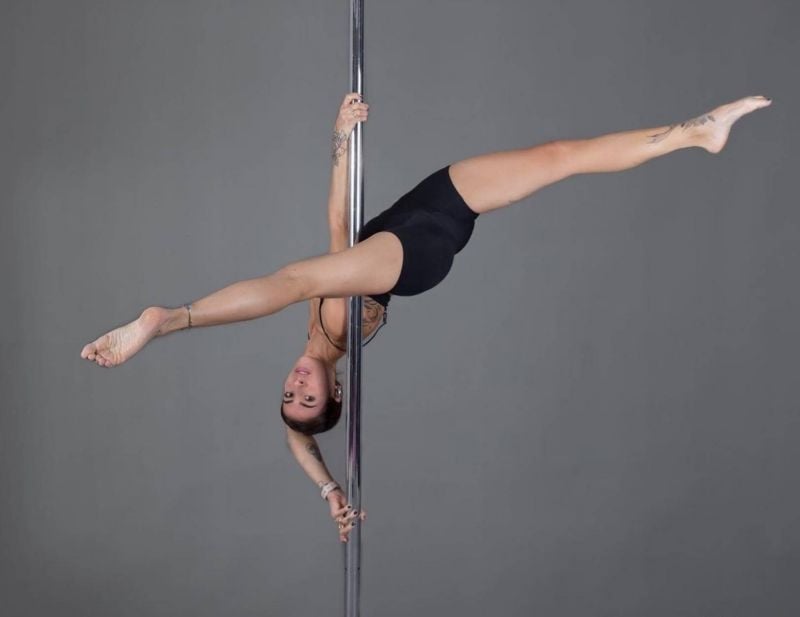 BEIRUT — The Pole Fit Lebanon community held its first pole dancing championship in Lebanon Sunday. Lebanon pole championship was held at Projekt, a club in Jal El Dib known to be a safe and inclusive space for many.
The championship was divided into three categories — juniors, including all dancers under 18 years of age; amateur, who have trained for two years or less; semi-pro includes; dancers who have two or more years of consistent training. Each level competed in several subcategories including Pole Art, Pole Drama and Pole Prov (provocative). Joining the Lebanese contestants were two international competitors. Adjudicating were two international judges, Manar 'Mint' Al Mokadm and Olga Yudina.
The Teacher
Lebanon pole championship is the brainchild of Pole Fit Lebanon founder Laura Ayoub. She says she discovered the form in Paris when she took a pole dancing class during a friend's bachelorette party. Her knowledge of pole dancing was then very limited.
"I had heard of it very briefly," she said. "I saw it once on social media and it caught my attention, but then I moved on."
Upon her return to Lebanon, Ayoub began self-training at home, and traveling to attend workshops whenever she could.
"After that first class, I felt very connected. [Pole dancing] spoke to me… It became a total obsession. [I was] completely distracted, even when I was working. [It was] all that I could look to," said Ayoub, reminiscing on her determination to succeed at that sport.
"You start setting goals — flexibility goals, track goals, endless goals."
Not long after, a friend of Ayoub decided to open a pole dancing studio and offered her a job as an instructor. At first she declined, Ayoub said, because "I really wasn't interested. I had a full time job and I wasn't sure I would know how to teach."
Eventually she caved in.
"My need to share this sport took over and I started feeling really frustrated," she recalled. "Nobody spoke the same language and I really did believe in the power of [pole dancing]. So I quit my job and started teaching."
Lebanon's pole dancing community has witnessed constant growth and more acceptance over the years.When she started, Ayoub said, she taught only one class a week at Athletes Anonymous gym in Mar Mikhael. Today, Pole Fit Lebanon has more than six instructors teaching classes at four gyms, private classes, and occasional workshops led by international guest instructors.
"It's an extraordinary discipline but my journey has had many ups and downs. After I won my category in 2019 [at the Pole Theater Egypt competition], I got injured and stopped training for a long time, even cutting down my classes," Ayoub told L'Orient Today. "It was a slap in the face, but it also gave me space to start expanding my business and focusing on different projects, like organizing this championship in Lebanon!"
She says she was inspired to organize Lebanon's first pole-dance championship while spending an evening with friends.
Erecting this project from scratch, on a very tight deadline, with no source of external funding (thanks to Lebanon's current economic crisis) brought new levels of anxiety to Ayoub's life.
In 2017 and 2018, she organized a pole dancing "showcase" as an expressive outlet for her students, while also raising funds for animal shelters and rescue — another of Ayoub's passions. The first showcase included only seven dancers. The second hosted 23 of them and filled a small room in Dbayeh, where family and friends gathered to cheer on their loved ones.
"I was really worried," explained Ayoub. "Looking back, I know a lot of people attended, but at that moment I thought, why would anyone show up? They don't know much about pole dancing, so I kept wondering, why would they care?"
Pole dancing is rarely accepted as a sport. Globally, particularly in more conservative societies, it is conflated with stripping — a problematic comparison. Many pole dancers are strippers, but many are not, and vice versa; not all strippers are pole dancers. Such distinctions have done nothing to break down the taboos and stereotypes or to prevent the horrid bullying dancers experience regularly.
"It's as simple as that," Ayoub explained with something like sarcasm. "For many people, there's a pole, like a stripper, there's a girl, like a stripper, and there's nudity, like a stripper."
The Community
Incessant negativity demotivates girls, guys and nonbinary folks from practicing this sport. With the help of Ayoub's instructors and gyms where dancers can practice the form, Lebanon's pole dancing community has been nurtured in a non-judgmental, supportive and fun environment. Here, humans of all ages, genders, sexualities and identities can thrive.
Among those exploring pole dance in Lebanon is Karine Boustani, and her daughter Kaelle.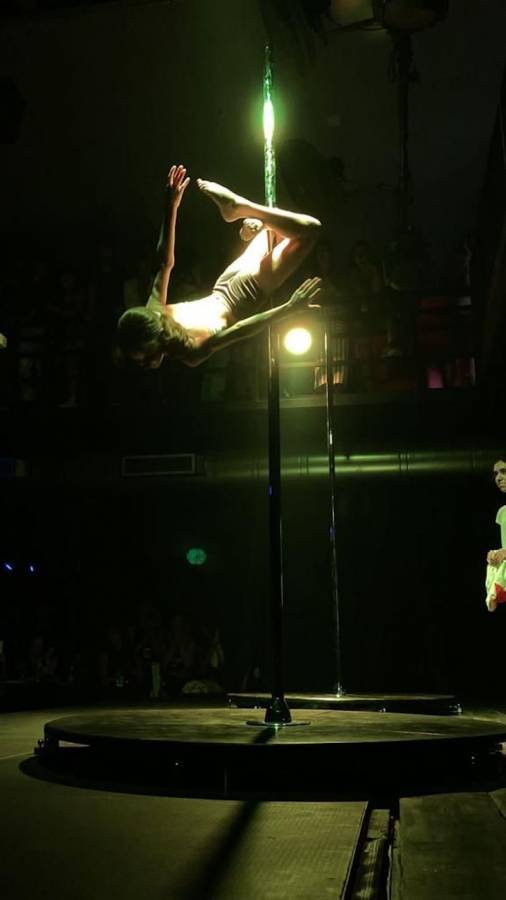 Kaelle Boustani competing in Lebanon pole championship. (Photo: Karine Boustani)
"I'm into sports. I [practice] yoga and aerial yoga," Boustani told L'Orient Today. "I was telling a friend in 2019 that I would love to try pole dancing. We searched [online] and found out that there are classes at [Athletes Anonymous]."
After her first few sessions, she decided to take her twin girls, nine years old at the time, to try it out. Of the two sisters, Kaelle was the more adept, and went on to competition success.
Boustani installed a pole at home and her girls used it for fun. When the entire country was in pandemic lockdown, the mother-daughter duo would train more often and more seriously. Then the girls' school, the Grand Lycée Franco Libanais, announced its students were invited to participate in a talent show with kids from eight countries.
"We worked hard at home, creating choreography, and she sent [Kaelle's] video. She was a winner," Boustani recalled with pride.
Now 12, Kaelle Boustani, also known by her stage name Lucky Bee, competed in the juniors category of the inaugural Lebanon pole championship and won the title.
"Some friends think that I'm crazy to let my kids get into that community, especially [since there] are gays in it. But my kids learned to accept each person without judging," said Kaelle's mother. "Everybody congratulates her on her hard work, even her grandparents!"
"While pole dancing, I discovered my strengths and my passion for it," said Kaelle. "I like this sport because it is unusual. I feel happy and free when practicing it."
Siwa, who prefers not to disclose her full name, has experimented with dance for many years and practiced several genres. She took a pole dance class two years ago but it didn't appeal to her. She gave it another shot around six months ago and forced herself to stick with it for a week.
"After two weeks, I started understanding what pole dancing is all about, and I got this feeling … that [Ayoub] always talks about. If you stick around long enough, you get addicted," explained Siwa.
"I would watch [Ayoub] do some tricks on the pole, and thought that I would love to do that. It's a discipline that requires strength. When I started unlocking some moves myself, I felt so good."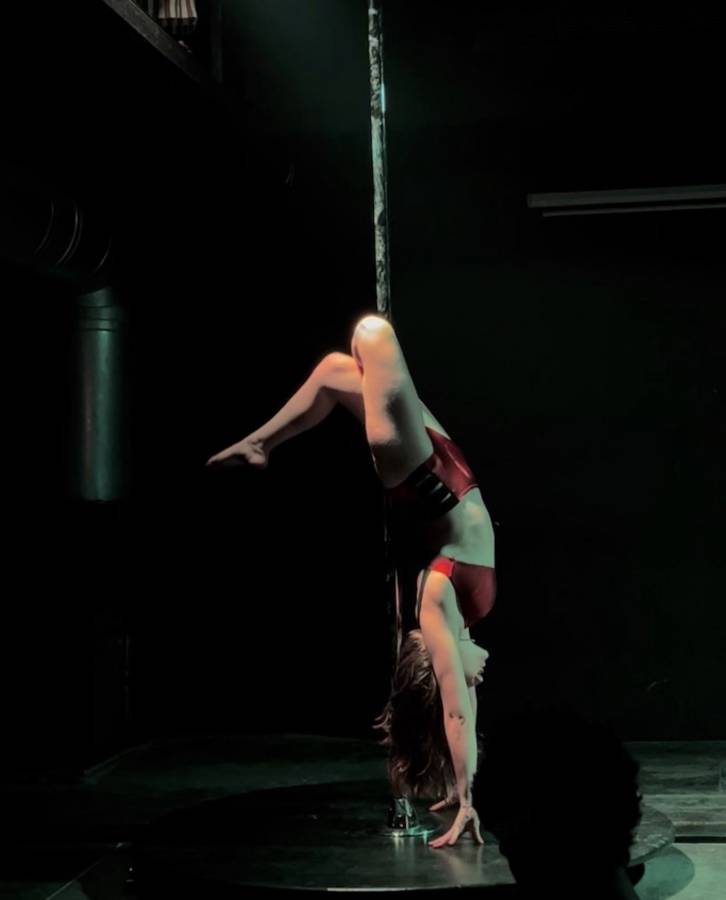 Siwa, captured during her performance at the Lebanon pole championship. (Photo: Instagram)
Siwa also participated in Sunday's Lebanon pole championship.
"I didn't think I'd be accepted to the competition," she said. "My friend kept hyping it, I got all excited and I've always wanted to perform, to get that experience."
For her performance, Siwa's choreography was inspired by Broadway musicals, especially the film adaptations Chicago and Burlesque, starring Cher and Christina Aguilera. The extravagant, dramatic form suits Siwa's dance persona.
"I wanted to have fun with my performance. So that's what I did. It required some acting at the beginning, which I was so thrilled with. I felt like I was embodying a new character, and it felt amazing to be on stage," she recalled. "I was super anxious before coming on stage, I was gonna throw up. I thought, oh my God, no, I can't do this."
As soon as Siwa stepped on stage and heard her song blasting from the PA system,, her anxiety evaporated, she said. Long hours of training, occasionally failing and feeling like an imposter are episodes of a journey that she cherishes.
She didn't win but Siwa is still glad she performed. "I was so proud of myself, and it made me never want to ditch pole dancing anytime soon," she said. "I'm making it a goal to incorporate it in my weekly dance classes and schedule. This competition had such a lovely vibe. I felt so much love."
The winner of the semi-pro Pole Prov category of the Lebanon pole championship spoke to L'Orient Today but also asked to remain anonymous.
"As a kid, I've always loved dancing and performing," he said. "The region I'm from in Beirut did not allow me to pursue anything related to dance. It was just always a hobby. It stopped being a thing when I realized that I was not supposed to be dancing the way I was."
After he stopped, it was a challenge finding a sport he actually enjoyed. "I hated the gym my entire life,," he said. "In 2017, I was working out at a gym, and I saw the poles [in a studio]. That's how I got into it. It was a beautiful escape from my day job. It was a great form of self expression. At the same time, it was an athletic exercise. It helped me become [more fit] and gain a lot of confidence."
Soon enough, pole dancing classes provided an expressive escape, where he could dance as he pleased, be it lyrical or exotic or any other form of dance. That was five years ago. His win on Sunday was the cherry on top, but not the end of his journey.
"Because I do have [my day job], I chose this to be my little secret for my little group of friends. We live in a country that has a lot of taboos. People would not understand the contrast between my job and this. So, I chose to keep that for myself."
As for his performance, he said it was that story of his little self that always wanted to be seen, but was never able to show.
Pole dancing has given people a means of expression that is mentally, emotionally and physically taxing and incredibly rewarding. As the community expands, the public's understanding of the sport has also grown. It remains a taboo in many circles, but many are no longer afraid to try and appreciate their bodies for the intense efforts the pole demands.
"I think that there's so much love that comes with pole dancing and so much passion — from the people teaching it to the people doing it. People are starting to see this, connect with this and understand that it's very rewarding," said Ayoub. "It's a healing journey for so many or just absolute love and passion for others."
"When I was leaving my old job, I heard many times 'Watch out.' 'It's just a trend,' people would tell me. Seven years later, it's booming more than ever. It's definitely here to say."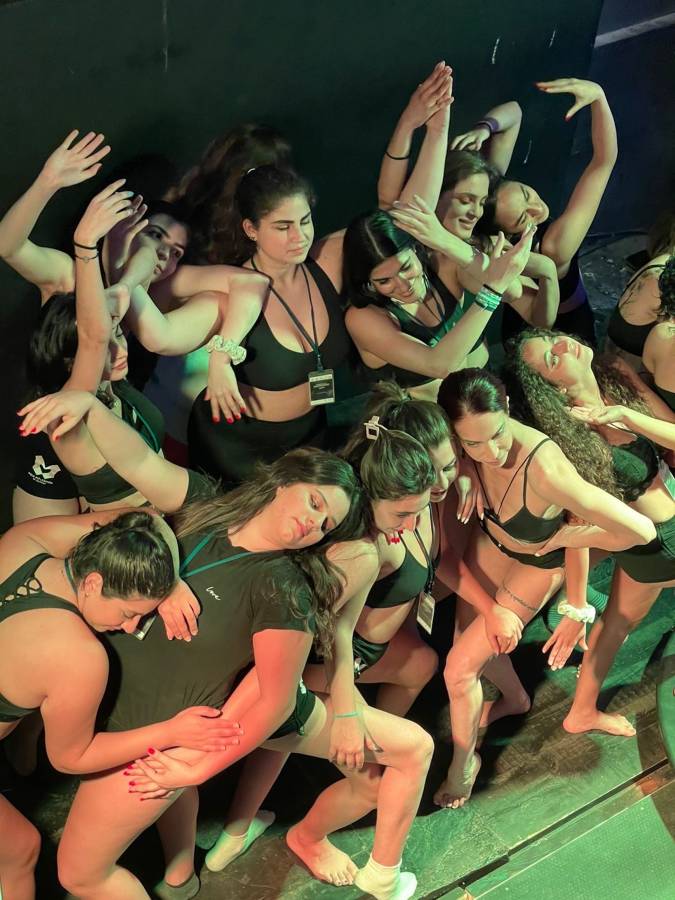 Pole dancers pose during the Lebanon pole championship. (Photo courtesy of Laura Ayoub)
BEIRUT — The Pole Fit Lebanon community held its first pole dancing championship in Lebanon Sunday. Lebanon pole championship was held at Projekt, a club in Jal El Dib known to be a safe and inclusive space for many. The championship was divided into three categories — juniors, including all dancers under 18 years of age; amateur, who have trained for two years or less; semi-pro includes;...