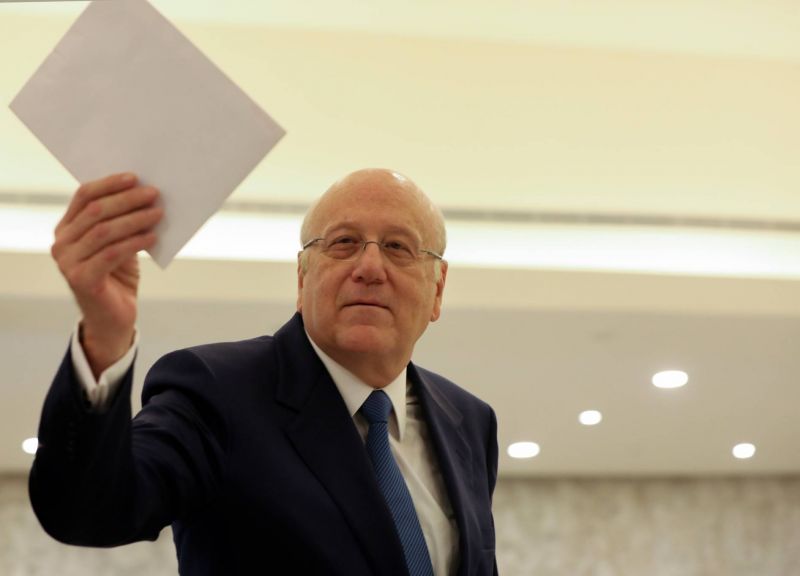 BEIRUT — Lebanon's new billionaire prime minister, Najib Mikati, has made a fortune off the M1 Group, a Lebanon-based holding company he co-founded along with his brother that has netted the two men a fortune of nearly $3 billion each, making them the richest in Lebanon.
But the group, however lucrative, has repeatedly come under fire by human rights activists for its track record of conducting business in countries under authoritarian regimes. It has made headlines for a questionable acquisition of a telecommunications network in Myanmar that observers warn could compromise users' privacy and lead to crackdowns on opposition to the government that took over following a February military coup.
The history of Mikati's empire dealing with authoritarian regimes has flummoxed local observers, as the premier is heading a cabinet that has vowed to set Lebanon on a reformist course.
"Mikati's history is not encouraging," Mohamad Najem, the executive director at the digital rights advocacy organization SMEX, told L'Orient Today.
The Mikati brothers' business ventures can be traced back to the 1980s, at the height of Lebanon's Civil War, when they co-founded a telecom company called Investcom.
Founded by the Mikati brothers at the height of Lebanon's 1975–90 Civil War, Investcom sold satellite phones to private individuals in Lebanon, then later expanded the telecom business to other countries including Syria, Sudan, Ghana, Liberia, Yemen and Benin.
In 2001, a decade before protests against Syrian President Bashar al-Assad eventually escalated into full-out civil war, Investcom won a lucrative license to operate a wireless network in Syria, just after Assad came to power.
The Mikatis sold Investcom for $5 billion in 2006 to MTN, a South African telecommunications company, but bought 10 percent of MTN through M1 Limited, their subsidiary. This gave them a predominant share in MTN, which they still hold.
The next year, the Mikatis diversified their group's holdings, and eventually the M1 Group became a major investor in one of Myanmar's largest independent cell tower companies, Irrawaddy Green Towers, which has a master lease agreement with military-backed telecom company Mytel for 677 towers countrywide. The relationship with Myanmar's military has landed M1 Group on Burma Campaign UK's "Dirty List" of international companies.
Then, in July, the Norwegian telecom firm Telenor, one of the biggest foreign investors in Myanmar, sold its operation to the M1 Group for $105 million.
The sale came just months after the Southeast Asian country endured a bloody military coup, in February, which resulted in the deaths of at least 1,000 people and forced an estimated 230,000 people to flee their homes.
The $105 million is only a small portion of the estimated $1 billion Telenor invested in Myanmar since it was granted a license in 2013. The company had lost nearly $750 million in May after its mobile business was restricted in the country following the coup.

The Norwegian firm cited "regulatory and compliance" challenges amid the deteriorating situation in the country.

"We have evaluated all options and believe a sale of the company is the best possible solution in this situation," Telenor said in a statement in July.
Myanmar's military regime had reportedly tried to force Telenor to provide user data including addresses and call history, which the Norwegian firm resisted. Reuters reported that the military junta was pressuring Telenor to implement intercept software that would allow authorities to monitor and spy on its users.

"[The] M1 Group will acquire all the shares in Telenor Myanmar and continue the current operation," Telenor said in the statement.

The sale has garnered widespread criticism by human rights activists, who expressed concern that the M1 Group will cater to the military junta's demands based on its murky record of dealing with corrupt governments.
A complaint filed in July against the deal by more than 400 Myanmar-based civil rights groups cites the Mikati family's track record of "conducting business in countries operating under authoritarian regimes."

The complaint outlines how Investcom, "a telecommunications company previously owned by the Mikati family, operated mobile networks in Yemen, Syria, Liberia and Sudan during the Darfur genocide."

The complaint was sent to the Organization for Economic Cooperation and Development the day after Mikati was appointed prime minister-designate in July.

"The Mikatis have shown that they see military coups and dictatorships as a business opportunity and have long partnered with despots," Yadanar Maung, a spokesperson for the activist group Justice for Myanmar, told L'Orient Today.

"We are deeply troubled by their track record of corruption and complicity in human rights violations directly through the M1 Group in Syria and Sudan," Maung said.

"There is no reason to believe M1 has an interest in preventing Myanmar military surveillance or that they will protect the metadata of Telenor's 18.2 million subscribers that they will receive as part of the sale."

Burma Campaign UK Director Mark Farmaner warned that handing over user privacy could result in further crackdowns on dissidents and journalists struggling against the military coup.

"The military are trying to identify anybody who is resisting their rule, to find out who they are, who their contacts are. We've seen more than 7,000 arrests since the coup in February," Farmaner told L'Orient Today.
"If data is handed over, we'll see more arrests and more killings," Farmaner said.
Speaking with L'Orient Today, M1 Group Executive Director Jamal Ramadan said the "accusations are completely irrelevant."
Ramadan defended the acquisition, saying the controversial deal is providing an opportunity for the country's residents to access services.
"Acquiring a telecom operator is helping with human rights and helping the population to access communication needs," Ramadan said.
"We are presenting an opportunity for the country because we are accepting to take a risk of a business in a country that has some challenges. It's an opportunity for us, but at the same time it has risks, and we are ready to take those risks," Ramadan explained.
Ramadan said he was not authorized to speak about any of M1's other activities outside Myanmar.
When reached by L'Orient Today, a spokesperson from the prime minister's office declined to comment on anything related to M1's business dealings, saying the topic is a separate issue from Mikati's work in government and as a premier.
At home, the history of the Mikatis' holding company has Lebanese activists saying they are concerned for the future of the country's online and data privacy now that the telecom tycoon is prime minister.
Najem, the SMEX director, cited data collection under Mikati when he was prime minister in 2013, when the cabinet backed the premier's demand that he be permitted to approve or decline data requests by the Internal Security Forces. The information would have allowed authorities to track cellular phones.

"We are concerned because human rights intersect globally. If you don't care about authorities [collecting user data] … in Myanmar, then why would you care about it in Lebanon?" Najem said.
Ayman Mhanna, the director of the Samir Kassir Eyes Center for Media Freedom, said it is up to the international community to hold Lebanon's political actors and their business dealings accountable.
"The problem is that the international community favors stability over any other democratic standard in Lebanon, and their support for democratic standards is very often lip service," Mhanna told L'Orient Today.
"The answer should be a real scrutiny into this person's activities and any other Lebanese politically exposed persons activities in Lebanon and worldwide and making sure that all legal measures are taken to protect human rights and peoples' individual rights."
BEIRUT — Lebanon's new billionaire prime minister, Najib Mikati, has made a fortune off the M1 Group, a Lebanon-based holding company he co-founded along with his brother that has netted the two men a fortune of nearly $3 billion each, making them the richest in Lebanon.But the group, however lucrative, has repeatedly come under fire by human rights activists for its track record of...