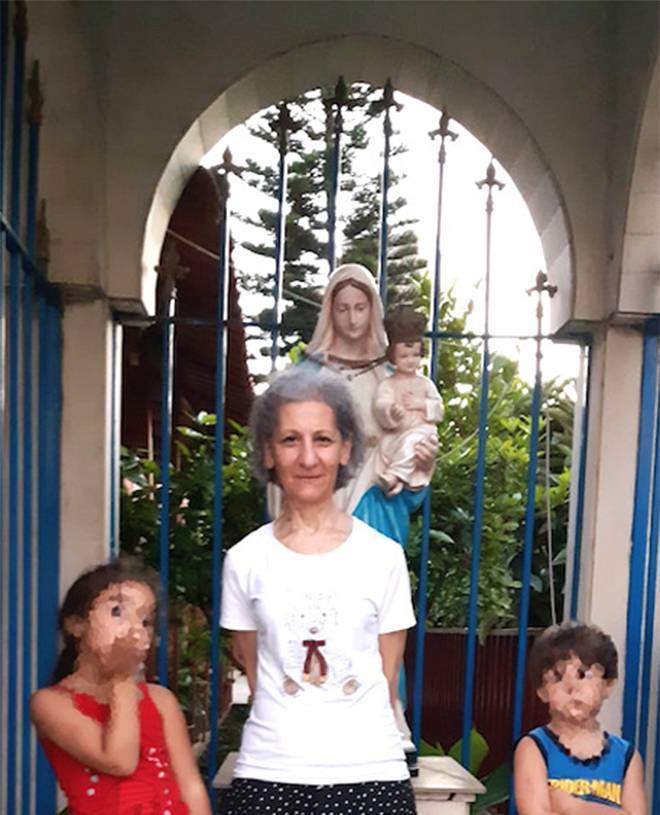 At around 3:30 p.m. on Aug. 4, 2021, as tens of thousands of Lebanese set out for the Beirut port to mark the first anniversary of the blast that ripped through the capital a year ago, Arlette Katta died in a health care center in Ghadras, a town in Kesrouan.
A year earlier, at 6:08 p.m., Arlette, a pharmacist, had been blown away by the port explosion.
It wasn't the physical injuries that got the better of the 64-year-old woman. It was her hidden wounds — the wounds of the heart, the soul, the spirit — from which she never recovered.
The trauma from the blast, which tore through her pharmacy in Karantina, a neighborhood adjacent to the port that was among the most devastated by the tragedy, crushed her body.
Her passing is an extreme case of the consequences wrought by the traumas of Aug. 4, but it reveals what much of the population has suffered from. Aug. 4 is always on the mind.
A survey published a few days before the anniversary by the United Nations Children's Fund (UNICEF) found that of the 1,200 families surveyed, one in three reported having children who are still showing signs of psychological distress; almost half the respondents said the same of adults in the family.
"After the explosion, she was never the same again," says Arlette's brother Michel, 45, sitting in the living room of his house in Karantina, where workers are still carrying out repairs to the damage caused by the blast.
Beside Michel sits Marlene, his sister, clad in black.
"It was the detonation that killed her, nothing else," Michel says.
On Aug. 4, 2021, the "backbone" of the family "went to heaven," adds Marlene, 59, who is still in shock.
A year earlier, in the few minutes before the explosion, Marlene was with Arelette in her pharmacy, the only one in the neighborhood.
Residents of Karantina knew that even if one could not afford their medicines, they wouldn't come out of Arlette's pharmacy empty handed.
On that same day, a new employee joined the two sisters in the pharmacy. "It was high time for us to step out of the country to breathe a little," Marlene recounts.
In a country that had already been plunged into an acute multidimensional crisis, Arlette was having a hard time coping with the consequences of emerging medicine shortages. A pharmacist for more than 40 years, she was having trouble coming to grips with the fact that she was unable to meet her community's needs.
"She was depressed because she felt she was letting her clients down every time she couldn't provide them with the medication they needed, as many drugs were out of stock. At one point, she even considered closing the pharmacy," Marlene recalls.
At 6:08 p.m. Arlette was standing behind her desk at the back of the pharmacy when the explosion slammed her toward the counter. The walls, the windows and the ceiling crumbled on her sister.
"I was under the debris. She thought I was dead," Marlene says with a lump in her throat. It was the new employee who pulled Marlene out of the rubble.
"When I was back on my feet, I yelled, 'Arlette, Arl …,'" Marlene begins saying, but her words are drowned in tears.
At that moment, Arlette was standing, petrified. "What was that?" she said. These were last the words she would ever speak.
Marlene tried to get her sister out of the destroyed pharmacy. She couldn't. Neither could the new employee. Arlette was paralyzed.
"I started screaming for help," Marlene says.
Joseph Nassar, a neighbor and childhood friend, heard her cries.
"We lifted the metal shutter. Arlette's teeth were chattering, her hands clenched into fits. The muscles of her legs twitched," Nassar recalls.
It was time to frantically check on friends and family to see whether they were alive.
"Arlette was not walking normally. She raised her legs very high, then lowered them," Marlene adds.
On the way out of the rubble and back home, Marlene saw that her neighborhood was ruined. The buildings had collapsed; some had been totally blown up. The streets were covered in blood.
"Everything was red," she says, her voice trembling. Marlene found her mother. She made it out alive. "I handed her Arlette and continued my rounds," she says.
Dust and glass were everywhere. A woman had lost her eye but had not yet realized the full extent of her injury. Karantina was devastated.
When she rejoined Arlette and her mother, Marlene's other sister, Paulina, had just arrived from the nearby northern suburb of Naccache.
Paulina touched Arlette and then squeezed her. Arlette did not react. It was from Paulina that Marlene learned of the scale of the explosion.
The figures would come out later: at least 218 people dead and thousands injured. Entire neighborhoods were devastated, and 300,000 people were now homeless, including Marlene, her mother and sister.
In Naccache, where they sought shelter at her sister's house with her family, Marlene gave Arlette a shower. Arlette did not react. She remained motionless and silent throughout the night. She remained like that the next day, the day after, and for months afterwards
'She has to return to her home'
Marlene took her sister to a neurologist. Arlette was traumatized, he said. What to do then?
"She has to return to her home where she used to live," the doctor said. But her neighborhood, pharmacy and home were devastated. It was impossible for her to go back.
As days went by, Arlette became a shadow of the woman she once was. "She was dissolving," Marlene says. From August to September, she smiled only in the presence of children, but could not walk.
She was eventually prescribed medication, but it did not change anything. Some nights Arlette used to wake up screaming. At times, she whispered incomprehensible things.
In November 2020, she was admitted to a care center, on her doctor's order. But due to the COVID-19 pandemic, visits by family were very limited.
"We used to see her from behind a glass window. We could hear her teeth chattering," Michel recalls.
"She was no longer my Arlette," Marlene adds.
In April, her situation deteriorated further. Katta could no longer eat. She had to be fed with a syringe. "Her jaw and teeth were clenched," Marlene says.
In July, she was put on oxygen support for a few days, and then she was hospitalized.
"She needed surgery so she could be fed through a tube, but her stomach was too small. Given her general condition, she could have died during the operation. So it was decided to place a catheter in her nose," Marlene says.
Amid Lebanon's collapse, the specific foods Arlette needed were out of stock. Marlene, however, had managed to stock up on some for a month. But her sister did not last the month.
On Aug. 4, 2021, as protesters across Beirut were calling for justice, Arlette passed away. On the explosion's first anniversary, she "suffocated. Her blood pressure dropped suddenly, even though her condition was stable in the morning," Marlene says.
There is silence in the family's living room. Michel scrolls through the pictures on his phone. "Here's Arlette after the explosion," he says, holding out the screen.
In the photo, Arlette's small, frail body is curled up in her wheelchair, an oxygen mask covering her face.
Michel takes back his phone, scrolls again, then hands it back. A video shows Arlette before the explosion. She is on a swing with her nephews, teaching them the national anthem with a smile on her face. She loved her country, despite everything.
"It was unfathomable for her to leave Lebanon. Her greatest accomplishment was opening her pharmacy in 2002, after 20 years of hard work," Michel says.
"She helped everyone without any distinction," Nassar says. Katta was the pharmacist and "Karantina's doctor."
When she closed her pharmacy at 8 p.m., she often continued providing care to the neighbors.
Among them was Fady's father, who was on dialysis in 2014. When Fady learned of Arlette's death, he could not choke back his tears.
"Some drugs were too expensive for me. She gave them to me for free," Fady recounts. Beside him sits Tony. "Those who didn't have the money, she would give them the medicine they needed and tell them to pay when they could," he says.
Arlette visited "anytime" Souad's mother, who had cancer and needed help.
"No doubt she is in heaven now," says Michel, who restored the pharmacy to "exactly as she would have liked it."
"But she will never see it," he adds, before bursting into tears.
All of the people who once knew Arlette talk of the generosity of a woman who did not have an easy life. She lost her father to cancer when she was only 21. It was a painful loss for her, especially because her father did not see her graduate from the Faculty of Pharmacy at Saint Joseph University in 1981.
After her father's death, which shook the entire family, her mother sank into a depression. The family was in debt. Arlette and her sister decided to give private lessons as they continued their studies.
"She was the father, the mother and the sister of the family," Marlene says of her sister.
The eldest of five children, including a boy, Pierre, who passed away, Arlette took up the role of head of the family.
She registered her younger brother, Michel, in the best schools.
"She used to spend her entire salary to buy me clothes, and she didn't buy anything for herself," Marlene says.
A year after the Aug. 4 tragedy, Marlene and her mother, whom they have still not told about her daughter's death, have still not returned to their home.
"She keeps asking when the house will be repaired so that Arlette comes back. She was the oxygen of the house," Marlene says, holding back tears.
"I feel real rage against those who put the ammonium nitrate in the port, against those who are still glued to their chairs and are watching the people die slowly. But I know someday they will pay the price," she says.
This article was originally published in French in L'Orient-Le Jour. Translation by Sahar Ghoussoub.
At around 3:30 p.m. on Aug. 4, 2021, as tens of thousands of Lebanese set out for the Beirut port to mark the first anniversary of the blast that ripped through the capital a year ago, Arlette Katta died in a health care center in Ghadras, a town in Kesrouan.A year earlier, at 6:08 p.m., Arlette, a pharmacist, had been blown away by the port explosion.It wasn't the physical injuries that got...