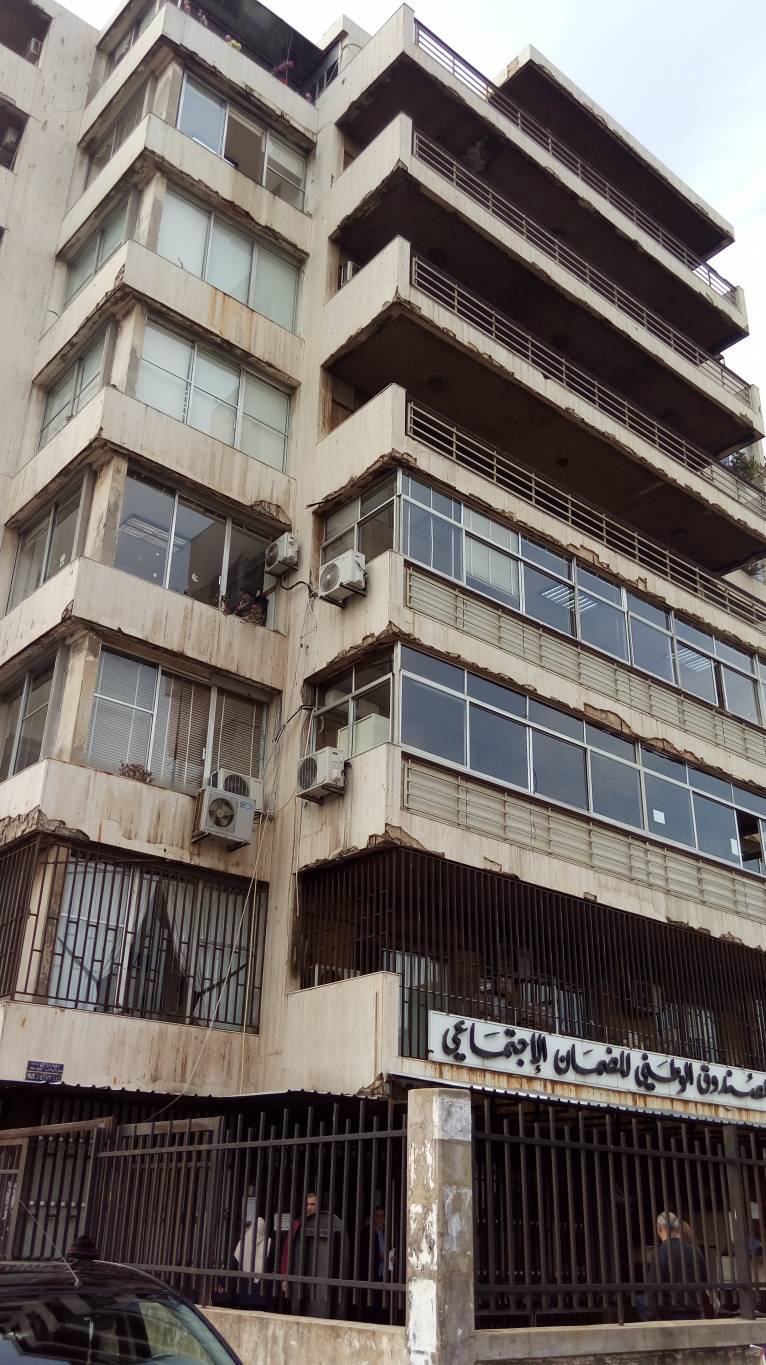 "I used to have hair," Adib* says, sitting behind his mukhtar's (local mayor's) desk, in a Beirut neighborhood. On the wall behind him hangs an imposing photo of Parliament Speaker Nabih Berri.
Adib swears that stress caused by life and work in crisis-hit Lebanon has cost him his well-dressed brown hair.
"Listen, being a mukhtar is never an easy task. We are here to serve citizens, and we are the direct representatives of the state administration. But in recent months, it has become unliveable," he says.
For the country's mukhtars, as for all the state administrators, the crisis was a hammer blow.
Since the end of 2019, Lebanon has been grappling with a devastating economic crunch that has caused the national currency, the lira, to lose more than 90 percent of its value.
The result: brutal inflation and serious countrywide goods shortages.
"Can the Lebanese state explain to us how we are supposed to print or photocopy documents without electricity?" Adib asks indignantly.
Mukhtars are locally elected officials who work at their own expense and generate a profit by carrying out administrative procedures, e.g., issuing birth and residency certificates for citizens upon their request.
According to Adib, however, the profit margin is growing increasingly smaller — sometimes it is even negative.
"On the one hand, a packet of A4 papers now costs more than LL55,000, seven times more than before the crisis. On the other hand, the citizens' purchasing power has been reduced to nothing. So, I cannot ask them to pay exorbitant prices," he explains.
An ink cartridge for a printer now costs at least LL250,000. As for a stapler, its price is now around LL90,000.
A knock at the door. It is Yanish*, a young Ethiopian woman married to a Lebanese, accompanied with her two children. But Adib has bad news for the young woman who wishes to be naturalized: he cannot grant her a family civil status extract under the name of her husband. Why? Because he does not have any template papers left.
"I already ordered a package, and the mail was due to arrive today, but the delivery guy told me he ran out of gas," he tells her.
"I have been 'updating' some old forms by adjusting the date and writing a sentence that there was no change in the civil status for many citizens. But in Yanish's case, I cannot do that because she had a child," Adib explains.
Yanish replies, clearly irritated: "I guess I just have to come back in a few days. I've got used to this."
In Lebanon, the inefficiency of the state administrative departments is nothing new. In 2019, the country was in 157th place on the World Bank's ranking for government efficiency and effectiveness, with a score of -0.83.
'The new one costs an arm and a leg'
Maria*, has been waiting for some time now in the queue on the first floor of the National Social Security Fund offices in Beirut's Bir Hassan district.
"Here, you have to be armed with unfailing patience, otherwise you will have a breakdown," she says.
Her son has just landed a job and she is at the NSSF to remove him from the list of eligible dependents that she covers.
But after a good half hour waiting in sweltering heat — the air conditioners have been turned off due to power cuts caused by fuel shortages — an employee informs her she is missing a document that she must get on the first floor.
Known for its endless queues and administrative mess, the NSSF is the perfect example of the chaotic public administration, regardless of the circumstances the country is going through.
The crisis, however, has made things even worse, rendering day-to-day work almost impossible.
Having to stand in line again, but this time in the sun, Maria quickly realizes that she will not be off the hook any time soon.
"My computer won't turn on!" shouts the only officer on duty when the power generator suddenly stops.
"It's not my fault. This machine is very slow and buying a new one costs an arm and a leg," he says in response to the complaints of impatient citizens.
"Do we still have a long time to wait?" asks Abu Samer*. He is a man in his 50s from Tripoli who works as a security agent.
Abu Samer has a lot to say about the NSSF.
"My mother, who is covered under my name at [the NSSF], fell and needs a leg surgery. I was surprised to learn that she no longer has health coverage. It appears that the NSSF has begun adopting new provisions in the area since the start of the crisis. But no one saw it was necessary to send me a message to warn me of this new development!" he says angrily.
NSSF employees are on the defensive. L'Orient-Le Jour sought commentary from several employees, but all refused to comment, even on condition of anonymity.
At the Finance Ministry, however, a public servant does not hesitate to let off steam.
"Yes, the situation of public administrations in Lebanon is terrible, and the crises hitting the country have only made the situation worse," Jamal* says.
"The other day, a colleague of mine asked people to bring their own A4 papers with them for the printer, can you believe it!" he continues.
Jamal also complains that he has too much work to do since a rotation system was put in place as a preventive measure against COVID-19.
"We have an increased workload, power outages, an unpleasant work environment and a lack of equipment. So, employees sometimes make mistakes, and frankly, I find this understandable," he says.
"What's more, our salaries are really not worth much and our health insurance coverage only exists on paper now," Jamal laments, adding that there have never been enough public servants at the state departments.
"People in general think that there is a surplus of employees working in the public sector. But in reality, we are understaffed. The majority of civil servants are either in the armed forces or day laborers. As a result, the bulk of the workload falls on a handful of people," Jamal explains.
According to a 2019 study by the Lebanese daily An-Nahar, of the country's approximately 300,000 civil servants, only 25,000 (i.e., 8 percent) work in public administration, with the majority being employed within the armed forces (40 percent), public institutions, such as Electricité du Liban or the Regie Libanaise des Tabacs et Tombacs (38 percent ) and the public education sector (15 percent).
The public administration's employees, who feel their offices are understaffed, find themselves under mounting pressure.
Many are leaving
Behind these figures lies a political system that makes public employment a major tool of patronage.
"We know that recruitment in public administrations is plagued by corruption, nepotism and sectarian quotas," says Makram Ouaiss, executive director of the Lebanese Center for Policy Studies.
"Often, a group of people comes with each newly appointed minister to replace the employees who arrived with his predecessor," he adds.
Today, however, the most qualified employees are leaving.
For his part, Samer Hankir, an expert in public policy, explains that many public servants are quitting their jobs, not only because of all the strike movements and the health sector crisis, but also because of "the devaluation of the lira, which has severely slashed the purchasing power of those who are paid in the Lebanese currency."
"We have noticed that several competent civil servants are leaving the public sector in search of jobs paid in fresh dollars," he adds.
According to estimates by Information International, a research institute, the salary of a fifth-category civil servant ranges from LL950,000 to LL1,905,000, which is equivalent to between $50 and $110 at the parallel market exchange rate at the time of writing.
However, the situation is not the same everywhere.
"Some institutions, like the NSSF, are in a really dire situation especially when it comes to lack of equipment. The Finance Ministry, on the other hand, is relatively better supplied with computers and equipment. But with the current crisis, replacing or maintaining machines is prohibitively expensive," Hankir says.
This is probably why Adib has posted a sign next to Berri's photo in his office, asking people to pay in advance.
*This name has been changed at the interviewee's request.
This article was originally published in French in L'Orient-Le Jour. Translation by Sahar Ghoussoub.


"I used to have hair," Adib* says, sitting behind his mukhtar's (local mayor's) desk, in a Beirut neighborhood. On the wall behind him hangs an imposing photo of Parliament Speaker Nabih Berri.Adib swears that stress caused by life and work in crisis-hit Lebanon has cost him his well-dressed brown hair."Listen, being a mukhtar is never an easy task. We are here to serve citizens, and...