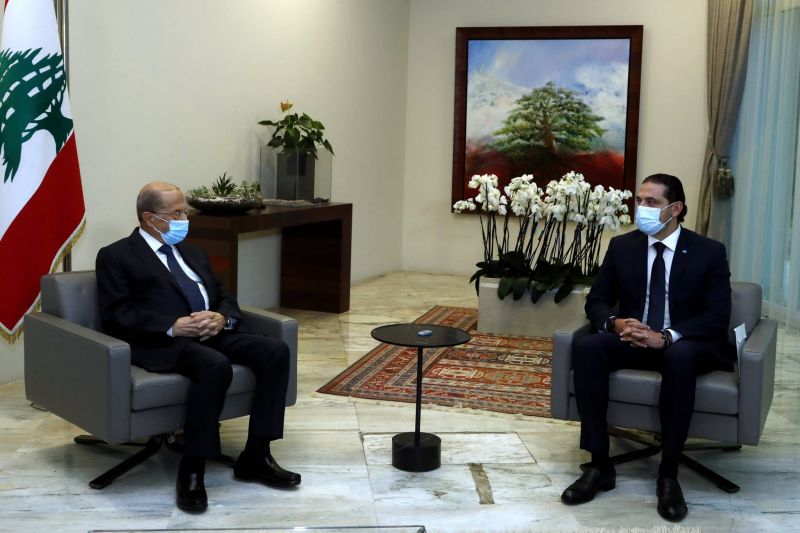 BEIRUT — In October 2020, almost a year to the day after resigning in the face of mass protests calling for him to step down, Saad Hariri secured enough votes from Parliament to again head a new government.
But five months in, Hariri and President Michel Aoun — tasked by the constitution to form a cabinet together — have accomplished little more than trading insults on airways, with each accusing the other of obstructing the government's formation to secure a favorable makeup for him and his political allies.
This public spat came to a head Monday when, following his 18th meeting with Aoun, a visibly frustrated Hariri handed journalists a copy of a cabinet lineup that he said he had previously given Aoun. In a short but fiery statement, he accused the president of maneuvering to secure a "blocking third" veto power in the government, whether it comprises 18, 20 or 22 ministers.
Aoun's office responded by publishing a table that proposed a sect-by-sect breakdown of ministries without suggesting ministers' names, which the president said he had offered Hariri to guide him in forming the government. Hariri's office then released a final document appearing to back up his claims, which the presidency alleged was outdated.
While disagreements between Aoun and Hariri are not out of the ordinary, their decision to make public conflicting, unofficial cabinet proposal formulas and lists marks an unprecedented escalation.
Doomed from the outset
The dispute between Aoun's and Hariri's camps over the current government's formation can be traced back to Hariri's nomination, when Aoun and the Free Patriotic Movement, which the president founded, withheld their support.
Aoun, who must call for binding parliamentary consultations to name a new premier, postponed them several times, before finally sending MPs a letter on the eve of Hariri's nomination, asking them to "use their conscience while nominating the next prime minister."
A source close to the president, speaking on condition of anonymity, told L'Orient Today that Aoun believes Hariri is unable to form a government independent of external influence.
"Hariri is awaiting a rapprochement between Iran and Saudi Arabia that would greenlight a government with him at the helm," the source said, adding that Hariri's most recent claims regarding the blocking third are a smokescreen to buy time for regional powers to strike a deal vis-à-vis Lebanon.
Forming a government without Saudi Arabia's backing would amount to political suicide for Hariri, who has previously had deep economic and political ties with the country, the source said.
Hariri has repeatedly denied being beholden to the kingdom, saying in a statement earlier this month that he "does not expect the approval of any external party to form the government, not Saudi Arabia or anyone else."
The source also claimed that Hariri is affording his party, the Future Movement, as well as Hezbollah, the Amal Movement and the Progressive Socialist Party, the ability to name ministers, while also opting to nominate Christian parties' ministers for them.
"Either Aoun and Hariri should nominate the 18 ministers together, or each party nominates its own," he said, adding that the nine Christian ministers would be split between the FPM, the Marada Movement, long-standing FPM ally the Armenian Tashnag party and the SSNP to avoid any group getting a blocking third.
What's more, "the distribution of portfolios isn't fair," the source said, noting that the president has been offered less influential cabinet positions such as the culture and education ministries.
Finally, Aoun's camp criticizes what it perceives as a lack of cohesion in Hariri's lineup.
"How can a minister be both an expert in foreign affairs and environment?" the source asked, referring to Rabih Narch, who was slated to be foreign affairs and environment minister in Hariri's proposed lineup.
Whatever slim hopes of both men finding common ground have now been diminished, an FPM parliamentarian told L'Orient Today on condition of anonymity.
"We've entered a new phase with no end in sight," he said.
A view to the future
Meanwhile, during the past five months Hariri's camp has held fast to the accusation that Aoun is attempting to sabotage the premier-designate's government formation process by seeking a blocking third veto power.
"Michel Aoun's demands clearly mean that he already intends to obstruct a 'mission cabinet' that will work on a way out of the crisis, on reforms and on a recovery," Moustapha Allouche, a vice president of Hariri's Future Movement, told L'Orient Today's sister publication, L'Orient Le Jour.
Aoun "wants Hariri to submit or recuse himself. It will be neither," Allouche said, asserting that the president would prefer to reactivate Hassan Diab's resigned government, an idea touted in a speech by Hezbollah leader Hassan Nasrallah last week, rather than Hariri heading the government.
"Hariri has given Aoun all possible concessions except veto power," MP Hady Hobeiche (Future/Akkar) said. Hariri's list includes five Christian ministers who would be appointed by the president, another from Tashnag and the seventh by Marada. The eighth appointee would be chosen in coordination by Hariri and Aoun. Joe Saddi, the chair of consulting company Strategy&'s Middle East office, would take up the post of energy minister.
Every energy minister since 2009 has been affiliated or allied with the FPM, making Aoun's party the most visibly associated with the electricity sector.
"Is six ministers not enough for him?" Hbeich said, signaling that Hariri was "even willing to discuss a name other than Ziad Abou Haidar," whom the premier-designate has proposed to head the Interior Ministry.
Hobeiche also noted that a comparison between the list released by Hariri on Monday and another flashed to cameras in February that purportedly included the names Aoun had presented belies the accusation that Hariri is not allowing the president to name ministers.
"Aoun hand-picked four names" — Antoine Klimos, Walid Nassar, Saadeh El Chami and Abdo Gerges — "to go alongside Fadia Kiwan, whom he backs, and the Tashnag minister," Hobeiche said. This puts him at six ministers, one shy from the highly coveted blocking third.
Hobeiche blamed the FPM's political calculations, which he said are based on the assumption that the upcoming government will be in place until after Aoun leaves office.
"They want veto power because they believe that this government will be in power after Aoun's term ends," Hobeiche said.
Lebanon, however, is facing two political junctures in 2022 — the first in May to elect a new Parliament, followed by the presidential election. Given the current political climate, however, concerns have arisen that Lebanon's ruling class will show resistance to holding the 2022 general elections.
"I believe Hariri and Aoun are more concerned about what happens next in terms of their presence in power and their political futures than they are about resolving Lebanon's predicaments," said Mark Daou, who was a candidate in the 2018 elections and is a founding member of Taqaddom, a small democratic progressive party.
Aoun, he said, is attempting to use blocking tactics to "better position himself to win in potential elections and hopefully have a bigger share to influence who the next president is."
Hariri, meanwhile, is "more concerned with winning international support."
Still, Daou conceded that the list given to journalists by Hariri on Monday included "some highly recognized names whose credibility and track record are highly acceptable," though stopped short from labeling the lineup as one comprised of "independent experts."
According to Daou, a number of proposed ministers fail to make the cut of "independent experts," despite assertions from Hariri on multiple occasions that this would be the case. Antoine Klimos, the proposed defense minister, is "close" to the FPM, Daou said.
Jihad Mortada, proposed as tourism minister and minister of state for administrative development, has been "well known as a Berri guy for years," he said.
Rabih Nerch has close ties to Walid Jumblatt, while Youssef Khalil, despite being "highly qualified, is a right hand of BDL Gov. Riad Salameh," Daou said.
Foreign actors
With no end in sight to the Aoun-Hariri impasse, the ball now appears to have been placed where neither politician claims to have wanted it to go: in the court of the international community.
Lebanon is no stranger to solving its internal disputes abroad, with political impasses more often than not resolved in the corridors of foreign diplomatic halls.
Last week, the United Nations' humanitarian coordinator, Najat Rochdi, sounded the alarm at the Security Council, urging Lebanese authorities to act urgently to halt the deepening crisis.
Meanwhile, French Foreign Minister Jean-Yves Le Drian, whose country has reportedly mulled slapping sanctions on Lebanese officials, pressed Monday his European counterparts to take action to stave off Lebanon's collapse.
"I want us to be able to discuss together the levers that would allow us to put pressure on the Lebanese authorities," he said.
The Arab League also chimed in Tuesday, urging Lebanese politicians to work quickly to end the stalemate and offering to intervene to help Lebanon end the rift.
"The secretary-general, Mr. Ahmed Aboul Gheit, feels great concern due to the debates in the political field that suggest that the country is sliding into a severe crisis situation, the features of which are now clearly visible," the Arab League said in a statement.
This was echoed by Jalina Porter, the deputy spokesperson for the US State Department, who expressed concern "about the latest developments in Lebanon and the apparent inaction of the country's leaders in the face of multiple crises."
According to Ziad El Sayegh, a public policy expert, the upheaval against the government that began in 2019 "drew the attention of the international community," which is poised to up the ante in a bid to break the deadlock.
"Lebanon is a founding member of both the United Nations and the Arab League, which is a call for the international community to step up its efforts," he told L'Orient Today.

BEIRUT — In October 2020, almost a year to the day after resigning in the face of mass protests calling for him to step down, Saad Hariri secured enough votes from Parliament to again head a new government.But five months in, Hariri and President Michel Aoun — tasked by the constitution to form a cabinet together — have accomplished little more than trading insults on airways, with each...