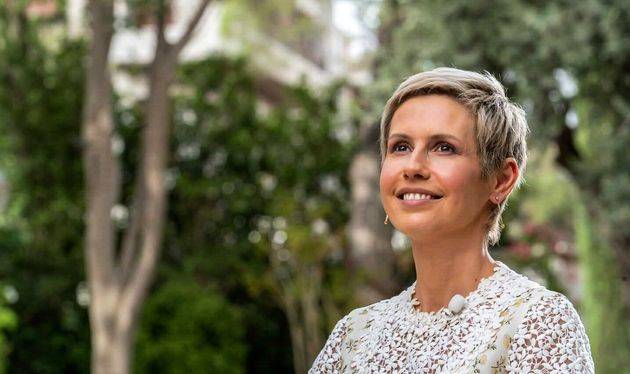 A photograph like giving the finger: Asma Assad is right in the center, wrapped in an anorak whose hood covers her hair. To her left appears her husband, Bashar, who does not attract the spotlight. At their side are soldiers who do not look very lively while in the second row stand the children of the couple: Hafez, Zein and Karim. The message is clear: "We are here and we intend to stay." The higher the pressure, the less visible the faults must be.
On June 17, a day before the snapshot was released, the Syrian president's wife was publicly humiliated after being put at the top of the US sanctions list related to the Caesar Act. Asma, according to the Trump Administration, is not just a dictator's wife. She "personally and in many ways participates in the horrors that Syria is witnessing today" and is even considered "one of the most notorious war profiteers" of the country. This is a rather surprising development for someone who stayed on the sidelines for 20 years, trying to find a place within the Assad clan. Asma, who was successively presented by the regime as the European lady, the glamorous woman or even the faithful wife, is now portrayed as a vulture ready to snatch what remains of a country left in shambles after nine years of war. Bad fiction?
We cannot be reminded enough how difficult it is to get close to the truth with regard to the Syrian regime. One by one, the doors slam in your face at only pronouncing her first name: Asma. "One can't say anything," a source, who has known her in different times, replies on WhatsApp. Despite that the regime has been weakened by a destructive war and an unprecedented economic crisis, it continues to inspire terror, far beyond its borders. "It is curiously easier to talk about Bashar than to talk about his wife," said a journalist of Syrian origin. Since her interview with The Times of London in February 2012 when she claimed to stand by her husband's side, she has not really made the headlines anymore. However, her name is today at the heart of a Dynasty-style serial plot: the Rami Makhlouf affair. The Syrian president's billionaire cousin, once responsible for holding the clan's purse strings, has been recently ostracized, and some suspect the hand of the First Lady behind this public disavowal.
"There is nothing to indicate that she has anything directly registered in her name. However, there are several bundles of information showing that she has a growing role in the family, that she seeks to protect her children and that, through them, she wants to strengthen her role," said Jihad Yazigi, editor-in-chief of the economic news site The Syria Report. Makhlouf, who has been stripped of several companies and forced to pay hefty fines, went so far as to challenge Bashar Assad in Facebook videos, playing on sectarian sentiments. The target of the attack is very clear: the pro-Makhlouf accuse the First Lady, from a large Sunnite family, of wanting to contend with the Alawites over their share of the cake. "She firmly believes that the Assad family will remain in power and has done everything to prepare her son Hafez for succession. She exerts a lot of influence over her husband, to the point of pushing him away from his own cousin, because she believes that this money, the family money, must be managed by her or her son. There are billions of dollars outside and she did not want to lose control of it," said Ghassan Ibrahim, a Syrian journalist based in London. Asma, a former business banker, intends to regain control by leveraging her managerial skills. It is no more the time of playing minor roles.
Instagram
The First Lady made her comeback in August 2019. With peroxided blond short hair, Asma Assad appeared on Syrian television to announce that she had conquered her breast cancer, which was detected a year earlier. It was a year of fighting the disease that the regime has turned into a propaganda tool. The president's wife could have gone to Russia for treatment, but she chose to stay in Syria. This meant to restore confidence to supporters by showing that, even if strangled by Western sanctions, the country is able to care for the sick. "In recent years, her image as a modest 'humanitarian' who, despite her fight against cancer, still devotes time to veterans and poor families, has been grossly highlighted by the regime," said Nizar Mohammad, a Syrian analyst based in Canada. Asma becomes an icon for some fervent loyalists who do not hesitate to comment under photos posted on her Instagram account, where she appears smiling but thin, with her bald head covered with a scarf. "Be strong, we need you," one writes. "You have cancer in your heart," an opposition commentator says, reflecting how Asma is reviled by many anti-Assad Syrians. "No one ever imagined for a second that she would take a stand against her husband or leave the country," said Zahi, an Aleppo activist who sought refuge in Turkey. "She assumed her role to the end without blinking."
Asma Akhras, the daughter of a Sunni cardiologist from Homs who lives in London, met Bashar Assad, then a student of ophthalmology in the United Kingdom, in 1992. A romance developed between the two a few years later, but it remained hidden until Hafez Assad's death. The old guard in power is said to have pushed the young Bashar, who became president in 2000, to get engaged with Asma in order to consolidate ties between the two sects. "This alliance with a Sunni was undoubtedly a shock for some Alawites. It has raised growing concern that Bashar, who presented himself as a modernist and a reformer, is opting for change in the country at the expense of his sect," said Nizar Mohammad.
Very quickly, the duo tried to present themselves as a perfect little modern couple so to join the circle of the greats of this world. During a state visit to France in 2002, Asma refused to follow the traditional program and preferred to go to the Paris School of Business Studies or the Bank of France. "She did not want to look like a trophy wife. We were surprised, because we were coming out of 30 years of Hafez Assad, who was an austere person and whose wife never appeared in public," recalled the Franco-Syrian photographer Ammar Abd Rabbo, who rubbed shoulders with the presidential couple. At the time, their discourse tended to break with the father's misoneism, and this was appealing to even the most skeptical.
"They did not say Hafez had done everything at best. They said, 'we are getting back a country where everything has to be done,' implying that 'nothing has been done before' and that is what I wanted to hear," the photographer added. Abroad, the illusion seemed perfect. Western newspapers were fond of this "British-born" Syrian who is proud, smart, beautiful and discreet. "She also took charge of her husband's image by recruiting foreign advisers and developing with their help a discourse aimed at Westerners, giving the presidential couple a westernized image — that is to say, frequentable," said novelist Isabelle Hausser, who lived in Syria between 2006 and 2009. The marketing campaign bore fruit.
Dr. Jekyll and Mr. Hyde
In 2011, Asma Assad was dubbed "desert rose" in a portrait published by the famous Vogue magazine. Less than a year later and while the war was raging, the portrait was removed. "If Asma Assad looks so 'Western'- whatever this word means- it is because, although she is a Sunni Muslim of Syrian origin, she was born in London in 1975," wrote the Italian version of Marie Claire magazine in May 2020.
The Assads master the art of playing Dr. Jekyll and Mr. Hyde: warm, modern abroad, and reserved, distant at home to continue to inspire fear. "Assad wears expensive suits and talks about secular pluralism when he is abroad, while at home, he emphasizes Syria's 'Islamic' character in cabinet meetings and poses in casual clothes when he visits ordinary Syrians," said Nizar Mohammad.
If the Syrian president is a pure product of the regime, his other half is a character at odds with the former First Lady, Anissa Makhlouf. "She had a certain popularity with the high society. A Damascene once said to me: 'She is our Lady Di,'" said Hausser. For several months, she drove incognito in a 4x4 to discover rural Syria and take the pulse of the country. "No kids in line sing-ing the national anthem or staging as one might imagine in this kind of regime. She saw what was wrong and heard some criticizing or reproaching the regime without knowing who they were talking to," said Abd Rabbo. She was not yet the sophisticated woman acclaimed in maga-zines for her grace and allure. "When we first met, she struck me with her extreme thinness, even suggesting that she might be anorexic. Her hair was long, not very well coiffed, and she was dressed in jeans. She was quite surly," said Hausser.
How to make a place in an environment so sclerotic and which resists any change that could alter an image so meticulously shaped for so many years? "At times, I had the impression that she was naïve, or that she was playing naïve," said the photographer who followed her on her trips. In the mid-2000s, during an archaeological visit to the site of Apamea near Hama, local journalists who followed the convoy asked the first lady's team what to write. "She told me the story a few days later in her office and said, 'It is crazy; they are journalists, they saw for them-selves what happened and they cannot write.' She seemed really surprised and did not understand that they might be afraid to write something wrong," said Abd Rabbo. It was impossible, however, not to notice, as soon as she settled in Syria, that the regime was ruling the country with an iron fist. The mukhabarat (intelligence services) control everything and spy on her too. "She told me not to use the hotel phone to talk to her. She seemed terrified," said Gaia Servadio, an Italian historian and novelist who worked with her.
Asma reportedly has always had a huge influence on her madly in love husband. But there is only one woman to whom he couldn't say no: his mother, Anissa Makhlouf. "In Damascus, I was told that Asma was having trouble integrating into her in-laws' family and at the time, her husband seemed to have taken the side of his mother and sister," said Hausser. In addition to controlling all of her daughter-in-law's moves and decisions, Anissa Makhlouf reportedly demanded to be the First Lady until her death. With the death of the mother-in-law, the daughter-in-law would now take revenge.
How to unravel the true from the false in this whole story, in one of the most opaque regimes in the world? Asma Assad remains an enigma. All those contacted who have worked with her paint a rather positive picture, even when they are known for being hostile to the regime. If her character of glamorous woman and then her political support was instrumentalized by the authorities, was she so comfortable in her role that she ended up appropriating it? Who is Asma Assad? Is she a woman full of good intentions who was crushed and then transformed by the Syrian regime or a lawless opportunist who turned a blind eye to the horrors perpetrated by the authorities when it suited her before bluntly justifying them?
"There was a time, I suppose, when she would have wanted to leave at the very beginning of the war. I know she was contacting friends by phone to discuss the demonstration in Deraa and the army's response," said Servadio. But she did not. On the contrary, she has melted into the mold so much so that she has become the greatest advocate of the Syrian regime. In television interviews, she snaps out the answers - even if undoubtedly everything is prepared in advance - and recites as a good student the conspiracy rhetoric to which she has finally adhered. "If we are strong together, we will overcome this together... I love you...," she wrote to her husband a few years earlier in an email leaked by WikiLeaks. He responded by sending an iTunes link to a song called God gave me to you.
(This special report was originally published in French in L'Orient-Le Jour on the 3rd of July)


A photograph like giving the finger: Asma Assad is right in the center, wrapped in an anorak whose hood covers her hair. To her left appears her husband, Bashar, who does not attract the spotlight. At their side are soldiers who do not look very lively while in the second row stand the children of the couple: Hafez, Zein and Karim. The message is clear: "We are here and we intend to stay." The...